Sahuarita was not always the booming suburb south of the Tohono O'odham reservation. Leobardo "Leo" Garcia and his cousin, Vince Bencomo, grew up there when it was a one-stoplight town. "We had one intersection, with the bar on one corner and a one-stop market on the other. Lots of the streets are named after these first families — it's where they used to live."
The cousins have since moved away, too — Leo to Tucson and Vince to an acre of land outside Green Valley — but they come back every week to parking lots, like the Santa Cruz Valley Methodist Church's, their pizza oven in tow. Their lowkey locations belie some outstanding pies.
"If you give us 45 minutes, we can transform a parking lot into somewhere to hang out," Vince said. Wednesday through Sunday, they arrive in trucks carrying these raw materials: a huge shade tent to make the heat bearable while they work, a flag to announce their presence, and a three-wheel trailer topped with a domed hand-built pizza oven.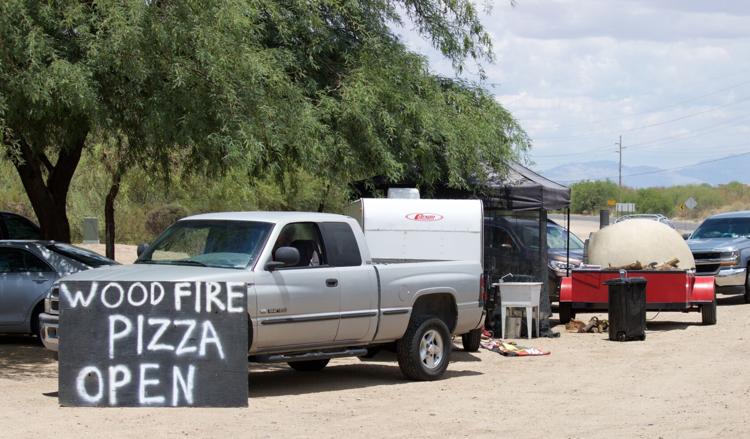 Family Joint Pizzeria's menu is totally innovative, yet firmly set in the Neapolitan tradition. "It's not something I've seen anywhere else," Leo said. "I'd like to try another Mexican pizza — it would make me better — but I haven't found one yet."
Vince built the oven himself on days off from his job as a landscaper with their Tio Joe, a retired mason. "Without the help of God and Tio Joe, we would not be here today," they said in agreement. The process took two years.
In that time, Leo Garcia was busy working at a pizza joint himself — learning the basics and experimenting with recipes on his days off, diligently saving, and working with his wife, Natalie, on the extensive permit process for food trucks.
When they call their pizzeria Family Joint, they mean it — Vince's wife, Celina, preps most of the ingredients and created their carnitas recipe.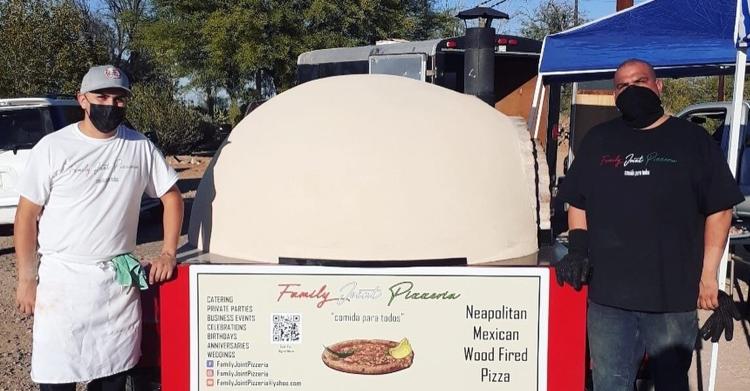 They finally opened Family Joint Pizzeria in mid-November 2020, during some of the darkest days of the pandemic. "We used a lot of caution. No one knew what to think, and we wanted to make sure people felt comfortable and could enjoy our pizza," Leo said.
"People didn't always feel comfortable going into a sit-in restaurant. Coming to us was a lot easier," Vince said.
While their locations seem under-the-radar — on the side of the road outside The Shoppes at La Posada, a bougie retirement community in Green Valley; that church parking lot; a dive bar on 1st and Fort Lowell — their business does not suffer. On Sunday I came down to Sahuarita half an hour before close. They were sold out.
"When we sell out, the next day we come back with more," said Leo.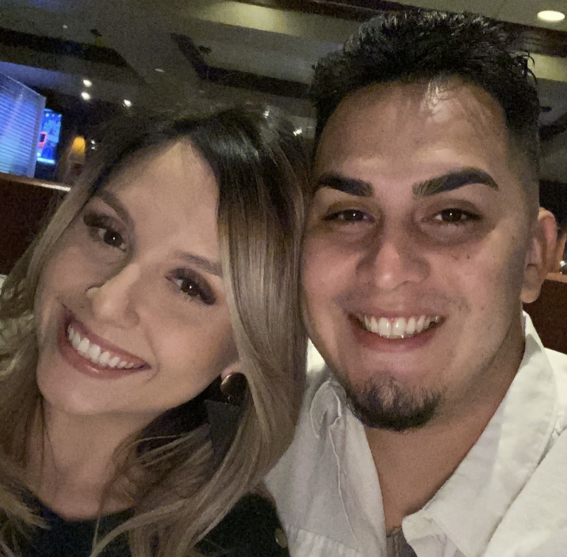 "I've seen Leo on Snapchat at 4 in the morning, 5 in the morning, making dough. We're just constantly doing something to get ready for the next day," said Vince.
Their success surely comes from the quality of the product. Although Leo has never been to New York himself, "I have customers who moved here from New York who say that this pizza is as good, if not better, than what they miss from home."
He starts with the ingredients. The flour is imported from Italy as are the cheese, and tomatoes for the sauce. Everything else is made fresh here.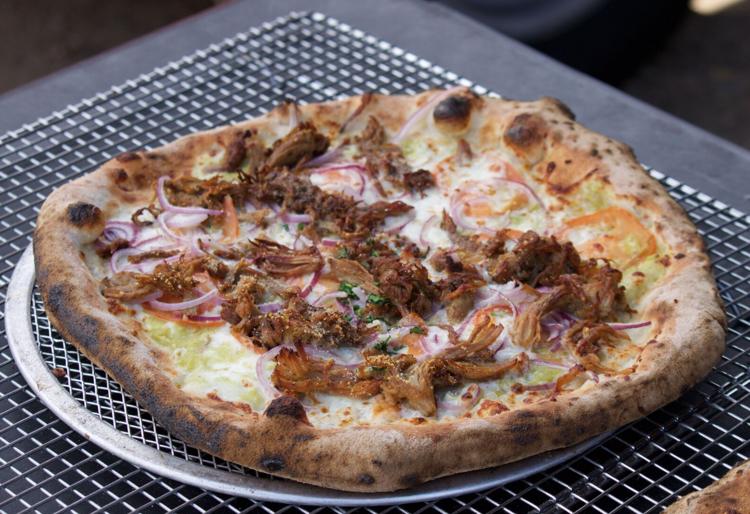 The two pizzas they recommend to newcomers are the Tomatillo and Elote pies.
My gateway to the menu was the Tomatillo pizza. It's named after its unconventional, green sauce, whose bright burst of sour cuts through the tenderly fatty carnitas and generous (yet not overwhelming) portions of cheese.
I tend to prefer pizza with sauce. It meters the oily decadence of cheese or meat toppings and brings moisture to chewy or crispy crust. As we all know, even mediocre pizza is tasty, largely because of this natural balance. To go off-script is a declaration of excellence that can frequently disappoint. Family Joint's Elote pie is simply that good.
Elote's eponymous grilled corn is sweet enough to make the pie a dessert, but in the way that the French make cheese a dessert. It's in season now, and the freshness comes through in its hint of crunch and complete lack of cloying starchiness. I still don't believe myself as I declare "kernels amid a soup of imported cheese" my favorite menu item — but Family Joint's substantial crust bridges the textural gap. The lime dip, which looks like ranch but is bracingly tangy, brings any acid you might miss without sauce.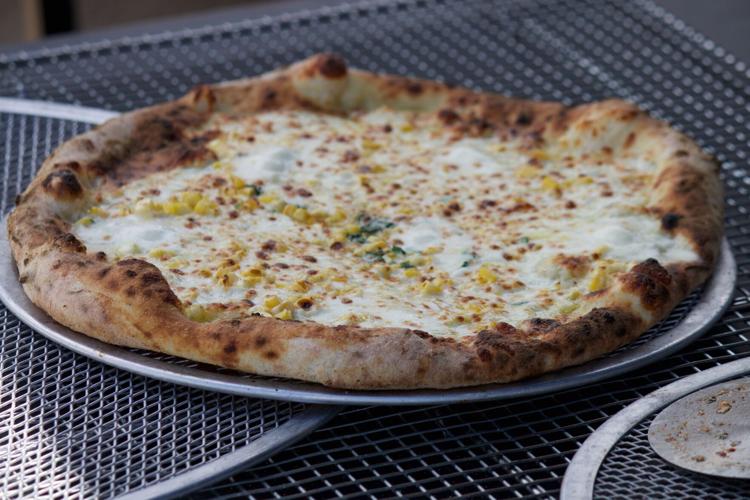 Yet, clever toppings alone wouldn't cause me to rave about a pizzeria. What initially drew me to Family Joint is their Neapolitan oven and crust. Before I visited Naples while teaching English, I thought of pizza as a pedestrian food — always tasty, rarely special. What makes Neapolitan crust special is the heat at which it is fired, sealing enormous bubbles of oxygen throughout the grain. A cross-section reveals a lattice of dough reminiscent of Barrio Bread sourdough — chewy yet miraculously light. Family Joint's oven succeeds, not just from the engineering of Vince and Tio Joe, but from the heat powered by mesquite wood.
Vince used to sojourn across southern Arizona as a landscaper, from Bisbee to Sasabe. He has since retired to pursue Family Joint full time, but he keeps in touch with his old buddies, who provide him with a full supply of bone-dry mesquite cuttings, often for free. He also harvests mesquite from his acre property in Green Valley, and even from his nana's old fence.
As Family Joint Pizzeria looks toward the future, they have no ambitions for a brick-and-mortar establishment in the city of Tucson. "We want a ramada down here in Sahuarita, Green Valley. Something real Mexican, with outdoor seating and lots of music. We want to put Southern Arizona pizza on the map."