Mark Hall and Craig Adams may have the only food truck in Tucson that can serve its customers on both land and sea.
The business partners launched their venture, The Kitchen, in town in late October; a 30-foot, triple-tube pontoon boat secured on top of a trailer strong enough to handle its 9,500-pound frame.
The boat serves a mix of burgers and Mexican fare, including street tacos, quesadillas and burritos, as well as fish and chips.
"You have to serve fish and chips on a boat," Hall said.
But the menu is usually not what customers are most curious about.
"The first question they always ask is, 'Does it float?'" Adams said.
The answer: Yes, yes it does.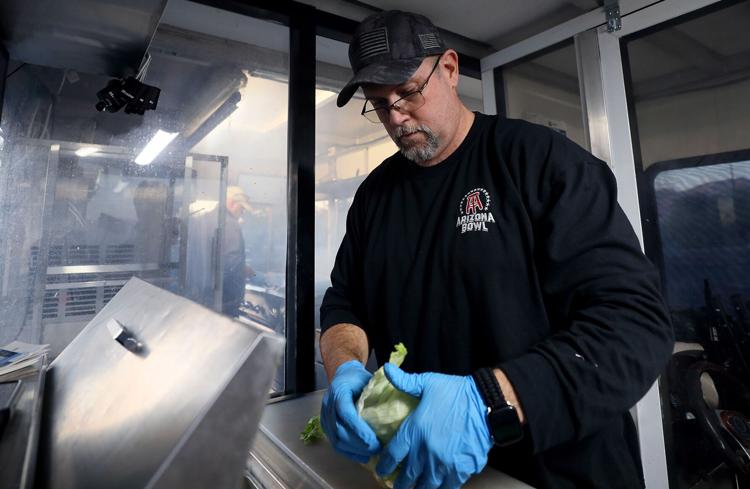 The Kitchen is fully functional on the water. It had been operating on Lake Pleasant, north of Phoenix, for a year before Hall and Adams took it over.
Hall and Adams are old pals, who would often spend chunks of the summer together on Lake Pleasant with their families.
They had talked about opening a food truck. Adams was coming up on retirement as a mechanical engineer and Hall had a long history of running restaurants in Tucson, franchises such as Applebee's, Pizza Hut and Chili's.
One fortuitous day, Hall was killing time, poking through Facebook Marketplace, and up popped a posting for a pontoon boat-turned-floating kitchen for sale.
He called Adams to let him know that there was a food boat on the market, "and it was on our lake," Hall said.
The duo dove headfirst into the new venture with the initial intention of flipping burgers on Lake Pleasant during the summer months.
The idea of strapping it to a trailer and taking their business on the road, was an afterthought.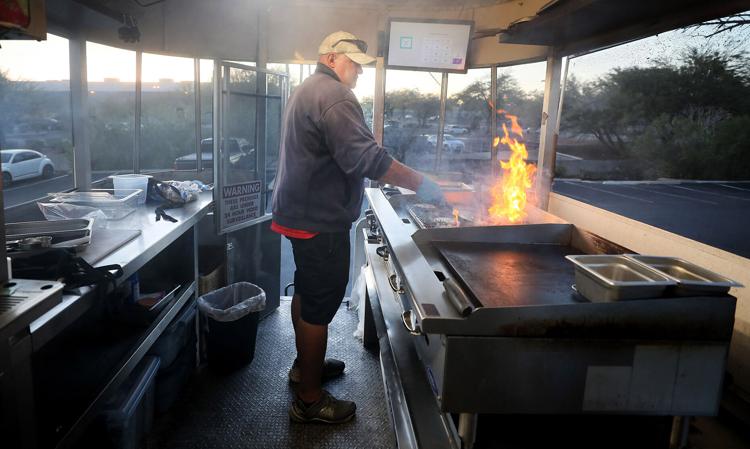 "The previous owners were just running it during the summer," Hall said. "What were we going to do for the other seven months out of the year? Just let it sit?"
Hall and Adams first acquired their permits in Maricopa County, then Pima County.
They have since been getting their bearings in Tucson, testing the waters to see what does and doesn't work for them.
The food boat has made appearances at the Santa Marana Tree Ranch, 13645 W. Sagebrush Road, in Marana, and at The Pit, 7889 E. 22nd St., on Tucson's east side.
It has also popped up at several breweries in town, including Button Brew House, 6800 N. Camino Martin, in Marana, and most recently, BlackRock Brewers, 1664 S. Research Loop. It even showed up at the Barstool Sports Arizona Bowl at Arizona Stadium in late December.
Wherever it docks, The Kitchen tends to command attention, Hall said.
"People just can't believe it," he added.
Learn more about The Kitchen at kitchenlp.com and click here to follow where it will be next.
---