Perhaps you have never considered a Dutch baby, and what it can do for your life. It does not cry or poop, and it does not make little babble noises in another language. 
A Dutch baby fills your belly with sweet lemon sugar, and looks hella cool when it comes to the table in a big cast iron pan. It is a pancake, a trendy one that was actually invented in Seattle. And it's really damn good.
We ordered this sweet temptation by chance. The menu at Teaspoon, 7053 N. Oracle Road, is filled with these kind of hashtag-able things: acai bowls, creative Bennies, hollowed bread with eggs in the center, etc. We only later learned what the restaurant's real specialty is: a contemporary take on the Hong Kong bubble waffle.  
Bubble waffles are an Asian street food that's popular in Chinatowns of New York, where co-owners Teresa Cheung Valencia and Mary Grzegorski are from. The two sisters developed the menu together, drawing from their multicultural family backgrounds. (Teresa's husband is Mexican and Mary's husband is Polish.) This is their first restaurant together, although the Cheung family owns several restaurants including the Hana Tokyo in the Tucson Spectrum mall. 
Instead of twisting it into a paper cone, the Hong Kong bubble waffle comes out on a plate adorned with English clotted cream and fresh strawberries. This was Mary's invention, she does the baked goods. 
Teresa does the savories. For example, this trendy egg in a mason jar she calls the Egg Parfait.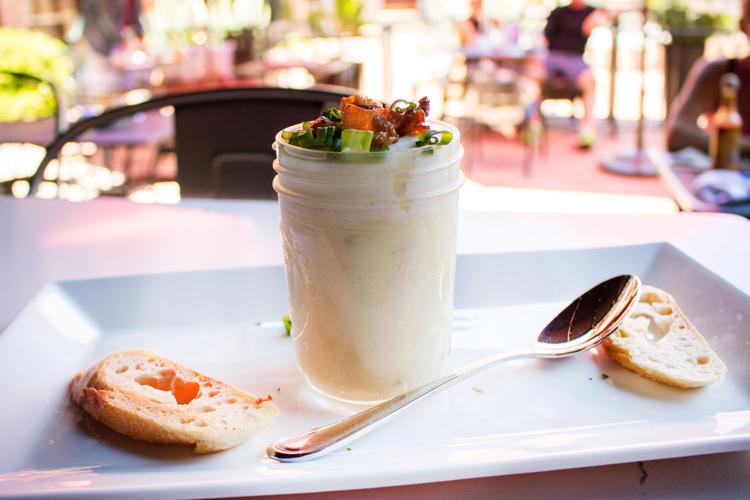 The idea comes from the buzzy Los Angeles food stall Eggslut, inside downtown's Grand Central Market. Despite the name's connotations, the dish is actually a rather rich cup of soft "coddled" eggs atop a layer of pureed potatoes. (The eggs are literally steamed inside the mason jar before they come to the table.) Teresa took this up a notch by first boiling the potatoes in milk, similar to the way they might prepare them in Peru. She tops medley with thick chunks of bacon.
 "I call myself a mockingbird. I can taste something and I'll reinvent it," she said. This describes much of her menu. Lots of small little hip things, that you'll want to share ...
Teresa also takes credit for designing the restaurant space, filling the former Bluefin seafood bistro with muted colors and cutesy drawable chalkboards. By contrast, the patio is light and airy: perfect for a tipsy summer morning. 
Perhaps I've buried the lede. BOTTOMLESS MIMOSAS. They're $20, or $28 with a menu item included. That is all I have to say ... Good luck my friends, the Internet awaits you!