I hesitate to say something is the "best," even when it is, because why we gotta be like that?! (There's enough drama in the world right now. Do we really need to have a controversy over Vietnamese sandwiches?) 
So I won't tell you that these are the best bánh mì in Tucson. But I will tell you that they're really really good, and that I'll probably be going here for awhile to get my bánh mì on the weekends. The new shop is right next door to Lee Lee International Supermarket, a certified wonderland of Asian food products at 1990 W. Orange Grove Road. So it's really easy to hit this place up when you're getting your sesame oil and packaged noodles and such. 
The new shop is called Banhdicted. (Might as well face it, you're banhdicted to subs!) It opened back in October, after new owners Kimberly Nguyen and Don Vongtheung took over the space that used to be a Subway and later a juice shop called Juice Envy. Nguyen decided to keep the juice theme, and also serves detox shots like ginger and apple cider vinegar. But she created more of a boba shop vibe, adding some items that are popular in the Asian neighborhoods of San Diego, where she's from. 
For example, she serves almost 20 different varieties of milk tea, a drink you may have tried at another spot for Asian food addicts, Noodleholics. Nguyen goes for the Taiwanese variety of milk tea, which can get crazy with toppings and customizations like coffee, grass and strawberry heart jellies. Most of her milk tea flavors are straightforward, like jackfruit, honeydew, durian and papaya, but there are also some interesting names like the Hokkaido, the Okinawa and the Tie Guan Yin (also known as Iron Goddess tea.)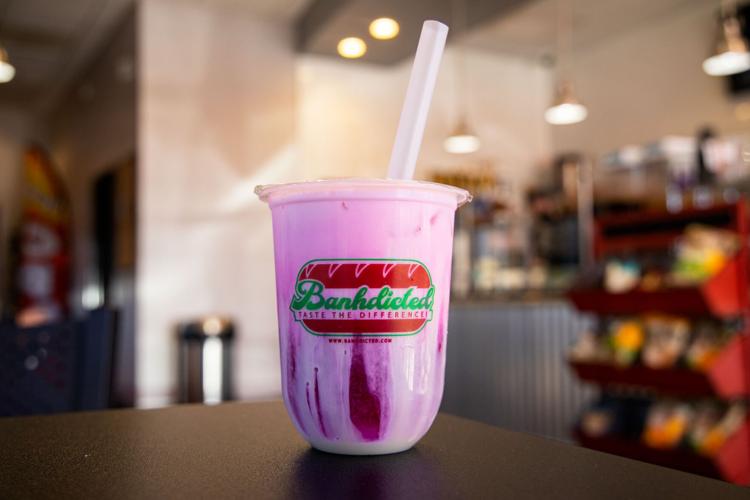 Nguyen also does an Arizona-themed prickly pear milk tea using fresh syrup from local purveyor Cheri's Desert Harvest. It's nice if you have a little bit of a sweet tooth, but I preferred the mellower flavors of the hazelnut milk tea, with some sweet lychee jelly floating around on the bottom. Banhdicted also serves a vibrantly green Thai ice tea made from green tea leaves, which she brews every morning. Unlike your regular Thai iced teas, this version was much less sweet and didn't give me the sugar sweats when I was done drinking it. 
But we know you're here for the bánh mì, because that's what the headline promised. The menu here is simple, with only six basic varieties between $5.95 and $6.95 that are toasted up right there behind the counter. But they are all so delicious. I think it's because of the crusty bread, which comes from La Baguette Bakery next door to Ghini's at 1797 E. Prince Road. A bánh mì needs good bread, that is supple, yet firm enough to carry the sandwich. 
Over the past couple weeks I have tried almost all of the bánh mìs on the menu. The standouts include the AZ Special, which is basically a combination dac biet with ham, pork belly, liver pate and all the fixins. I also really enjoyed the tofu bánh mì, which can be made vegetarian without the pate, or even vegan with the substitution of soy sauce glaze for the mayonnaise. The tofu was fried perfectly and had a crumbly soft texture inside, and crispy exterior.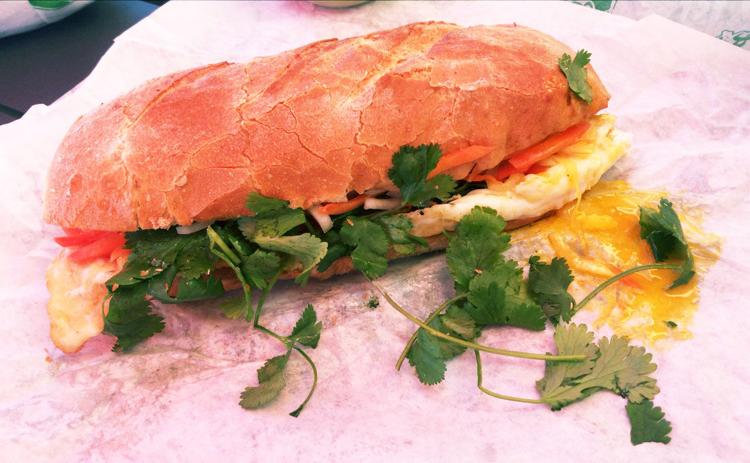 But there's one bánh mì I'll be coming back for on a regular basis, and that's the breakfast bánh mì. Because, how did I not know I needed this in my life, like all the time? These sandwiches are pretty common over in San Diego, Nguyen told me, but this is the first time I've noticed one in Tucson.
And what a great idea! Just stuff a couple of fried eggs in with that bevvy of pickled spicy vegetables, letting the yolk spill out a little onto the paper. (Almost forgot about those juicy cubes of steamed pork belly, which put regular bacon to shame.) Pair this all with a Vietnamese iced coffee, and you have the best breakfast ever. There I go with the definitives again ... 
But who cares what I say? Check it out for yourself!