Monkey Burger was known for its long menu of burgers adorned with toppings like pineapple relish, caramelized onions and bourbon remoulade.
The east-side eatery, at 5350 E. Broadway, closed its doors 2½ years ago — but now it's back. Kind of.
The Monkey Burger name is no longer and the menu has 10 less burgers than it once did. The changes come as part of a collaboration with Iron John's Brewing Company — a marriage that began in early 2020, just months before the pandemic shut down the world.
"We got in the same room together and we all just felt like we had to do something — we all came to an agreement really quickly to partner up," says Monkey Burger's owner Stuart Lauer. He was the burger joint's operational director in 2011, eventually purchasing the eatery in 2014. He's now one of the co-owners behind Iron John's. The former Monkey Burger space is now called Iron John's and it officially opened on Oct. 16.
Admittedly, what they had in 2020 wasn't much of a collaboration yet — mostly just Iron John's beers served alongside the menu loved by Monkey Burger fans. A year and a half later, owners decided to change course.
"During COVID, we realized it wasn't worth keeping open the way it was and we wanted to do a bigger remodel," Lauer says.
When news of the Monkey Burger closure reached the community, customers were sad — but also confused. "I had a lot of people call me thinking I got bought out or that something happened," he says.
But the merger was a mutual aspiration. The Monkey Burger taproom was small. Iron John's wanted to offer food. The friendship made sense.
Monkey Burger fans will notice the namesake burger still on the menu, with its two cheeses, roasted poblano, sautéed mushrooms, caramelized onion, bacon and tomatoes. The Great American is also still on the menu, just with a tweak to the sauce — it now has a green chile remoulade versus the bourbon version that was on the old menu.
There's also an ode to Monkey Burger's El Diablo and Madness burgers — the new burger at Iron John's is basically a marriage of the two with a habanero aioli.
"The new chef we brought on has been putting a spin on some of the older menu items I had, which is making them better," Lauer says.
There are talks of bringing other Monkey Burger menu items back, possibly as monthly rotations, like the South Shore burger — which had pineapple relish and a ginger barbecue glaze — in summer time.
The fourth, and final, burger at Iron John's is a handheld with wagyu, complete with a truffle cuttlefish ink drizzle.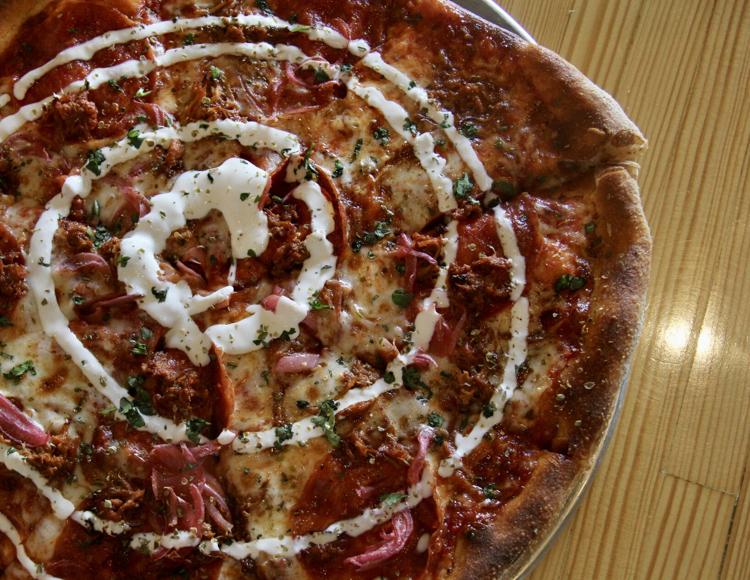 While burgers are no longer the frontrunner of the menu, there's a new star of the show: pizza. There are eight pies on the menu, from the classic Margherita to the Tinga pizza with chorizo and lime crema.
"We all sat down and talked about our favorite style of pizza and it was pretty unanimous that we were into the thinner Italian crust," Lauer says. "When we did research, it was 100% — people were like, you have to get the right brick oven. If we wanted to do this, we wanted to do it right."
"One of the big hold-ups on getting reopened was we had some pizza ovens shipped over from Italy and they got stuck in port for about six months and that delayed everything and it basically all snowballed," Lauer says.
The Iron John's team made the decision to add a pizza menu and slim the burger menu for a couple reasons. The price of burger meat can be unpredictable and sometimes high — and the kitchen is tight, making it hard to make as much as they wanted.
Since closing in 2021, the restaurant has also seen extensive renovations from the flooring to the booths to the patio outside — some of which was done by the Iron John's owners themselves.
"It ties us into the space. I think it made us all closer as a partnership because the first maybe six months of it, when it was Monkey Burger just selling beer, it didn't quite feel like we had merged yet," Lauer says. "But once we had our hands in it, it felt like this was all of our business."
"The waiting has been the hardest part — even more than the work," Lauer says. "Being open and seeing people walk in the door for the first time — it felt really, really good to be back in the mix."
Iron John's was founded in 2014 and is now owned by four families — Lauer's wife Elise is the head brewer. The brewery is also home to the Maracana Indoor Sports Arena at 555 E. 18th St., where the owners eventually hope to open a restaurant. Last month, the brewery's downtown location, 222 E. Congress St., was transformed into a gin-focused bar called Juniper.
The new Broadway location is open 10 a.m. to 9 p.m. Monday-Thursday and 10 a.m. to 11 p.m. Friday-Saturday.