Next time you're making a noodle run, check out the spot next door for some healthy juices and smoothies. Juice Envy opened this Saturday inside the Orange Grove shopping center anchored by Lee Lee International Supermarket.
Formerly a Subway, the space is now owned by Tucsonan K.C. Roff and managed by his daughter Kandice Roff, who developed the menu herself.
"I know a lot of people doing yogurts and added sugar concentrate," she said. "I wanted to be so different — completely fresh — where the customers can see us make everything right in front of them." 
Kandice fell in love with fresh-pressed juices while she was working at a chain called Juice It Up in Southern California. Her and her father moved to Tucson about five months ago, and she convinced him to open a juice shop down here.  Kandice's menu is made up of several raw juices, Brazilian acaí fruit bowls, and oatmeal bowls with toppings like almond butter, blueberry, cinnamon and quinoa. (Steel-cut oatmeal is prepared in a rice cooker inside the shop.)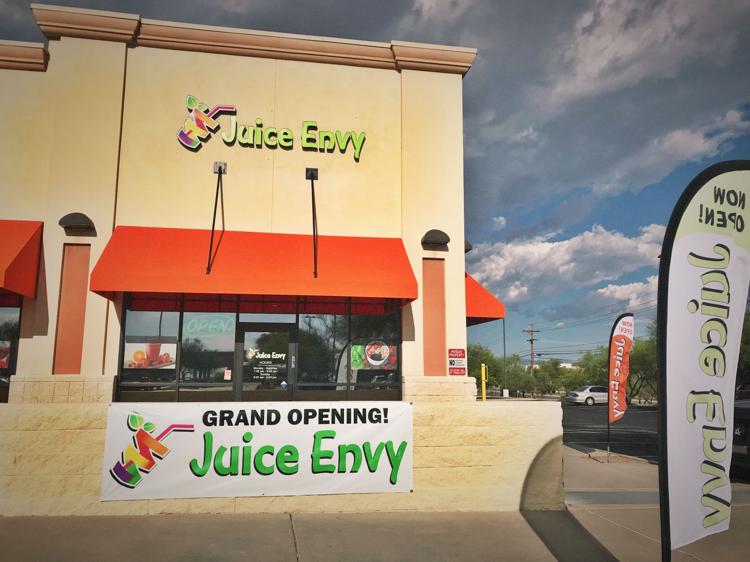 I stopped by this weekend and grabbed one of the Raw Envy juices before I made my rounds at the supermarket. The Beet It, $7.85 for a 20 ounce, was one of the more popular menu items with fresh cucumber, carrots, lemon, orange, ginger and beet juice to give it that lush red color. Unlike other juices with ginger, it didn't have much of a bite, and was rich and rounded without being too sweet. 
Kandice makes her acaí bowls from powder rather than puree to minimize the sugar content, adding coconut water and fresh fruits, and then topping with ingredients like hempseed granola, coconut flakes, pineapple and more. In addition to juices, smoothies and bowls, the store also carries bottled Health-Ade Kombucha, Groundwork Cold Brew Coffee, healthy packaged chips, cookies and more. 
Juice Envy is at 1980 W. Orange Grove Road. Phone: (520) 447-5614. Hours are 7 a.m. to 9 p.m. Mondays through Saturdays, and 8 a.m. to 8 p.m. Sundays.