When the owner of a local coffee shop saw the sign in the empty lot next door, with a "coming soon" announcement for a Dunkin' store, he scoffed.
"I plan on taking some of their customers," said Michael Cripps, co-owner of Coffee Times, which has been operating at 3401 E. Speedway for 22 years. "Their customers are going to be sitting in their cars a long time and may look around and see Coffee Times and give us a try.
"That's going to be one of the good things about it."
Coffee Times, which operates two drive-thru windows and walk-up service in a 300-square-foot shop, was opened in 1999 by Cripps' uncle Tom Mannell after running the downtown Café Quebec for years.
Cripps and his brother, Jeremy Cripps and uncle David Mannell currently run the operation.
He says the pending arrival of Dunkin' doesn't worry him or his staff.
"We have a much more diverse menu, we're faster and we don't compromise on quality by pulling something out of a freezer and microwaving it," he said. "We don't even have a voice box — customers drive up to the windows, yell out the windows or walk up to the windows."
Aside from being stocked with all local coffees and treats, Coffee Times is involved in the community and supports local charities such as Casa de los Niños, Socks for Tucson's homeless, Ben's Bells, Emerge Center Against Domestic Violence and Tucson Second Chance Community Bail Fund.
"And, definitely, any time a Tucson school, hospital, church or whomever shows up asking for a donation we love giving them gift certificates or pounds of coffee," Cripps said.
Coffee Times serves cold and hot coffees, teas, mochas and smoothies. Treats include muffins, scones, cookies, bagels and turnovers. Specialties include vegan items and CBD-infused drinks.
Regular customers have commented on the Dunkin' "coming soon" sign and vowed never to patronize the pink and orange national chain.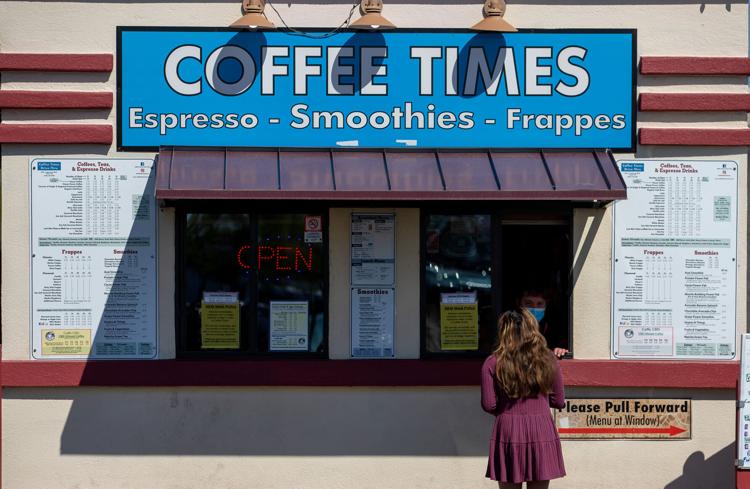 No permits have been issued yet so it's unknown if the new shop will be one of the dual-branded Baskin Robbins locations.
Dunkin' did not respond to the Star's request for comment.
"Corporations aren't people, just a machine," Cripps said. "They like to stamp their brand anywhere they can, find a good location and move onto the next one with no concern for the little guys."
He said when Dutch Bros Coffee opened just east of him on Speedway a few years ago, he was nervous but didn't lose regular clients.
"As far as right smack dab next door," he said, "we don't know what to expect."