Are you ready for a peachy summer adventure? Get in the car and head to Willcox, where temps are about ten degrees cooler and the trees are brimming with fresh fruit. 
That's right, Apple Annie's is opening its peach orchard for the summer season this Thursday. The you-pick-orchard at 2081 W. Hardy Road will have 15 acres of peach trees with half a dozen varieties of peaches. 
"It's a fun time of year, and like I said, we have a huge crop this year," says manager Mandy Kirkendall.
This year's crop is made up of yellow "freestone" peaches, which means the pit is easy to remove and doesn't cling to the flesh. Available varieties include Sunshine, Red Haven, Rich Lady, Sierra Ridge and more. These are all great for cooking and canning as well as eating fresh, Kirkendall said.  
Customers are invited to bring their own reusable bags or boxes from home, and walk the orchards picking their own fruit. If you don't have your own box, you can also purchase one for $1. The peaches are all $1.79 a pound. Check out these peach-picking tips, courtesy of Apple Annie's website. Then head to the country store for some homemade peach pie.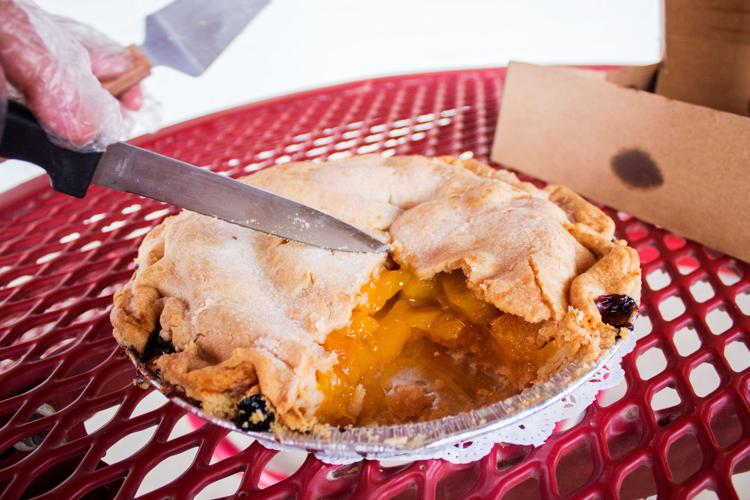 Apple Annie's is also gearing up for its annual Peach Mania event, which begins July 20 and runs through the next four weekends. During Peach Mania, they'll also offer wagon rides, face painting and peach-flavored foods like cobbler, ice cream, doughnuts and cider. Come early for a peach pancake breakfast, from 7:30 to 10:30 a.m. Saturdays and Sundays. 
Further down the road at the Apple Annie's Produce and Pumpkins, 6405 W. Williams Road, the summer vegetable garden is ready for picking. They'll have summer squash, cucumbers, chiles, sweet corn and more. This location is open daily from 7 a.m. to 5 p.m.
And if you'd like more fun Willcox ideas to help plan your trip, check out this video we did last year. Cheers! 
Apple Annie's orchard at 2081 W. Hardy Road is open 8 a.m. to 5 p.m. daily. Phone: 520-384-2084