If the pandemic has made one thing clear, it's that people love bread. And also that there's not enough of it, even in a foodie city like Tucson.
Grocery store shelves are going empty, and bread hotspots like Time Market have been temporarily closed. As more people experiment with baking at home, the demand for specialty tools like Banneton basket molds has skyrocketed. Nathan Ares was having trouble even finding some online, but now, he's taking care of the problem. 
The local restaurateur is converting his newish sandwich spot August Rhodes Market into a full-scale bakery, and plans to sell a variety of freshly-baked loaves to other Tucson restaurants, and to the public. The space at 3073 N. Campbell Ave. is currently closed, but he plans to open August Rhodes Bakery in about three weeks.
You may remember this space as the original location for Prep & Pastry. The popular brunch spot moved down the street to 2660 N. Campbell Ave. in July of last year, and Ares turned the original space into an artisanal sandwich spot. The cafe had just begun to pick up steam when the coronavirus pandemic hit, Ares said, and it just didn't have enough time to gain the recognition it would take to survive the storm. Add to that, the lease on that building is going to expire in six months. Ares realized it was time for a change. 
"When they said you could reopen (dining rooms across the state), we had so much interest in restaurants for our bread," he said. "There's no little boutique bakery that's focusing on supplying restaurants." 
Ares plans to be selective about the restaurants he will supply to, so that they can make sure that their bread will be used in high-quality dishes that are up to Prep & Pastry's standards. As for the retail space, Ares is currently converting the shop and adding racks where customers can see a variety of fresh-baked loaves, similar to Barrio Bread. 
"We want to be the north side's local bakery. Barrio Bread has that special element in the Broadway Village ... We want to create that in our own style toward the Campbell Avenue area."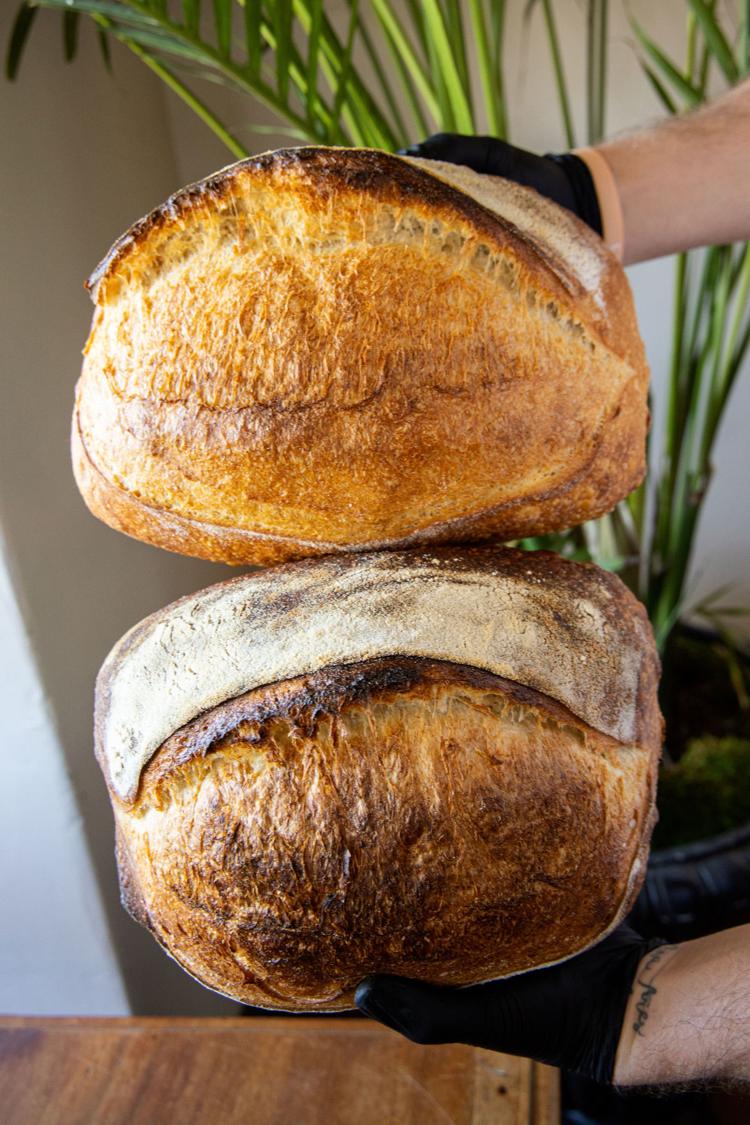 August Rhode's head baker Nathan Teufel, a veteran of Canyon Ranch and Monsoon Chocolate, is ramping up production of his signature sourdoughs, Japanese milk breads, English muffins, bialys and more. He plans to introduce more flavors like roasted pistachio, green olive sourdough and chocolate sourdough as well.
The store will also sell breadmaking kits that include a powderized form of his 10-year-old sourdough starter, along with all the ingredients needed to make bread as well as a video link and a recipe card. (There will also be a French toast kit, yum!) The store will be open Thursday through Sunday from 9 a.m. until they sell out, or 2 p.m. 
When the lease expires, Ares plans to find a new spot for August Rhodes Bakery. And in case you were wondering, the restaurant's most popular sandwiches like the Jersey Joe, the turkey club at the BLT will be moved over to Prep & Pastry's menu. So you can still get your fix.    
"When we find a new location, we would like to bring back what we were doing before," Ares says. But right now, "bread has more demand. Wherever the market pulls you, you gotta go with the market. The market's boss right now."