Walking into The Screamery, you'll see a case of 24 ice cream flavors.
But in the seven years the shop has been open, co-owner Linda Sarnoski estimates that they've dabbled with close to 200 different flavors.
And when Blue Ice Gelato started in 2017, co-owner Rebecca Mann offered around 25 flavors. Now four years later, there are more than 50 flavors on the rotating menu — with more being created and added all the time.
Tucson ice cream and gelato shops are known for more than chocolate and vanilla (although those are also worthy flavors, especially in Tucson's summer heat). Here's a look at some of the most unique flavors found at local shops — but keep in mind that many shops rotate their flavors, so these might not be available every time you drop in.
Blue Ice Gelato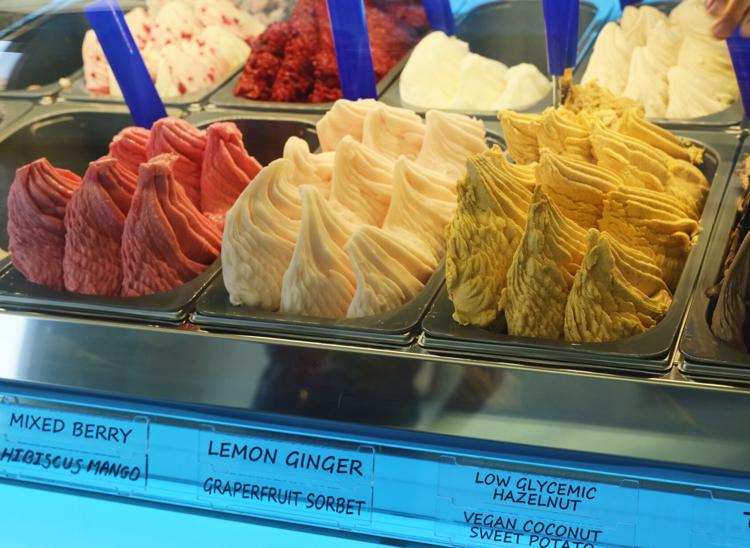 After dabbling in the art of ice cream making, Rebecca and Ronald Mann decided to look into gelato as a healthier alternative (and one that Rebecca Mann thinks is tastier).
"It was mostly his idea — it was kinda on his bucket list," Rebecca Mann says of her husband Ronald opening Blue Ice Gelato in 2017.
The couple trained with an Italian gelato maker and now make the gelato from scratch.
Of the more than 50 flavors on the rotating menu, some of the most interesting include blueberry white chocolate cardamom, fig mascarpone, lavender, honeydew cucumber, and strawberry rhubarb. They've also made an avocado flavor twice and the shop is currently offering vegan coconut sweet potato gelato and a grapefruit sorbet. 
Rebecca Mann's personal favorites are two of the coffee flavors, including coffee caramel pecan which is an infusion of fresh coffee beans soaked, crushed and strained.
Customer favorites at the moment include cookie butter and raspberry white chocolate cheesecake.
The Screamery
Multiple locations in Tucson, Marana, Phoenix and Chandler.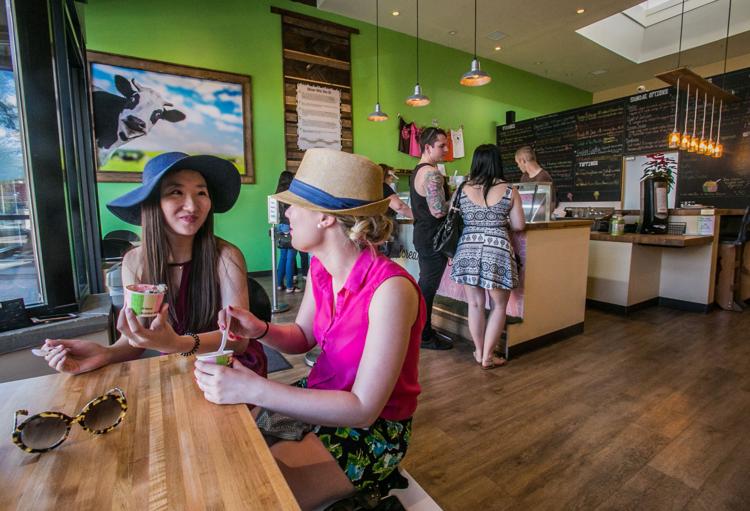 Having been open for several years now, The Screamery's co-owners Linda and Kenny Sarnoski have had lots of time to play with ice cream flavors.
Among the most interesting: "Bacon and Bourbon," which has candied bacon mixed in; and an ice cream called "Wine and Scream" with a Cabernet swirl.
Currently offered at The Screamery's shops is "Prickly Lemonade," which has a lemon base with local prickly pear syrup and candied shredded lemon peels. It was a flavor that a customer came up with and submitted through a flavor contest.
Linda Sarnoski says the "Kitchen Sink" flavors tend to be popular, which is just a giant mix of whatever ice creams the shop has leftover. 
And many customers are currently crossing their fingers in hopes that The Screamery will bring back "The Munchies," a pretzel base with candied potato chips, crackers and chocolate chips. (Psssst, Linda Sarnoski says they plan to bring it back when summer is over.) 
The Screamery pasteurizes its own ice cream, which gives the Sarnoskis more control over the unique bases they're able to make. For instance, for the pretzel base, they shove actual pretzels into the pasteurizer — something they couldn't do if they weren't pasteurizing the ice cream themselves.
Linda Sarnoski's favorite flavors include rocky road and Almond Joyous, which has a shredded coconut base and chocolate-covered almonds. And she can't forget one of her top contenders: Sweet Cream Honey Comb, a sweet cream base with natural honeycomb pieces mixed in.
Fan favorites include Sweet Cream Honey Comb; Ooey Gooey Buttercake, vanilla ice cream with buttercake pieces; Rough At Sea, a sea salt base with a honey-butterscotch swirl, candied pecans, almonds and pistachios; and Cowboy Cookie, a salted caramel base with oatmeal, walnuts and chocolate chip cookies.
Frost Gelato
Multiple locations around Tucson, the U.S. and the world.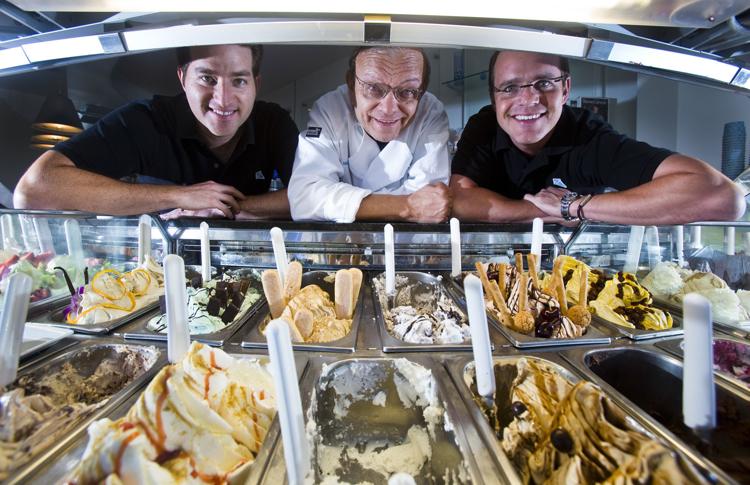 Through the years, Frost has racked up more than 60 rotating gelato flavors, plus more than two dozen flavors of sorbet. 
The flavors of the month for June are pear, amaretto and panna cotta.
Other interesting flavors on their rotating lineup include Bailey's Irish creme, bubble gum, rum raisin, root beer and halwa.
Another interesting find at Frost: The shop also has what they call spaghetti and meatballs — gelato that's pressed into noodle-like shapes with spheres of gelato dipped in chocolate, meant to look like meatballs.
Frost started in Tucson in 2005 after friends Stephen Ochoa and Jeff Kaiserman (they met in second grade!) tried gelato for the first time in Italy and decided to learn how to make it from scratch.
Six years after Frost became a reality, the shop went national. There are now Frost locations around the globe, including Egypt, Lebanon and Jordan, plus California, New Mexico, Texas and Virginia. 
Sullivan's Eatery & Creamery
Sullivan's has technically been around since 1977, though it was a Swensen's ice cream chain then. The restaurant, which also serves burgers and sandwiches galore, got its new name — Sullivan's — in 2013. 
And the website quite literally says: "Built around ice cream."
The ice cream menu features more than 20 flavors of ice cream and sorbet, with traditional favorites like birthday cake and pistachio. More interesting flavors include chocolate orange, bubble gum, sour apple sorbet and a sorbet in a margarita flavor.
Plus, you can turn any ice cream flavor into a milkshake or malt. There's also a dessert of sweet potato waffle fries topped with vanilla ice cream, cinnamon and hot fudge.
Hub Ice Cream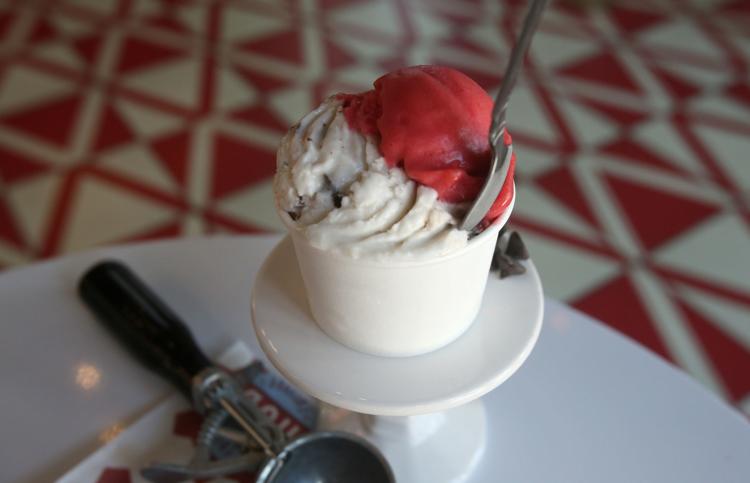 Pay attention to Hub's social media pages because the ice cream shop's dozens of flavors change weekly.
Some interesting ones from the last month include olive oil, watermelon cucumber sorbet, coconut ash (which makes the ice cream look black!), earl grey, roasted balsamic strawberry and spicy chocolate.
Hub Ice Cream is managed by Kristel Johnson, the mastermind behind the now-closed Isabella's Ice Cream that once sat on North Fourth Avenue.
Hub is the child of the popular Hub Restaurant across the street. When the restaurant started serving ice cream years ago, demand was so high that the owners decided to open a separate space dedicated to the dessert (though you can still get ice cream at the restaurant, too).