Move over rainbow bagels and poke bowls, the trendy new thing in Los Angeles right now is ... Sonoran food? Headed up by the famed Sonoratown taqueria, a new wave of restaurants are preaching the gospel of carne asada and flour tortillas in our country's biggest food city.
And now, the well-known food writer Gustavo Arellano is coming here to talk about this phenomenon. The author of "Taco USA: How Mexican Food Conquered America" is considered the pre-eminent scholar on Mexican food in the United States. The lifelong resident of Orange County currently works as a features writer at the Los Angeles Times, where he covers the city's eclectic Mexican food scene.
He's heading to Tucson Friday, Oct. 11 for Tucson Meet Yourself, where he'll give a lecture titled "Back to the Futuro: The Unlikely Return of Sonoran Cuisine in Los Angeles." More info here. 
We chatted with Arellano over the phone to get his opinion on some controversial topics of our day, like the origins of the chimichanga and whether burritos are actually tacos. This article has been edited for length and clarity. 
A lot of people have different opinions about what Sonoran food is. When you say there's a Sonoran renaissance in L.A., are you talking about food from Sonora, Arizona-style Mexican food or what?
There's this idea that there are borders, but borders do not exist in food. So when we talk about Sonoran food, it's not just in the state of Sonora, but rather the entity that is Sonora: the Sonoran Desert. So the Sonoran diet is gonna be carne asada or anything beef. The flour tortilla reigns above all.
But you're also gonna have things like the bacon-wrapped hot dog, the chimichanga. Even to a certain extent, the cheese crisp. Then you have the more specific dishes, your caldo de queso, your chile güerito and the chiltepin of course. 
So why do you think it's gotten popular over the last few years in L.A.?
It starts in a way with Mexicali and Tijuana, because a lot of Sonoran cuisine also skips over into Tijuana. So there's this one guy, Esdras Ochoa, from Mexicali who starts doing Mexicali tacos along with flour tortillas. And he opens another place called Salazar (in Los Angeles). He was the first person to get it into the minds of people in Southern California, "Like hey, you can have flour tortillas with tacos."
On one hand you have that, and then you have other restaurants like Sonoratown and La Monarca Bakery that start getting their flour from Sonora to make great flour tortillas. But really what got people unwittingly into Sonoran cuisine was the bacon-wrapped hot dog. The way we eat it in Los Angeles is way different than the way you eat it at El Güero Canelo or any of the other places in Tucson. It's way bigger, there's more stuff on it. You don't even put beans on it anymore. 
I noticed that in your annual Great Tortilla Tournament, half of the competitors are making flour tortillas. I thought that was really cool because flour tortillas still seem to get a bad rap in other parts of the country. When people say they're inauthentic, what do you say back to them?
Anyone who says that has never been in Arizona. Arizona is Sonora, so this is the birthplace of the flour tortilla. This is where the flour tortilla is gospel, and where the flour tortillas are absolutely amazing. In a way, I understand why they think flour tortillas are bad. Because most flour tortillas that people eat — and I'm including Mexicans in this — are trash.
How are the flour tortillas in L.A. and Southern California different than the ones here?
There are a couple different styles. You have some that are the remnants of the Sonoran-style flour tortillas. They're buttery, very translucent, very big. But then you have another one, I call it the chicano tortilla. It's thicker than your Sonoran-style tortilla. It's also very powdery because they sprinkle it with flour afterwards. You use those for burritos. But in general, I would say that historically, Southern California is more corn tortilla territory. But people are learning.
Sonoratown taqueria, which we mentioned before, serves something called a "chivichanga," which is basically a chimichanga. I read your article about how these "chivichangas could have come from Chinese immigrants in Mexico. Are you trying to take away El Charro's claim to fame here?
I like El Charro. I haven't been in a very long time, but I like it. But it's such an obvious folktale nebulous. "Oh yeah my grandma dropped something and instead of saying 'chi*** tu madre,' I said chimichanga." No grandma is gonna say "chi*** tu madre." Or if they are, they're gonna say it!
So do you think that chimichangas or "chivichangas" came from Sonora then, rather than Arizona?
They came from the borderlands, they came from Arizona/Sonora/Arizona-Sonora. Unfortunately we have not found any definitive proof, but we do know that the chimichanga as we know it, it first became very popular in the United States in Arizona. 
We were also talking about hot dogs. I've never had a Danger Dog or a Ghetto Dog, the California version. Is it as good as a Sonoran hot dog?
Oh yeah it is good! People just call them bacon-wrapped hot dogs. The Sonoran Dog: It's small, you have your crema, the frijoles charros, the actual wiener itself wrapped with bacon. Then you can decorate it with things here and there, but that's really it. Here in Southern California, it's a bigger sausage, it's usually other types of sausages, it's a bigger bun, it's just way bigger. So sure, you can go for the Sonoran dog, but they're both equally delicious and decadent.
Dallas writer José R. Ralat made headlines last month when he was named the country's first taco editor. Then he started a controversy when he said that burritos are actually tacos. What do you think about that?
Whatever, I honestly don't care. It's technically true, if you say a taco is a tortilla wrapped around something. Then a burrito is nothing more than a flour tortilla wrapped into a cute little swaddle of something. But people got upset about it. Does that somehow diminish the burrito by claiming that it's a taco? It doesn't, people just don't have anything else to do.
On that topic, I had read before that you say burritos are from Sonora. That's kind of controversial, a lot of people say they're from Juárez.
I would just say this: Sonora was colonized before Juárez was. It had a head-start on flour tortillas and wheat production way before Juárez did, so it's just basic history. Are you telling me that people in Sonora one day didn't think, "Oh let's just get our flour tortillas and wrap them and eat them." I mean, maybe the name does come from Juárez, but the dish itself, no … And that's not to detract from Juárez and El Paso. They're both equally amazing, but come on.
Where should Tucsonans go in Los Angeles and Orange County to get a good idea of what your Mexican food scene's about?
Too many ... Obviously you could go to Boyle Heights or East LA. That's the classic. But there are great restaurants all over. You wanna go to Taco Maria in Costa Mesa. There are Michelin-starred restaurants there, multiple James Beard nominated for high-end Alta California cuisine … You wanna go to Burritos La Palma for regional Mexican food, birria de res especially. You wanna go to the famous Mariscos Jalisco for seafood, as seen in "Ugly Delicious."
Many many places to go, so a quick cheat: Just go to the food coverage at the LA Times, or look up LA Taco which is this really cool website that talks about what they say is the taco lifestyle.
We talked about bacon-wrapped hot dogs, but I was curious about what you thought about bacon-wrapped burritos. Those are kinda big in Tucson right now.
I remember seeing them from my friend Bill Esparza. He sent me a picture of one, this was like four years ago. I haven't had one myself: I can only eat so much bacon. I'm not the biggest fan of fatty food in general. I'm a beef guy. Beef isn't too fatty.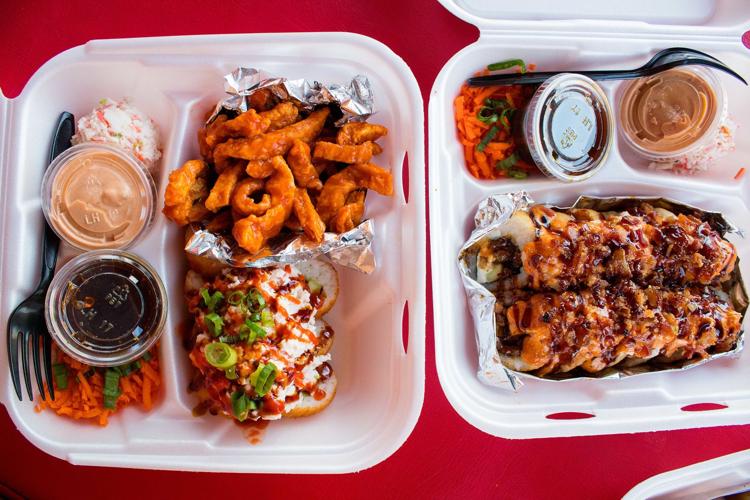 Last question, what do you think about Mexican sushi?
If it's good, why not? That's my philosophy. I've had Mexican sushi, it's not bad. Is it better than Japanese sushi? No. Am I excited that there's a quote/unquote new style of Mexican food? Absolutely. That's what keeps Mexican food so popular and so vibrant is that people are always remixing.
Look at French food, no one gives a f**k about French food anymore. Why, because the French are so doctrinaire. Like, "Oh, French food is supposed to be this, this and that." I have no problem with it.
For me, it's like, Mexican sushi with Takis? Yeah, why not! You should usually judge whether something's good after you taste it. And that's the problem with most people, they have this idea of Mexican food being immaculate. I think it's ultimately self-destructive, and these Chicken Littles don't understand what they do every time they say, "Oh my god Mexican food, someone did this this and that to it." Just watch, one day when you're gonna need our help, we're not gonna be there to help you.