Have you ever seen cinnamon uncurled? Raggedy strips of brown bark, all different sizes; a rustic reminder that the spice comes from a tree. Or whole cloves? You forget what they actually look like, you know? They're so twiggy in their natural state, like little brown tees with miniature golf balls perched on top.  
You could go crazy in the spice aisle here if you're into looking closer at things. It's so colorful, reds and oranges and yellows and greens, all packaged up in the same clamshell containers, printed with the same computer paper label. That's one of the most important things that Nur Market provides: Rare spices that people can't find anywhere else, says co-owner Mohamed Osman. The Tucsonan opened the market with his two brothers Addul and Ismail in 2007, with the intent of creating a hub for other Somalis and East Africans who were having trouble getting the products they needed for their kitchens.
"I tell my customers when they come first time here, they will see it's something new. They see the building from outside, and it's they think it's very different from inside," Mohamed said. "I see Somalia as a unique part of the world."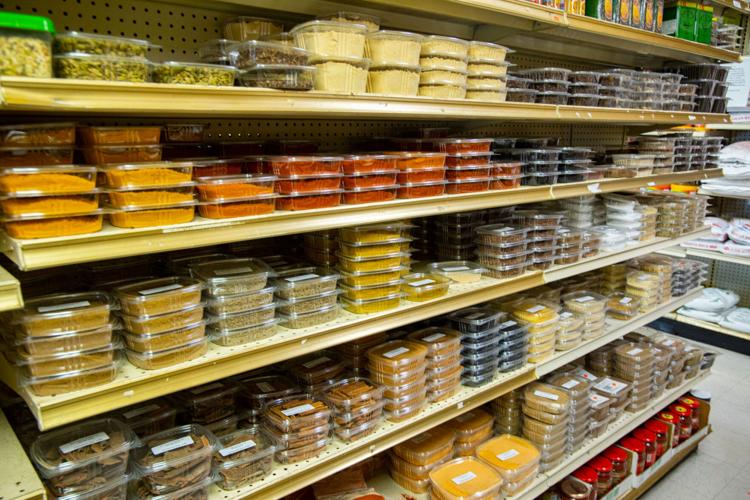 The spice trade has played a significant role in the history and cuisine of Mohamed's home country Somalia. A coastal nation on the Horn of Africa, Somalia has been a trading hub since the age of antiquity, giving its food an international flair that's much different from its neighbor Ethiopia. You'll recognize dishes and flavors from India and the Middle East, African staples from Kenya, and even spaghetti, a byproduct of Italian colonization in the early 1900s. More recently though, Somalia has been plagued by civil war, which drove Mohamed and his brothers to Egypt, and then to Tucson as refugees in 1998. 
While Phoenix has a sizable population of Somali refugees, even claiming a Somali shopping center headed up by WaaMo restaurant at 5050 E. McDowell Road, Tucson's population is much smaller. That's why Mohamed sells goods from several East African countries as well as the Middle East and Asia. Up front you'll find fresh rounds of injera, the spongy flatbread of Ethiopia, perched on the counter next to a frozen foods case with halal products. The aisles have everything from packets of Indonesian ramen to American boxed cereals. Nur Market is also a wonderful place to pick up a beautiful bag of basmati rice, as well as dried lentils or beans like cow peas, kidney beans and more.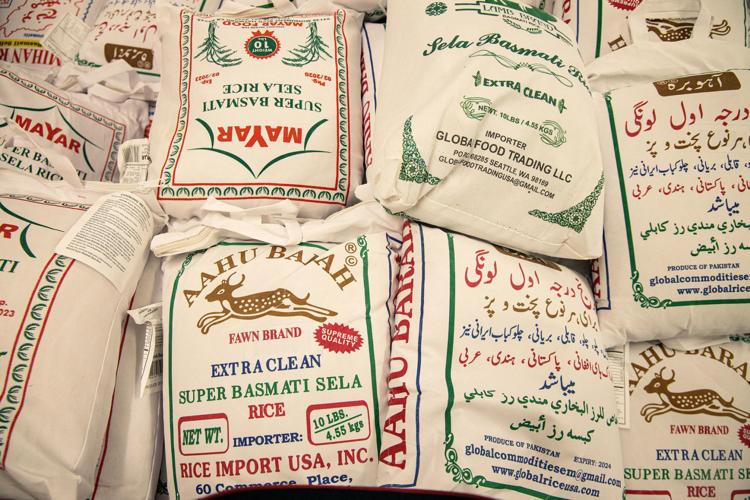 It's easy to feel intimidated by African cooking, but Nur Market sells a lot of snacks and ready-to-eat items that'll spruce up your pantry. With Mohamed's guidance, I picked up a few of these on a recent afternoon. First off, you've got to try the popular Somali coffee called Banadir, $4.99. The outside of the package shows the brew being poured out of a golden Arabic coffee pot, but Mohamed assured me that you can prepare the coffee any way you want. I took some home and have been using it in my French press the way you would with your regular grounds. (Note: I went through the bag and am now ready for a second one.) 
Heavily spiced with ginger, cardamom and cinnamon, the aromatic coffee definitely had a bite to it. I may have been messing this up here, but I really enjoyed putting it on ice, which lightened everything up and highlighted the fruity notes of the beans.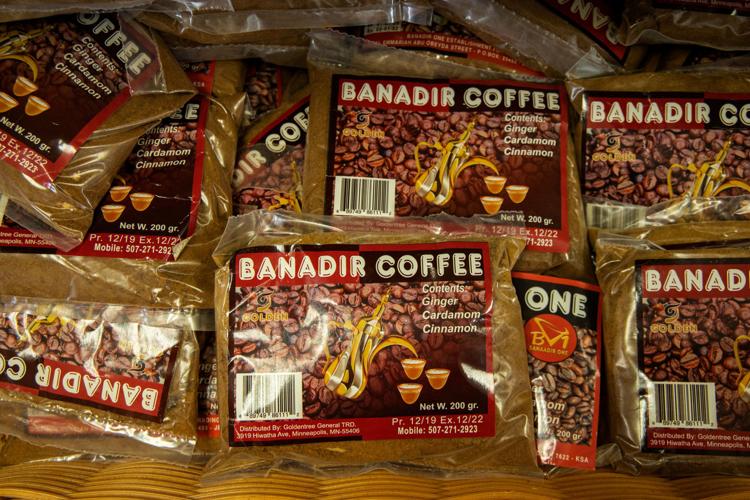 On one occasion, I enjoyed the coffee with a slab of Somali halwa, or xalwo as it's also called. This sugary treat is made in-house with a blend of spices that included cinnamon and cardamom. It's almost like a giant Turkish delight, but with a deep red color and a firmness that requires a fork or a knife.
It's also hard to get out of there without picking up some of the colorful nougat candies up at the front, which are stuffed with everything from bright green pistachios to pieces of apricot. Some of them were firmer like a chocolate bar, and some were so squishy it almost felt like you were eating chewing gum.
I also picked up a bag of sugar-coated chickpeas, $2.99, which hail from Syria. I wasn't sure what these would be like, since they juxtapose sweet and savory in an essentially African/Middle Eastern way. But much like a frosted mini wheat, you only really taste the sugar. I wanted to pour them in a bowl and top it with milk. (Still thinking about that ...)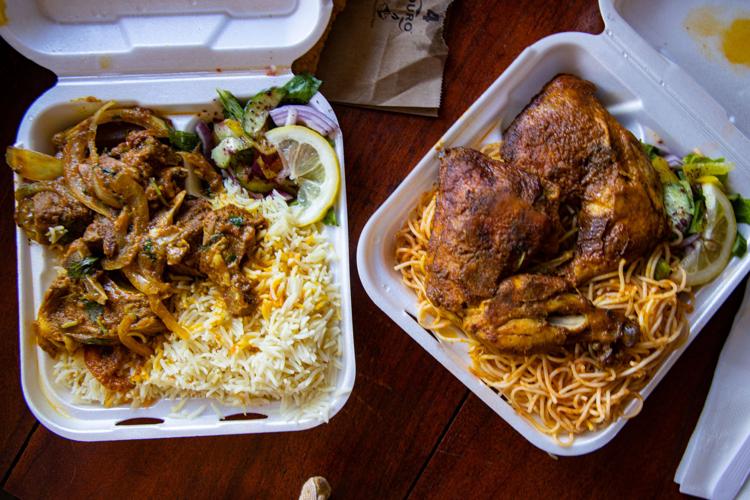 Nur Market also has a small restaurant/takeout counter tucked in the back, managed by Mohamed's brother Abdul. This the only place in town where you can try Somali specialties like roast goat or roast lamb, all sourced and prepared in the Halal manner concurrent with Muslim beliefs. (The most popular religion in Somalia is Islam.) During another visit, I picked up some takeout and got the lamb, which was a mixture of different cuts like ribs, leg, shoulder and t-bone, all bathed in a light tomato sauce and paired with basmati rice. I was floored by how delicious it was, but then again, I love fatty meats .. and this was soft as butter.
Any of the meats can be paired with your choice of carb, and it's actually pretty common to get a plate that includes both rice and spaghetti at a Somali restaurant. I decided to get the spaghetti with an order of roast chicken, or lugta digaaga.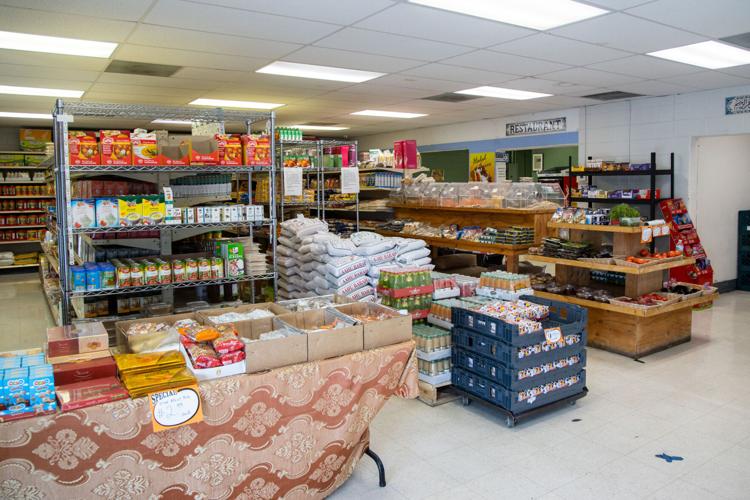 The chicken itself was tasty in its tomato and curry rub, but I was enamored with the pasta. Mostly because it comes with these unbelievable red and green chile pepper sauces. The green tasted like spicy fruit, and the red was like a spicy tomato sauce. In Somalia it's typical to eat your spaghetti with a banana, which you slice up and mix in for some sweetness. They don't give you a banana with your food at Nur Market, but Mohamed said you'll find that up in Phoenix. (Already planning my trip.) 
These visits have been so fulfilling, but they make me feel like I've just begun to scratch the surface. Somali food is definitely one of the world's most interesting unsung cuisines, and Nur Market has given me a thirst for more. And on the topic of thirst, it seems that Somalia and Tucson have one thing in common: During my last visit I asked Mohamed what kind of soda they drink in Somalia. He thought about it for a sec, and then handed me a Mexican Coke.