This story was created by #ThisIsTucson and underwritten by Jack Furrier Tire & Auto Care, with 50 percent off road trip services. Thanks for supporting the local businesses that support us!
---
You know you've survived the summer when that familiar smell of roasted green chiles hits you from the supermarket parking lot. Growing up in the Southwest, we all have fond memories of that black roasting drum spinning bushels of peppers into sweaty charred perfection.
Arizona is chile central this time of year … but we wondered what would happen if we followed this spicy road to its natural destination, New Mexico. Every Labor Day weekend, thousands of people from all over the United States make the trek to attend the annual extravaganza known as the Hatch Chile Festival (aka: Hot Mess of the Southwest 🌶️😛)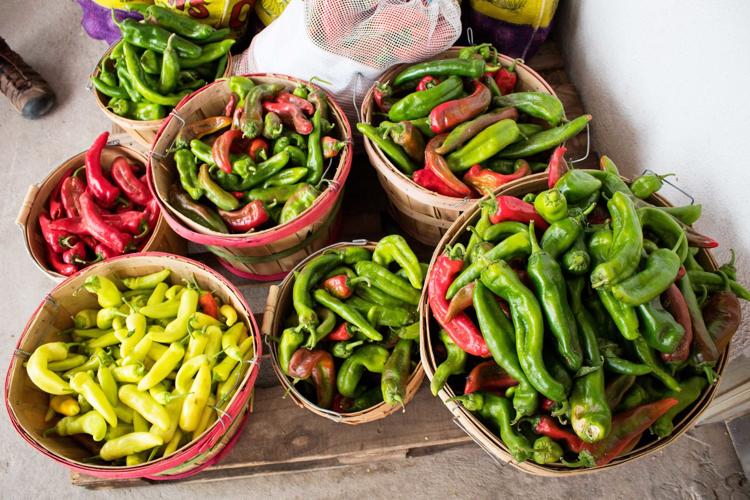 The small Rio Grande River town of Hatch bills itself as "The Green Chile Capital of the World" because its climate and soil produces a very special pepper indeed.
Over in the Land of Enchantment next door, Hatch green chile is used almost like salt. It goes into every food you can dream up, from rellenos and creamy enchiladas to sweets like scones and doughnuts, and even pepperoni pizza! And once you cross the New Mexico state line, McDonald's will sell you a green chile cheeseburger. (Although you're gonna find a better one at the Hatch institution Sparky's Burgers.)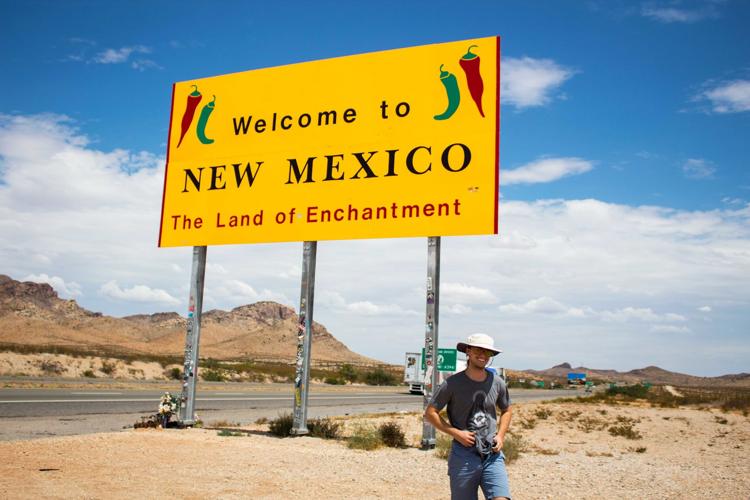 In a state where some of the best food is found in dives and gas stations, the idea of the chile trail is simply a part of the local lore. We decided to craft our own trail heading east from Tucson through the pastel vistas and rolling Georgia O'Keeffe clouds, stopping at small towns like Lordsburg and Deming along I-10. We found green chile everywhere, but the game stepped up the closer we got to Hatch.
In Lordsburg we found a restaurant where the chile sauces were made from from scratch using a family recipe. And in Deming we found a winery putting chiles into their grape blends.
Whether you make the festival or not, the month of September marks the beginning of chile season, and it's the very best time to visit Hatch. Here are the spots we visited during our spicy pilgrimage. Just remember — if you can't decide between red or green, you can always say Christmas!
Farm House Bakery and Restaurant
Start your journey in Benson at the Farm House Bakery and Restaurant, located on the main drag of town near I-10. With sunny yellow walls and cute country knickknacks in every corner, this charming eatery serves up classic diner food that'll fuel you up for the road ahead.
To stick with the green chile theme, we ordered an omelette and egg burrito loaded with the spicy stuff. The light fluffy eggs, melty cheese and hot peppers really hit the spot. Though it was a solid breakfast option, we had the feeling the green chile dishes were only going to get fresher and spicier as we pressed along.
Farm House Bakery Restaurant / 811 W. 4th Street, Benson, Ariz. / 520-586-4326
Dwayne's Fresh Jerky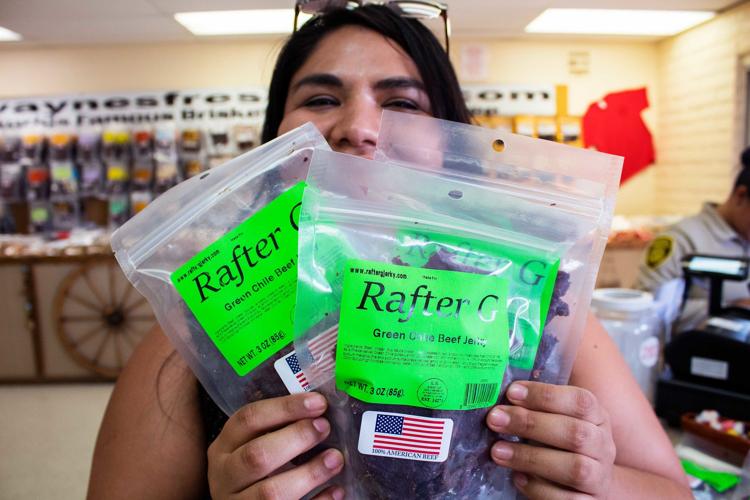 Around Willcox on I-10 you'll spot a billboard advertising "Really Good Fresh Jerky" just 47 miles up the road. And while most things tend to be too good to be true, we reckon you won't feel that way once you make the pit stop at Dwayne's Fresh Jerky. Located on the outskirts of Bowie, this jerky shop and gas station sells a variety of dried meats, nuts, honey, olives and local items.
Customers are greeted by an entire wall stuffed with packaged jerky from around the Southwest. We got some Rafter G Restaurant's New Mexican-style jerky, which is flatter and drier than the jerky you find at a typical gas station. Be sure to visit during the late summer months to get your hands on the first batch of green chile jerky for the year — Believe us when we say an entire bag of this stuff was eaten before we made it to New Mexico.
Dwayne's Fresh Jerky / 1120 W. E. Business Loop 10, Bowie, Arizona / 520-847-2510 / dwaynesfreshjerky.com
Ramona's Cafe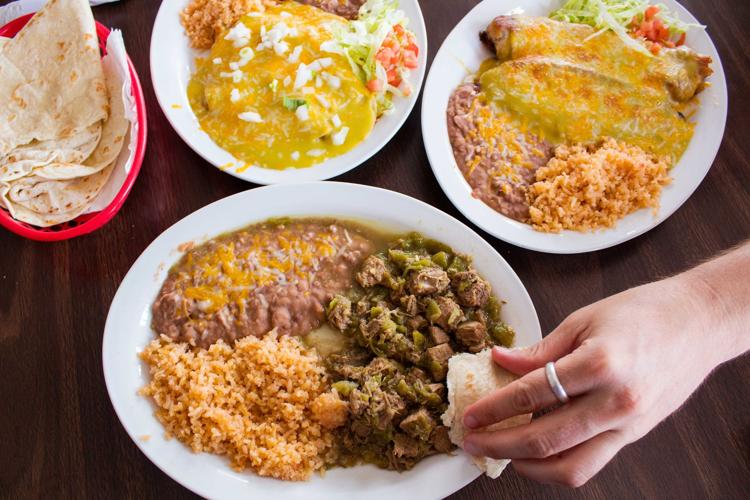 About 20 miles east from the Arizona-New Mexico border, the town of Lordsburg was once a popular roadside stop for travelers heading east from Los Angeles. (Interesting fact: The town was once home to one of the only motels in the Southwest that allowed African American guests.)
You can find the charming Ramona's Cafe on an old strip of budget motels that straddles the old highway. The Silvas family has been cooking New Mexico specialties like green chile beef and cheesy enchiladas since 2006. You're gonna want to order something smothered in their ambrosial green chile sauce, which they make from scratch using a family recipe. Also check out their New Mexico flour tortillas, which are puffier and more toothsome than our Arizona counterparts.
Ramona's Cafe / 904 E. Motel Drive, Lordsburg, New Mexico / 575-542-3030
Lescombes Family Vineyards
New Mexico loves their green chile so much, you can even find it in their wine. The sixth-generation winemakers Lescombes Family Vineyards cold-soak their chile wines in red and green chiles before they bottle. This results in a subtle smokey flavor with a spicy kick.
The Lescombes Winery and Tasting Room is open seven days a week and pours several other varieties of wine. They also have a small food menu and a little store where you can purchase snacks for the road. We suggest enjoying a glass of wine while walking around the green grass outside as you take in the brilliant New Mexican sky.
Lescombes Family Vineyard / 1325 De Baca Road, Deming, New Mexico / 575-546-9324 / southwestwines.com
Hatch Chile Roasting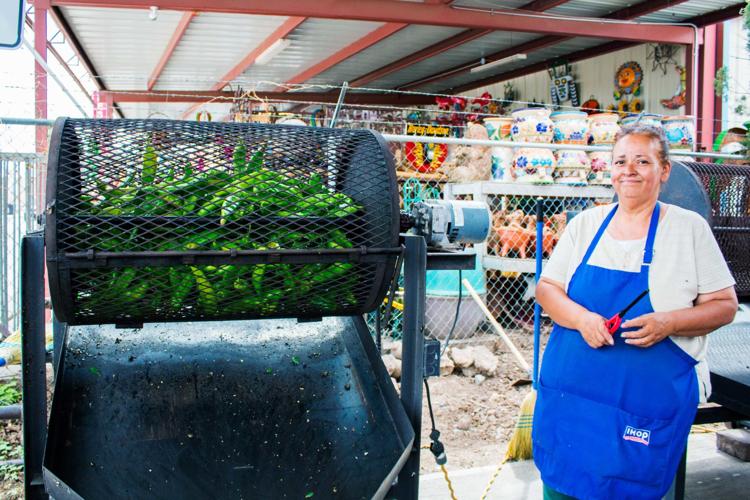 With fewer than 2,000 residents, the small town of Hatch is pretty easy to navigate. Just follow the colorful chile ristras swinging from the buildings! Most of the shops and restaurants are located along the two main drags of West Hall Street and Franklin Street, which take you up north past the Rio Grande River.
People can bring their own green chiles to the many shops and have them roasted, or purchase chiles in bulk to bring home and freeze to use throughout the year. (During our visit we met a man from Tucson who was doing just that.) The shops sell several varieties of chiles like Big Jim, Sandia and more, each with different heat levels ranging from mild to XXX hot. Pick out some fresh chiles and have an employee roast them just for you!
Places we visited:
Hatch Chile Sales / 221 W. Hall Street, Hatch, New Mexico / 575-621-3246
Chile Fanatic / 520 W. Hall Street, Hatch, New Mexico / 575-267-4928 
Sparky's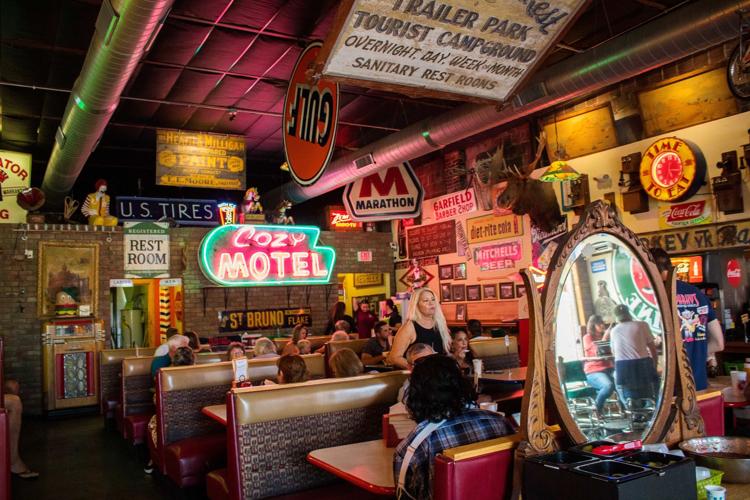 You'll know you're at Sparky's when you see the row of kitschy statues: including an alien, Yogi the Bear and a chile pepper bride and groom perched atop a giant KFC bucket. It's all from the personal collection of owners Teako and Josie Nunn, who filled their bustling burger joint with all manner of kitsch.
But Sparky's also has one of the best green chile cheeseburgers in the US. After driving four hours for it (twice), I can definitely say it was worth the trip. Go big and get the double cheeseburger with a pound of ground beef and two layers of green chile and American cheese. The bun's gonna get wet from all that cheese and meat juice, so turn it upside down and keep going! That's what America does best.
Sparky's / 115 Franklin Street, Hatch, New Mexico / 575-267-4222
---

Before you head down the road, take your car to Jack Furrier Tire & Auto Care to get it Road Trip Ready with 50 percent off services that will get you where you need to go. Click here for more info or call 520-547-5005. With 14 locations around Tucson, you'll find one near you.