Editor's note: This story was originally published in January 2022.
---
The back of Tania's 33 is like if what lurked behind the Wizard of Oz's green curtain was actually amazing. Past the plastic flaps that separate the front and back of house, behind the horseshoe-shaped grill, steam table and fry bay that produce most of the items on their prodigious menu, you'll find a narrow hallway lined with stock pot stoves.
You may never have seen burners like these before: rather than the smaller, waist-height gas stoves you may associate with commercial kitchens, these are made of cast iron and hover low to the ground, so that the 80-quart pots are at arm's reach.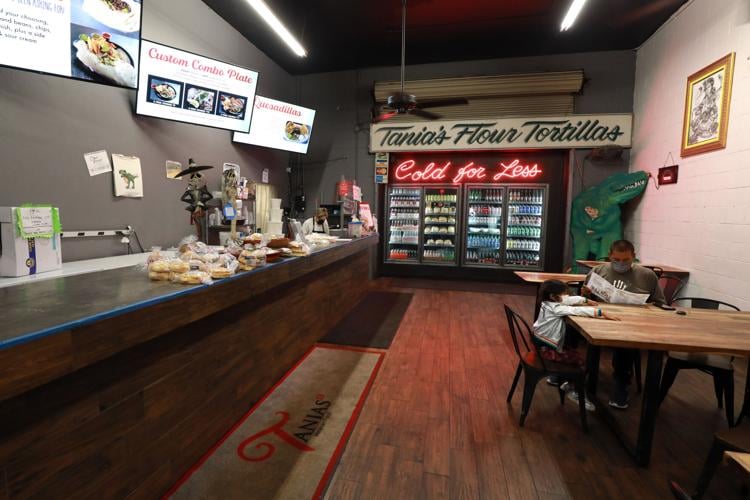 This hallway is the domain of Rudy Lira III, whose grandmother founded Tania's in the '70s. He grew up watching his parents cook for their community and now runs their bulk foods program, responsible for the wide array of soups and stews at the west-side institution. Tania's has been slinging menudo at 614 N. Grande Ave. for nearly four decades.
On a Thursday morning, four of the eight burners are cooking menudo. Rudy got to work at 5 a.m. (as he does every day) so customers can order the soup fresh when the restaurant opens at 7 a.m. "We're chasing our own tails," he said. "As soon as one pot gets low, we have to start another one."
One of the 80-quart pots, which could fit an elementary schooler in the fetal position, is full of birria and covered in armfuls of spices waiting to be stirred. Another is full of barbacoa. The crowning pot, perhaps the largest one in the kitchen, is the 200-quart they use to cook the hominy that goes into their menudo and is ground into masa for their tamales.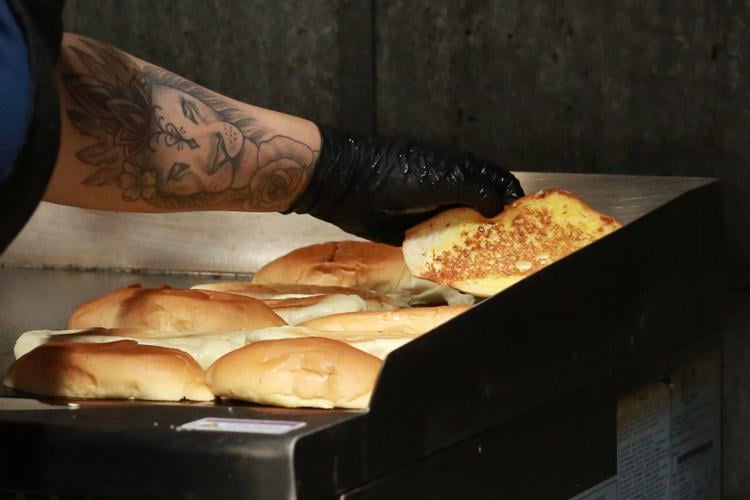 "The recipe for menudo is quite simple," said Rudy Jr., Rudy III's father and co-owner of Tania's. "You can't really change it that much, except refusing to cut corners. We don't add any water to our menudo to make the broth last longer. Our menudo is three-quarters meat and hominy, one-quarter broth." In other words, they don't skimp on the good stuff.
What can make menudo polarizing is the tripe, the stomach lining of a cow. People who love tripe like the gelatinous texture, its whisper of funkiness. People who don't love tripe probably dislike it for the same reasons. It's a mild, nutritious cut of meat, which takes on the flavors of its fellow ingredients, whether in menudo or other dishes like phở or andouille.
While there are technically four types of tripe — one for each chamber of the cow's stomach — to my relatively untrained eye, Tania's menudo seems to mainly use rumen, or blanket tripe, from the first stomach of the cow. One side of the rumen might have sea-kelp-beds of papillae, which allow the cow's stomach more surface area to absorb nutrients. One or both sides might be smooth.
Red and white menudo are each more popular in different regions. "Here, our orders for white menudo outnumber red 10:1," Rudy Jr. said. "But in New Mexico, people might never have even heard of white menudo before." He explained that white menudo, which is pretty much only tripe, garlic and hominy, is culturally specific to the Sonoran region. "But some people think it should be all meat and no hominy," he said.
Rudy III prefers red for the spice. "There's a little more room for personal flair with red menudo than white. Each person has their own unique blend of spices," he said.
While the recipes for menudo might be relatively simple, what makes it a special occasion food is time. The four-hour minimum to concentrate the flavors and get the tripe to the right texture means many restaurants only serve menudo on the weekends. Tania's prides themselves on making it every day of the week.
"In the food service industry, you do the work for others as much as yourself," said Rudy III.
---
Tania's 33
Location: 614 N. Grande Ave.
Hours: 7 a.m. to 5:30 p.m. Monday-Saturday | 7 a.m. to 2:30 p.m. Sunday
For more information, check out their website.
Other places to get bomb menudo:
Our readers recommend: