The lot at 22nd Street and Pantano Road looked like a set from "Scooby-Doo." The lush desert had been razed and loosely paved over; neon orange plastic fencing surrounded the space closest to The Loop; the only things growing there were scraggly shrubs and piles of sun-bleached garbage.
The central structure was an abandoned gas station, marked with plywood and graffiti, far enough back from the street that it was dwarfed by the small ocean of a parking lot.
Amid that disrepair, Amber Donahue and Chris Frisch saw an opportunity: a lot at 7889 E. 22nd St. that could fit a food truck park, now known as The Pit.
They cleaned up the property themselves, turning to the community to source the materials and labor to renovate the lot: a local business donated lumber, and neighbors donated the tables and chairs they set up under the awning of the former fill tanks.
Amber and Chris didn't need to advertise the space: food trucks were reaching out to them. Within months, they had a steady roster of seven full-time trucks, from a Lebanese chef specializing in delightfully garlicky sandwiches to Bemo's Ol' Joe's, a decadent barbecue truck.
The Pit quickly became a fixture in the east-side community: on weekends, crowds would come to listen to live music and dance. Its success was visible, if not ostentatious: The Pit started getting complaints from nearby businesses about food truck visitors' cars overflowing into their parking lots.
When the complaints reached the city, inspectors uncovered a bigger problem, one without an immediate solution: there weren't any codes that allowed for that many food trucks to exist permanently in such density. Moreover, The Pit was violating some rules in place for health and safety, such as loose extension cords and a bathroom that wasn't compliant to ADA standards.
The City of Tucson and The Pit were in conversations for months trying to negotiate a way forward. On Jan. 11, Amber got the call. The Pit had to shut down.
Other cities have food truck parks. Why not Tucson?
Amber and Chris came to Tucson from Washington State, where the divorced partners had led a physical therapy practice for elite traveling athletes. The pandemic shutdown ended their once-thriving business within months of 2020.
When they sold their houses and were deliberating what kind of business to open with the proceeds, their primary concern was something pandemic-proof. By the time they relocated to Tucson, they realized our town was missing something they enjoyed in comparable cities across the country: a food truck park.
They might have wondered why a city like Tucson, whose culinary wealth can be counted in its number of extraordinary food trucks, didn't have a park like those they had seen in Portland, Oregon, or Austin, Texas.
For better or worse, Tucson has enough vacant lots to house all these treasures: Cocteleria La Palma on Sixth Avenue and 22nd Street (or Ruiz Hot Dogs across the street), El Sinaloense #5 on Pima Street and Alvernon Way, Empanadas El Dominicano on Broadway and Rosemont Boulevard. These food trucks are a small sample of proprietors turning dusty blight into a beacon of culinary pleasure.
But these food trucks — or peddlers, as they're called within city code — often operate solo, based on conditions in their licensing.
Amber and Chris would later discover why no food truck parks exist within city limits: a condition within peddler's licenses that states food trucks cannot set up within 100 feet of each other. This ensures that, in case of a fire, damage wouldn't compound with each truck's exposed propane tank.
"Google 'food truck explosion,'" said Andy Squire, public information officer for the City of Tucson. If an explosion happens, and the city knew The Pit was violating safety codes, taxpayers would be liable for an extremely tragic and expensive lawsuit.
The [distancing] rule also ensures that a food truck park couldn't happen on a lot smaller than a football field. In order to fit seven food trucks on a lot, each 100 feet apart, you'd need a lot sized at least 1.26 acres — just to fit the trucks: no parking, no concessions. Including parking and seating, you're looking at a lot the size of two football fields for 10 trucks.
Because no previous infrastructure existed on the site, like hookup stations at an RV park, the food trucks were permanently stationed and running off of loose extension cords.
While rules exist for temporary food truck rallies — at the gem show, for instance, or other special events — there is no system in place to regulate a permanent food truck park. When the existence of a densely populated food truck park violates code, there's less of an incentive to also correct for health, parking or safety issues that may not seem serious. You're already breaking the rules.
For now, the city has rescinded their closure order, allowing The Pit to stay open indefinitely under the same regulations in place for events like the gem show.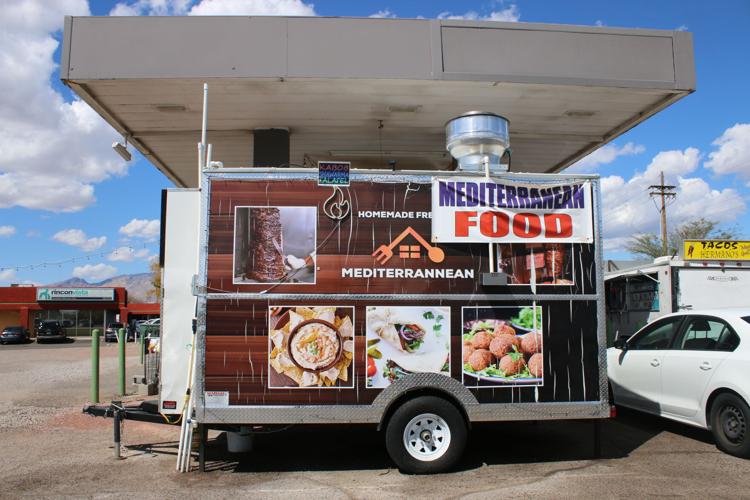 The main issue: the lot
Andy said the primary issue with The Pit was its lot. Though advantageously located at a major intersection, the lot simply didn't have enough space to support 10 full-time trucks, and is unusually broken into two separate zoning categories — R1, or residential, and C1, commercial.
"There's 2-acre [commercial] parcels all over the city. It all depends on if they're looking to purchase, if they're looking to lease," said Dave Mammack of Cushman & Wakefield/PICOR. "They're all going to be very, very expensive." 
The Pit was created with a budget of $100,000. That money can be spent very quickly once code enforcement gets involved: business owners need to hire architects or engineers to work on site plans and development packages with the city, then those renovations must be paid for and then you pay hundreds of dollars in fees for inspections.
The Pit officially opened in March 2022. When the city sat down with The Pit to go over their zoning violations in August 2022, officials stated that the size of their current lot could support no more than two or three food trucks.
If you're launching a relatively new concept in Tucson, Andy says the city encourages you to work with them before breaking ground. "Come to us with your beautiful business vision, your dream, your idea and let us help you make it work in a way that's not going to waste your hard earned resources that you have," Andy said. "We have small-business navigators specifically out there to do that. They're Spanish speaking. They're working with people [to connect them to resources]."
But, tied to their current location, The Pit wouldn't succeed with only two or three trucks. Not only would Amber and Chris not generate enough income from their leasees, they'd also be turning away four food trucks who are profiting at their current location.
"Before this happened, we started to scout a west-side location or a further south location, because it's so popular and we don't have enough room for all those trucks," Amber said. "So for all the trucks that you see there, double the amount — that's the amount of trucks that want to park there. That's a lot. That means that we did something good. And so we were scouting a second location. We keep bleeding money because of all of this, though."
Amber and Chris drew up a new site plan with their architect and submitted it to the city in November — three months after their meeting with city planners (usually, new site plans are submitted within 30-60 days, the city said).
The plan was rejected. City planners suggested creating a development package to get electrical and parking issues under code, but those renovations would cost tens of thousands of dollars and still not solve the issue in the peddler's license about distancing trucks 100 feet apart.
"We became increasingly concerned about their activities at the site," said Timothy Thomure, the assistant city manager. "Our perception was they were drifting further away from compliance and not drifting more toward compliance."
On Jan. 8, the city received another complaint about The Pit: an anonymous source reported drinking, live music and dancing happening on premises.
An inspector showed up that afternoon with an escort of four police officers, each in their own vehicle. "TPD was on site to preserve the peace if required," read the inspector's notes. According to city planner Elisa Hamblin, police are not typically involved in inspections.
The inspector reported that "There is no music, dancing or selling of alcohol to drink on site," but that they "will be checking on the status of the approval of the plans that have been submitted and shows that they are being checked for approval."
Though the complaint had nothing to do with the real safety concerns the city had — it wasn't about parking or loose extension cords or food trucks without fire inspection approval stickers — the city felt like they couldn't ignore the noncompliance any longer.
Three days later, Amber received the phone call: they had until the weekend to shut down.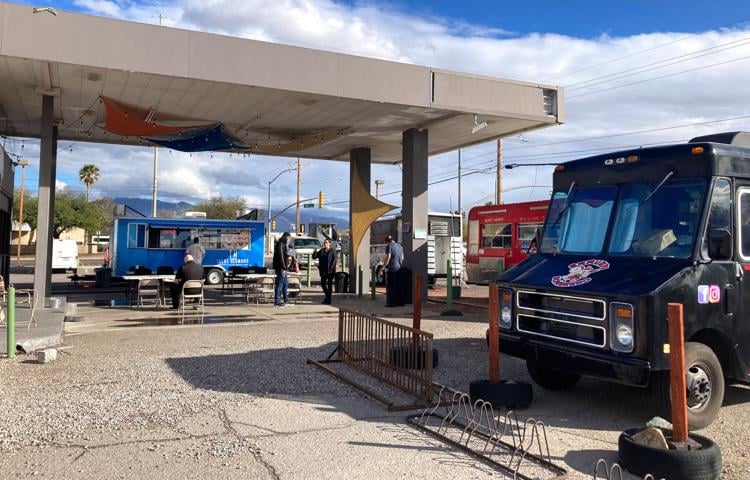 What happens now?
Amber began circulating a petition to save The Pit in July, after receiving the first complaints from the city. As of writing, over 3,000 people signed it, and a third of those signatures left comments declaring the community's love for the food truck park and celebrating the renovation of what had been a vacant lot. Users begged the city to update the code to accommodate a dense food truck park.
These Tucsonans were also reaching out to their representatives — specifically east-side council member Paul Cunningham. "I have an overwhelming number of constituents in Ward 2 who want The Pit to stay open. Overwhelming," Paul said. "I have a job to do: that's to respond to my constituents, respond to my businesses, and make sure the City of Tucson government's making the best decision. Truth be told, we probably could have finessed this a little better."
Paul brought the concerns of his constituents to a study session on Jan. 11. The Pit had been ordered to shut down earlier that day. Mayor Regina Romero directed him to reach out to the city attorney's office to see what could be done as swiftly as possible. By that Friday, Jan. 13, Paul was driving out to the site of The Pit, where he would meet with Andy; Timothy; Amber and Chris.
His goal was initially to get The Pit reopened in 10 days. "To his credit, [Timothy] was like, 'Let's meet on site today, on a Friday afternoon,'" Paul said. "So we were out there at 4:30 on a Friday going into a three-day weekend. You find me another deputy city manager who's going to do that."
"And the three of us were out there, basically horse trading with The Pit people," Paul said.
While he was driving over, Timothy was thinking about what rules he could possibly adapt to fit the situation at The Pit. By the time he got there, he decided he'd apply the codes the city uses for the food trucks at temporary events, like the gem show. On site, he identified seven violations The Pit had to immediately address to reopen:
Two modifications to the parking area
A limit of seven trucks, plus two pop-up vendors at tables
Electrical cords and connections needed to be made safe and covered by anti-trip runners
The trucks needed to be inspected by the Tucson Fire Department and display stickers confirming approval
The bathroom needs to be kept open during all advertised hours
To make the bathroom ADA-accessible, an update to the sink was needed, in addition to a cord cover
The next Wednesday, fire inspectors came out to evaluate the food trucks and give their approval. Minor violations were found — for instance, one truck needed a new fire extinguisher — but nothing serious. Andy said the inspectors found "nothing with massive life, health, safety issue, otherwise they would have taken more formal action."
The Pit has since amended those seven violations and now operates above-board, under the same rules that apply to gem show vendors.
Before the rendezvous on Friday the 13th, there was tension between the city and The Pit. The two parties were miscommunicating: In August interviews, The Pit felt like their concept of a dense food park was being disregarded and their livelihood threatened; the city felt like there were safety hazards on site that taxpayers would be liable for and that they were working with a noncompliant party.
After the on-site discussion, that tension was still present in every interview, but their language shifted: now each party wants to cooperate to move forward.
"We did our best to find a path forward," Timothy said. "That keeps them in operation for now. And we'll be focused on, if there's a code change that makes it so a food court village can safely be done in Tucson … with a bigger density of trucks than what you could do today. That's where we're focused."
"We are, as staff, doing some due diligence on the item because we were pretty sure that there's a lot of interest in the item," Timothy said. "So, lacking the formal action [getting the go-ahead from mayor and council] isn't going to keep us from doing some due diligence. But we would need the formal action in order to go down the path of actually putting a package together."
Once the mayor and council vote to begin the amendment process, disparate parties, such as code enforcement and Tucson Fire, will come together to figure out best practices for a dense food truck park.
City planners will evaluate the regulations that cities like Austin and Portland use to keep their food truck rallies safe.
After those parties draft the amended codes, the city mandates listening sessions so constituents can give feedback on these new rules. Then, the parties will reevaluate the code with the city's concerns in mind, and the mayor and council will vote to approve the amendment.
"On a good day, that can take months. On a bad day, that can take years," said Timothy. "This is the kind of thing that I think takes months," he said — at least six, in order to guarantee all involved parties (including us, the citizenry) can provide feedback to the new code.
Though The Pit has been granted interim status as long as it adheres to gem show rules, the amended code might still force a shutdown. "A code amendment is not a guarantee that this is going to come together," Andy said.
Even if the city is able to amend the code to allow for closer distancing between food trucks, The Pit might still run into obstacles like not having enough parking, or the unusual mix of residential and commercial zoning that undergirds the property, which isn't owned by them. Their landlord would have to approve all zoning changes and renovations to make The Pit safer, like developing electrical infrastructure so they don't rely so heavily on extension cords.
The Pit's backup plan is to relocate: "We close up, we regroup, we find a different location. And we do it all over again, outside of the city limits," Amber said. The peddler's license that stipulates the 100-foot distance between trucks is unique to the City of Tucson. Outside of city limits, in Pima County, no such regulation exists.
The organizers behind the soon-to-open Comida Park at Tanque Verde Swap Meet are taking advantage of Pima County's leniency: mockups for their food truck rally show trucks lined up closely, with propane tanks bumping against the next truck in a narrow line.
But for now, the negotiation that was made at The Pit on Friday the 13th should hold until the city has the chance to amend its codes.
How long can these interim rules last? "Indefinitely," Timothy said.
---
Our Eat + Drink coverage is supported by: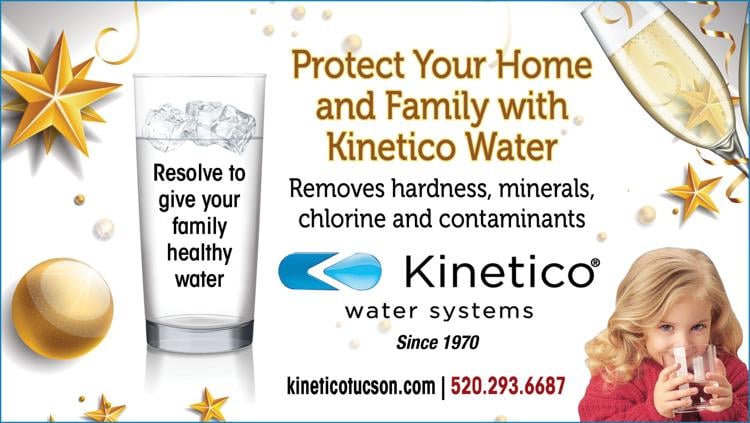 Resolve to give your family healthy water 
Restaurants, breweries and coffee shops know that clean, pure water is crucial. This new year, you too can get that at home with Kinetico Quality Water, which removes more contaminants than any other system. Save up to 20% off a Kinetico K5 drinking water station (restrictions apply) or call today for your free water analysis. Visit KineticoTucson.com.
---
What does "supported by" mean? Click here to learn more.