Editor's note: This story was originally published in July 2021.
---
Micheladas were not invented in Tucson, but they were invented for Tucson. The traditional Mexican hangover cure doubles as a crisp, savory salvation from our city's relentless heat.
As we stare down the long barrel of summer, the need becomes apparent for something refreshing, a little boozy, yet light enough to drink in the daytime. Equally important: an air-conditioned place in which to imbibe, and forget about the sun waiting to blind you upon exit.
THE NEIGHBORHOOD is that place. Although its slump-box building is the color of extinguished charcoal, and its location at 3940 E. 29th St. is about as unassuming (across from a self-storage center), the sports bar earned its all-caps title in 2016 — its rookie year — when Modelo Especial hosted Tucson's Michelada Challenge. The Neighborhood broke through, and took home the title.
Bartender Karol Lina Bojorquez brought her Michelada mix to The Neighborhood when she was hired, in the earliest days of the sports bar. Lina, as she is known by regulars, has been bartending since she was 19.
"I started out wanting a job with tips, and then I fell in love with serving people," she says.
She invented the mix at home, while obsessed with Clamato — a tomato juice cocktail with sugar and clam juice that is used, with beer, as the base for most Micheladas.
"It's important for a mix to bring out Clamato's flavors without overpowering them. Too much Tabasco, too much lime, and you don't pick up on what makes Clamato taste so good."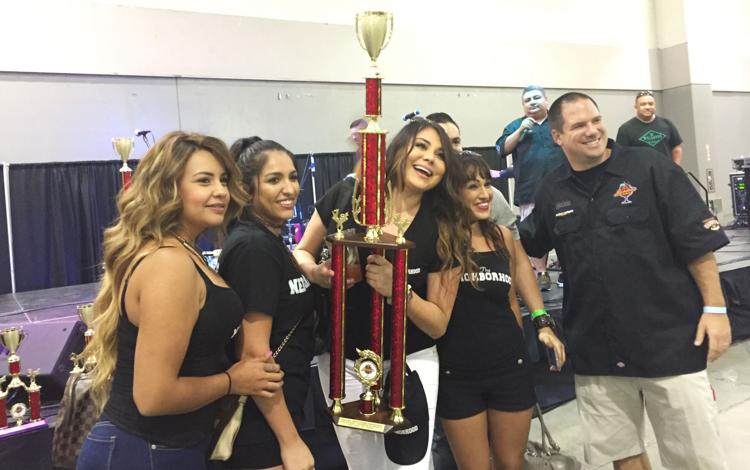 The key to Lina's Michelada is at-times grueling physical labor. "The drinks I make usually take just a little bit of extra time," she says. "It's addicting."
She squeezes around 300 limes a week, fresh, just for the Michelada mix. "This is the year I'm going to get carpal tunnel," she joked. That's just one step: Her Clamato also gets infused with house-fermented celery and lime, and she muddles more celery for garnish for each drink.
Owner Danny Cordova drives down to Nogales on a semi-regular basis to import truckfuls of the tamarindo candies that are a fun sidecar to the cocktail.
On and off the drinks menu, The Neighborhood's advantage may be found in its fondness for Tajín, which abundantly coats any menu item that can be dipped or rolled.
Even pictures can cause your mouth to reflexively water, anticipating the bite of lime and a thrill of chili. Pay special attention to the robust stems of their glassware. Each chalice must be strong enough to counterweight a full bottle of imported beer (or sometimes Jarritos), bobbing upside-down in a gravity-defying stunt.
While the bevy of high-octane bar fare keeps customers coming back, Lina's Michelada is what put The Neighborhood on the map. "We started so slow, and boom — we all kind of succeeded together. Where we've been, our ups and downs, we've fought through together," she says. "Winning the competition is my biggest pride and joy."