Coronavirus was a one-two punch for the Taco Shop Co. The late-night burrito joint had already lost a good chunk of business due to the Broadway widening construction, but when campus closed and nearby downtown bars shuttered, the team knew they had to do something to keep the young people coming.  
So after a good deal of discussion on how it would work, they decided to re-route the flow of traffic in their parking lot and turn their shop into a drive-thru, said manager Maria Covarrubias. They stripped out the menu board from over the register and put it out front, installing new electric wire to hook it up.
Since the building at 1350 E. Broadway — on the southwest corner of Broadway and Highland Avenue — wasn't really meant to be a drive-thru, they didn't want traffic to end up backing out onto the street. So they figured out a solution where you pull up with your passenger side window facing the building. An employee serves you your food and takes your payment by putting your stuff on a bright red tray and sticking it into your car. It's a little funky, but it works! 
"Improvising a drive-thru is still a challenge," Covarrubias says. "Our regular customers didn't know what was going on. They preferred to walk to the window to order. Now our regulars know how it works. And we do have new customers."
Their drive-thru is open Sunday through Wednesday from 11 a.m. to midnight, and Thursday through Saturday from 9 a.m. to midnight. They also have a walkup window if you're on foot. 
But Taco Shop isn't the only one that's reinventing the wheel. In a win for social distancing, these Tucson restaurants have also added drive-thrus. We love seeing other people, but we also love eating Sonoran hot dogs without getting out of the car. (Remember though, it's still important to wear your mask.) Here are some other local spots to check out!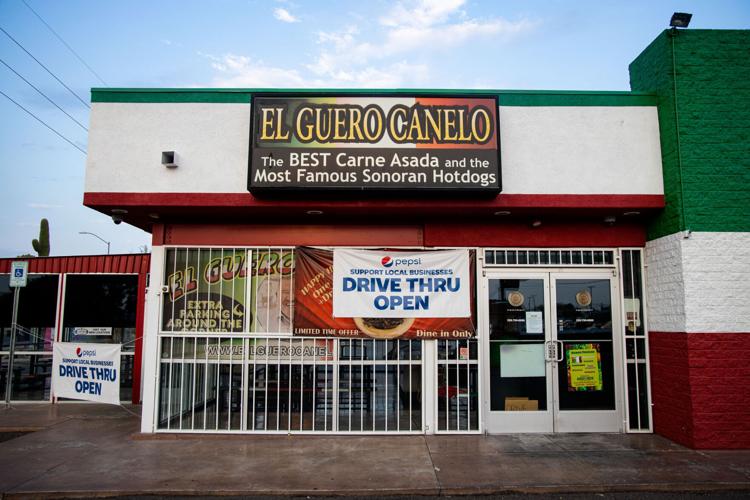 • El Güero Canelo: At the start of the pandemic, El Güero added a drive-thru to its location on 22nd Street, which had a steady stream of customers during my visit last night. It's also important to note, that Tucson's other Sonoran hot dog chain BK Carne Asada also has a drive-thru at its First Avenue location. Address: 5802 E. 22nd St. Hours: Monday-Thursday, 10 a.m. to 9 p.m.; Friday and Saturday, 10 a.m. to 11 p.m.; Sunday, 10 a.m. to 8 p.m. 
• Raspados El Paraiso: The lime green raspados shop has a handy dandy drive-thru at its original location on 22nd Street (which just happens to be right down the street from El Güero Canelo's drive-thru). Grab a Sonoran dog and then head over for a mangonada! Address: 5917 E. 22nd St. Hours: 11 a.m. to 10 p.m. daily 
• Med Cuisine: This new Mediterranean restaurant is located in the former El Saguarito on Prince and Campbell. It's actually a second location for the business, which is located in the food court at the Park Place mall. Order ahead or show up to the drive-thru window to place your order. Here's a menu! Address: 1763 E. Prince Road. Hours: Monday through Friday 11 a.m. to 9 p.m., Saturday 11 a.m. to 9:30 p.m., Sunday 11 a.m. to 6:30 p.m.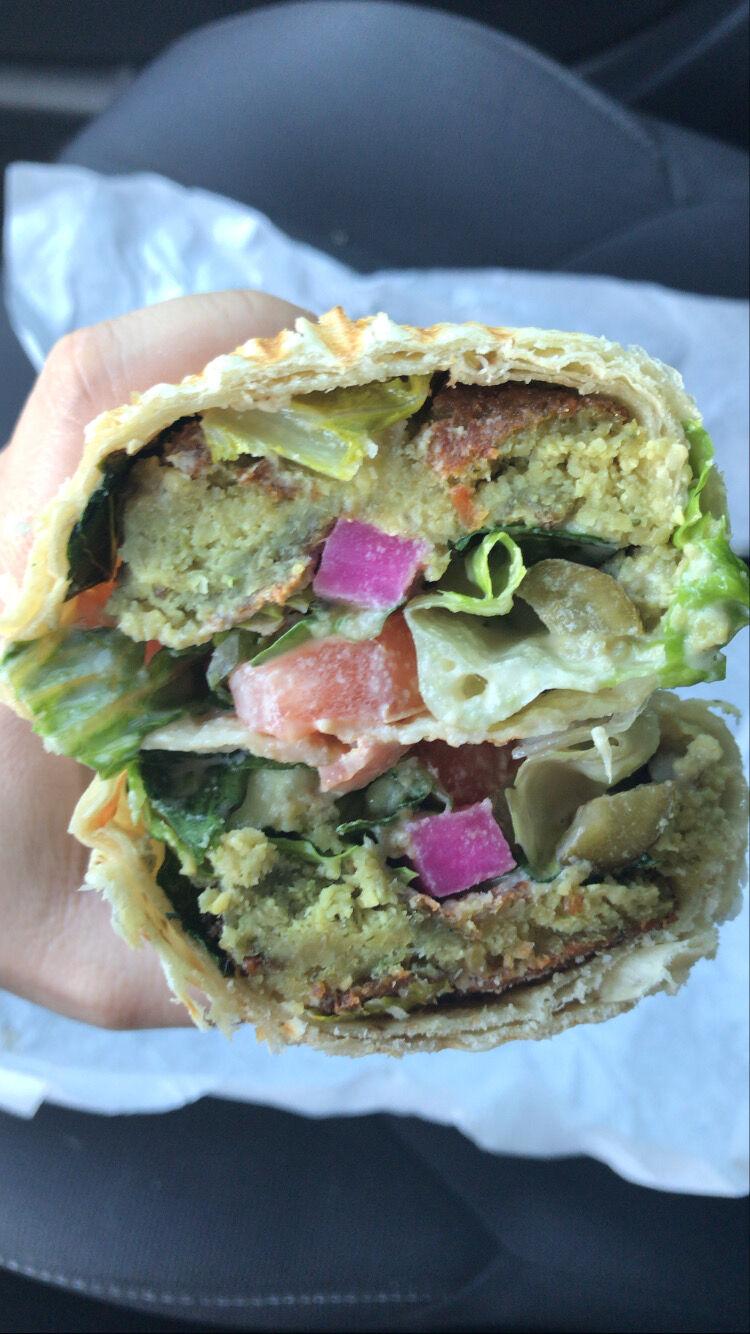 • Caravan Grill: This midtown restaurant recently installed a drive-thru so you can pick up your favorite Middle Eastern dishes without turning off the air conditioning. They have some of the best falafel in town, and the "falafel sandwich" is a delicious and portable way to eat it. It's actually more like a wrap, with lettuce, tomatoes and a creamy tahini sauce mixed in. Address: 2825 N. Country Club Road. Hours: 11 a.m. to 7 p.m. daily 
• El Chapo: This Mexican snack shop opened about three weeks ago in the former Queen Donuts space on St. Mary's Road. (El Chapo was actually a childhood nickname for the owner Karim Duqmaq.) It serves raspados, tostilocos and several varieties of elote covered with Takis, Cheetos, Doritos and more. Hit up the drive thru for a quick snack! Address: 1108 W. St. Marys Road. Hours: Tuesday through Sunday 11 a.m. to 9 p.m., closed Monday 
Other restaurants that already had drive-thrus
Just to jog your memory, here's a quick list of some other local businesses that have had drive-thrus from the get. 
• Hot dogs, sandwiches and Chicago staples 🌭: Find them at Luke's Italian Beef, 1615 S. Alvernon Way
• And for everyone's favorite combo, fried chicken and doughnuts 🍩: Head to Alvernon Doughnuts at 1450 S. Alvernon Way