It's expensive to go home — especially when home is the Philippines.
"When I moved to the U.S., a lot of things were new to me. My sister and I didn't know anybody other than our dad," Kei Ann Mandanas says.
"When I got here, there was not many options in terms of Filipino food, or it may not be the version I'm used to. I wanted to make something that would keep me connected to what is familiar to me and what I grew up with and what my family would be proud of."
Mandanas grew up cooking alongside her grandparents in the Philippines, and then learning her way around the kitchen from her dad when she moved to Tucson in 2010.
Her mom, dad and sister are all nurses. Owning her own at-home bakery, she may be the black sheep, but she doesn't seem to mind.
Mandanas bakes treats with Filipino flavors — chile mango, buko pandan, ube. She's even dabbled with vegan lumpia. Ate Kei's Filipino Treats (ate means older sister in Tagalog) has treats in four cafes across Tucson and makes regular appearances at local markets.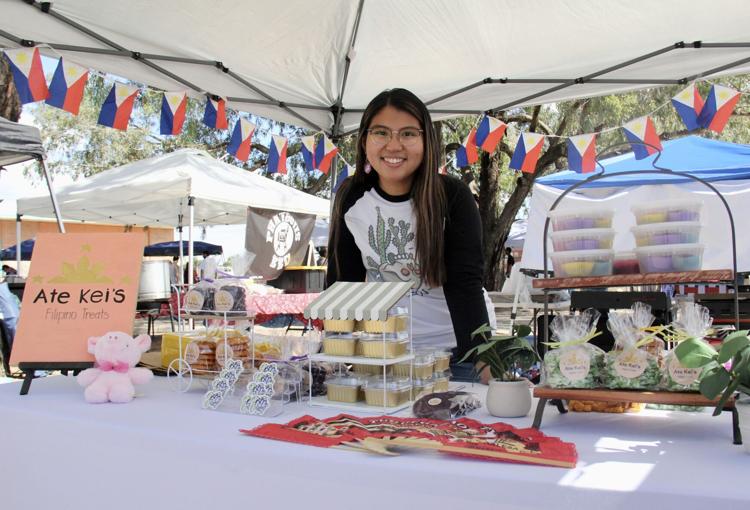 She knows Filipino food can be hard to find in Tucson — her all-time favorite Filipino dish is one that can't be found here. In the Philippines, the pork dish Dinakdakan is cheap and accessible to everyone. If she wants it here, she asks her dad to make it.
"Coming from an immigrant background, you want that taste of home," she says. "For me, some of the things I do remind me of cooking with my family and being with them. I want to be able to share that with people."
Mandanas knows people in Tucson who are from the Philippines but haven't had the chance to visit in many years. Part of it is because many people come to the U.S. to help their families overseas. Some of it is because it's not cheap to fly thousands of miles away.
"Obviously the treats themselves aren't going to fix anything," Mandanas says. "But at least they bring you some comfort of where you came from."
She often sets up at the St. Philip's Plaza weekend markets, selling her treats and meeting all kinds of visitors. She met one person who had just moved to Tucson from the Philippines the week prior — that person had found Ate Kei's Filipino Treats on Facebook and visited the market to say hello.
"Filipinos love feeding you guys," Mandanas says. "Whenever you stop by my booth, I almost always have samples. Even if you don't buy anything, I just want you to try it and see what other Filipino flavors are out there. I don't want to be pigeon-holed into a certain flavor — I want people to try all these different things I grew up with."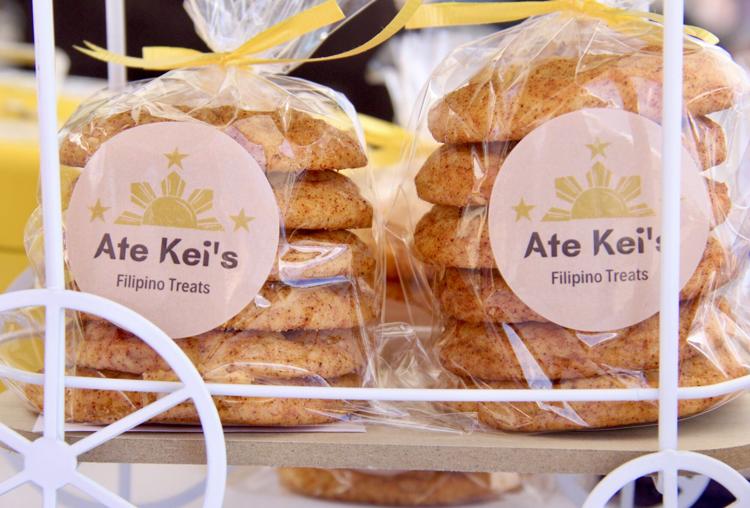 Mandanas loves experimenting with food, creating new flavors in the kitchen. Her favorite treat at the moment is the chile mango cookie. She knew she wanted to bake something with the Philippines' national fruit — and she was inspired by the Mexican chile mango candies that she loves.
The buko pandan cookies, inspired by the green Filipino dessert with jellies, reign supreme among customers, followed by her ube-flavored treats like cookies and vegan brownies. Ube is a purple sweet potato that's often described as vanilla-y and kinda nutty.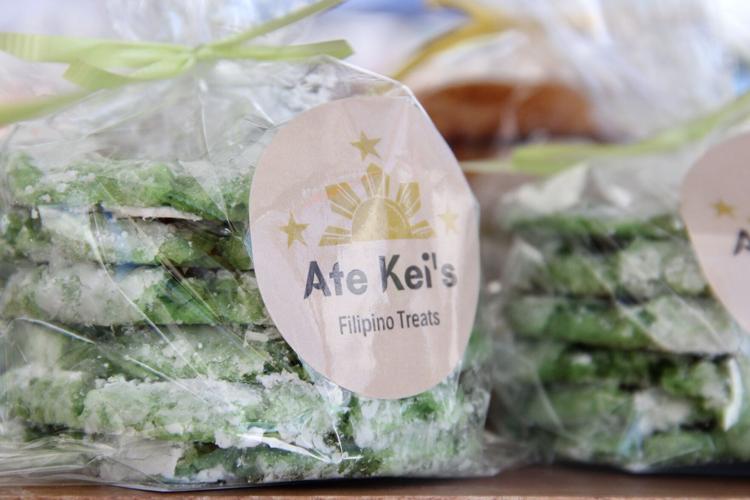 This summer, she plans to launch Filipino drinks and ice scramble — a pink milk-based smoothie-like frozen dessert with banana extract and toppings like marshmallows and sprinkles. In the Philippines, people would sell the treat outside of schools, from ice boxes attached to their bikes.
"It's like really nostalgic for a lot of Filipino kids, especially growing up in the '90s, '80s," Mandanas says.
Eventually, she'd like to expand even further with items like vegan pancit and vegan lumpia. Mandanas' sister is vegan, so it's important that she gets to fall in love with the food, too.
"That's the thing about Filipinos — we want to cater to everyone so more people can try this food," Mandanas says.
But until she can perfect those recipes, she's focusing on the baked sweets she's known for.
"My family engrained in me, don't put out stuff just to put out stuff, it has to be something you like and people would like," she says. "I don't want to make something to slap a Filipino (label) on it — I want my mom or my grandma to eat it and say it tastes really good."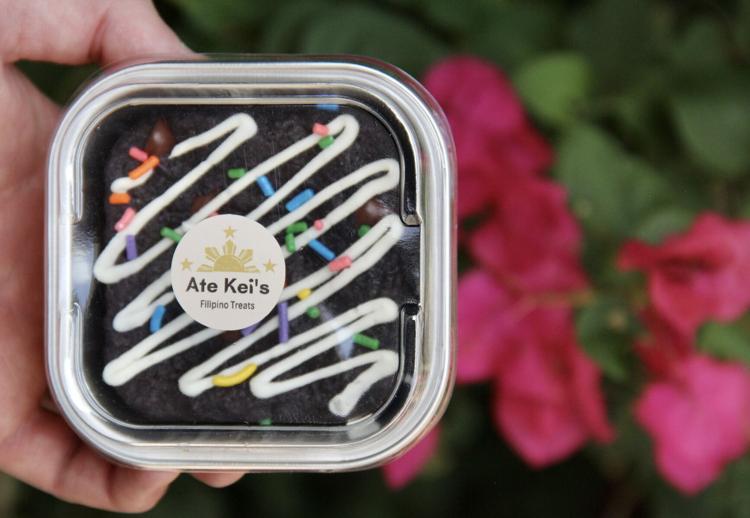 Although Mandanas treasures the street food in the Philippines, she really misses the community and her family.
"Filipinos, you can throw anything at them — challenges, barriers — for some reason we just find a way to laugh about it," she says. "That's how we get through tough situations."
Where to find Ate Kei's Filipino Treats
Ate Kei's Filipino Treats also makes appearances at local markets. Follow the bakery on Instagram or Facebook to see where they'll be next or to place an order of a dozen or more treats.
---
Our Eat + Drink coverage is supported by: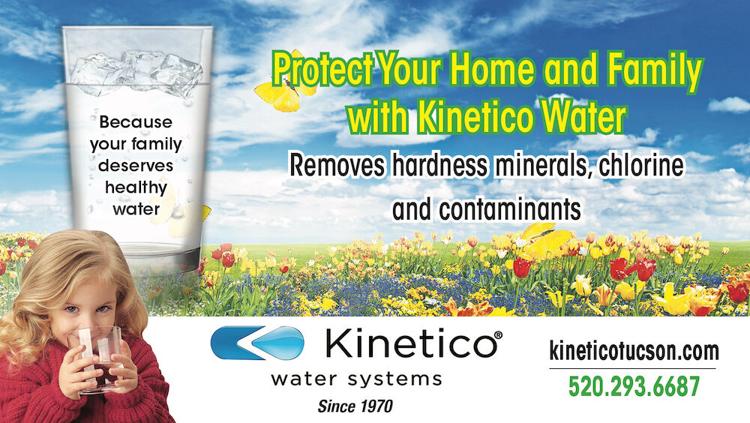 Great food and drinks start with great water
Restaurants, breweries and coffee shops know that clean, pure water is crucial. You can get that at home too with Kinetico Quality Water. Kinetico removes more contaminants than any other system. Get up to $500 off a non-electric, high efficiency patented Kinetico system (restrictions apply). Visit KineticoTucson.com.
---
What does "supported by" mean? Click here to learn more.