If Anthony Ooka II sounds like he'd be more comfortable in front of a classroom than behind the wheel of a food truck, it's because he is.
"This is not a passion project," he said, of his Chamoru food truck, Hungry Kepuha. He cooks the indigenous food of Guam, his home territory, not because he feels called to do so, but because he is good at it.
The food truck is named after the first Catholic chief of Guam. Anthony originally wanted to honor other cuisines — Filipino, for example — with a general name, Island Chef, but an east coast company had the trademark. He surveyed potential customers and Kepuha is what stuck; it was the most popular and the easiest to pronounce. (His last name is pronounced "oak-a" but even that is a painful Americanization.)
Anthony went to college in Guam to become a teacher. After a stint in the military and saving up a nest egg with his wife to start a family on the mainland, they could have gone anywhere, but they chose Tucson.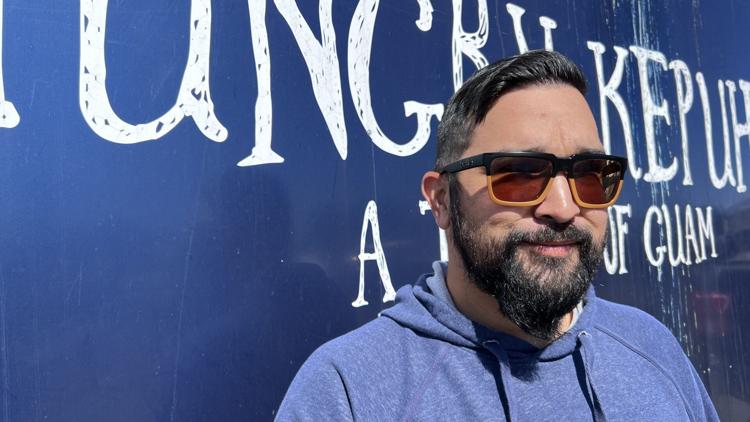 "When we were looking at different places, at the time — and I almost want to say this is still true today — Tucson specifically is one of the lowest if not the lowest cost of living in the country, had one of the lowest if not the lowest gas prices in the country, has the least number of natural disasters in the country," Anthony said. "If you just look at it objectively, Tucson is probably one of the best places to live in the country."
Once they settled here, Anthony was caught by surprise: Arizona doesn't respect the national teaching certificate he earned in Guam. He enrolled in grad school to earn the right credentials to teach in Arizona, but he was working full-time on top of his courses. The amount of debt he was taking on outweighed the salary the degree would bring him. He needed another way to make a living; a business that would be his own.
Hungry Kepuha is the only place to get Chamoru food in Southern Arizona. For two years, a contract Anthony had with the base at Fort Huachuca meant someone in Tucson would have to get on base, or drive up to Phoenix to try the cuisine of Guam from a different eatery.
This is a shame. Luckily, now that the contract has ended, Hungry Kepuha can be found at lunchtime at Music Box Lounge, and on special occasions at bars like Danny's Baboquivari Lounge, Arizona Beer House or The Loft Cinema. To track his up-to-date location, follow him on Instagram.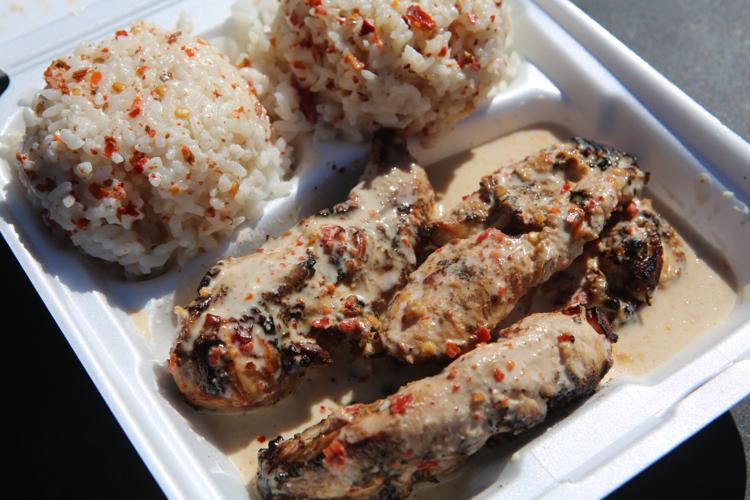 Hungry Kepuha's top seller is his coconut chicken: it's a uniquely tangy, sweet and vinegary coconut curry served with tender rice sprinkled with red pepper flakes. The chicken is barbecued on a grill before the curry gets generously poured over it. Anthony cares about efficiency: by keeping most of his curries and stews in hot holds, you get your food very shortly after you order it.
For now, the menu is based around chicken: chicken stews, like chicken estufao, or barbecued chicken curry, like the coconut chicken I tried on Tuesday. Anthony made this decision to help lower the prices of his food during the pandemic.
If you see delicacies like ribs on his social media, those photos are sadly outdated. "My ribs were my best selling item when I had them," he said. But inflation has driven up the cost of ribs, pork and beef and has kept those prices up even longer than Anthony thought. Instead, he streamlined his process and his menu to be as cost-effective as possible — meaning, a lot of chicken.
"In the past three years, I actually dropped my price three times and I've only raised it once. So while everyone else during the height of the pandemic kept raising — and I get why they were raising, everything got more expensive — I decided to do something a little different … I dropped my prices. Three times in three years," Anthony said. "Because if I'm struggling with how much money I can spend, I know everyone else is."
---
Our Eat + Drink coverage is supported by: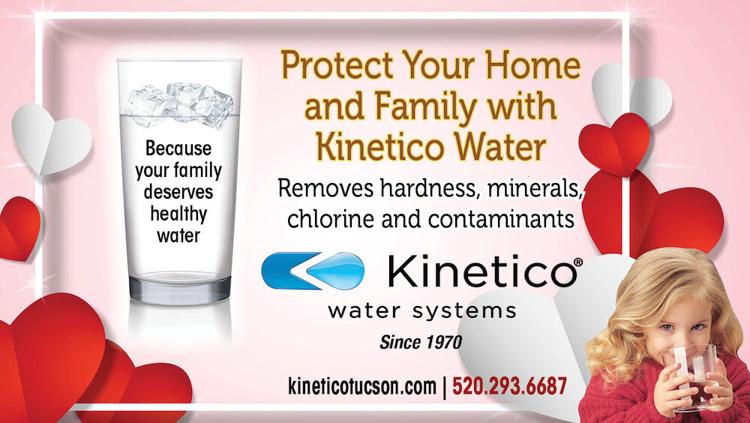 You'll love giving your family healthy water
Restaurants, breweries and coffee shops know that clean, pure water is crucial. You too will love getting that taste at home with Kinetico Quality Water, which removes more contaminants than any other system. Save up to 20% off a Kinetico K5 drinking water station (restrictions apply) or call today for your free water analysis. Visit KineticoTucson.com.
---
What does "supported by" mean? Click here to learn more.