Tanque Verde Swap Meet is a parade of things you didn't know you, or anyone else, needed until you see them piled up on a table or neatly laid out on a blanket on the floor; stacked on shelves screwed into a steel lean-to or spilled into bins.
Discounted bath products and cosmetics, fleece blankets emblazoned with other states' NFL teams, last generation's gaming systems; $1 candy bars; $400 cowboy boots made out of armadillo hide. A truck pulls up into a packed-dirt lot, stirring up dust that is sliced through with harsh midday sun. Its bed is teeming with more oranges than you've seen in your life.
This monument to an informal economy always had food for the families, pickers and teenagers on dates who would stop by on weekend nights: churros and ice cream from trucks and burgers, tacos and jumbo micheladas from permanent vendors in the center of the shifting market.
Last weekend, a new food truck park, Comida Park, opened to add to the fray.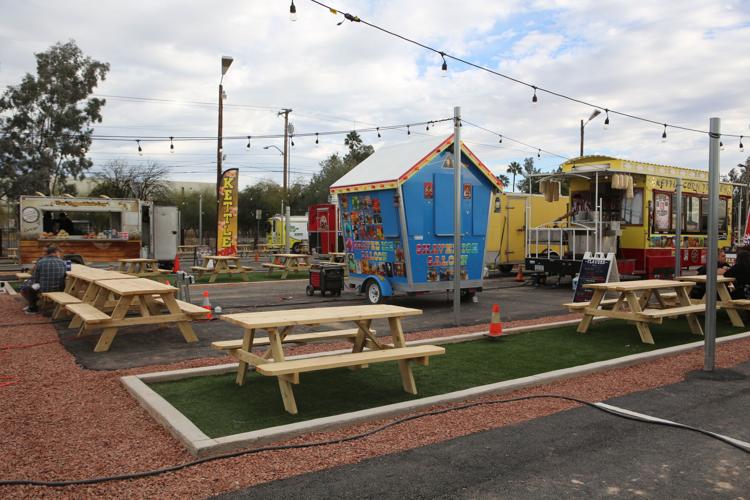 Comida Park is a gathering of 21 food trucks, organized by United Flea Markets — the company based in Denver, Colorado that acquired Tanque Verde Swap Meet in 2019. The park's full capacity is 37 trucks, but the organizers did not accept every applicant in hopes of maintaining a diverse set of options.
The roster currently includes a north-side favorite bánh mì shop, a pastry and barbecue truck with a cult following in Sahuarita, a grilled cheese passion project from the head chef of Dante's Fire, a pupuseria, and my favorite Mediterranean food truck.
Homemade Mediterranean is a Lebanese food truck specializing in sandwiches — my favorite is their delightfully garlicky chicken sandwich, rolled in a flatbread called manakish (Lebanon's answer to a pita). I first tried their food when they were stationed at the east-side food truck park, The Pit.
The Pit ran into some zoning issues in part because the City of Tucson's food truck rules don't allow for trucks to permanently gather closer than 100 feet together. Though an exploding propane tank is rare, the rule is in place to make sure a freak accident wouldn't become exponentially harmful.
Comida Park, however, is located outside of city limits at 4100 S. Palo Verde Road, in Pima County. The county does regulate food trucks — for instance, they must have hot running water and a contract with a commissary kitchen in order to make hot food, fresh — but they don't enforce the same rules as the city on topics such as truck distancing.
Comida Park officially opened on Feb. 10. If you visited, like we did on Friday afternoon, you may have noticed very few trucks turned off and parked at the lot at Comida Park. By Saturday afternoon, though, at least 15 were turned on and ready to serve.
The park might not quite look like the rendering floating around on news sites and social media. When I visited, the air was thick with the smell of cooking strawberry kettle corn and generator fumes.
Many food trucks are using generators and extension cords because the electricity hasn't been turned on yet and won't be on for at least 1-2 weeks. There may be rough terrain and other tripping hazards like loose cords, utility hookups and spigots.
Entry to the Tanque Verde Swap Meet — Comida Park included — is free Sunday through Thursday, and 8 a.m. to 3 p.m. Friday through Saturday. Admission costs $1 from 3-11:30 p.m. on Friday and Saturday. Comida Park will be open from 8 a.m. to 8 p.m. Monday-Thursday, 8 a.m. to 11:30 p.m. Friday-Saturday and 8 a.m. to 10 p.m. Sunday.
Comida Park's full roster of food trucks includes 21 vendors. If you are interested in a certain establishment, make sure to confirm their hours before heading over — not every truck will be there at all times the park is open. Here's what you might find when you go:
Abuelitas
This Mexican food truck incorporates maseca (corn flour) into a short menu of antojitos like empanadas and enchiladas. Find more info here.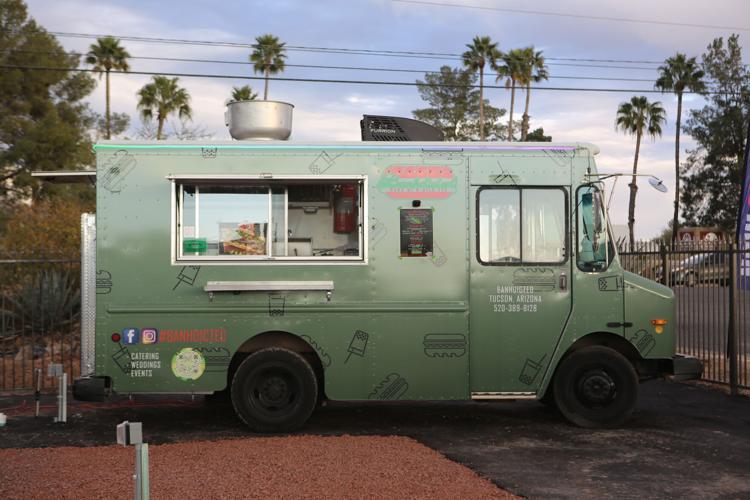 Banhdicted
This bánh mì counter gained a cult following at its flagship store on Orange Grove Road. Now, they're bringing their Vietnamese-fusion sandwiches and milk teas to the swap meet in a food truck! Find more info here.
Bobablastic
This chain of boba tea food trucks has expanded across the west coast into the interior west. They also may offer unique snacks like a waffle cone filled with fried chicken. Find more info here.
Churros El Rey
Longtime swap meeters will surely be familiar with Churros El Rey: they've been bringing their fried treats and ice cream sundaes to the Tanque Verde Swap Meet long before Comida Park. Find more info here.
Eggroll Masters
Chef David Sullivan has taken the format of an eggroll wrapper and filled it with all kinds of crazy concoctions. Gyro, chile relleno and loaded baked potato are just a few standouts of his enormous eggroll menu. Find more info here.
El Golden Taco
While this food truck specializes in tacos dorados, made using the owners' grandmother's recipe, you can also find tortas on the menu. They will be at Comida Park from 11 a.m. to 10 p.m. Friday-Sunday. Find more info here.
El Hefe Street Food
Wings, nachos and loaded fries — El Hefe specializes in the kind of food that complements a fun night out (or in). Find more info here.
El Rayo Seafood Boil
El Rayo doesn't choose when it comes to seafood: you can find both Louisiana-style seafood boils with corn and potatoes alongside Mexican ceviche and tostadas on their menu. Find more info here.
El Taco Asere, Hot Dogs y Mas
Any Comida Park has got to have a Sonoran dog carreta. El Taco Asere is your fix. They aren't limited to just dogos, though — you can also find breakfast burritos and more Sonoran favorites at this food truck. Find more info here.
Essential Coffee Cart
This specialty drink coffee cart is partnered with Cal's Bakeshop to bring sweet drinks and other treats to Comida Park. Find more info here.
Heavy Kettle Popcorn
You can never have enough kettle corn. Heavy Kettle distinguishes itself from competitors by also offering cotton candy. Find more info here.
Homemade Mediterranean
Homemade Mediterranean is one of the only places in town to get Lebanese food. You can't go wrong, whether you're trying their fragrant beef patty sandwich or delightfully garlicky chicken wrap, both made with Lebanese flatbread. Find more info here.
Kettle Corn Trolley
What needs to be said about kettle corn? It's corn! A staple of any outdoor fair or festival, kettle corn is an addictive sweet treat. Kettle Corn Trolley serves it in different flavors and with aguas frescas. Find more info here.
Ol' Pot Hole
American comfort food spot with fries, creative melts, burgers, hot dogs and fried chicken. Find more info here.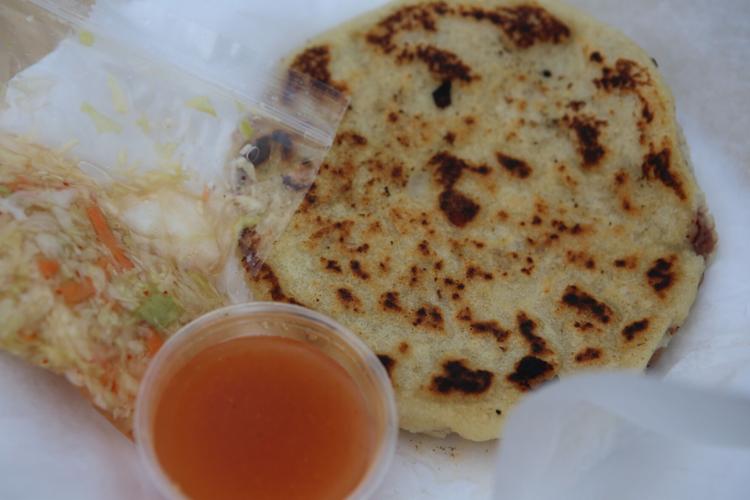 Pupuseria Rosita's
Pupusa lovers across Tucson are familiar with Selena's Salvadorian — the only brick-and-mortar option in town for pupusas. Now, food truck Rosita's brings some competition to the pupusa game! Find more info here.
Sexy Grilled Cheese
The passion side project of Ken Foy, the chef behind Dante's Fire, the name says it all: this food truck elevates the medium of grilled cheese sandwiches. Find more info here.
Shaved Ice Saloon
Hawaiian shaved ice uses the same base as raspados, but the treat is topped with densely-flavored syrups instead of fruit, tamarindo candies and condensed milk. Shaved Ice Saloon incorporates both Hawaiian-style syrups and fun toppings! Find more info here.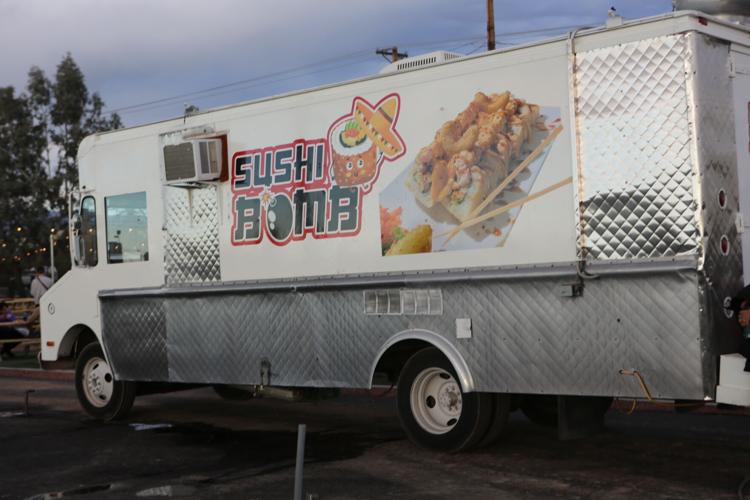 Sushi Bomb
Mexican-style sushi with fresh, baked or breaded and deep-fried rice rolls. Chicken, cooked shrimp and steak all feature heavily in a variety of hand rolls. Other options like tacos, tostadas and carne asada fries are available, too. Find more info here.
Taqueria Los Cuates
Find cheap tacos and mini chimis at this back-to-the-basics taco truck that has long posted up at the swap meet. Find more info here.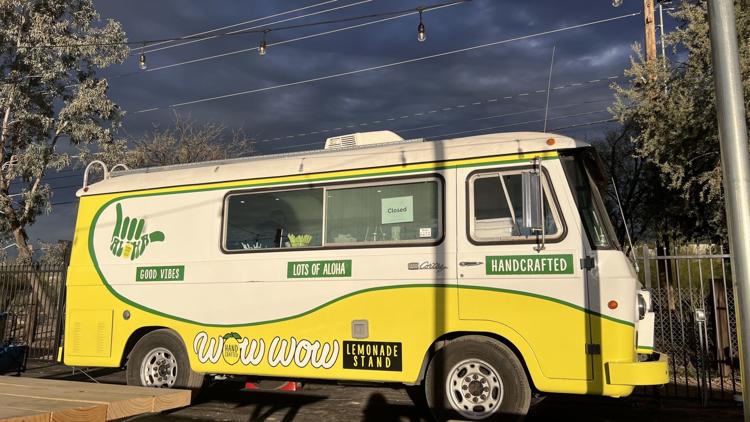 Wow Wow Hawaiian Lemonade
Though this chain started in Maui, we got our first locally-owned franchise last year. Their limited menu will feature a slew of lemonades and some health-conscious snacks like avocado toast. Find more info here.
---
Our Eat + Drink coverage is supported by: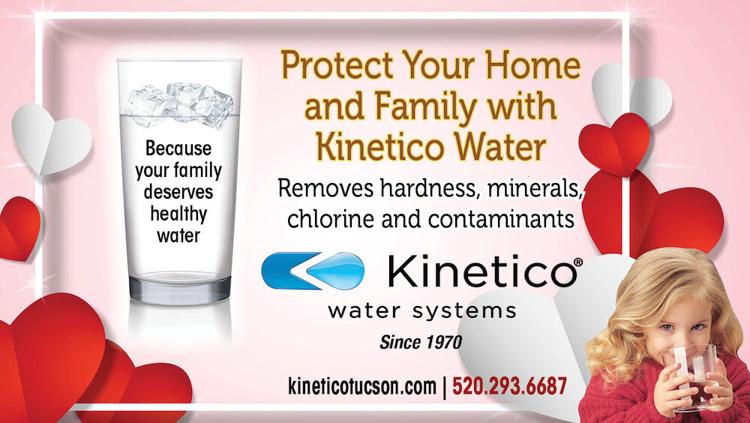 You'll love giving your family healthy water
Restaurants, breweries and coffee shops know that clean, pure water is crucial. You too will love getting that taste at home with Kinetico Quality Water, which removes more contaminants than any other system. Save up to 20% off a Kinetico K5 drinking water station (restrictions apply) or call today for your free water analysis. Visit KineticoTucson.com.
---
What does "supported by" mean? Click here to learn more.