Walking into a carniceria is a meat lover's dream.
Carnicería is Spanish for meat market or butcher shop. They specialize in Mexican meats, many traditionally cooked and prepared.
Tucson is filled with dozens of carnicerias in different areas of town. A sampling:
Los Amigos Meat Market
Antonio Cardenas, Sr. was known as a master butcher in the early 1970s. In '78, with the help of an $8,000 loan, he decided to open his own business.
"Ever since then, God bless, it's been a successful business," Tony Cardenas, Jr., Antonio's son, says.
Since Antonio passed away in 2010, Tony has been running Los Amigos with his mother, Mary Cardenas.
"But all of my family are the owners of Los Amigos," Mary says.
Tony says that in addition to their customer service, the history at Los Amigos is what makes them different.
"We have a lot of regulars who come from all over the United States," Tony says. "We have a lot of memories with them."
The preparation of the meats go back to Tony's father.
"What really put us on the map was my father's recipes," he says.
Antonio had his own recipe for Los Amigos' famous chorizo —the meat market sells 1,500 pounds of it in a month.
Carniceria El Vaquero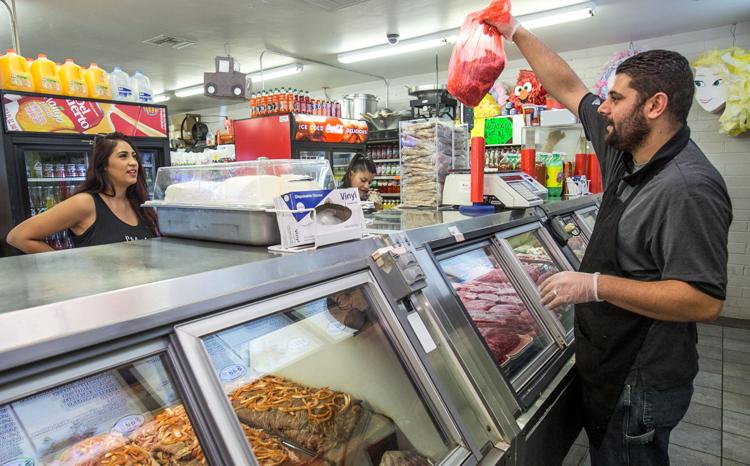 Owner Mike Shiha has been in the meat market business for 25 years. In 2012, he opened Carniceria El Vaquero.
"Back then, there weren't any meat markets on the east side of town," Shiha says. "There was some hesitation and it was hard in the beginning. But it was just like anything else — you never know if you'll make it or not."
After the first year in business, El Vaquero gained popularity.
"We keep a well-stocked store," Shiha says. "We carry products that are a little more unique. When it comes to the meat selection, there isn't a day that we won't have something."
He says the most popular item is the marinated pollo asado, which is hormone-free, fresh chicken marinated in El Vaquero's own recipe. The market also offers tortillas, produce, and a variety of other groceries.
El Vaquero also has a fast-casual restaurant. A very slim number of carnicerias in Tucson offer a restaurant with dine-in service.
The menu includes Mexican favorites, such as burritos, chimichangas, tacos and quesadillas. El Vaquero also offers a full salsa bar with seven different salsas made from scratch.
"We had a lot of people asking us why we didn't have a taqueria on the side," Shiha says. "It's really common in the Phoenix area, but not common in Tucson. So, the goal was to offer a good, fresh, Mexican meal that was going to be served fairly quickly with quality ingredients at a reasonable price."
Customer service is key to his business, says Shiha. Because of that, he has no plans to open a second location.
"It's not about having a store on every corner," he says. "I like to be hands on—there isn't a day that I'm not here."
Sonora Market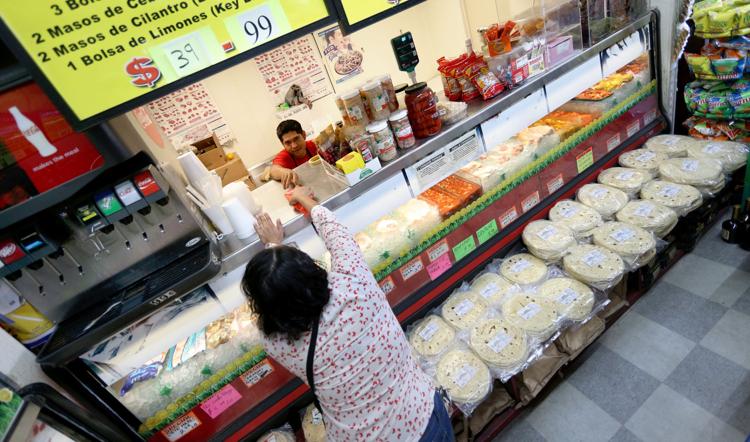 Walk into Sonora Market and you'll see aisles upon aisles of Mexican goodies, including tortillas, salsas, beans, spices, and more. The market also offers more than 12 different meat packages, some including tamales, menudo, chicken, or guacamole.
The market also has a very large selection of liquor — something that other carnicerias don't typically offer. Think of Sonora Market as part carnicería, part convenience store, part liquor store.
Sonora Market has sat on the corner of East 36th Street and South Country Club Road for 17 years. Brothers Kameel and Ahmed Aburehmeh purchased the market four years ago.
When the Aburehmeh brothers moved to Tucson from Chicago, they knew they wanted to work together. After looking through available real estate, they decided to take on the meat market business.
"When we first came to the market, there weren't a lot of people here," Kameel says. "But it started to get more and more popular when we bought it."
Kameel says there isn't any one item that they sell more than others. He says their meats are pretty even in popularity.
"When people come to our store, they pass many other stores to get here," Kameel says. "I don't know if it's the prices or our service or the quality of the meat, but they choose to come here."