Juan Almanza was all prepared for a smokin' weekend of Mexican barbecue at the Tohono O'odham Swapmeet. The charismatic chef had attracted a rabid  following in the foodie community, who would routinely make the trek down to the reservation for a taste of his succulent, mesquite grilled ribs. 
But on the evening of Friday, March 20, he got a call saying the swapmeet at 5721 S. Westover Ave. was closing up shop for the foreseeable future to limit the spread of coronavirus. He would not do another shift at El Taco Rustico anytime soon. "I had already bought everything, all the meat. I had bought a lot of stuff," he said. 
Juan was already very close to achieving his dream of opening his own restaurant. Since he had come to the US from Coahuila, Mexico, he had worked everywhere from the southside Mexican joint El Merendero to high-end kitchens like Hacienda del Sol. Recently, he had purchased a humble spot on the southwest corner of Oracle and Grant Roads, diagonal to El Güero Canelo ... but despite having his permits in order, he wasn't quite ready to open yet. 
So he spoke to his wife Cynthia and his daughter Mara, and they came up with a plan. They couldn't waste all that product, and they couldn't lose their main source of income. "We have to do something. We have to open, right now," Cynthia said. "We have to do everything we can with the things we have on hand."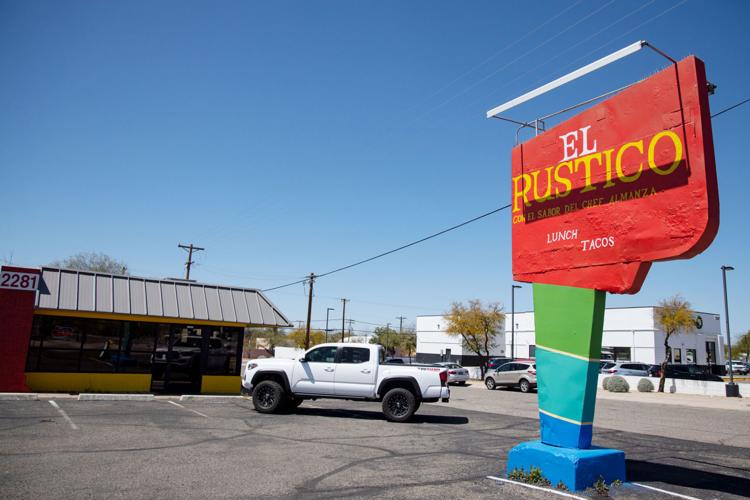 So the next day, instead of grilling meats at the dusty outdoor swapmeet, the family opened the doors of their first restaurant. Painted over the old Cafe Marcel sign, the new words popped out in bright yellow: "El Rustico: Con el sabor del Chef Almanza."
Meanwhile, restaurant owners across Tucson were experiencing the biggest professional challenge of their careers. That same week, dining rooms across the city were shutting down due to a citywide mandate, and businesses were strapped for customers and cash flow.
Luckily, Juan had friends in the local chefs' group the Gastronomic Union of Tucson. When word got out, the team sprung into action and did everything they could to help Juan open his doors for takeout.
"The community has really rallied around him," said Fresco Pizzeria owner Mat Cable, who was on hand one afternoon to help out. Mat had been working most days to help get El Taco Rustico running, and then would go "put out fires" at his own restaurant in the evenings. "Other restaurateurs are pretty much keeping each other afloat ... People are just really stepping up and helping each other out."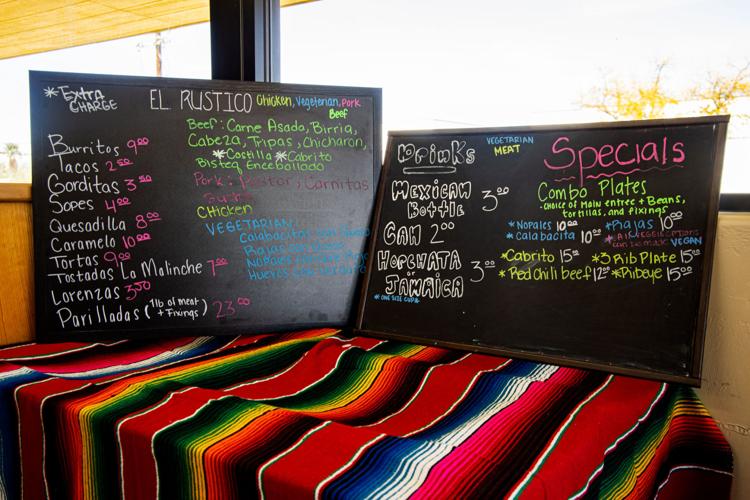 Like the afternoon Mat was at El Taco Rustico with Carl Shultz, the vice president of the restaurant group Tucson Originals. Karl was helping set up Juan's point of sale system, and in walks Rocco DiGrazia of Rocco's Pizza ... just to buy some food. 
Parish chef Travis Peters helped get Juan some publicity by inviting him to participate in a video project highlighting the need for Tucsonans to support restaurants by purchasing takeout once a week. The video came about when Travis put a call on Facebook for Tucson's food media to come together and make something to save Tucson restaurants. After some email exchanges and a heady conference call, the group of journalists appointed Scot Liteer of Liteer Films to produce the video, and Travis to pick the chefs. 
"Estamos todos en esto juntos," Juan says in the video: "We're all in this together." 
So far, business at El Taco Rustico has been going well. Juan was able to fill a large takeout order for the employees at St. Joseph's Hospital. And yesterday he did $900 in sales. But of course, that's also because his tacos are really good.
Juan is waiting to put in a bigger grill, but right now he's cooking everything in a little smoker behind the restaurant. Because he's from the northern state of Coahuila, his grilling style is a little bit different. Rather than using a crank-style grill to move the racks up and down, he controls the heat by hitting the coals and covering the meat with a lid. Make sure to try his cabrito or slow-roasted goat, a specialty in the city of Torreón where he's from. As the kids say these days, it's fire! 🔥
El Rustico is located at 2281 N. Oracle Road. Phone: 520-623-3478. Hours for take-out: 11 a.m. to 8 p.m. Tuesday through Sunday, and in the future he plans to stay open until 9 p.m. weekdays and 10 on Fridays and Saturdays.