The world moves when you're in a tuk tuk, whizzing through the streets of Thailand while a million sights and smells and colors pass you by. Wouldn't it be nice to live in this fantasy, where children giggle on green fields, and servers wearing face shields hand you plates of fragrant wok-fried basil. 
I've got news for you, this fantasy exists. Or at least the second part of it, with the cartoon children and the basil, and even the tuk tuk (although it doesn't really move). It's all inside a little strip mall space at Campbell and Fort Lowell, which once held Opa Greek Cuisine & Fun.
When you walk in, you can have your picture taken in the tuk tuk, the iconic three-wheeled rickshaw vehicle of Southeast Asia. The walls of the room are covered in graffiti-style murals with Thai lettering, spelling the word "welcome." Oh yes, and they serve bottomless Thai iced tea.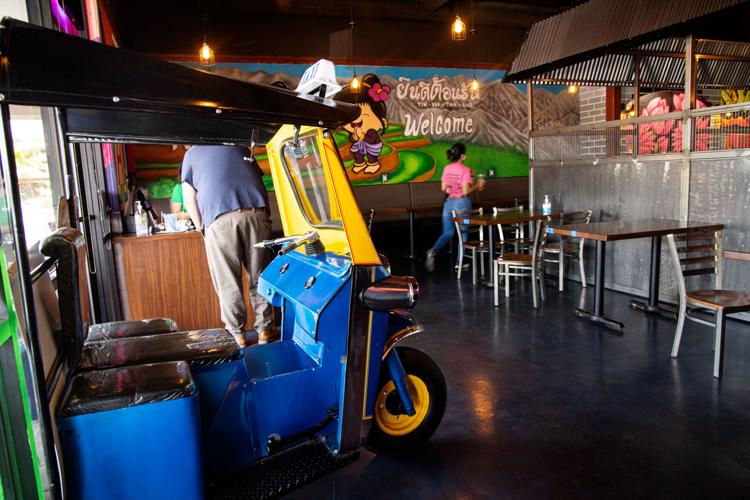 Tuk Tuk Thai is a different kind of restaurant, one that hasn't really existed in Tucson until now. It pegs itself as "Thai street food," which is basically code for "trendy Thai restaurant with casual vibes." The owner Bud Sayso hails from Laos and Thailand, but came to Tucson three months ago by way of Portland, Oregon, which has evolved into a major hub for Thai food in the United States. He's running Tuk Tuk with his wife Noy, who does the cooking and plans to run an ambitious 7-course tasting menu by reservation in a private dining room they're calling Noy's House. 
For the past eight years, Sayso has owned a Portland restaurant called Khao San Thai Street Foods, which had been written up in the New York Times as being part of a new wave of regional Thai restaurants inspired by Andy Ricker's successful Pok Pok franchise. The article includes a picture of a table inside another tuk tuk at Khao San, along with recommendations on what to order there:
"At Khao San in Portland's Pearl District, you can find street foods like hoy joh (savory meatballs wrapped in bean curd skin and fried) from Nakhon Sawan Province, and ping (chicken marinated in evaporated milk, grilled and served with a sour, spicy tamarind sauce), which is popular in Bangkok, alongside locally brewed rice lager," it reads.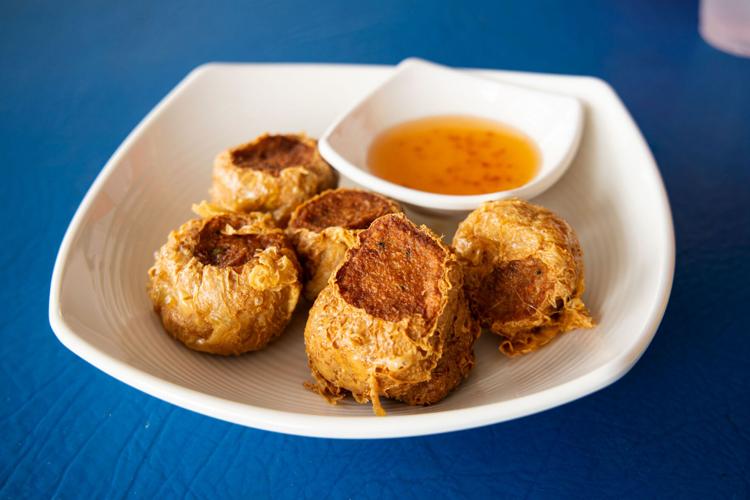 Both of those dishes are available on the soft opening menu at Tuk Tuk Thai, 2990 N. Campbell Ave., Suite 130, (which technically opened this Monday). And they were the highlights of two separate meals I had there this week. Rather than dining in or next to the tuk tuk, I was persuaded by this week's cool weather to have a celebratory solo meal out on the front patio, where a few tables have been placed relatively far apart from each other. 
I hope I don't sound flippant saying this, but seeing those curry noodles come out in a clean white bowl, the way they were meant to be eaten, was like remembering why you fell in love. Crispy egg noodles pop out from the rich bed of coconut curry, made from scratch including the curry paste. When you push them down into the sauce, they transform into springy soft noodles that you can wrap around your fork, catching the curry with perhaps a little pop of pickled veg. (I just don't think something like this is possible in a takeout container, but I could be wrong.)
Khao Soi coconut curry noodles are one of those dishes that food nerds tend to get all intense about, because once you eat them, you're like, "Whoa. How am I 34-years-old and married and have three kids but I've never heard of curry noodles before?!" And then you go out and find every place that carries this Northern Thai specialty, which will actually be pretty hard because the dish is kind of rare. 
But I got distracted here. I was trying to recommend the regional specialties mentioned in the New York Times. Neither of them is a main dish, which brings me to my second point: Tuk Tuk Thai is a "small plates" restaurant, meaning that it's best to order a few different things and share them family style.
The hoy joh meatballs are an absolute must for any dumpling fanatic: Tender bits of pork, shrimp and crab meat have been mixed together into meatballs, then tied up and wrapped with tofu skin that gets fried to a crisp. Round and crispy with little openings on top, they look like giant barnacles, but the flavor is all porky fat, mixed in with the a hint of salty shrimp powder.
The showy ping skewers may remind you of chicken satay, since they're both cooked in a similar manner. But rather than being paired with peanut sauce, ping is marinated in evaporated milk, which keeps the meat incredibly rich and tender. I got mine to-go, and it was still unbelievably juicy in that plastic box, with that punchy tamarind sauce on the side.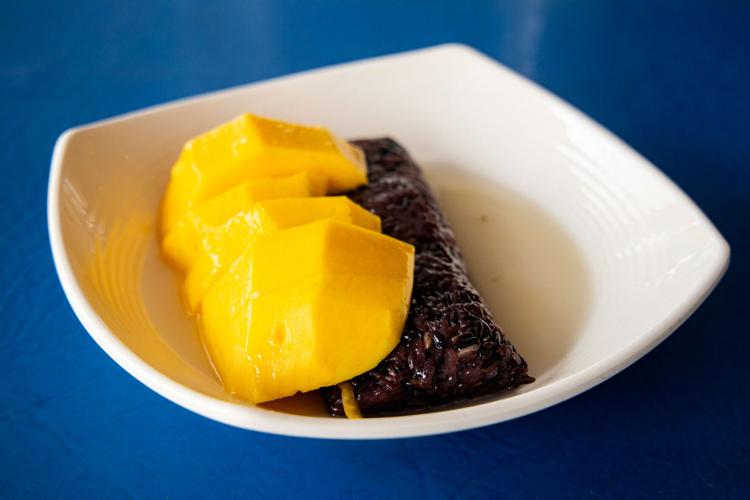 Tuk Tuk's iconic item is the crispy chicken and basil, a stir fry of battered chicken bits with a hefty amount of wavy sliced carrots. The server will tell you it's their most popular item, but I found that the dish suffered a little bit through the takeout process, and wasn't super crispy by the time I got it home. For now I would skip that one, and maybe go for a noodle dish or something intriguing that you haven't tried before. But make sure you save room for dessert! The mango sticky rice, brilliantly purple and gently sweet in its bed of condensed milk, was quite simply the best I've ever had.