---
One of the best food cities in "Arizona" is actually on the other side of the border. Nogales, Sonora is home to a fierce blend of American and Mexican flavors. The border city just an hour away from Tucson is a melting pot for Mexican nationals as well as people from further south, who have stayed and given their foods to the community.  
To experience the unique flavors firsthand, This is Tucson's team met with a local blogger who took us to some iconic Nogales locations. Carolina Ruiz is a native of Nogales who was kind enough to show us around and talk about some of the iconic foods in this cross-cultural border town. Carolina, who typically goes by Caro, is a lifestyle writer who posts motivational stories and women's empowerment messages on her Facebook and Instagram accounts, Delight by Caro.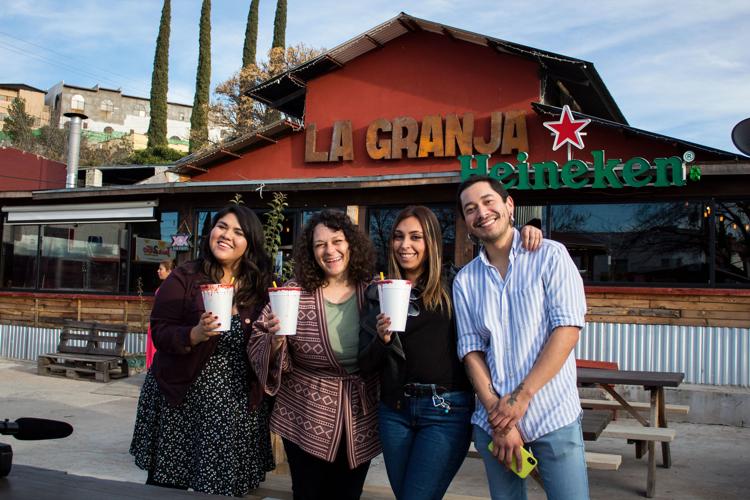 We spent a couple days with Caro zipping around Nogales trying food from all over the city. From crispy tacos, burritos as big as our forearms and a burger we can't seen to get off our minds, here are some of the best foods you can find just a couple of miles into Mexico — all approved by a local. 
Maciza tacos as Ricas Carnitas Estilo Veracruz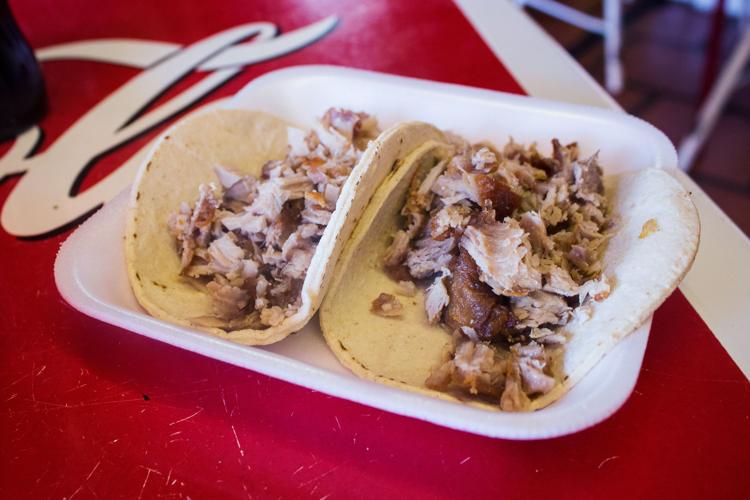 This carnitas stand is one of the first shops you'll see while walking through downtown, and they sure know how to draw people in ... They put a guy out front with a cutting board and most days you can find him chopping juicy pork parts to order.    
Having already visited during Día de los Muertos a couple years back, Andi and our videographer Nick were fans of the salty chicharrónes tacos: crunchy fried pork rinds wrapped in a soft corn tortilla. But Caro suggested trying out the maciza tacos, a leaner cut of meat from the pork butt or shoulder. They were much milder in flavor, but we made up the difference by throwing on some of that explosive green salsa.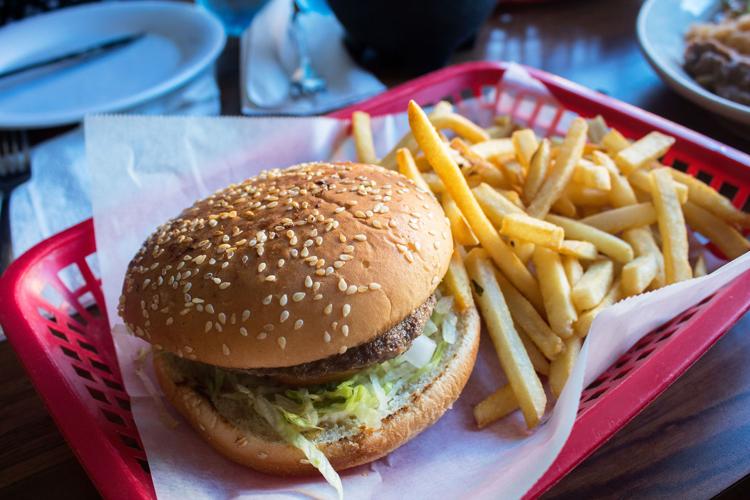 Leo's Cafe has been a staple of downtown Nogales since the 1920s, and it's a reliable choice being just a couple blocks away from the port of entry. The restaurant is open from 7 a.m. to 10 p.m. and makes "comida economica" renditions of breakfast, lunch and dinner staples.  
Andi had been to Leo's years back as a tourist and was surprised to see the number of locals enjoying the easy-going atmosphere. Caro's eyes lit up as she talked about Leo's specialty ... the burger. 
That's right, we went to Nogales to eat a hamburger. With its soft sesame bun, fresh veggies, American cheese and thin patty, Andi described it as a very good McDonald's Big Mac. (Good fries too!) Samantha was also wowed by the enchiladas, which she described as some of the best she's ever had. 
Tacos de Perro at El Primo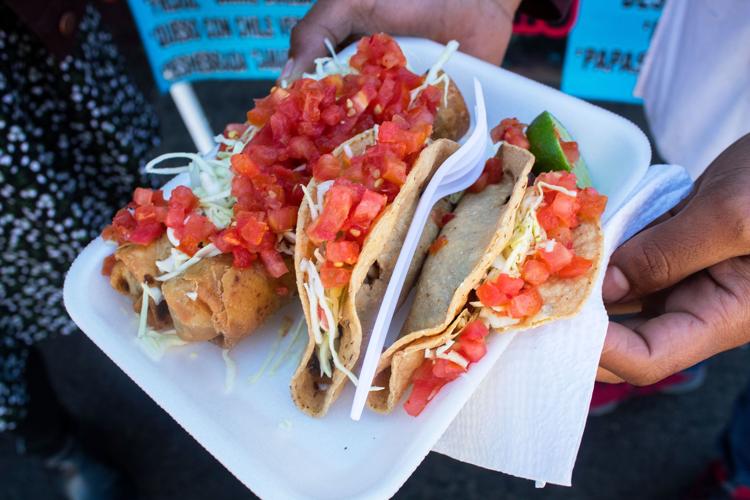 After Leo's, Caro drove us through town up the winding hills to a little food cart by the Grupo Modelo shipment center. This is her favorite place to get Nogales' signature food, tacos de perro. (Don't worry, it's not what you think!)
El Primo is held down by two young guys who serve the popular Nogales combo of chimichangas and tacos de perro. This place sure is popular, because it was 2 p.m. and Caro was relieved and surprised they still had tacos left. 
The direct translation means "dog taco," but be assured Fido is not in the mix. The story about the name has gotten foggy over time — Caro said it could be a jokey reference to street food; and an Edible Baja article suggests the name comes from the slang term "Ando de perro", which roughly means having very little money. 
Dozens of taco stands around the city have their own variation of this street food. The classic taco de perro is a fried taco stuffed with beef and potato and kept in a metal basket. After you order it, the taquero tops it off with copious amounts of juicy chunked tomatoes. Caro squeezed lime all over hers before digging in. 
Where: El Primo / Located in the El Greco neighborhood by the Grupo Modelo Agency / Heroica de Nogales 160
Carne asada burritos from Burritos Hass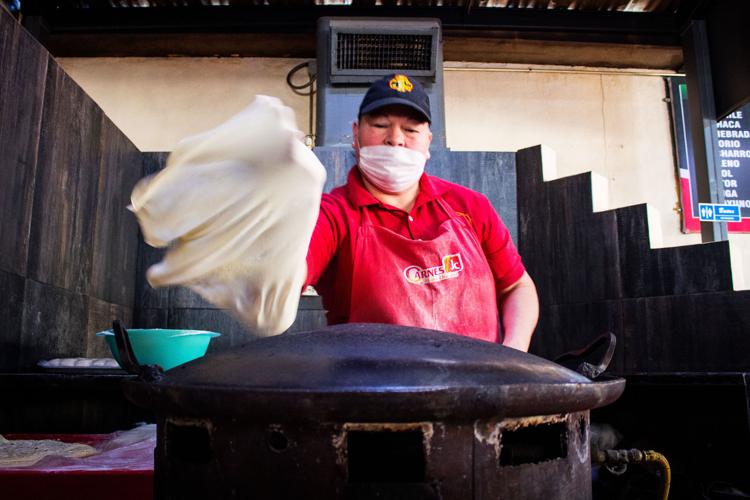 You're not gonna find this one just walking around downtown. But Burritos Hass came highly recommended by just about everyone we talked to, from the Nogales spokespeople to the guy selling vegetables by the church downtown. This local burrito shop is known for its fresh-made tortillas sobaqueras, the giant flour tortillas that put Sonoran food on the map. 
The comal is on full display here. A woman stretches her dough out like a pizza, using her entire forearm to shape the massive sheet. Then she throws on the thin disk of deliciousness and lets it sit until the flour starts to bubble and puff. The tortillas she makes here are then expertly wrapped into little burritos filled with carne asada, red chile beef, beans and more. 
With a thick tortilla crease nestled inside, the burros reminded us of Anita Street Market in Tucson. The salsa bar here was top notch, and they even had Fresca in the cooler! Burros Hass is definitely worth the trip in a cab if you're a burrito hound like us. You'll love it. 
Tacos from ÁGATA taqueria urbana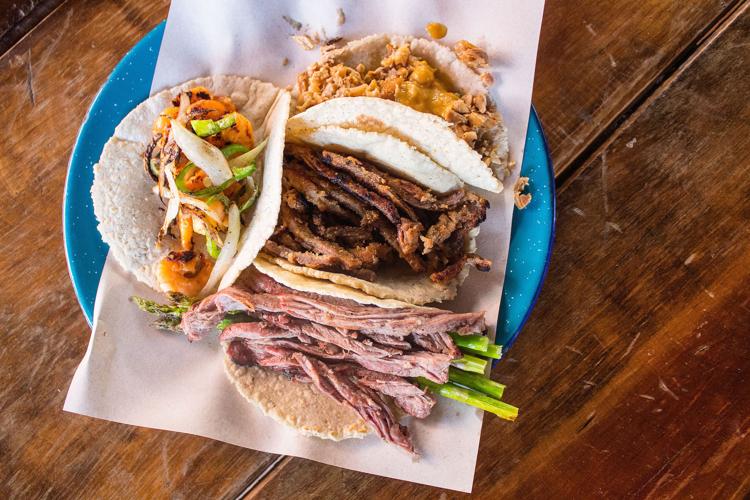 After driving up the hill through the upscale Kennedy neighborhood, we met up with chef Calo Carrillo from ÁGATA, a taco gourmet taco truck which specializes in flavors from across Mexico. The truck is a sight to see, tucked into a stunning rock quarry. It seems to get going later in the evening, when the sun goes down.
Carrillo is from Guadalajara, but his menu showcases flavors from Oaxaca, Yucatan, Nayarit and more. Everything is made fresh to order, including the thick corn tortillas he presses right in front of you. For most people, Nogales begins and ends at the taco stands near the border, but this offered a glimpse of a different culinary scene you might not expect to find here. 
If you're into carne asada but want something different, try the Taco Agata with with juicy arrachera steak and asparagus spears tucked in. Another stunner is the pork lechon with tangy mustard sauce. Andi remembered these from the truck's sister restaurant, La Llorona, which just happened to be one of Caro's favorite treat-yourself spots. 
Where: ÁGATA taqueria urbana / Located between the Kennedy-Kalitea neighborhoods /Av Kennedy No. 64
---

Before you head down the road, take your car to Jack Furrier Tire & Auto Care to get it Road Trip Ready with 50 percent off services that will get you where you need to go. Click here for more info or call 520-547-5005. With 14 locations around Tucson, you'll find one near you.