We're all spectators in the hipster sport known as pizza. Most of us get the cheap seats and casually take in the action. But then there are those people that sit in the front row and analyze everything: oven temps, topping placement, the staff's forearm tattoos, etc. They always know where to find the best slice (and they're always right).
Those people have just done the hard work for us. For the past week we traveled together, eating our way through Tucson's vibrant pizza landscape. 
What you are about to read is part of a five part series called The Pizza Project, where I take judges out to find the best pizzas in each specific style. (Find out who serves the best New York slice here.) Right now we're doing "hipster pizza," or pies that live off the grid so to speak. They're not quite New York, not really Neapolitan, maybe a little Californian, who knows we're not really into labels. These pizzas dance to the beat of their own synthesizer.
Elements of a perfect hipster pie
as determined by our two judges Rebecca Light and Andrés Ortiz
🍕 Creativity is essential, but the pizza itself must be well-executed. The toppings should feel natural, not like they're all part of some bearded dude's vanity project. Chicken on pizza is fine, in case you were wondering. We're not snobs here. 
🍕 Price must be reasonable. We're not necessarily looking for the cheapest pizza, because some utilize "local, sustainable" ingredients, etc. We recognize the difference between 20-year-old college hipsters and 30-year-old graphic design hipsters who have money and possibly a car. (We all need to eat.)
🍕 Aesthetics of the restaurant. Is it cool? Is it corporate? Would we be embarrassed if Ryan Gosling walked in here right now and saw us ... 
Our judges ...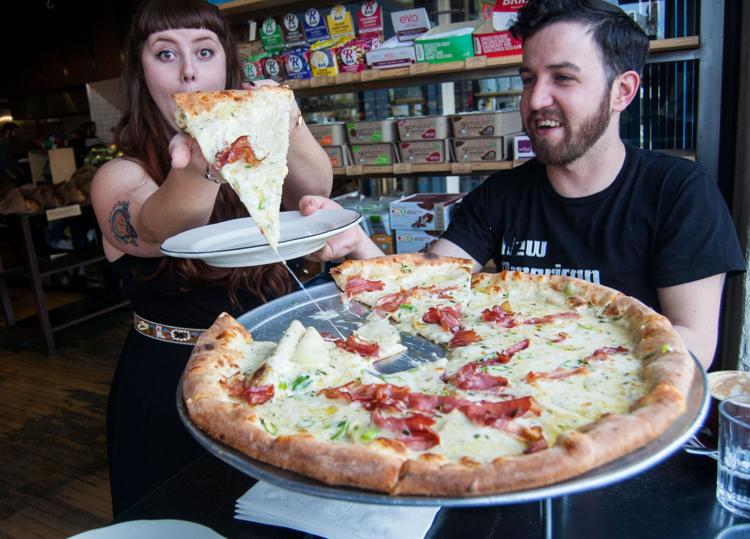 Rebecca Light and Andrés Ortiz have been friends since high school choir class, and both went on to play in the shoegaze band Some of Them Are Old. Becca is a coffee snob who spent several years in Berkeley working at a vegan takeout joint, where she inadvertently realized how disgusting that fake Daiya cheese stuff is. (She prefers a cashew substitute like Miyoko's.) Andrés recently worked as a server at the pizza joint 1702, but currently tends bar at Owls Club to pay for his vintage furniture collection and his dream of starting a food truck called Doom Taco. (He also wants to open an orphanage someday.) He has fierce facial hair. 
Over the past week, the three of us traveled to five of Tucson's hippest pizza places and ordered the most interesting pies on the menu. (Sizes varied at each restaurant.) We rated each pie by creativity, price, aesthetics and overall flavor, on a 1-5 scale.
And the winner is ...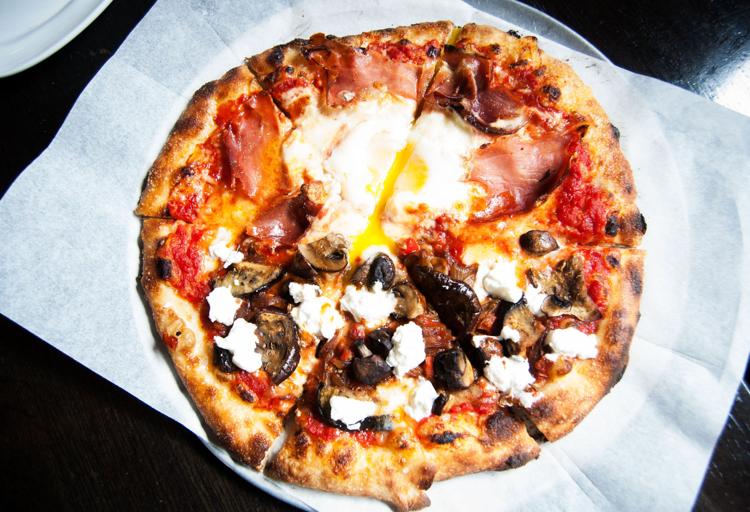 "This is hip as *uck," Becca declared as she bit into the voluptuous pie at downtown's glitziest funeral home. I never noticed how cool this place actually is, until I broke it down: exposed brick walls ✔️️, vintage decanters ✔️️, chalkboard menu with diagram of pork cuts ✔️️, Cynar artichoke liqueur ✔️️.
The pizza itself was pleasantly surprising. With our server's blessing, we got a "vegan" pie upgraded with goat cheese for $2, and on the other side a breakfasty bonanza of two-year cured speck and runny egg. Andrés was bowled over by the perfect bubbly crust — "flaky, filling, not overly thick " with a char that leaves a "really nice finish on your mouth." The thoughtful flavor combos were what got me: a little salty ham here, a wisp of sweet caramelized onion tucked under a tangy cheese pillow. These guys got it down.  
Rating breakdown
• Creativity: 4 / 5
• Price: 4 / 5
• Aesthetics: 4 / 5 
• Overall flavor: 4.5 / 5
Total: 16.5 / 20
Instagram worthy? 👍👩‍❤️‍💋‍👩🍝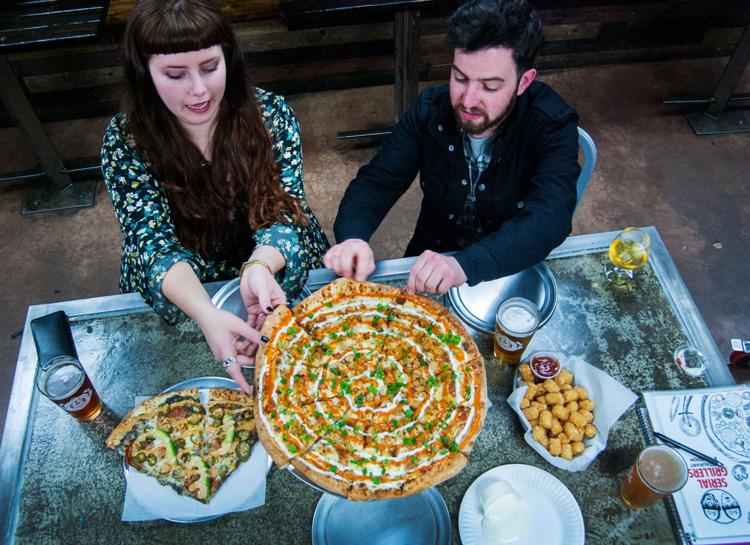 With a punny name and a street art serial killer mascot, we thought this place would be super hip. It's got kind of a strange location in one of those shallow parking lots along Speedway, but the inside looks like they've fussed over it. (They have fancy pizza holders attached to the tables.) The menu looked promising as well.
After much deliberation we spurned the Texas Chainsaw Massacre in favor of the Bone Collector, which made some Food Network list of best pizzas in the universe as decided by Alton Brown's unpaid intern. "Mambo #5" was playing on the speakers. The ingredients were arranged in mesmerizing spirals. "90 percent of what I'm tasting is buffalo sauce," Becca said. "The scallions don't really do much to it," Andrés said. "I feel like I'm at Skate Country," Becca said. We all agreed the boneless chicken wings were perfectly cooked.     
Rating breakdown
• Creativity: 4 / 5
• Price: 4 / 5
• Aesthetics: 2.5 / 5 
• Overall flavor: 3 / 5
(+1 for having tater tots on the menu)
Total: 14.5 / 20
Instagram worthy? 🤘😈🍻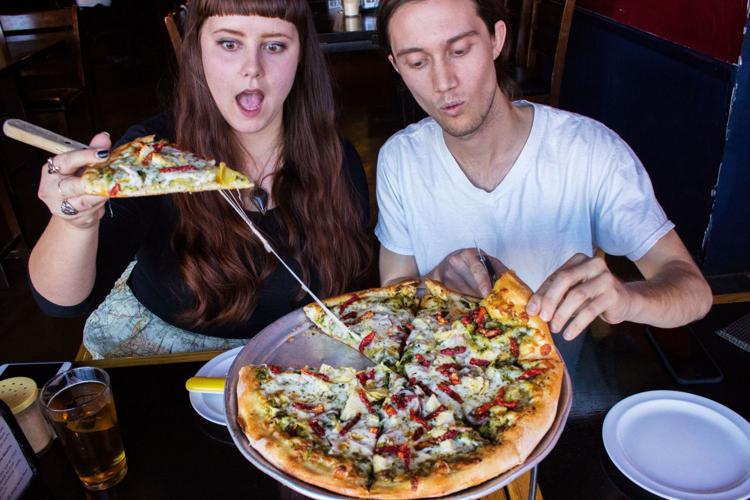 1702, 1702 E. Speedway
You may have noticed the baby-faced dude sitting in for Andrés. That's Nick. He's our pinch-hitter/video guy at the Star. (Andrés recused himself because he used to work at 1702.) Nick noticed something was  up right when we walked in. No table service anymore? *uck that noise. I wanted to get the pulled pork pizza with coleslaw on top, but our judges were unenthused. We settled on The Presto, which includes a bevvy of vegetarian goodies like pesto, red onions, artichoke hearts, etc. I thought it was a little dry without the red sauce, but Becca fell in love with the crust. "It's got an actual good flavor to it," she said. Nick liked the "peppers," which were "chewy." (They were actually sundried tomatoes.) It may have been the New Belgium speaking.      
Rating breakdown
• Creativity: 2.5 / 5
• Price: 3 / 5
• Aesthetics: 3.5 / 5 
• Overall flavor: 4 / 5
Total: 13 / 20
Instagram worthy? 🖖⛳🍺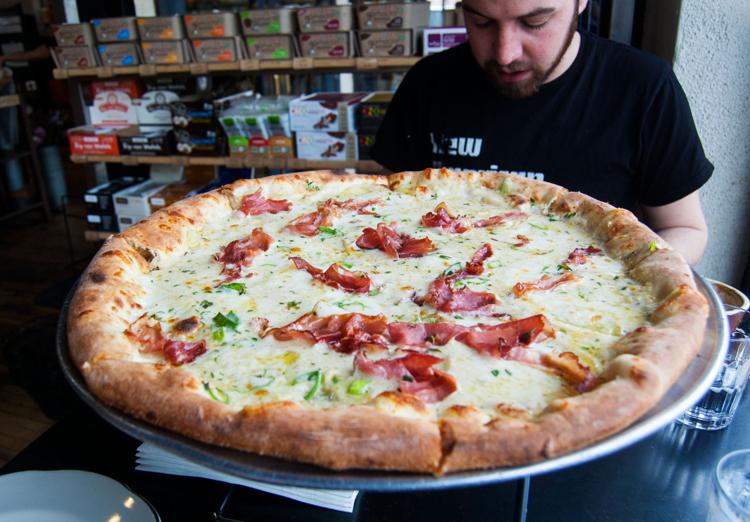 Time Market, 444 E. University Blvd.
Obviously couldn't leave this one off the list. Let's break it down: floor to ceiling windows ✔️️, exposed ceiling beams ✔️️, kombucha ✔️️, soothing sounds of Bon Iver ✔️️, calculated lack of wifi to enhance ambiance ✔️️. I vaguely remember when slices here were cheap and basic. But somewhere along the line, they went full-on San Fran. with fig pizzas and Niman Ranch lamb sausage, etc.
Honestly, the Dauphine pie here is the most interesting and well-executed flavor combination I've seen in Tucson. It's basically a French potato gratin on a pizza, with buttery leeks and a scandalous layer of rich béchamel sauce that glistens with spicy olive oil. "That's freaking delicious," Becca said. "This is my new flavorite." Andrés wasn't enamored with the French pizza aesthetic; he's more into tangy Italian flavors. Also, he pointed out the imperfections with the crust: It was floppy and didn't have any char. But, he said, "pizza is supposed to be greasy, and that's good."           
Rating breakdown
• Creativity: 4 / 5
• Price: 3.5 / 5
• Aesthetics: 4.5 / 5
• Overall flavor: 4 / 5
Total: 16 / 20
Instagram worthy? 👐💁🥑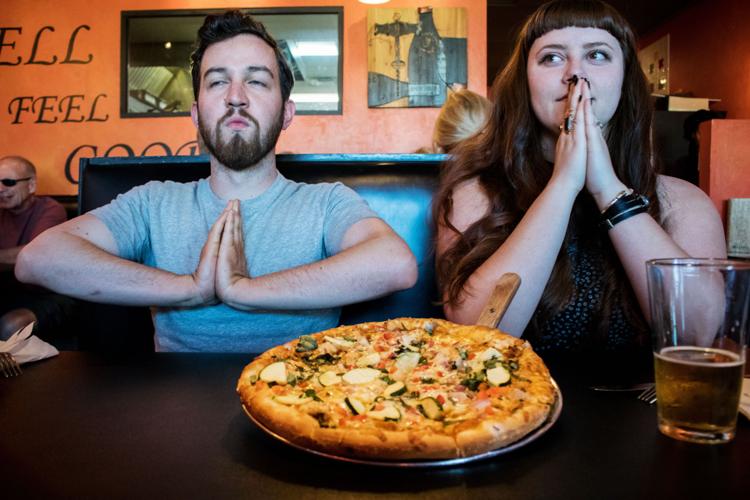 We admit, this east-side bistro speaks a little more to yoga hipsters than crust punks. But they do make their own bread, and that's pretty cool. Also, they've got some really interesting pizzas on the menu, including two different Thai curries with chicken and vegan cashews. We got the chicken curry because the vegan option had that aforementioned Daiya cheese, a plasticky abomination. It appeared in essence to be a primavera pizza, with fresh zucchini and basil spattered on top. "This all seems like pizza stuff with Thai curry rather than marinara," Andres said. We kept our voices hushed, so as not to attract attention from the people in the next table sipping white wine. "It's not a massively saucy curry, it's just subtle," Becca said. We all agreed it was good, but for some reason, Andrés wanted a side of ranch.  
Rating breakdown
• Creativity: 3.5 / 5
• Price: 3 / 5
• Aesthetics: 2 / 5 
• Overall flavor: 4 / 5
Total: 12.5 / 20
Instagram worthy? ✌️️👨‍👨‍👧‍👦🥗