When the Tucson Museum of Art reopened its doors in late July, after shutting down for several months during the pandemic, museum CEO Jeremy Mikolajczak was happier than Picasso in a paintbrush factory.
"In those early weeks, I spent a lot of time in the galleries welcoming people," Mikolajczak said. "They were so grateful. They hadn't left their homes for months. It was an opportunity for them to get comfortable going out again."
Sure, the museum had a lot of neat new art to share, including a fresh-off-the-showroom-floor 6,000-square-foot wing highlighting pre-Columbian works, from Mesoamerica, West Mexico and Andean cultures, Spanish Colonial art and modern and contemporary Latin American and Latinx pieces.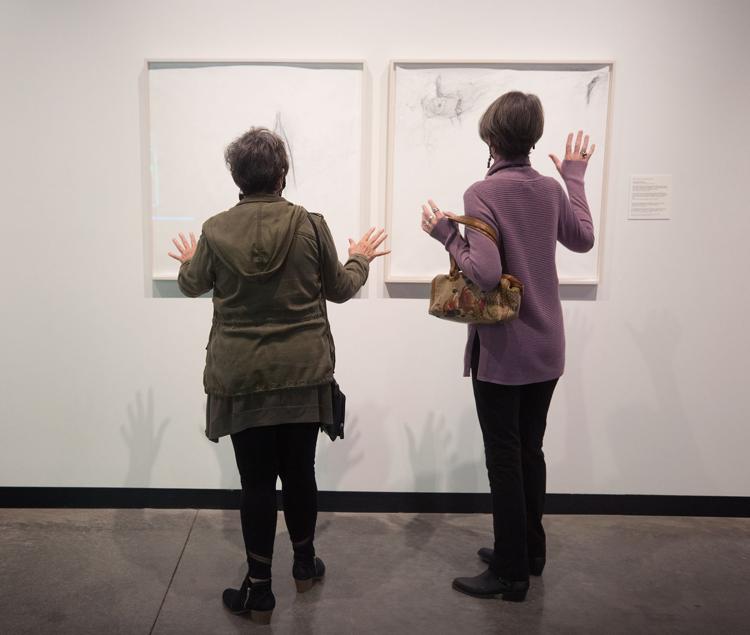 But Mikolajczak said it was also just as important to the museum's board and staff "that we remained a resource that people had the ability to visit."
"It is not like going to the grocery store or running an errand," he said. "You can spend some time here. You can relax a little bit and hopefully escape the troubles of your day, looking at art and thinking about something completely different.
"We are there to provide them a little escape from their daily lives at home."
For the museum, the desire to open and stay open has meant enacting strict mask and distancing protocols and a timed ticketing system allowing only 75 people in the facility at once.
The museum's sheer size plays a role in how comfortable people have been coming back.
"We have high ceilings and 40,000 square feet of exhibition space, plus outside venues," Mikolajczak said. "You very rarely run into anyone."
Whether you are ready to venture out or waiting for the vaccine before a visit, here is what you can expect when you make it to the museum in 2021.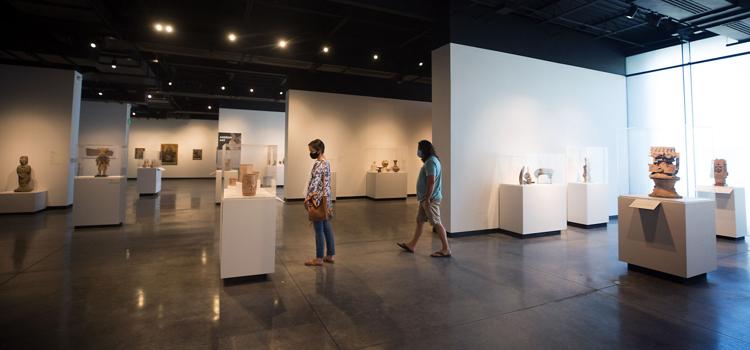 What you need
Located just north of El Presidio Plaza downtown, the museum, at 140 N. Main Ave., has a small parking lot, but we recommend bringing some change with you for metered street parking in case the lot is full.
Comfortable shoes are in order as there is a lot to see at the museum. Plastic water bottles are encouraged since the water fountains are unavailable because of the pandemic. Hand-sanitizing stations can be found throughout the facility, and digital exhibition guides are ready for download to your smartphone or tablet.
The TMA is open Thursdays-Sundays, for three sessions a day (10 to noon, noon-2 p.m. and 2-5 p.m.) that you can reserve through tucsonmuseumofart.org/tickets/. The museum allows walk-up visits, according to the website, but if you don't reserve ahead of time, make sure you bring a credit or debit card. Cash and checks are not being accepted at this time. Admission is $12 with discounts available for seniors and students. Children 12 and younger are free.
Where to go first
Whether you are a seasoned visitor or a fresh face at the Tucson Museum of Art, the first stop on your next trip should be the new Kasser Family Wing of Latin American Art, located just west of the museum lobby.
The new wing, completed in the early days of the pandemic and made available to the public when the museum reopened its doors in July, has five galleries of works on display, many of which originated from the ancient civilizations that thrived in what is now modern-day Mexico, Guatemala, Bolivia, Peru, Costa Rica, Panama and Colombia.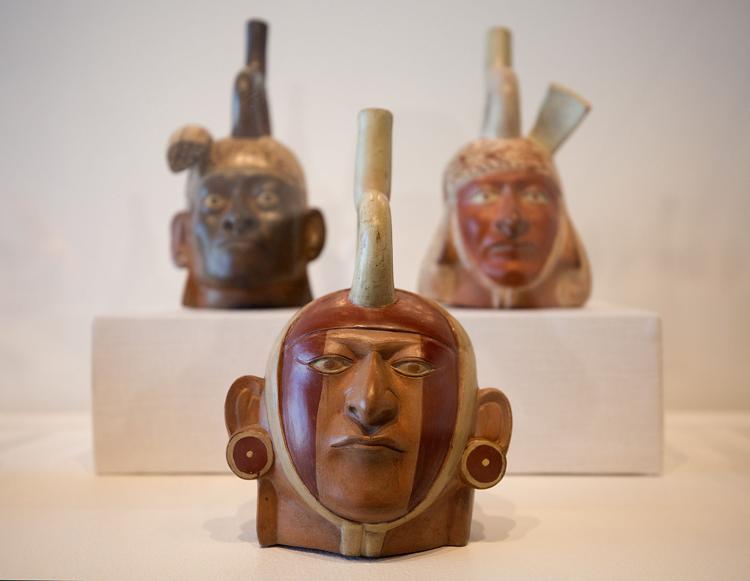 An Aztec goddess made of stone between A.D. 1400 and 1520, stands on a podium in her coiled headdress and outfit cinched together by a lifeless snake.
A collection of small ceramic figures (circa A.D. 600-800) from the island of Jaina off the coast of Mexico's Yucatán Peninsula, showcases different levels of society in intricate detail, from warriors to noblemen to hunchbacks.
Moche portrait vessels, bottles with detailed facial features, created along the north Coast of Peru offer insight into the regional fashion for men at the time, around A.D. 100-600, including earspools, headcloths and headbands.
Some of the wing's oldest pieces, a collection of crying clay babies with their legs splayed, made by the Olmec people, go back an estimated 2,500 years, said Kristopher Driggers, curator behind the new wing.
"It is a culture where there is a fascination with fertility and reproduction," Driggers said. "Sculpted babies are a popular genre. They have tons of personality."
The ancient arts collection is bookended by a gallery of Spanish Colonial art on the wing's west end and a collection on its east end representing modern and contemporary Latin American and Latinx artists, including Olga de Amaral from Colombia, Sérgio de Camargo of Brazil, Enrique Chagoya and Patrick Martinez.
"We thought the best thing to do was to pick some of our gems," said Julie Sasse, chief curator at the museum, who helped choose what would go on display in the modern and contemporary gallery. "We wanted these major artists to remind people of the strength of the collection."
Driggers said a lot of the works in the gallery are examples of how Latin American and Latinx artists are incorporating tradition and history into what they create.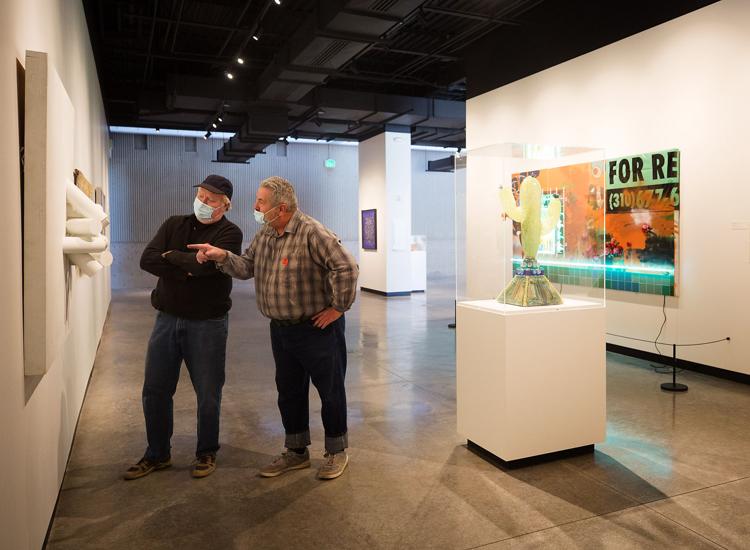 The wing, which was constructed over the course of two years in the museum's courtyard, adds more than 6,000 square feet of space, connecting the main museum to the historic structures on the west end of the property. In addition to the museum's own collection, many of the pieces came from the private collections of local philanthropists Paul and Alice Baker and Michael Kasser, for whom the wing is named.
"Art of the Ancient Americas has had a place at the museum since its founding," Mikolajczak said. "It has always been a stronghold. (The Kassers and Bakers) felt very strongly that this work needs to be in the public realm, to be seen and enjoyed."
Three times the Wyeth
New and rotating exhibitions continue to take place at the museum.
The TMA just wrapped up its 2020 Arizona Biennial showcase of 88 works from artists across the state over the weekend.
On Jan. 21, it will roll out a healthy helping of American realism with an exhibition featuring the works of famed visual artist Andrew Wyeth, his illustrator father Newell Convers Wyeth, and Andrew's son Jamie Wyeth.
Dubbed "The Wyeths: Three Generations," the showcase will offer more than 60 pieces to enjoy through May 9.
Andrew Wyeth's works, which predominantly portrayed the scenes and people that moved through his world during his lifetime (he died in 2009), can be found in the National Gallery of Art in Washington D.C., the Metropolitan Museum of Art in New York City and many other prominent institutions.
His dad, Newell Convers Wyeth created thousands of paintings in the first half of the twentieth century. His illustrations provide visuals for more than 100 classic pieces of literature, including the 1911 Scribner's edition of Robert Louis Stevenson's "Treasure Island."
The exhibition will be shown as part of Bank of America's "Art in our Communities" program, which brings exhibitions to museums around the world.
The Wyeth exhibition will be followed by a mashup of four solo shows of Southern Arizona artists, Willie J. Bonner, Nazafarin Lotfi, Alejandro Macias and Anh-Thuy Nguyen. That exhibition, dubbed "4 x 4," will run from May 22 to Oct. 3.
Old favorites, new additions
Many of the museum's long-standing galleries received facelifts last summer, with newly acquired works and pieces rotated in from its vaults.
Among its offerings: Oklahoma artist Tom Palmore's "Sometimes You Really Like Yourself," acrylic and oil on canvas, depicting two West Highland White Terriers on a couch with a Southwestern motif.
Palmore's primary subjects are animals. His work can be found in the Whitney Museum of American Art in New York City and in galleries from Philadelphia to Denver.
His painting is located in the Hamilton Gallery at the Tucson Museum of Art along with selections of Art of the American West on the museum's lower level.
Other works to keep an eye out for: Viola Frey's larger-than-life "Standing Woman" sculpture, the cartoonish female figure that looms over guests in the newly renovated sculpture garden; and the 2012 piece "The Fight for Air," a sculpture by artist Enrique Martinez Celaya, located just outside of the entrance to the new Kasser Family Wing.
Art's done, let's eat
After a long day of enjoying art, feet are tired and bellies are hungry.
Thankfully, the downtown area has many spots to rest your dogs and load up on carbs, some within walking distance of the museum.
Café a la C'Art is about as close as you can get, on the same grounds as the museum in the historic Stevens House.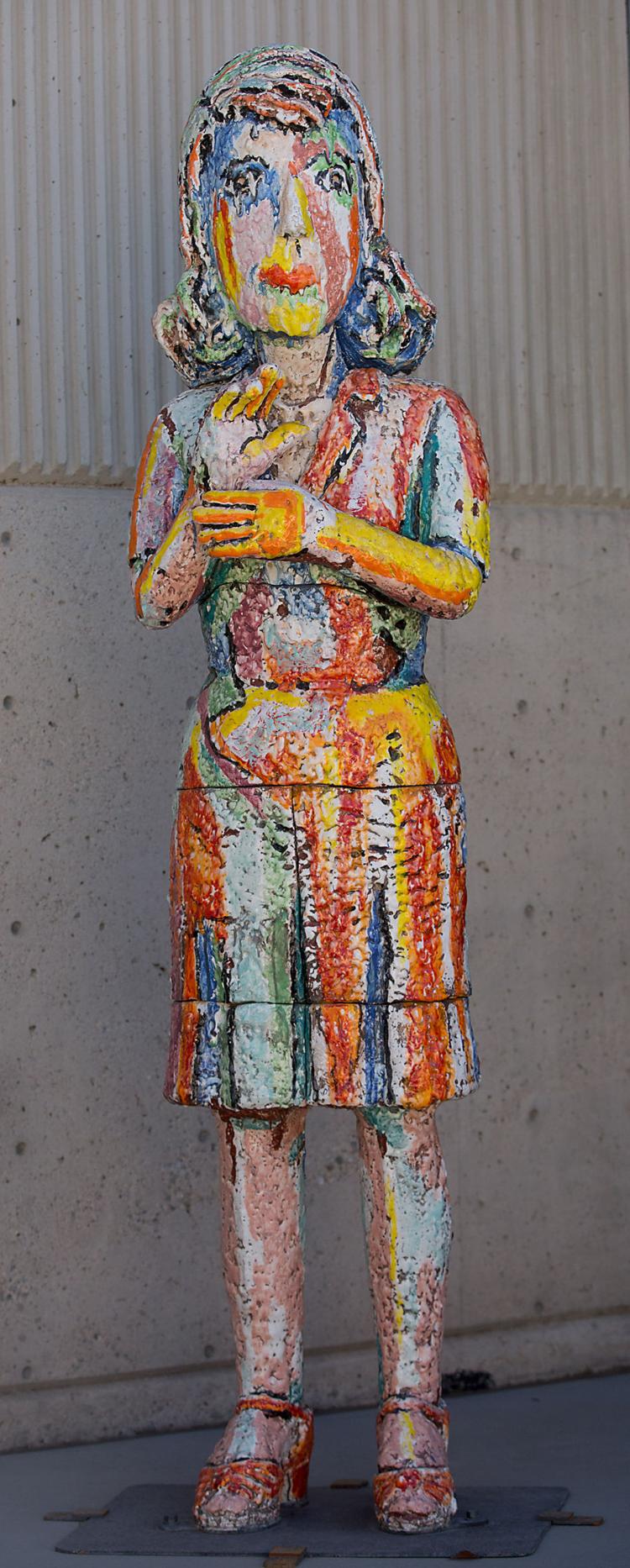 The restaurant serves sandwiches and salads and a selection of decadent desserts. Visit cafealacarttucson.com/ for more information.
Current COVID-19 numbers have pushed La Cocina and Ceres Pasta + Bread, across the street from the TMA, to close for the time being. Both spots, when open, offer delightful surroundings and delicious meals.
A short walk a couple blocks north will put you at the doorstep of El Charro's original location, 311 N. Court Ave. The Tucson staple is currently open for dine-in and takeout from 11 a.m.-8 p.m. seven days a week.