Tens of thousands of people from all over the world are expected to attend this year's Tucson Gem, Mineral and Fossil Showcase, taking place in venues across the city from now until Feb. 16.
With 51 individual shows slated for 2020, the annual event may seem daunting to the uninitiated.
For seasoned veterans, navigating its ins-and-outs is as easy as A-B-C.
Below is an alphabet of tips, shows and factoids for both pros and newcomers alike.
African Art Village — Over the course of two decades, the African Art Village has become a staple of the showcase, with over 125 exhibitors selling items from all over Africa, including artifacts, baskets, beads, textiles and paintings. The village is located at 279 S. Linda Ave., and is open from 7 a.m. to 6 p.m. daily, Feb. 1-16.
Beads! Beads! Beads! — The showcase has long been a haven for bead fans. There are several shows that focus primarily on beads, including the Whole Bead Show this year at the Viscount Suite Hotel, 4855 E. Broadway, Jan. 31-Feb. 4.
Clothing and footwear — Longtime attendees have seen a mix of wet, warm and freezing cold showcases over the years. Make sure to keep tabs on the Tucson-area weather forecasts and dress accordingly. Whatever the conditions, comfortable shoes are a must. Expect to be on your feet all day. Leave the heels at home.
Dinosaurs — It's a regular "Jurassic Park" during the Tucson Gem, Mineral and Fossil Showcase, with dinosaur skeletons and fossils popping up at shows all over town. GeoDecor, located at the Mineral and Fossil Co-op, 1635 N. Oracle Road, will have multiple skeletons on display from Jan. 31-Feb. 16, including an adult stegosaurus skeleton from Wyoming, a fully mounted thescelosaurus, a Triceratops skull and a 35-foot-long Tyrannosaurus rex, dubbed "Roosevelt." The exhibition will be open from 9 a.m. to 7 p.m. daily. geodecor.com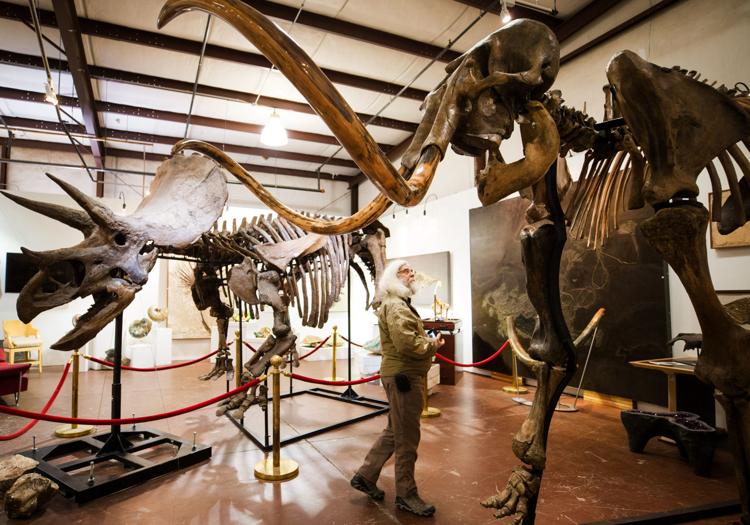 Economic impact — Whether you shop the showcase or not, it's a good thing for Tucson. The event saw an economic impact of more than $200 million in 2019, according to a study by FMR Associates for Visit Tucson.
Food trucks and vendors — While many of the shows, especially in the downtown area, are a short drive away from local eateries, many of the events will have their own army of food trucks and tents on-site. The 22nd Street Mineral, Fossil, Gem & Jewelry Show, which starts Thursday, Jan. 30, and runs through Feb. 16 at 600 W. 22nd St., has 24 food options this year, including Sri Lankan Fusion Foodtruck, The Curry Pot, and Jozarelli's Italian Street Food. 22ndstreetshow.com.
GemRide Shuttle — GemRide, the showcase's free shuttle service, has more than 40 stops along four routes. Park at any of the shuttle's hubs and hop on and off at will. Service runs from Thursday, Jan. 30-Feb. 16. Hours of service vary by route. Maps can be found at tucne.ws/gemride.
Hot artistry — Glass artists will go head-to-head at Flame Off this year, an annual torchworking competition held during the showcase at the Sonoran Glass Art School, 633 W. 18th St. Artists will throw down, creating works of art, with the theme "A Force of Nature" in mind. Coordinators call it "Iron Chef" for glass art. The event runs from 4 p.m. to 9:30 p.m. on Feb. 8. Tickets are $20 general admission, with $50 VIP tickets available. The school will also hold a glass art show, Feb. 5-9, and a Tucson Bead Symposium, a series of presentations from collectors, experts and artists, on Wednesday, Feb. 5. sonoranglass.org.
Indian expo — More than 80 tribal nations will rotate through the American Indian Exposition, being held at the Red Roof Inn, 1300 N. Stone Ave. The event started on Jan. 26 and runs through Feb. 16, and features everything from turquoise jewelry to Tohono O'odham baskets. Event info at tucne.ws/aiaexpo.
Jot down notes — If you find a favorite booth that you'd like to revisit, make sure you grab a business card, write down its location, follow their Facebook page and bookmark their website. The sheer amount of dealers makes it easy to lose track.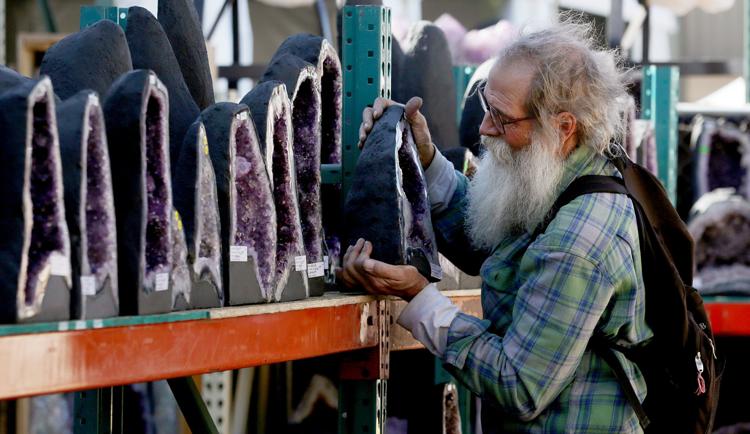 Killer Instagram shots — Amethyst towers, larger-than-life fossils, gems on display in brilliant colors. IG opportunities are everywhere during the showcase, so keep your phone handy for those perfect social media shots.
Live music — Man cannot live on gems, minerals and fossils alone. Take a break from the showcase chaos, and catch some live music at the Rialto Theatre, 318 E. Congress St., and Club Congress, located inside the historic Hotel Congress, across the street. Want a more showcase-themed experience? Head to the Gem & Jam festival, taking place at the Pima County Fairgrounds, 11300 S. Houghton Road, Jan. 31-Feb. 2.
Money — It seems strange in this day and age for any business not to take some sort of credit card, but many of the shows, including the JOGS Tucson Gem and Jewelry Show, being held Jan. 30-Feb. 10 at the Tucson Expo Center, recommend that you have some cash on you, just in case.
New virtual experiences — A virtual reality simulator will be part of the exhibitions in the Showcase building at the 22nd Street Mineral, Fossil, Gem & Jewelry Show. VR programs offered as part of the simulator include a journey through the solar system and a tour of the International Space Station. The Showcase building, open from 10 a.m.-6 p.m. daily, Jan. 30-Feb. 16, will also feature hundreds of meteorites, moon rocks, and a 30-foot-stegodon, on display. The 22nd Street show is free, but parking will cost you $5.
Other things to buy — Need a break from the hustle and bustle of the gem showcase, but still itching to spend some cash? Head to Tucson's east side for not one but two antique fairs Sunday, Feb. 2; one at Medella Vina Ranch, 4450 S. Houghton Road, which runs from 8 a.m. to 2 p.m. (facebook.com/MedellaVina) and the other, dubbed the East Side Vintage Market, running at the same time in the Target parking lot at 9615 E. Old Spanish Trail (facebook.com/eastsidevintagemarket). If you are around the following Sunday, Feb. 9, hit the Mercado Flea, downtown across from Mercado San Agustín, 100 S. Avenida Del Convento (facebook.com/mercadosanagustintucson), or the 2nd Sunday Vintage Market at 4075 W. Ina Road (facebook.com/2ndsundayvintagemarket).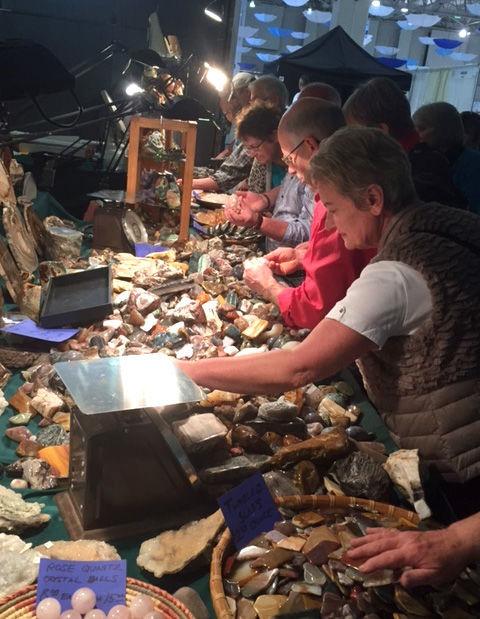 People everywhere — According to the study done by FMR Associates for Visit Tucson, over 65,000 unique visitors visited six shows or more during last year's showcase. They also filled restaurants, shops and music venues, especially along the downtown corridor. If you want to do something specific in town during the showcase, we recommend making reservations.
Quintessential Tucson — If you've been to the showcase before, chances are you've seen some of the mainstays of Tucson tourism, destinations such as Saguaro National Park (East and West), Mission Sax Xavier del Bac, Sabino Canyon and Mount Lemmon. If not, we suggest carving out some time to take in at least one of these iconic Old Pueblo fixtures. Each location has its own website, but an overall list can be found at visittucson.org.
Relaxing with the arts — Spend your evenings away from the gem show exploring Tucson's performing arts scene. Arizona Opera (azopera.org) will be putting on productions of Puccini's "La Bohème" at Tucson Music Hall, 260 S. Church Ave., Saturday, Feb. 1, and Sunday, Feb. 2. Arizona Theatre Company (arizonatheatre.org) has showings of its current production, "'Master Harold'...and the Boys" at the Temple of Music and Art, 330 S. Scott Ave., through Feb. 8. And Broadway in Tucson will host "The Book of Mormon" at the University of Arizona's Centennial Hall, Feb. 11-16. broadwayintucson.com.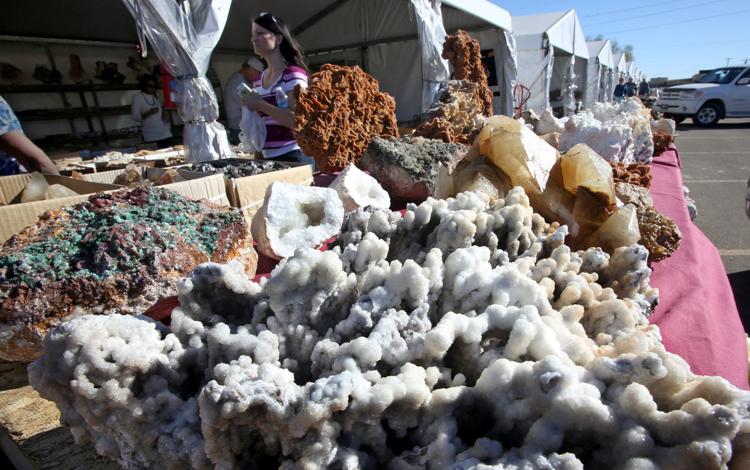 Sunscreen — Many of the shows, like those that line the frontage road on the west side of Interstate 10 have outdoor components to them. Expect to spend some time in the sun and slather up.
Tucson Gem and Mineral Show — Make sure to hit this show that started it all during its run at the Tucson Convention Center, Feb. 13-16. Now in its 66th year, the theme of the 2020 show is "World Class Minerals," and will have several one-of-a-kind items on display, like the Picasso Kunzite Necklace, which was designed by Paloma Picasso, Pablo's daughter, to celebrate the 150th anniversary of Tiffany & Co. in 1987. More than 250 dealers will be in attendance. Tickets are $12 for one day and $20 for two days through ticketmaster.com.
Unusual finds — While gems, minerals and fossils are the overall focus of the showcase, it's easy to find items that might not fit those categories. The massive Kino Gem and Mineral Show, running Thursday, Jan. 30, through Feb. 16, at Kino Sports Complex, 2500 E. Ajo Way, has had a little bit of everything over the years, from phrenology heads to Japanese glass fishing floats.
Visitor center — The new Southern Arizona Heritage and Visitor Center has launched just in time for this year's showcase. Located in the Historic Pima County Courthouse, 115 N. Church Ave., downtown, the center includes a theater, and exhibits covering the history of Tucson, the surrounding areas and of the Tohono O'odham and Pascua Yaqui tribes. The center is open from 10 a.m.-5 p.m. daily. visitsouthernarizona.com
Wet your whistle — With more than 20 breweries in the Tucson area, the city is no slouch when it comes to craft beer production. Grab a pint at downtown breweries like Pueblo Vida Brewing, 115 E. Broadway, and Borderlands Brewing, 119 E. Toole Ave., after a long day of rock hunting. Added bonus: Arizona Beer Week, a statewide celebration of beer, begins Feb. 6 and runs through Feb. 16. Visit tucne.ws/azbeerweek for information on local happenings.
XOXO — Valentine's Day takes place during the showcase this year. Luckily for you, many of the shows have vendors on hand that deal in precious stones and custom-made jewelry. The Pueblo Gem & Mineral Show, for example, has jewelry dealers selling everything from Afghan gems to Taxco, Mexico, sterling silver this year. The Pueblo show runs from Friday, Jan. 31-Feb. 12 at the Ramada by Wyndham, 777 W. Cushing St. pueblogemshow.com.
Yearning for learning — Many of the shows have educational components to them. The big Tucson Gem & Mineral Show at the Tucson Convention Center, for example, has lectures and seminars that are open to the public and free with the $12 price of admission during the duration of the event. Topics at the TCC range from "A Short History About How Impossible Crystals Came to Earth From Outer Space" to "The Lore of Lithium."
Zip around, but plan ahead — For the uninitiated, the Tucson Gem, Mineral & Fossil Showcase can be overwhelming.
Some shows can take hours to explore. Don't overexert yourself and map out a general plan ahead of time so you know where you are going.