With COVID-19 restrictions limiting the number of customers at any given establishment, bars, restaurants and breweries are taking their act outside.
Patios are hot commodities particularly for bars and breweries when it comes to making the most of the restrictions, which limit them to no more than half their capacity.
And with the weather becoming a little more bearable and cool evenings in full effect, now may be the perfect time to take those baby steps outside of our pandemic safe spaces.
With pandemic rules and regulations in constant flux, it always pays to call ahead to confirm business hours and to make reservations.
Here are a few of our favorite patio-friendly watering holes.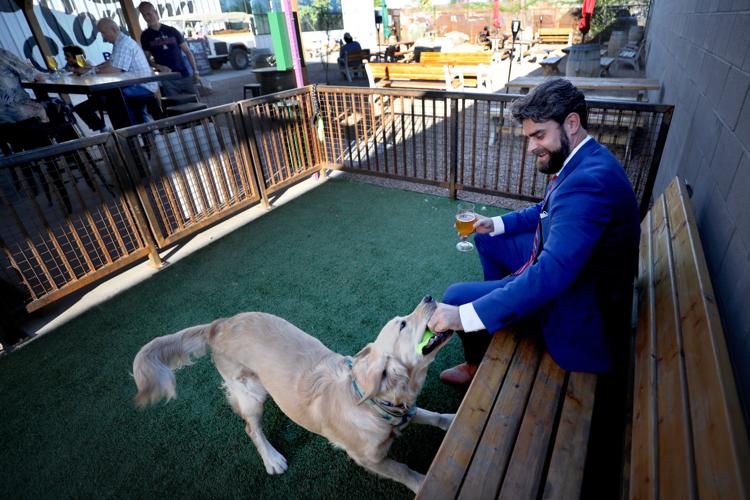 MotoSonora Brewing Co.
Hours: 3 to 10 p.m. Mondays through Fridays; noon to 10 p.m. Saturdays; noon to 6 p.m. Sundays
Capacity: 75 in the beer garden
When brothers Jeremy and Jeff DeConcini envisioned their own brewery in Tucson, a large outdoor beer garden was a must.
"The weather is so nice here for most of the year," Jeremy DeConcini said. "We wanted people to enjoy it."
The spot they chose, a former tile shop on South Park Avenue, offered that opportunity. By the time they were ready to launch in March, they had a well-designed outdoor drinking space that stretched the entire length of their production warehouse, with benches where guests could relax with friends, tables made from big wooden barrels and even a small dog park.
It would have been a nice start to the spring had COVID-19 not entered the picture, causing the state to go into lockdown and all nonessential businesses to partially or completely shut down for several months.
When MotoSonora was finally able to allow guests at the brewery, the beer garden was key, Jeremy DeConcini said.
"We are running at about 25% capacity inside, but most people go right out back," he said. "It is one of the main reasons we have been able to keep the lights on."
Some of the original plans for the garden have changed. The DeConcinis are waiting on installing a bocce ball court so that they can accommodate more space between tables. They've also moved their food truck area, which the Substance Coffee Diner calls home six days a week, from the garden to the parking lot in front of the building.
Jeremy DeConcini said they have reached a point where they are starting to see a regular customer base.
On Monday nights, the brewery holds bike night, in keeping with its classic racing theme, where motorcyclists can show off their rides right inside the garden.
MotoSonora's most popular night, Jeremy DeConcini said, is on Saturdays when they have live music.
"The ability to go outside, have a beer and listen to some music feels kind of normal," he said. "At this point, people appreciate that."
Hours: 3 to 10 p.m. Tuesdays through Thursdays; 11:30 a.m. to midnight Fridays and Saturdays; 11:30 a.m. to 10 p.m. Sundays
Capacity: The patio can accommodate 80
The 3-year-old family-owned craft brew taphouse opened in 2017 in the Continental Ranch area of Marana.
In addition to its dining room — where customers can watch sports, grab a craft brew from dozens of breweries including several from Tucson to complement Prohibition-themed snacks including Speakeasies beer-battered onion rings and Big House Nachos or a specialty burger, sandwich or salad — Growlers has a large side patio of socially distanced tables. Tables on the patio have always been set apart, said Dawn McMillan, who owns Growlers with her son, Dustin, and partner Lee Fabrizio.
The patio also has space in one corner where musicians including Drew Cooper, Jeordie, Caiden Brewer and OnesAll perform. With misters to keep cool in the summer and heaters in the winter, the patio has always been a big draw, McMillan said.
The patio will be an even bigger draw when they roll out Wednesday wings night in the coming weeks. Dustin McMillan has set up a grill on an area of the patio specifically for the wings.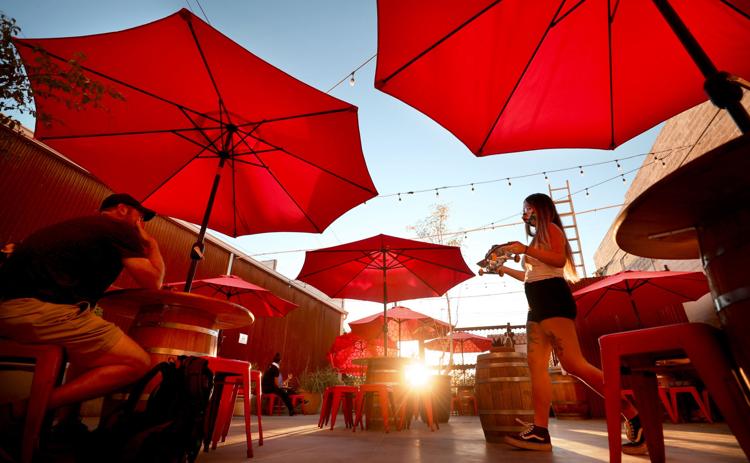 Crooked Tooth Brewing Co.
Hours: 3 to 10 p.m. Wednesdays and Thursdays; noon to 11 p.m. Fridays and Saturdays; noon to 10 p.m. Sundays
Capacity: 48 people on the patio
Crooked Tooth Brewing plans to open its taproom later this week. But it has been rocking its spacious patio area since early September.
Owners Ben and Julie Vernon have been working with their staff to make sure guests are given the safest environment possible. Tables made from Whiskey Del Bac barrels have replaced communal tables and are spaced 10 feet apart from one another.
The brewery has switched to table service rather than patrons going up to the bar themselves. It is using one-use menus, and will soon be adding a host to its staff, who will be on hand to seat guests and answer any questions at the entrance.
"We are trying to offer an environment where it is welcoming and safe, not just for the customers, but for our staff," Ben Vernon said.
Crooked Tooth held off on reopening until Arizona's daily COVID-19 infection numbers dropped below 1,000 per day, Ben Vernon said.
That gave its crew time to create a game plan on how things will roll out in the future. In addition to the new seating plan, Vernon said Crooked Tooth is also moving toward canning, so their extensive selection of craft beers has further reach.
Ben Vernon said having people back at Crooked Tooth has been a pleasure.
"Just to be able to have people back in the space, to feel their energy and hear their laughter," he said. "The building has a pulse again."
Noble Hops1335 W. Lambert Lane, Oro Valley, noblehops.com; 797-4677
Hours: 11a.m. to 10 p.m. Sundays through Thursdays; until 11 p.m. Fridays and Saturdays
Capacity: Patio tables including for parties of six or eight, can accommodate as many as 100 guests
The popular Oro Valley gastropub recently booked its first holiday event, a catered party that will set up on half of Noble Hop's spacious patio.
The patio has been hopping since Noble Hops reopened from the state-ordered pandemic shutdown. In the hotter months, they blasted misters and fans. Now that the weather is cooling, newly hired GM Kyle Summers said he has ordered additional heaters to keep up with demand for outdoor dining and drinking.
Since September, Summers said business has picked up, outpacing last year's September totals and trending toward the same for October.
"(People) are a little pent up, I have a feeling," he said. "It's a tough situation because we want to make sure we are following the guidelines. We definitely want to make sure we're taking all the precautions."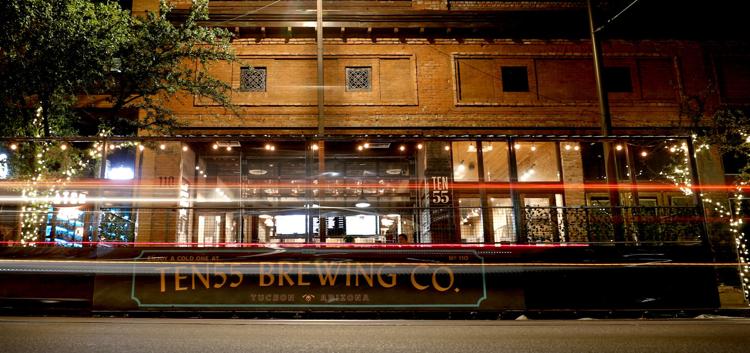 Hours: 3 to 9 p.m. Thursdays and Fridays; noon to 10 p.m. Saturdays
Capacity: 22 on the patio
Downtown is packing in a lot more patios these days, thanks in part to a grant program launched by the Downtown Tucson Partnership and Pima County.
The grants provided funding for restaurants looking to attract customers in a safe way through newly constructed outdoor seating areas.
Ten55 Brewing Co. on East Congress, in partnership with Batch, the whiskey and doughnut shop next door, went above and beyond with their grant funding, constructing a heavy-duty steel patio that they hope to still be using long after the pandemic is over.
The patio seats 22 and gives guests the option of watching passersby walking along the sidewalk on one side or passing cars on the other.
Ten55 co-owner Chris Squires said while some of the other restaurants and bars downtown have built patios that are meant to be temporary, they wanted theirs to last.
"We were trying to think how this might work in the long run," Squires said. "We have nine months of perfect weather for sitting outside. The more outdoor seating we have, the better."
When the city went into lockdown in March, Ten55, which also has an extensive food menu, offered growler and crowler fills, but didn't open its kitchen until late May.
Even now, the brewery has not opened its indoor dining area. Except for their patio service, they are strictly pickup.
"When the patio is full every day for a week or two, I'll take that as the universe telling me it is time to safely open up a couple of tables inside," Squires said. "We are taking it very safe and very slow."
Besides the new patio, Ten55 is also starting a canning line so it can sell their beer throughout the city. Squires said the brewery used to distribute its beer at its prior location off of South Palo Verde Road but stopped completely when the operation moved downtown two years ago.
Squires said the outdoor patio has so far received nothing but positive feedback.
"We are very lucky that we are in a spot where we can do this," he said. "Outdoor seating makes more sense than it ever has before. It is a good feeling."
Three Canyon Beer and Wine Garden
Hours: 3 to 9 p.m. Tuesdays through Thursdays; 3 to 10 p.m. Fridays and Saturdays; 3 to 8:30 p.m. Sundays
Capacity: 105 people in the beer garden
With half-an-acre of open outdoor space for eating and drinking, Three Canyon Beer and Wine Garden on Tucson's far east side has been doing just fine since reopening six weeks ago.
Guests can sit at high tops and picnic tables in groups of up to 10 and enjoy a selection of beers ranging from local brews from places like Harbottle Brewing, Copper Mine Brewing and BlackRock Brewers, to classic German beers, all within a stone's throw from the Santa Catalina Mountains to the north.
Tables are socially distanced from one another across a large plot of land, owner Steven Sheldon said.
Sheldon bought the property in 1990 and for years used it for his nursery and landscaping business. He converted it into Three Canyon in 2017.
"We had people we knew in Colorado who did something kind of similar to this," Sheldon said. "It was something we thought we could try."
Sheldon said Three Canyon, which also has indoor seating, has been getting a regular flow of customers since its reopening six weeks ago, especially on Friday and Saturday nights when the space has live music.
The taproom enforces social distancing and patrons are required to wear a mask inside, but people still come from all over to have a good time, he said.
"We get people from Oro Valley, Sahuarita, Vail," he said. "We had a couple come in last night. He was a professional soccer player and they had just moved to town. They came in to see what we were all about."