Prepare to descend upon a secret underworld of Mexican convenience foods.
The journey begins at Tostiloco — a whimsical assortment of vegetables and spicy candies eaten from a Tostitos bag  — and then winds through forest of peanuts, past a yellow river of nacho cheese to the limits of human imagination. 
We're just scratching the surface, but here are a few varieties I recently tried at different raspados shops around Tucson. Some resemble familiar Mexican dishes like nachos and carne asada, while others go in a completely different direction. The only constant, is the bag ...
Tostiloco
Oasis Fruit Cones, 1002 W. St. Mary's Road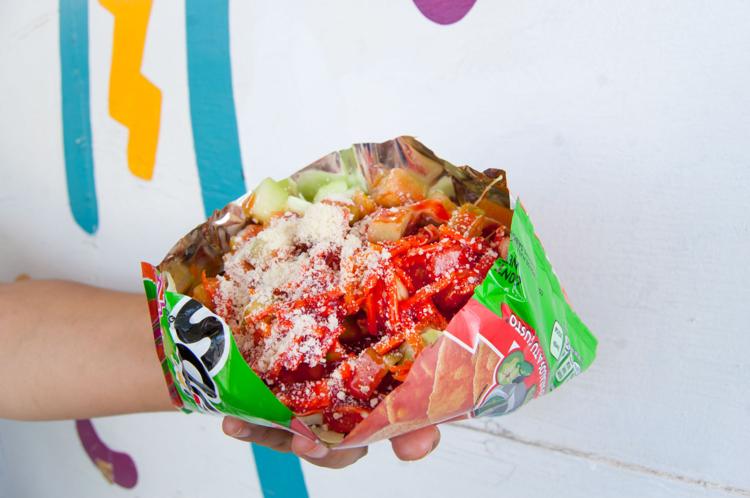 Ingredients: Tostitos salsa verde chips, cabbage, cucumber, carrots, parmesan cheese, lime, Chamoy sauce, Clamato, Amor picante hot sauce
This mound of mismatched ingredients practically screams Tucson, but the story goes that the Tostiloco was invented in Tijuana (by a guy who was trying to make a tostada). Was he smoking something? Perhaps. But this particular Tostiloco is actually kind of tame compared to the tamarindo pork rind sauce monsters I've seen elsewhere. Oasis Fruit Cones sticks to the savory vegetables like chopped cucumber and carrots. But the baggie still gets the Chamoy treatment, which makes everything sticky and soggy if you don't eat it right away.  
Tosticlassico
Oasis Fruit Cones, 1002 W. St. Mary's Road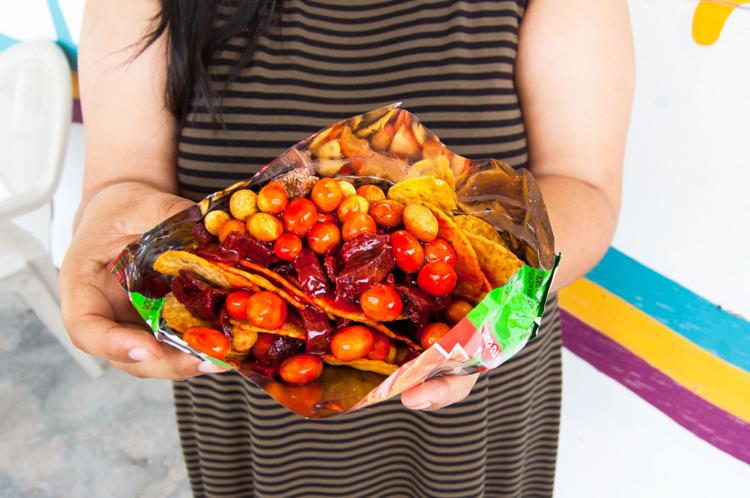 Ingredients: Tostitos salsa verde chips, Serpentina candies, Japanese peanuts, Chamoy sauce
Oasis saves the spicy candies for the Tosticlassico, $1.55. This bag is a little more restrained than its crazy sister, but nevertheless absurd. The hallmark here is Serpentina, a leathery tamarind rollup that's been coiled into a sweet crystal spiral. Oasis cuts the circles into smaller chunks, which get all soft and squishy in the sauce. The Japanese peanuts however, stay crunchy. 
Hot Cheetos Preparados
Oasis Fruit Cones, 1002 W. St. Mary's Road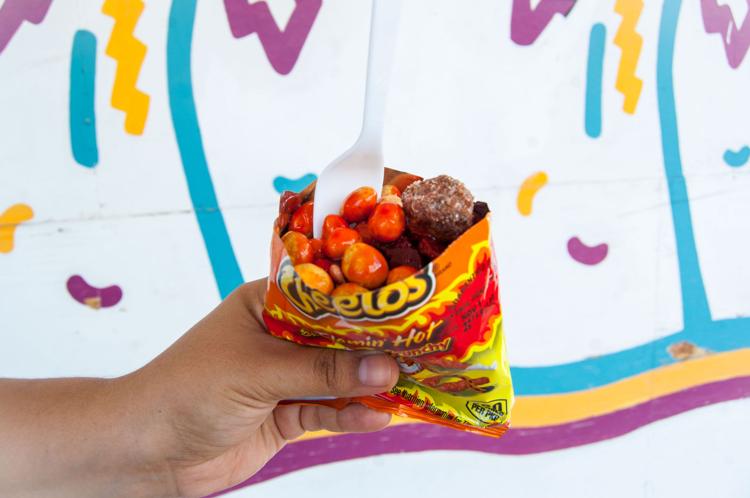 Ingredients: Flamin' hot Cheetos, peanuts, Serpentina candies, saladitos, Chamoy sauce
It looks all dainty from the outside, but this flavor amalgam hits the spectrum in ways I didn't really understand until now. In this little bag you've got sweet candy, spicy chips, crunchy peanuts, and salty plum bombs otherwise known as saladitos. The individual elements here hold their flavors better than most, no sogginess. You can even pick them apart with your hands.    
Tosticamaron
Raspados El Paraiso, 5917 E. 22nd St.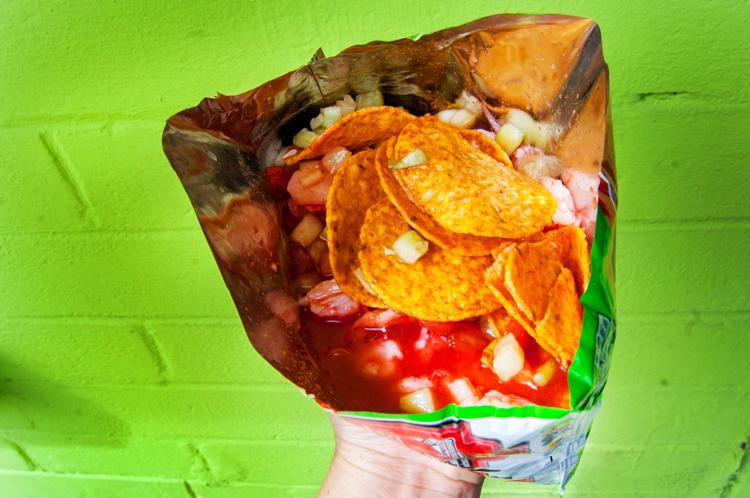 Ingredients: Tostitos salsa verde chips, shrimp, cucumber, tomato, lime juice, Chamoy sauce and Clamato 
This is basically a shrimp cocktail in a bag. Except instead of real corn chips you get salsa verde Tostitos which impart a pleasant note of limey salt powder, sure to please any monosodium glutamate fan. On a disappointing note, this version also lacks avocados. But it makes up for it in sheer quantity of cold shrimp cubes, chopped up on the counter right in front of me. I also found the presence of Chamoy sauce curious, but there was barely enough to notice. So it was nice and sweet (albeit) extremely saucy. Two hands on this one at all times. 
Tostielote
Raspados El Paraiso, 5917 E. 22nd St.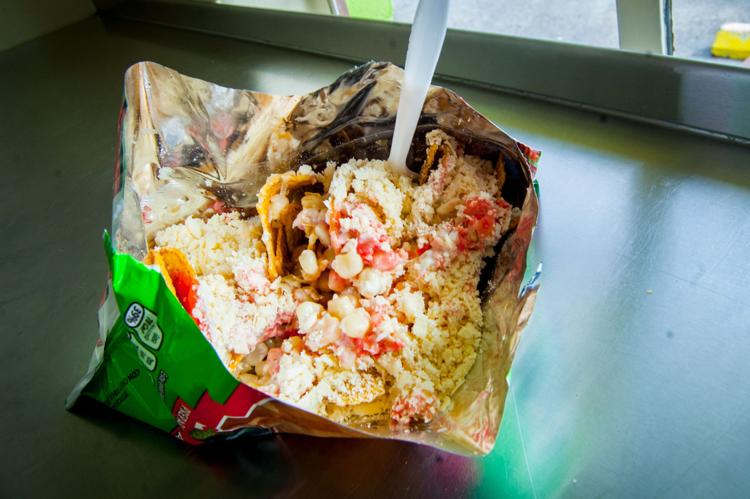 Ingredients: Tostitos salsa verde chips, hot corn kernels, butter, mayonaise, queso blanco, lime and Chamoy sauce  
Out of all the Tostis I tried, this was hands-down the winner. Raspados El Paraiso adds in warmed corn kernels along with a gob of butter, mayo and salty coating of grated queso blanco. Despite the fact that it's basically corn on corn, the mixture actually felt like a natural choice for the Tostitos, rather than a bunch of random stuff shoved in a bag. (I'm sorry, should I apologize for this?) I just know it's good because my mother liked it also, and her version of Tostilocos is the mini hummus packs with the pretzels you get from Costco.   
Tostinachos, w/ Ruffles
Michoacán Taqueria Raspados, 3235 N. Flowing Wells Road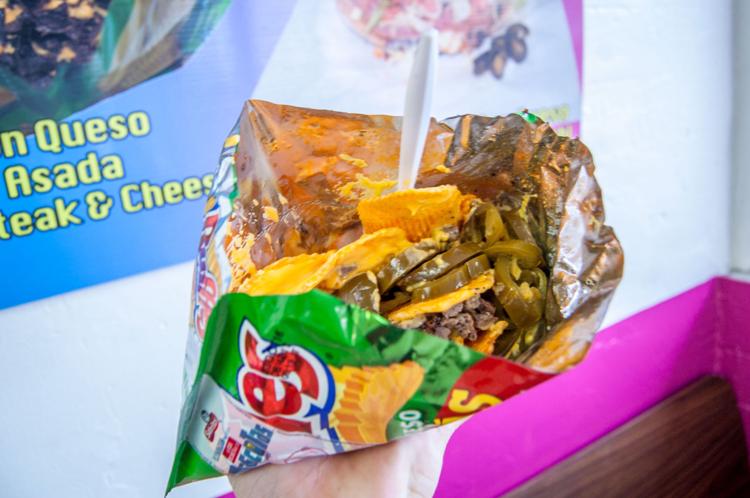 Ingredients: Queso flavored Ruffles, nacho cheese, carne asada, pickled jalapeños
The airy Michoacán Taqueria Raspados also does peanut-based Tosticacahuates and Tostinachos with real Tostitos chips, but I went wild ... This is a bag of nacho cheese Ruffles with carne asada, pickled jalapeños and real nacho cheese on top. Honestly, by the time I was done taking this awesome picture, the skin on my hand was bubbling from millionth degree burns. And I think that heat ruined the experience, because the Ruffles tasted powdery and all soggy under the cheesy swamp. The carne asada was a little gristly, but good.