Four new murals will grace the walls of downtown Tucson this spring. 
Tucson artists Ignacio Garcia, Jessica Gonzales, Rachel Rios, Carlos Valenzuela and Joe Pagac were selected from a pool of 44 mural applicants after submitting their design proposals to install their creations downtown. 
The new murals are part of the Tucson Arts Brigade Downtown Mural Project — its goals are to involve residents of all ages in the design and painting of murals to beautify the city; create jobs for artists; and to provide a solution to gentrification, social isolation and property damage. 
Garcia's mural, which is being painted in the alley behind the UPS store on North Sixth Avenue will depict colorful piñatas chasing a little boy.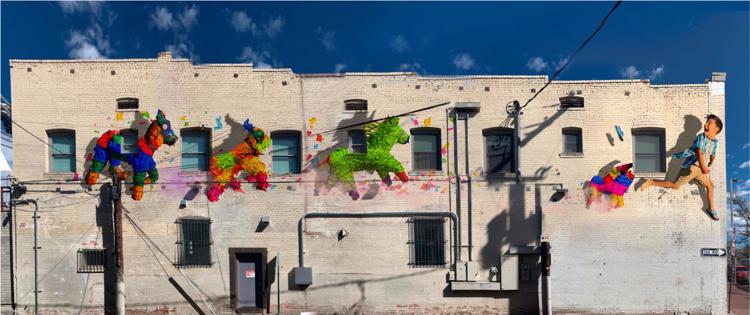 "Ignacio's is playful and fun," says Michael Schwartz, director of the Tucson Arts Brigade. "Part of what we're doing in that alleyway is revitalizing it and bringing it to life to make it feel like a more friendly place to walk through."
It was inspired by a childhood memory Garcia has of being chased by bulls on a family trip to Reddington, Arizona. It'a also the opposite concept of hitting a piñata, Garcia says.  
Gonzales says her mural design was inspired by the notion of exploration of the physical, mental and emotional realm. 

"I wanted to evoke a sense of wonder and intrigue about what the world has to offer when we take risks and expand beyond whatever borders we have created for ourselves," Gonzales says. "Digging deep to figure out who we want to be and who we don't want to be can be unsettling, but I wanted to focus on the beauty in that journey."
Artists get paid $8,000 to paint the murals. Plus, the program tends to boost them into more jobs, Schwartz says.
"I'm really proud that all of the artists in our program go on to get lots of work," Schwartz says. "They're able to make money and we're able to retain talent in Tucson. ...That's heartwarming. It makes everything worth it."

The program is funded solely on donations. It does not receive city money, Schwartz added. 
The program is funded solely on donations. Funding came from Tohono O'odham Nation, Visit Tucson, Sundance, Tucson Pastel Society and individual donors, Schwartz said.
Tucson Arts Brigade is still seeking donations to fund the preservation and maintenance of the new murals as well as to fund more murals in the future. Learn more about donating here.
Murals should be complete by June 1, Schwartz says. 
This is the second round of murals to be installed in this project. 

You might remember the first round which went up downtown in 2016 which include "Mayahuel" Cactus People (aka, Agave Lady) by Rock Martinez on the old Tucson Warehouse & Transfer building at 440 N. Seventh Ave. 
Mural programs are important because they give artists the chance to have their point of view become accessible to a broadened audience, Gonzales says. 
"It also allows viewers to spend as much time with the work as they choose," Gonzales says. "I like the idea that a downtown area that is buzzing with foot traffic, auto traffic and busy people is broken up by moments of creative expression that allow people to step outside of their reality for a brief moment."