Undoubtedly, Sabino Canyon is one of the most popular hiking spots in Tucson.
There are 14 trails, a dam that one of our Instagram followers has called Tucson's Niagara Falls, endless views of our favorite desert flora, picnic tables to enjoy a scenic lunch, and a shuttle that can give you a lift through the area.
But if you're new to Tucson or just getting into hiking, Sabino Canyon can be overwhelming — What the heck is Bear Canyon? When does the shuttle run? Which direction do I hike to see water after it rains?
Consider this your personal FAQ to the Sabino Canyon Recreation Area, with help from Sabino Canyon's partnership coordinator and visitor center manager Imena Ezell. (But don't hesitate to ask a staff member for help when you're there!)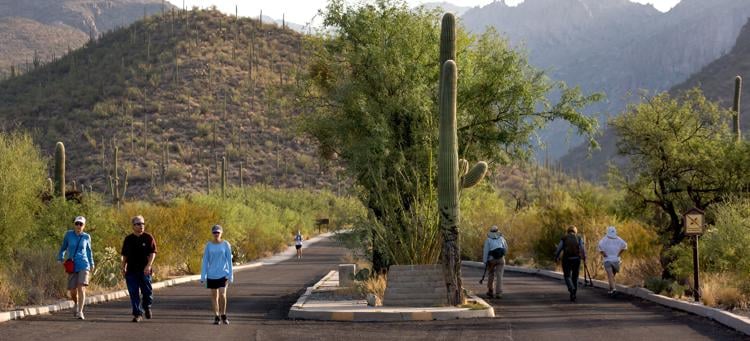 How do I get to Sabino Canyon?
Sabino Canyon is located on Tucson's northeast side in the Coronado National Forest, about 16 miles from downtown Tucson. Put this address in your GPS and you should get there: 5700 N. Sabino Canyon Road, just north of Sunrise Drive.
What are the hours?
Sabino Canyon Recreation Area (and its parking lot) is open 24 hours a day, though the visitor center is open 8 a.m. to 4:30 p.m. daily.
Camping isn't allowed.
Do I have to pay to get in? 
If you're just looking to visit Sabino Canyon for the day, expect to pay $8 per car. For the week pass, the price goes up to $10. But the best deal — and one you'll get a lot of use out of if you're a Tucsonan looking to explore Sabino Canyon more — is the annual pass for $40 per car. The annual pass can be purchased at the visitor center.
You can pay when you get there — sometimes a staff member will be present at an entrance booth to take your payment. You can also pay for a day or week pass online or at a kiosk near the entrance.
Sabino Canyon is also accessible for those with Coronado passes or valid Interagency Passes such as the Senior, Access and Military passes.
Where do I park?
Sabino Canyon has two parking lots. One is an overflow lot (north of the main lot) that's usually open during peak season when the main lot can get full.
Are there any days when I can access Sabino Canyon for free?
According to recreation.gov, fees are waived in Coronado National Forest on these days this year:
Feb. 20: President's Day
June 10: National Get Outdoors Day
June 19: Juneteenth
Sept. 23: National Public Lands Day
Nov. 11: Veteran's Day
Are pets allowed?
Quick answer: No.
Service animals as defined by the Americans with Disabilities Act are allowed.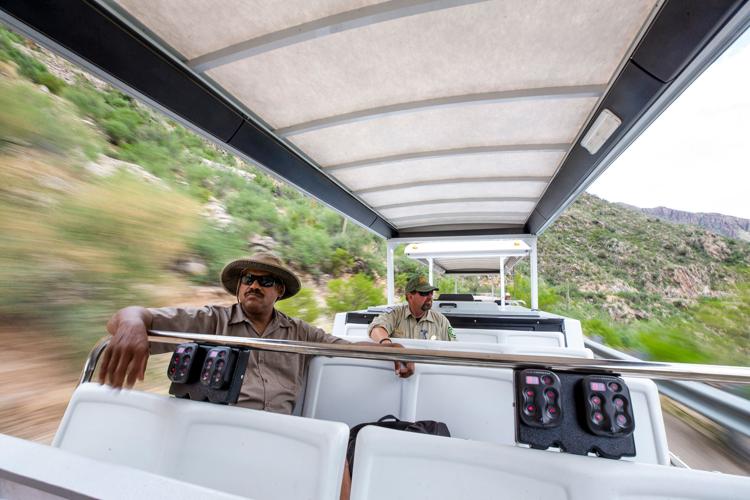 If I don't want to hike, there's a shuttle, right? Tell me more.
There are two — one for Sabino Canyon and one for the Bear Canyon trailhead. The Sabino Canyon shuttle drives for a longer distance, with more stops.
The emission-free Sabino Canyon shuttle is narrated, with rides priced at $15 per adult and $8 for kids 3-12. The Bear Canyon gas-powered shuttle offers rides for $8 per adult and $5 for kids 3-12.
The Sabino Canyon shuttle runs every hour from 9 a.m. to 4 p.m. The Bear Canyon shuttle runs every hour 9:15 a.m. to 4:15 p.m. Hours may change seasonally, so check ahead of time.
Book your ticket here. (You can also purchase your ticket while at Sabino Canyon, but be aware that shuttles can book up quickly. The ticket booth is just west of the visitor center.)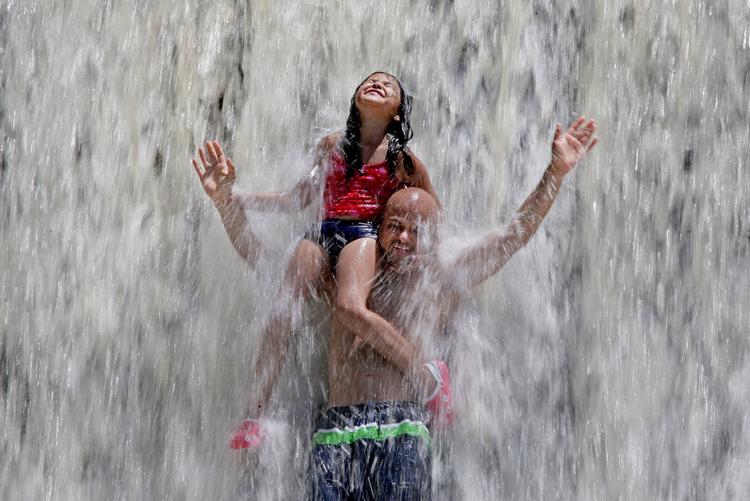 What's in the visitor center?
The visitor center is part gift shop, part mini museum.
In the gallery area (open Tuesdays, Thursdays and Saturdays), you'll find small exhibits on Sabino Canyon's history, educational handouts on animals, and information on the types of plants you might come across. 
Then there's the side of the visitor center packed with souvenirs and trinkets including apparel, seed packets, prickly pear candy, coffee mugs, magnets, bookmarks and water bottles. There are also desert-themed books — guides to hummingbirds or lizards, kids books like "The Three Little Javelinas," a historical book about the Sonoran Desert, and an activity book called "Who Pooped in the Desert?"
The visitor center is also home to information about the trails — through its TV screens showing the day's weather and hiking tips, a whiteboard showing current closures, and staff awaiting your questions.
You can also find an abundance of information — what to wear on a hike, a list of guided walks, and maps — on the giant directories standing outside the visitor center.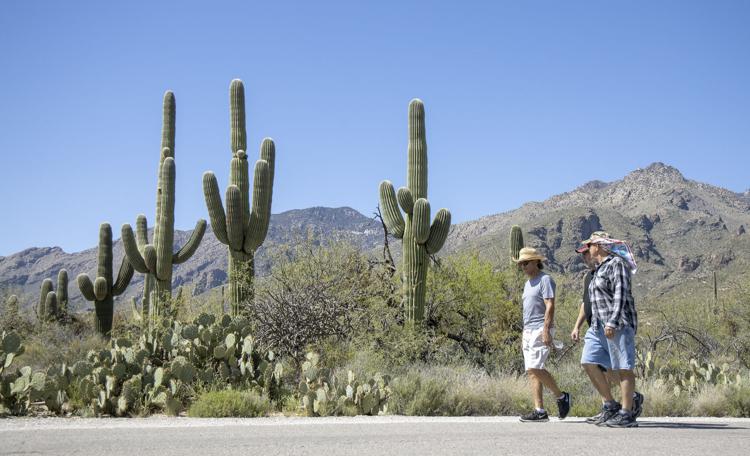 In the entrance area, there are two trailheads. Where do I go?
On the east side of the visitor center (which is located just north of the main parking lot), you'll find the Bear Canyon trailhead.
Bear Canyon has access to popular destinations such as Sabino Dam, Seven Falls and Blackett's Ridge Trail.
The area west of the visitor center leads to upper Sabino Canyon (it's a 3.7-mile walk along a paved roadway to get to some of the trails). Trails and destinations in this direction include Hutch's Pool, Anderson Dam and Sabino Canyon Trail. 
Check out a map of the area here. If you're headed to a specific trail, it might be helpful to pick up a physical map in the visitor center.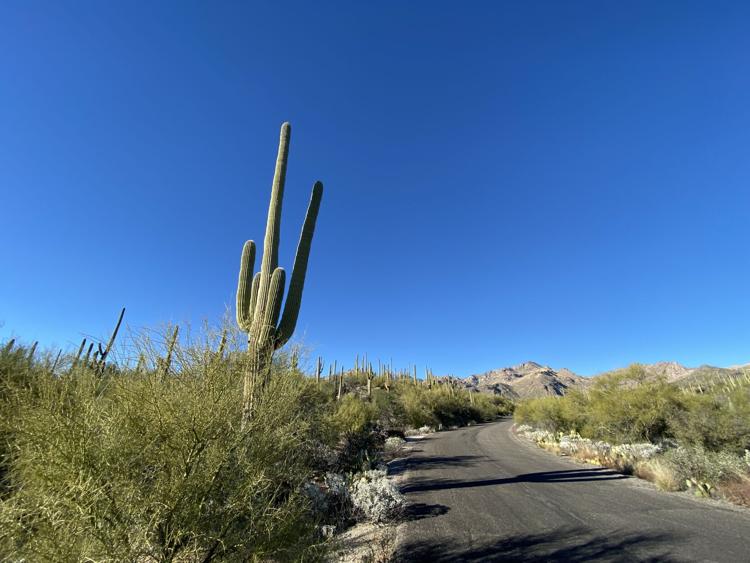 How do I know which hike is best for me?
There are 14 trails in the recreation area ranging in difficulty and length.
This handy guide shows mileage, trail expectations and rankings in difficulty.
Important to remember: The noted mileages on the linked map indicate the lengths of the trails themselves, not the length of the trails in addition to the walk to the trail from the parking lot. For example, a trail itself might be 1 mile long, but you might actually get in enough steps to account for multiple miles, depending on how far the trail's starting point is from the parking area. 
As you begin hiking, you'll see signs for trails, along with their mileages.
Popular trails include Seven Falls (8.4 miles roundtrip from the visitor center), Sabino Dam Trail (2.5 miles roundtrip from the visitor center) and the Phoneline Trail (5.7 miles from the visitor center to the top of Sabino Canyon Road). Many visitors also enjoy the paved roadway to upper Sabino Canyon, which is about 4 miles one-way.
According to a directory in the area, here's what's recommended based on how much time you have:
Less than an hour: Walk the half-mile Bajada Loop Nature Trail near the visitor center
1-2 hours: Hop on the Sabino Canyon shuttle for a tour. For hiking, try Sabino Dam or Rattlesnake Trail Loop
3-4 hours: Ride a one-way shuttle into either canyon to hike or have a picnic, then hike back down the road
All day: Hike to Seven Falls or any other trail
Are there any wheelchair-friendly trails?
The paved roadways, Sabino Canyon Road and Bear Canyon Road, are wheelchair-accessible.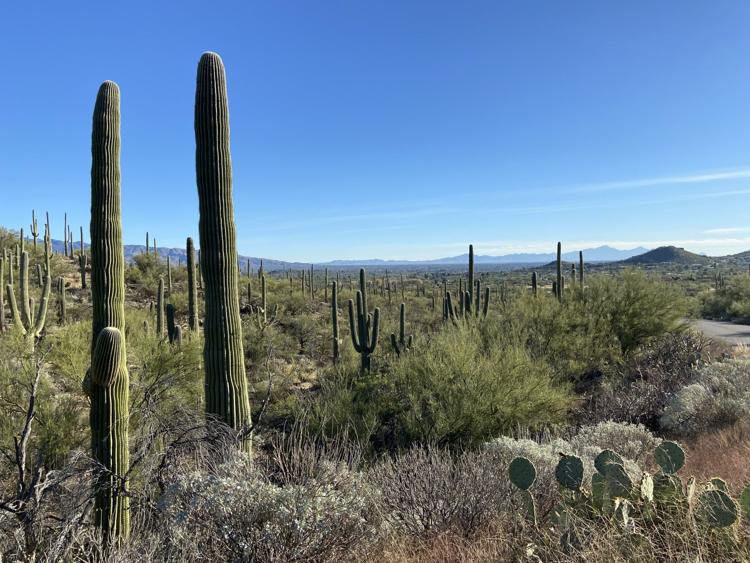 Can I ride my bike?
Yes! But only before 9 a.m. and after 5 p.m., and not at all on Wednesdays or Saturdays. The times were implemented with regard to roadway safety and the shuttle schedule, in addition to the amount of visitors who walk the roadway.
Will I see wildlife?
Possibly. Respect any wildlife you do see, which could range from snakes to mountain lions to birds (and even jellyfish?!). Take a look at some safety tips from Visit Tucson.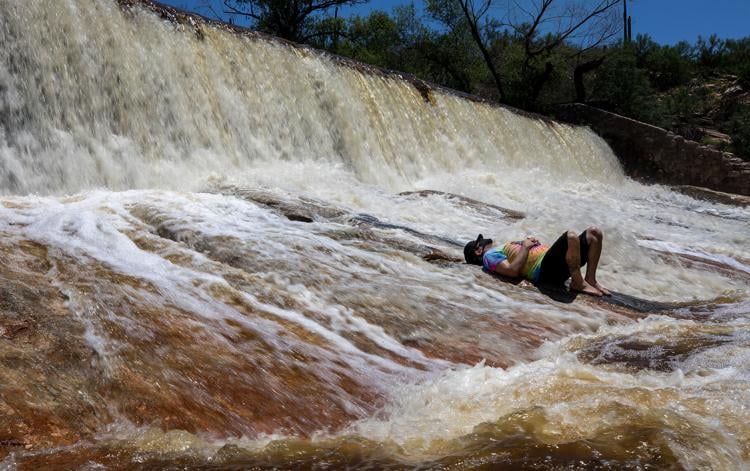 Where can I see water?
After a good amount of rain falls in Tucson, there's a chance that you could see waterfalls and rainwater flowing through Sabino Creek. It doesn't always happen, but when it does, it's a stunning sight.
Before heading out for your hike though, check the weather and avoid the area if you see heavy rainfall and/or flood potential in the forecast. Flash floods can happen quickly and can be dangerous. 
The easiest walk/hike to potentially see water is to Sabino Dam. To get there, take the Bear Canyon Trailhead and turn right when you get to the pavement. Follow the roadway and you'll see signs to your right pointing to the dam. (If the dam is flowing, you'll probably hear the water, too.) 
Along the Bear Canyon Trail, you can (maybe) catch a waterfall at Seven Falls, which has several stream crossings and sections that are steep and uphill. Bear Canyon Trail is ranked moderate to difficult.
Anderson Dam could also have water. Find it at one of the last shuttle stops, located near upper Sabino Canyon.
There's also Hutch's Pool in upper Sabino Canyon, which has water year-round and is along the West Fork Trail. Tip: Walking along the roadway to get to the trail is about 8 miles roundtrip, essentially doubling the hike. If you don't want to walk the roadway, take the shuttle and hike the rest of the way to Hutch's Pool.
Again, here's that handy guide from the forest service.
Are there restrooms?
Yes. You can see them noted on this map. In some areas, you'll find water fountains, plus vending machines near the main parking lot.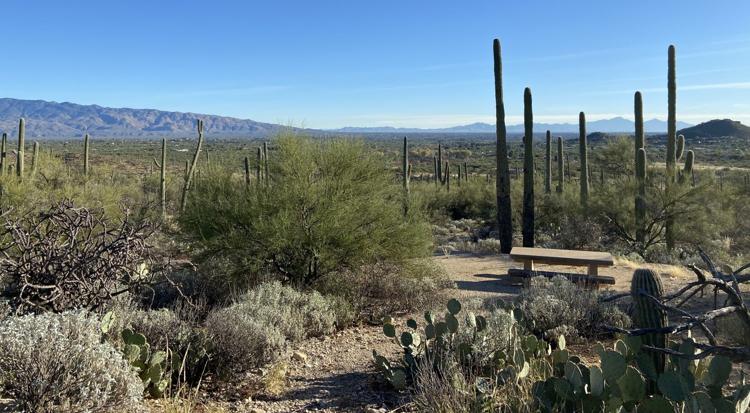 Are there picnic tables?
Yes. Grills are in some areas, too, though their use may be paused if forest fire restrictions are in place.
What about any events I should know about?
Sabino Canyon Volunteer Naturalists dedicate their time to "helping people of all ages appreciate the natural wonder of Sabino Canyon." They offer educational programs to both kids and adults, including group hikes, bird walks and field trips. Check out their calendar of events here.
Does Sabino Canyon have any rules I should know ahead of time?
Plan ahead and prepare. Hike with a friend and let someone know where you're headed, bring plenty of water (more than you think you need), and protect yourself from the sun. It's also recommended to check the weather before hiking to avoid conditions such as potential flooding and extreme heat. See more Tucson hiking tips here.
Don't litter.
Minimize campfire impacts.
Respect wildlife.
Be considerate of other visitors.
Leave what you find.
Stay on the trails and stay to the right when on wider pathways.
Here's what's NOT allowed: Pets, alcohol, glass containers, discharging of firearms, motorized vehicles, overnight camping, campfires, nudity, smoking and the removal of features that are natural, prehistoric and historic.
Still have a question?
Check out the forest service's website.