Early this year, we asked our Instagram followers what they wanted to know — about us, about Tucson, about anything.
On more than one occasion, we got the question: Where can I find the best dessert in Tucson?
We're blessed to live in a city filled with dozens of places to get a raspado, an east-side pie shop that Tucsonans have fallen in love with, date-night spots showcasing desserts that Australian pâtissier Adriano Zumbo would approve of, and home bakers popping up at local markets with their vintage-decorated cakes and tasty pan dulce. 
Here's where to find it all. (Let me know if I missed your favorite spot!)
Pastries, cookies, cakes and pies 🍰
Beyond Bread — Come for the sandwiches, stay for the pastries. There are cookies, bars, brownies, tarts, cakes and lots more. Beyond Bread has multiple locations. Find more information here.
Cafe a la C'Art — Tucked into the grounds of the Tucson Museum of Art, Cafe a la C'Art is home to a lush patio, a menu of omelets and chilaquiles, and a pastry case to die for. Find Cafe a la C'Art at 150 N. Main Ave.
Cafe Francais — This French bakery made its debut in 2019, serving sweets like chocolate croissants, kouign-amann, eclairs, cookies and macarons. Find Cafe Francais at 7831 E. Wrightstown Road.
Cal's Bakeshop — Cal Orellana is a home baker who makes hard-to-find pastries in Tucson. Croissant doughnuts, anyone? Follow their Instagram to see where their pastries will be next. 
Chez Peachy — Christa Lebron, the home baker behind Chez Peachy, makes colorful, sometimes vintage-inspired, lunchbox-sized cakes that you can order online or find at pop-ups around town. Follow Chez Peachy here.
Dedicated — Tucson has a handful of gluten-free bakeries and Dedicated is one of them. You'll find adorable cookies, cupcakes, cream puffs and more. Find Dedicated at 4500 E. Speedway.
Dolce Pastello — While they dub themselves the home of tres leches cake, you can also find German chocolate cake, Oreo cake and caramel flan on the menu. Find Dolce Pastello at 120 S. Avenida del Convento.
Ducky's Pineapple Banana Bread — Ducky's serves up air-fried pineapple banana breads, plus vegan and gluten-free options are available! Find them at pop-ups around town and follow them here.
Gourmet Girls Gluten Free Bakery/Bistro — Everything here is gluten-free, from the all-day breakfast to the sweet treats. You can order lemon pistachio bars, peanut butter cookies, carrot cake and more. Find Gourmet Girls at 5845 N. Oracle Road.
HeeMee Coffee + Bakery — Here's where you'll find pastries with Korean influence. The rotating menu includes buns with fillings like red bean or ube, matcha cakes and cookies with Korean mugwort powder. Twice a week, HeeMee also makes Korean shaved ice, called bingsoo. Find HeeMee at 20 E. Congress St.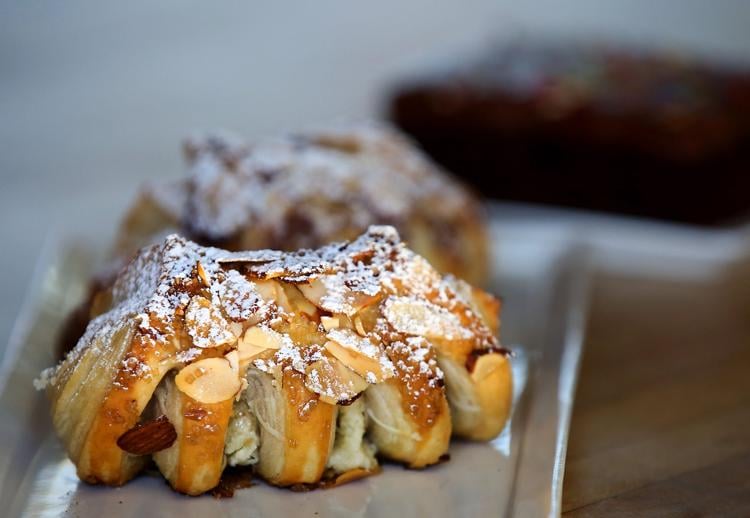 Houlden's Rise Above — Hannah Houlden is known for her vegan pastries at coffee shops around town, but she recently opened a brick and mortar. Find croissants, cookies, pop tarts and more. Find Houlden's Rise Above at 5029 E. Fifth St.
La Baguette Bakery — Next door to Ghini's French Cafe is La Baguette Bakery, with its breads, tarts, cookies, macarons, truffles and long list of breakfast pastries. Find La Baguette Bakery at 1797 E. Prince Road.
La Baguette Parisienne — Tucsonans were devastated when French bakery La Baguette Parisienne announced last year that it would close its doors after 39 years. But the closure didn't last long — new owners stepped in and quickly reopened the bakery. Find La Baguette Parisienne at 7851 E. Broadway.
LeBuzz — It's hard to not get a pastry alongside your brunch order. There are tarts, cookies, bars and more. Find LeBuzz at two locations: 2930 N. Swan Road and 9121 E. Tanque Verde Road.
LeCave's Bakery — LeCave's legacy in Tucson has stretched for nearly a century, originally on the south side and now in midtown. There are doughnuts, eclairs, cakes, empanadas and cookies. Find LeCave's at 3950 E. 22nd St.
Locale — Last year, Italian restaurant Locale expanded with a bakery filled with rotating pastries like croissants and pear tarts. Their regular lunch and dinner menu also has yummy dessert options! Find Locale at 60 N. Alvernon Way.
Mona's Danish Bakery — This bakery has been in Tucson for more than two decades, with an owner who grew up in Denmark. Among the pastries: bear claws, turnovers, cookies, croissants and danishes. Find Mona's Danish Bakery at 4777 E. Sunrise Dr. 
Mt. Lemmon Cookie Cabin — If you're taking day trip to Mount Lemmon and need something sweet, stop by Mt. Lemmon Cookie Cabin for a plate-sized cookie topped with ice cream. (Across the street is the Mt. Lemmon General Store, which has fresh fudge!) Find Mt. Lemmon Cookie Cabin at 12781 N. Sabino Canyon Park.
Nadine's Bakery — Nadine's offers Jewish sweets like rugelach and babka, king cake for Mardi Gras, more than 50 different kinds of cookies during the holidays and lots of pie flavors. Find Nadine's at 4553 E. Broadway.
Novia's Bakery — Senovia Quihuis-Garcia is the home baker behind Novia's Bakery and she has a goal: to make desserts that taste like home. You can find her empanadas, sunset cookies, snickerdoodles, oatmeal cream pies, cochitos and more at pop-ups around town. Follow Novia's Bakery here.
Pies The Limit — Find these hand pies, both sweet and savory, at events around town. There are flavors like apple and peach, plus other confections to choose from. Follow Pies The Limit here.
Pin-Up Pastries — This dessert food truck has been whipping up cupcakes and whoopie pies since 2011. The menu has since evolved to include other desserts, plus another venture for barbecue. Follow Pin-Up Pastries here.
Song and Sugar Sweets — You can order sweets online or find Song and Sugar Sweets at pop-up events around town. There are cakes and cupcakes, plus cookies and macarons. And the decorations are *chef's kiss*. Follow Song and Sugar Sweets here.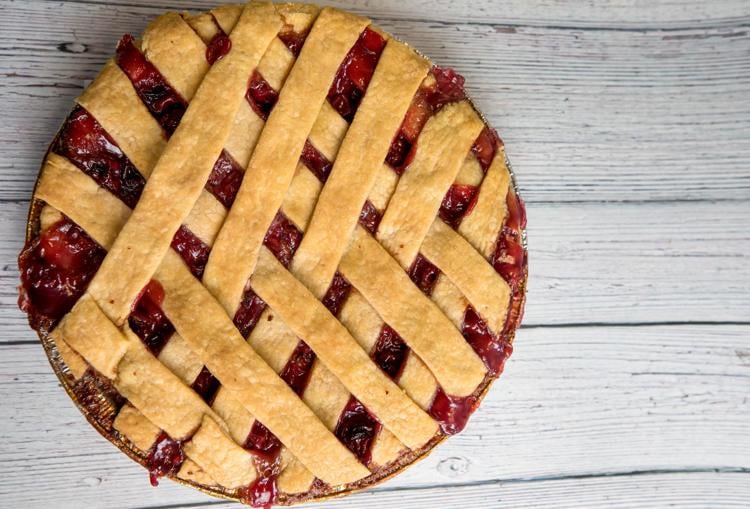 Sydney's Sweet Shoppe — The pies at this shop (which come in two dozen flavors) are loved by Tucsonans. If you need any proof of it, they made 700 (!!) pies last Thanksgiving. Find Sydney's Sweet Shoppe at 8969 E. Tanque Verde Road.
Ube Bae Dessert — Wife, dog mom and active-duty military member Brittany Gudino has turned her love for baking into a side hustle. She creates Filipino-inspired desserts from home, including ube crinkle cookies and Taiwanese snowflake crisps. Follow Ube Bae here.
Village Bakehouse — This Oro Valley eatery has a patio that fills up on weekends, with diners enjoying brunch favorites. But you can't leave without scanning the pastry case filled with macarons, cookies and mini cheesecakes. Village Bakehouse is where my mom ordered her wedding cake. It's where our food writer's mom ordered hers. Find Village Bakehouse at 7882 N. Oracle Road.
Bonus tip: If you want to venture out even farther, our food writer Ellice Lueders raves about the pastries from Patisserie Jacqui in Bisbee.
Ice cream, frozen yogurt and gelato 🍦
Bella's Gelato Shoppe — This beloved gelato shop, named after the owners' late dog Bella, made its debut as a food truck until getting permanent roots in a brick and mortar in midtown. Find Bella's Gelato Shoppe at 2648 E. Speedway.
Blondie's Ice Cream — You won't find chocolate at this ice cream truck. But you will find nostalgic homemade flavors like sweet potato pie and vegan snickerdoodle. Follow Blondie's Ice Cream here.
Blue Ice Gelato — Blue Ice has more than 50 rotating flavors of their scratch-made gelato. Owner Rebecca Mann loves the coffee caramel pecan. Find Blue Ice Gelato at 6878 E. Sunrise Dr.
BrushFire Creamery — BrushFire is most known for its barbecue, but its east-side location has its own ice creamery. Find BrushFire Creamery at 7080 E. 22nd St.
Ceres — When you eat your scratch-made pasta and soft-serve gelato in Ceres' charming patio area, you'll feel like you're transported to another city. Flavors rotate weekly. Find Ceres at 77 W. Washington St.
Decibel Coffee Works — Decibel's bakery manager Dana Rengel is also the ice cream aficionado behind Blondie's Ice Cream. The ice cream is available for your affogato, or by the scoop. They have pastries, too! Find Decibel at 267 S. Avenida del Convento.
Frost — This gelato shop got its start in Tucson and now has locations all around the globe. There are more than 70 scratch-made flavors on the rotating menu. Frost has multiple locations in Tucson. Find more info here.
Frozen Delight — One of Tucson's first froyo shops when it started in 1990, Frozen Delight serves frozen yogurt, Thrifty ice cream and boba teas. Find Frozen Delight at 1101 N. Wilmot Road.
Hub Ice Cream — Hub's handcrafted ice cream parlor started out of the namesake restaurant across the street. When demand went up, owners decided to open a separate creamery in 2015. Find Hub Ice Cream at 245 E. Congress St.
Licks Catalina — At this Catalina-based shop, cereal is infused into the ice cream, creating nostalgia for your tastebuds. There are also bubble waffles and loads of toppings. Find Licks Catalina at 16130 N. Oracle Road.
Noodies — Soft-serve gelato alongside pasta dishes. Truly, what else could you ask for? Flavors rotate weekly and two are offered at a time. Find Noodies at 1730 E. Speedway.
Okashi Ice Cream and Confections — Dean Blair makes ice cream with Japanese techniques and in flavors like black sesame and green tea. He makes pastries, too! Follow Okashi here.
The Screamery — This scratch-made ice cream shop quickly rose in popularity when it opened years ago. Now there are several locations across Tucson (and Phoenix). Owner Linda Sarnoski's favorite flavors are rocky road and Almond Joyous. Find more about The Screamery here.
Conchas, cochitos and other pan dulce 🍪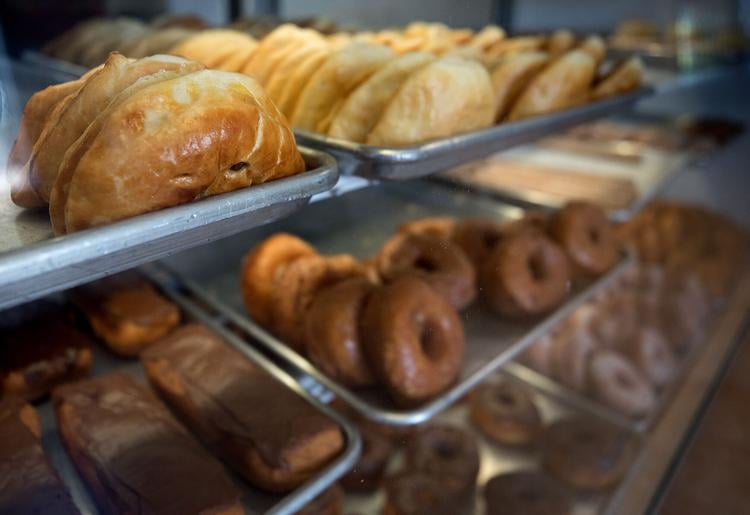 Bolita Bakery — Home baker Jesús Orduño makes traditional panadería staples like cochitos and conchas, but also scones, blondies and cookies with Mexican flavors. Follow Bolita Bakery here.
El Triunfo Bakery — Find pan dulce at El Triunfo, empanadas and pan de muerto around Día de los Muertos. Find El Triunfo at 6348 S. Nogales Hwy.
La Estrella Bakery — This iconic bakery has roots dating back to 1986 with its savory menu of tamales and tortillas, and its sweet menu of doughnuts, cochitos, conchas and coyotas. La Estrella has multiple locations in Tucson. Find more info here.
Mendez Bakery — This bakery made its Tucson debut in 2019, in the former home of LeCave's Bakery. The menu features bolillo and tortillas, plus pastries like bandera cookies, doughnuts and jelly rolls. Find Mendez Bakery at 1219 S. Sixth Ave.
Raspados, paletas, shaved ice and all the icy things 🍧
Eegee's — The homegrown sandwich chain is known for its namesake frozen treat: the Eegee. Eegee's has multiple locations across Tucson. Find more info here.
Lahaina's Shave Ice — Find lots of shaved ice flavors at this food truck, ranging from sour pink lemonade and lychee to classics like cherry and blue raspberry. Find more info here.
La Michoacana The Ice Cream Spot — According to their Instagram, there are two other locations of The Ice Cream spot, including one in California and one in Casa Grande. You'll find lots of paleta flavors, plus sundaes and raspados. Find The Ice Cream Spot at 3344 N. Oracle Road.
Nick's Sari-Sari Store — This Filipino market has a small eatery inside where lumpia, chicken adobo and other Filipino favorites are served. There's also halo-halo, a treat made with shaved ice and ube ice cream. Find Nick's Sari-Sari Store at 2001 S. Craycroft Road.
Paleteria y Neveria La Michoacana — This is a sweet tooth's dream. Raspados and paletas are aplenty. Find La Michoacana at 3774 S. Sixth Ave.  and a second location at 4444 E. Grant Road.
PopHeads — Here's where you'll find gelato-inspired popsicles in cream-based and juice-based flavors like orange creamsicle, s'mores and cherry limeade. Find PopHeads at 845 E. University Blvd.
Puro Ice — From the masterminds behind Tanna's Botannas comes Puro Ice. It's a space where you'll find Mexican candies, plus Mexican Italian ice. Find Puro Ice at 314 E. Sixth St.
Raspados — Raspado shops outnumber ice cream shops here. There are so many that this dessert guide would be bogged down if we named them all, but here's a link to our list of 25 shops in Tucson.
Slice & Ice — Founded by one of the original owners behind Eegee's, Slice & Ice serves pizza, sandwiches and Italian ice. Flavors include orange pineapple, strawberry lemonade and watermelon. Find Slice & Ice at 1905 W. Grant Road.
Shaved Ice Saloon — Catch this mobile shaved ice saloon at the new food truck park Comida Park, located at the Tanque Verde Swap Meet. Dozens of flavors are available from birthday cake and buttered beer to lemon lime with a sprinkle of Tajín. Follow Shaved Ice Saloon here.
Sweetie's Shave Ice & Raspados — From a food truck to a newly opened brick and mortar, Sweetie's is home to both shaved ice (you can add toppings like marshmallow fluff or chamoy) and raspados. Find Sweetie's at 5460 E. Speedway.
Candy and chocolate 🍬
Dirty T Tamarindo — Dirty T Tamarindo uses a recipe that dates back to the 1980s from Hermosillo, Sonora, for their chamoy-coated candies like watermelon rings and dried mango. You can find them at pop-ups and various stores across town, or you can order online. Find more info here.
Monsoon Chocolate — This award-winning chocolate shop makes stunning bonbons alongside chocolate bars, malt balls and confections like chocolate-covered marshmallows. Find Monsoon Chocolate at 234 E. 22nd St.
Tanna's Botannas — Owner Tanna Cole came up with a 20-spice blend to coat candies like Gushers and gummy bears. You can find the candies in stores across Tucson, you can order them online, or you can find them at the two Tanna's Botannas brick-and-mortar locations. Find more info here.
Date-night spots and full-service restaurants with yummy desserts 🍮
5 Points — People RAVE about 5 Points for its brunch selection, but we're here to talk about the bakery. You'll find cookies, brownies, cakes, pies and more, all with elevated flavors. Find 5 Points at 756 S. Stone Ave.
BATA — The menu at BATA changes often, so you don't know what you'll get until you're there. Pastry Chef Kayla Draper's desserts are inventive, like toasted white chocolate cake and leather-infused ice cream. Find BATA at 35 E. Toole Ave.
The Coronet — The dessert menu at The Coronet not only has sweets, but also dessert wines and coffee! Fans of the now-closed Tack Room might also remember the chocolate mousse that's now served by The Coronet. Find The Coronet at 198 W. Cushing St.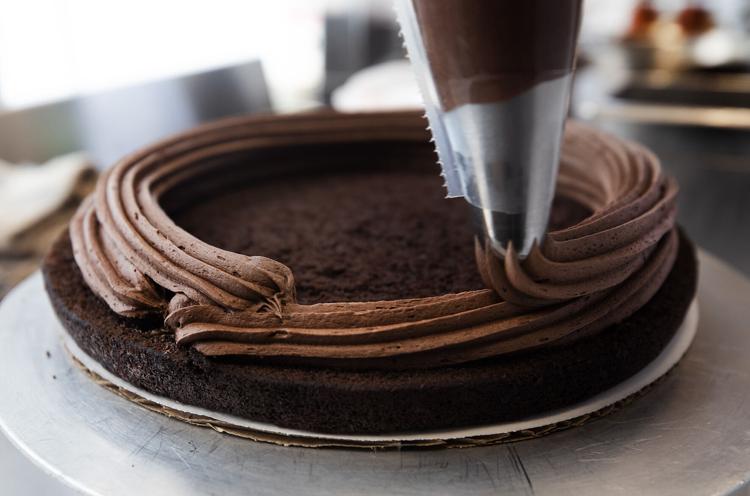 Cup Cafe — Hotel Congress is known for a lot of things: the capture of John Dillinger, the expansive patio with live music. But their dessert case is also worth talking about. Get vegan brownies, a chocolate lover's cherry cake, coconut cream pie, and seasonal finds. Find Cup Cafe at 311 E. Congress St.
The Grill at Hacienda Del Sol — It's hard to choose a dessert here. From the cinnamon bourbon panna cotta, to the raspberry rose semifreddo, to the layered mousse cake, what are you choosing? Find The Grill at 5501 N. Hacienda Del Sol Road.
Little Anthony's Diner — This old-school diner has all the sweets for your sugar high. There's a long list of ice cream sundaes and shakes, including some that are decked out in cotton candy and entire slices of cake. Find Little Anthony's Diner at 7010 E. Broadway.
Tito & Pep — The buttermilk panna cotta at Tito & Pep is well-loved and for good reason. Also on the menu: rosemary and orange olive oil cake, and dark chocolate ganache. Find Tito & Pep at 4122 E. Speedway.
Wildflower — This was restaurateur Sam Fox's first restaurant before Fox Restaurant Concepts became a nationwide empire of eateries. The dessert menu includes oatmeal pies, cinnamon doughnuts and a beautifully plated praline chocolate cookie with cappuccino mousse. Find Wildflower at 7037 N. Oracle Road.
Desserts that don't really fit in any other category 🧇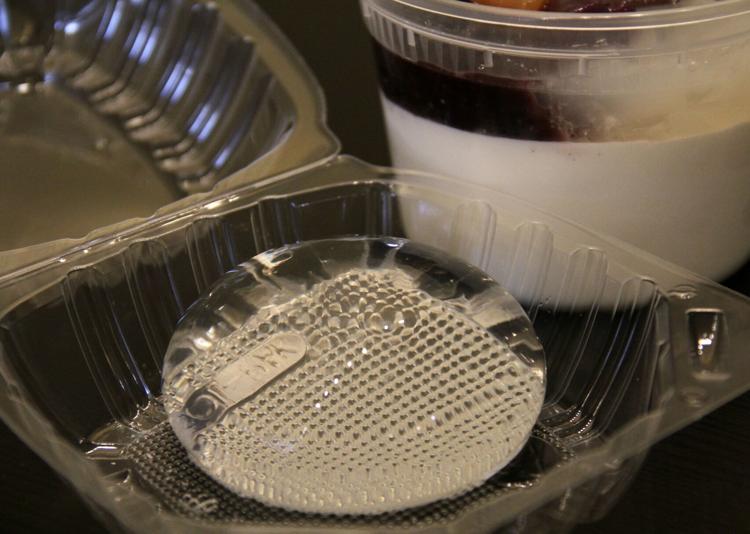 Churros El Rey — There's a good chance you've seen this food truck around town, whipping up churros filled with caramel and chocolate. They also have churro sundaes! Follow Churros El Rey here.
Deliciocho — You'll find antojitos, tortas and raspados here, but also churro ice cream sandwiches and churro splits, often topped with colorful Fruity Pebbles. Find Deliciocho at 6308 S. Nogales Hwy.
Just Churros — The churros at this food truck are made with an old-school Spanish recipe, but dusted with cinnamon and sugar, which is a Mexican invention. The recipe dates back generations. Follow Just Churros here.
Nomico Healthy Dessert — Nomico is a franchise from Hong Kong and its first U.S. location was in Tucson. The menu has crepe cakes, egg puffs with ice cream, trendy raindrop cakes and bowls of grass jelly, boba and panna cotta. Find Nomico at 595 E. Wetmore Road.
Planet of the Crepes — Crepes for breakfast, lunch, dinner AND dessert at this food truck! For dessert, though, you can keep it simple with powdered sugar, or order fillings like strawberries and cream. Follow Planet of the Crepes here.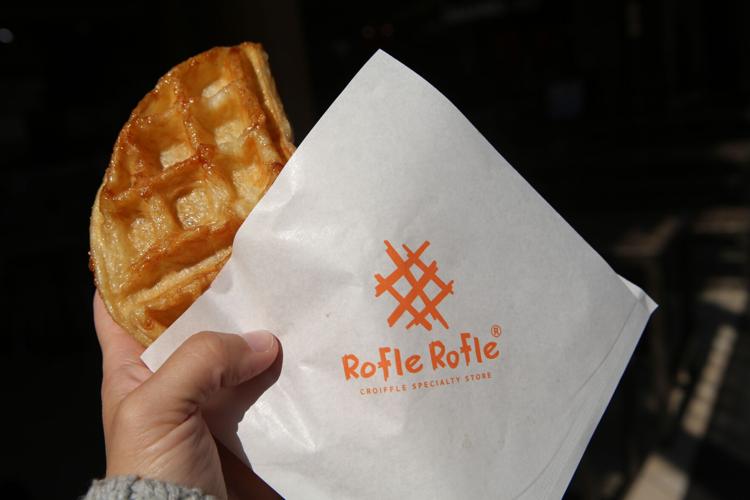 RofleRofle — A croffle is a hybrid of a croissant and a waffle. You can get them with whipped cream and fruit, or Oreos and Lotus cookies. RofleRofle is a chain from South Korea, and this is the first location in the United States. Find RofleRofle in Tucson Mall, 4500 N. Oracle Road.
The Sweet Coquí — This food truck uses traditional Puerto Rican recipes with a twist for its shakes and other confections. There are Instagram-worthy drinks topped with strawberries, chocolate and other sweets, or you can order flan and pastries. Follow The Sweet Coquí here.
Unitea — This tea shop serves more than tea. You'll find bubble waffles with scoops of gelato and boba inside, mochi doughnuts and soft-serve ice cream. Find Unitea at 1710 E. Speedway.