The third annual Sonoran Restaurant Week kicks off Sept. 10 and runs through Sept. 19, with 50 restaurants offering prix fixe menus to showcase Tucson's City of Gastronomy bonafides.
Here is a look at three of those restaurants:
Red Light Lounge at the Downtown Clifton Hotel
The name is deceiving enough, but the Red Light Lounge's motto — "Where saints & sinners meet for dinner" — should set you straight.
The lounge at the historic Downtown Clifton Hotel moonlights as a restaurant. Or, as marketing manager Erika Mitnik likes to explain it, "We're kind of a restaurant that's trying not to be a restaurant."
"We're actually a lounge so people miss out on the quality of food that we serve that's on par with any restaurant in Tucson," she said.
Red Light Lounge was part of the 2019 Downtown Clifton Hotel expansion project, which added 22 rooms and the lounge to the hotel's original 10 rooms that date back to the 1940s. The addition was built in a vintage Sonoran modern style to complement the original architecture, which prompts oohhs and aahhs from some patrons.
"People come all the time and they think (the addition) has been there since the '60s and that we fixed it up," said Mitnik, who has worked with the hotel since 2014 and was recently named marketing manager.
The Red Light Lounge is open daily for dinner from 4 to 10 p.m. and has a daily happy hour from 4 to 6. Entrees include carne asada and pescado tacos, roasted poblano stuffed with smoked gouda and mozzarella cheese, pesto pasta made with pecans and served with chicken and the house special Clifton Burger kicked up with poblano and chipotle ailois.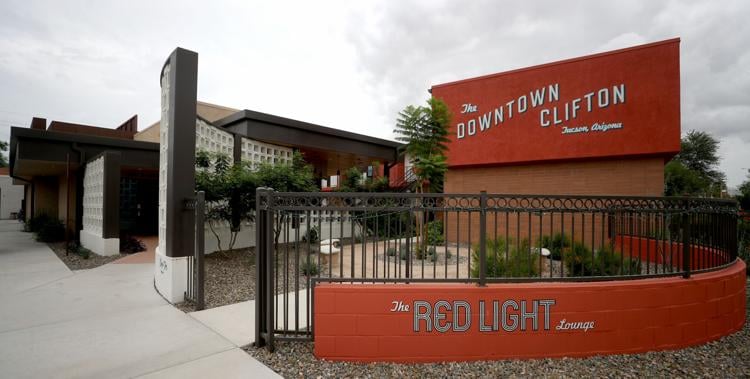 Mitnik is especially smitten with the newly introduced potato croquettes appetizer.
"They are unbelievable. I am completely addicted to to them," she said.
The croquettes are not part of the Red Light Lounge's Sonoran Restaurant Week menu, although you can order them a la carte. The menu includes choice of a pecan pesto mixed greens salad or Aguachile Amarillo ceviche, an 8-ounce top sirloin steak and masa and mesquite bean ice cream for dessert. The cost is $35 per person, dine-in only.
The Barnyard Crafthouse & Eatery
Business partners Jeff Witthoft and Jerry Kertesz had this crazy idea: build a playground that doubled as a restaurant, where kids and their parents could play yard games and create memories.
On May 16, the pair opened The Barnyard Crafthouse & Eatery on one of three acres in the far reaches of the "49."
That's the name locals give the area, where East Tanque Verde Road meets North Tanque Verde Loop Road and the zip code is 85749. It's also where Witthoft grew up at a time when "there was nothing out there for kids."
He and Kertesz decided to change that, creating a sprawling yard with a cornhole court and a lifesize Jenga game and a barn with a big outdoor patio where kids are encouraged to play games, blow bubbles and draw on chalkboards. One section of the lawn is devoted to a garden, whose riches are incorporated into the scratch menu curated by award-winning former San Diego chef A.J. Mortazavi.
"Everything is crafted into our own style, modern American," Mortazavi said. "We are doing all kinds of fares. There's a little bit of Asian, there's some Baja twist."
Mortazavi has brought that hodge-podge of culinary styles to Barnyard's Sonoran Restaurant Week menu, which opens with your choice of a panko-crusted mac and cheese balls spiked with bacon and caramelized onions or seafood ceviche, followed by the main course — either halibut fish tacos dressed with a chile aioli and poblano crema, or the house favorite 505 Burger topped with hatch chiles — and choice of either Key Lime pie with raspberry puree or a churro sundae with fresh fried churros, ice cream and tres leche. The cost is $35 a person, dine-in only.
The Dutch Eatery & Refuge
Marcus and Nicole van Winden opened their Netherlands-inspired restaurant in 2017, offering Tucson a taste of chef-owner Marcus van Winden's native Holland alongside some of the flavors his Tucson-born wife Nicole grew up loving. The couple, who met while working on a Holland America cruise ship, serve the quintessential American sloppy joe alongside Holland's beloved beef kroket. The menu also features steaks and chops, pastas, fish and chips and patatje oorlog, Holland's version of french fries served with peanut sauce, mayonnaise and onions.
"It's just a fun way to infuse what we do with Marcus's background and what we find around us," Nicole van Winden said.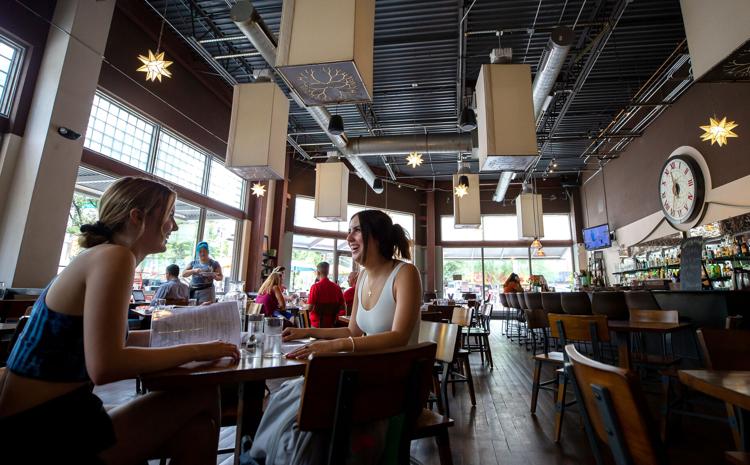 Next spring, the couple plans to move the restaurant from Main Gate to the east side Plaza at Williams Centre, 5340 E. Broadway, into the space currently occupied by Pita Jungle. The new space sports a larger patio and the couple plans to create an open kitchen and dining room similar to their current location.
"We definitely want people to walk into the new space and still recognize who we are and what we are doing," she said.
For Sonoran Restaurant Week, Marcus van Winden is offering a choice of three entrees — bang bang shrimp po'boy, duck a l'orange tacos or elote avocado toast, his Sonoran twist to a new classic. Dessert is housemade bread pudding topped with creme anglaise and diners can choose from a desert sunrise mimosa or prickly pear margarita. (You can also go non-alcoholic and order a soda or Meyer lemon green tea.) The cost is $25 per person, dine-in only.