As Mostly Books celebrates its 33rd anniversary this weekend, it's only natural to look back — way back — to the hours of strategic planning, market research and trend analysis that convinced Bobbe Arnett to open a bookshop.
"Oh yeah, it was very scientific," Arnett laughs. "The truth is, I had taken an aptitude test at Pima College. When it came back, it said I should be a bookstore manager or forest ranger. I thought I'd look silly in a ranger hat, so … "
So, on Sept. 13, 1988, Arnett and her sister, Tricia Clapp, opened Mostly Books near the corner of East Speedway and North Wilmot Road.
Today, Mostly Books is the second-largest independent bookstore in Tucson with 3,400 square feet and an inventory of 100,000 books. Shopper can browse new and used books, greeting cards, clothing items and gifts. Chances are, they'll also feel the energy that comes from behind the front counter.
Despite the virus, despite Amazon, despite the challenges facing booksellers everywhere the last 18 months, Mostly Books continues to be a busy place. It is home to five local book clubs, all of them open to new members by calling the store. The "Book Lover's Surprise" program is modeled after wine clubs. Instead of a bottle, readers receive a surprise book each month.
Mostly Books never closed during the pandemic, offering curbside pickup throughout the year-long stretch of quarantines and lockdowns. The store hopes to resume its readings and book-signings soon.
"We've never been much good at sitting around, waiting for people to wander in," Arnett admitted.
In truth, it was more than happenstance that directed Arnett and Clapp toward their bookshop. Arnett was a single mom who would need a flexible work life. Both were lifelong readers. Both wanted to stay close to their parents on the east side of town.
And while they were new to the book business, business was in their blood. Their father, George Clapp, opened Tucson's first Dunkin' Donuts in 1964. He soon ran seven of them, and the girls had worked since they were tall enough to wipe tables.
"I had a checkbook when I was 10," Arnett said. In 1988, she used it to purchase the store's first block of used books from Bob & Faye's Book Exchange in Phoenix. Another batch came from a more unlikely source: the old YMCA on Fifth Avenue.
"For some reason, the Y had boxes and boxes of old books in their basement," Clapp recalled. "They'd been there awhile. Mostly, I remember the dust. The Y didn't ask us to pay for them. They just wanted their basement back."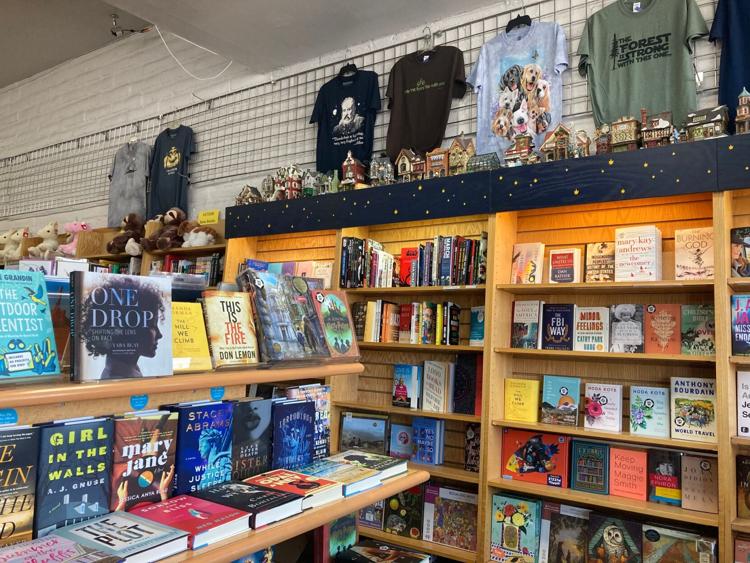 The next order of business was choosing a name for the store. "Bobbe really liked 'Beaucoup Books' but was worried people wouldn't get it," Clapp said. "We wanted to have cards and gifts, and finally decided Mostly Books said it all. It wasn't until years later we found out how many stores had the same name."
The whole family pitched in for the grand opening. George and his wife, Peggy, were there. So was Ethel Stewart, the girls' grandmother. One of their favorite memories involved Nana Stewart, then 76.
"I was in the back of the store that day and somebody came up to me and said, 'Do you know your grandma is charging the Canadian price on the books?'" Clapp said. "She had bought hundreds of books in her life, but she'd never sold one."
When Mostly Books opened, there were more than 50 bookshops in Tucson. This was before Waldenbooks and Borders; before Amazon. People read books. An independent bookstore was the only places to buy them.
But times changed. People changed. And one by one, our bookshops began to close. Of those 50-some stores in 1988, only four of them remain: Mostly Books, Antigone, The Book Stop and Bookmans.
"It hasn't always been easy, but I don't think you'll find many booksellers who are in it for the money," Arnett said. "Tricia and I always loved books. When we lived in New Hampshire, we were the first in line when the bookmobile rolled in. We used to read the same books Nana did so we could talk to her about them. Even now, to be around books every day is still pretty special."
Besides, Mostly Books has another generation of young readers to serve. Bobbe and Tricia are now meeting children whose grandparents visited the store when they were kids.
Nana Stewart would be proud.
Footnotes
It's official: the next Tucson Festival of Books has been scheduled for the weekend of March 12-13 at the University of Arizona. Plans call for a live, in-person event. The festival will adhere to all safety-related protocols prescribed by Pima County and the UA. It will be Tucson's first in-person book festival since 2019. The 2020 weekend was canceled because of the then-just-emerging pandemic and this year's festival was streamed online from the festival website.
The new, 17,700-foot Sahuarita Library opened for the first time on Tuesday. One of its unique features is an outdoor performance space, funded by donations from the Pima County Library Foundation. The building was designed by Line and Space Architects, the firm that provided the blueprints for the UA Poetry Center. The new library is located at 670 W. Sahuarita Road.
Attention Jillian Cantor fans: she is now checking the final galleys for her next book. "Beautiful Little Fools" will release Jan. 4. She will discuss the book and sign copies at the book festival in March.