Take a walk around the University of Arizona's campus, and you may see some new food delivery drivers.
But these are not the kind of delivery drivers who are working their way through college. In fact, these drivers do not have any purpose other than delivering food to any of the 35,000-plus students on campus who want it.
Why? Because they are robots.
Earlier this month, the UA, through a partnership with the food delivery app GrubHub and Arizona Student Unions, launched a new food delivery service that relies on robots to get the job done. Students can use the GrubHub app to order food from on-campus dining locations, such as IQ Fresh, Einstein Bros. Bagels, On Deck Deli and Sabor.
When they place their order, customers can choose whether they want it delivered via a human delivery worker or one of the new autonomous rovers that are capable of delivering food to designated pickup locations on campus. Those locations include Main Library, Albert B. Weaver Science-Engineering Library and McKale Memorial Center.
The UA is the second university in the country to launch a program like this one in partnership with GrubHub — Ohio State University launched its program earlier this year. Food robots powered by other industry partnerships have already launched at Arizona State University, the University of Wisconsin and James Madison University.
"We know that our students are very interested in forward-thinking tech applications such as smart vending machines," Christine Carlson, director of dining and nutrition for Arizona Student Unions, said in a news release. "We hope that with this new delivery option, we can offer quicker deliveries, especially during rush times, across campus."
The fleet of delivery robots uses the same technology as self-driving cars. Manufactured by Yandex Self-Driving Group, each six-wheeled robot weighs about 100 pounds and travels at a speed of 3 to 5 mph.
The delivery service is available seven days a week, night or day, rain or shine, and it works like this: A customer places an order via the GrubHub app and receives a unique code. In the meantime, the selected restaurant starts making the food, and when it's ready, puts it in a secure cargo compartment in the rover. The rover then travels to the vicinity of the customer, and when it arrives, the customer receives a notification. Once they make contact with the rover, all they have to do is enter their unique order code to unlock their food.
Geofencing technology ensures the food-delivery robots stay within the confines of campus, and an algorithm will allow them to adapt to their environments as they take more orders.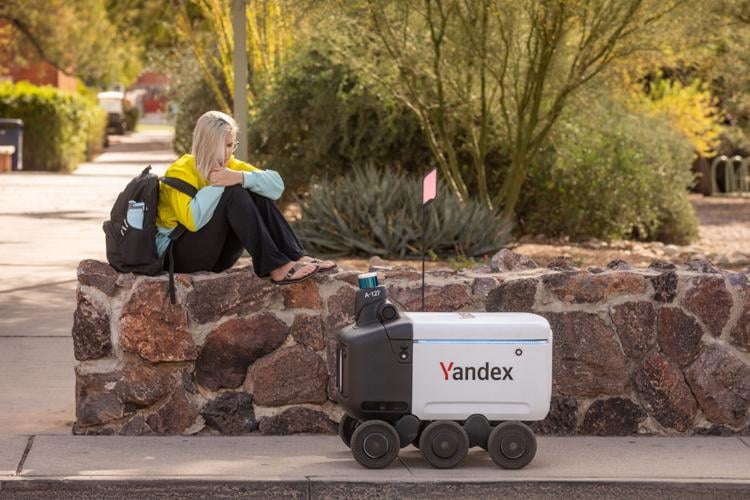 "In a way, it's similar to how humans navigate," Yulia Shveyko, spokesperson for Yandex, said. "As we walk around town, we may see a shop, a certain memorial or other landmark, and we recognize where we are. The robots learn to recognize their surroundings as they move around. The maps stored in their 'brains' are continuously updated."
The UA has been working with GrubHub for eight years to enhance the student dining experience, and the robot delivery service is the latest result of that partnership.
"We're lucky to be the second school in the nation to launch with Grubhub's new robot delivery service," Todd Millay, executive director of Arizona Student Unions, said. "We can't wait for our students to enjoy the convenience of this amazing technology."
Correction: An earlier version of this article did not make clear that the UA's robotic food delivery service is the second GrubHub-university partnership in the nation. Numerous other universities have launches similar programs over the past several years.