Following the lead of Pima County, Tucson City Council has decided to remove its mask mandate.
Nearly a year after adopting its mask ordinance in June, City Council voted unanimously to drop the requirement on Tuesday night. The decision came after the Pima County Board of Supervisors rescinded the county's masking requirement at an emergency meeting Friday.
"It is because we masked up and followed the advice of our public health experts that we are in a position where cases are low and we can take additional steps to fully return back to normal," Mayor Regina Romero said. "We must continue to stay vigilant, and I strongly encourage all Tucsonans who have not been vaccinated to get their shots as soon as possible."
The CDC announced Thursday that fully vaccinated people can stop wearing masks outdoors and in most indoor settings. Individuals are considered fully vaccinated two weeks after their second dose of Pfizer or Moderna or the single-dose Johnson & Johnson vaccine.
Regardless of vaccination status, the CDC recommends continuing mask-wearing in places such as schools, health-care facilities, correctional facilities, congregate living settings and public transportation.
Masking is still required on city transportation including Sun Tran, Sun Link and Sun Van. The new ordinance gives City Manager Michael Ortega authority to decide masking rules on city property.
Public and private entities may set stricter masking requirements. The state of Arizona dropped its mandatory requirements in late March.
Travis Miller said he is waiting for the Pima County Health Department to weigh in before he stops requiring employees and customers at his seven Tucson restaurants to wear masks.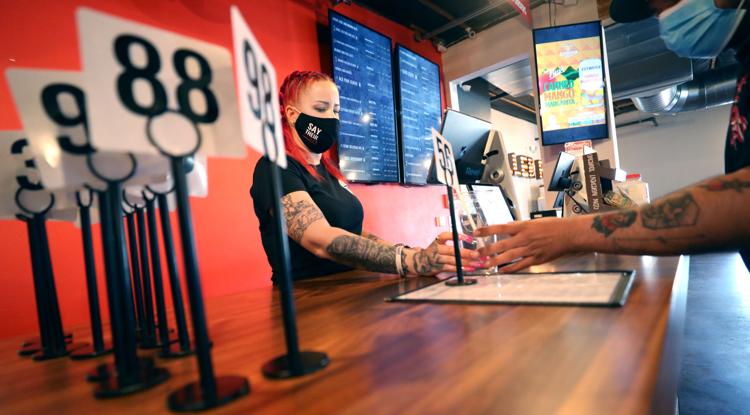 "The Health Department (is) who actually governs my business. They can pull my permit," said Miller, who with his brother William owns four Serial Grillers restaurants. "From a business standpoint and as a business owner, we're still governed by the Pima County Health Department, and I wouldn't want to be penalized."
The Millers have required employees and customers to wear masks since the beginning of the pandemic in March 2020 at Serial Grillers and their other restaurants — Boulevard BBQ and Fixins' and Toro Loco Tacos y Burros. The brothers also own Craft A Modern Drinkery at 4603 E. Speedway, where they are opening Transplant, a Detroit-style pizzeria, this summer.
Miller, who expressed concerns back in March that the state was moving too fast when it eliminated capacity limits at restaurants, echoed a similar concern about easing mask mandates.
"My thought is, hey, not even 50% of Arizonans are vaccinated. To relax the mask rule when 50% of the population hasn't been taken care of so there is no way to know who has been vaccinated and who hasn't … I feel it's appropriate to err on the side of caution and require masks."
Although masking is no longer mandated, the county health department still recommends it. With no more mandate, however, both the city and county will stop enforcing mask-wearing.
As of Tuesday, about 40% of the Pima County population was fully vaccinated, according to CDC data. Of the currently eligible population of those 12 and older, about 47% are fully vaccinated.