Homer Cass sat in his hospital room looking out the window Monday morning, patiently waiting for his visitors to arrive.
A few minutes later, his son and grandson approached the other side of his window through one of Tucson Medical Center's patios, calling him on their cellphone and placing it on speaker on the windowsill.
After putting a stop to visitations in March due to the coronavirus, TMC started allowing window visits about two weeks ago. People can see their loved ones through hospital room windows while they talk on the phone for up to 30 minutes.
Cass' son, Richard Cass, and his grandson, Jason Cass, wore masks and leaned into the window to see Cass while they talked.
"You know, talking is great, but being able to actually get your eyes on him, I think it's good for him, too, and also kind of helps him stay upbeat and motivated to get done what he needs to do to be able to get out of here," Richard Cass said.
Judy Rich, president and CEO of TMC, said that as a nurse she understands how important it is for patients to be surrounded by their loved ones while they heal.
"When a person comes to the hospital, they need emotional support and they need to feel safe," Rich said. "They need to feel connected to people that they love and there's a real sense of isolation when that cannot occur.
"So the real driving force behind this was the understanding that people can feel quickly depressed and isolated in the hospital if they have no connection other than a phone call to a family member."
Besides its four-story orthopedic and surgical tower, TMC is the largest single-story hospital in the country, with 95% of its rooms on the ground floor and more than 30 patios.
Visitors can often access the outside of a patient's room without having to enter the hospital, Rich said. For those who do have to go through the hospital to be escorted to a courtyard, the hospital provides masks and takes everyone's temperature as they walk into the building.
"It's one of those moments where we realized that our unique architecture was really going to serve us well in this very special time," Rich said.
The hospital rolled out the new visitation policy slowly, initially with one unit. Now, two weeks in, about six to 10 people a day visit hospital patients, Rich said.
The new visitation policy has allowed Homer Cass to see his wife of 50 years twice in the 13 days he's been at the hospital, Richard Cass said.
"Her health is not great, so she doesn't come all the time," he said. "But I've been able to bring her a couple of times and I know that being able to see each other, it's helped both of them, it made them both feel a little better."
Homer Cass and his wife live in Bisbee. He was admitted to TMC with severe abdominal pain, he said.
"As it turned out, I had a mass growing on the side of my colon," Cass said.
The mass was removed Saturday, and by Monday he said nurses were asking him to get three walks in each day to help his rehabilitation.
"Hopefully it's not too much longer and we can get you out of here," Richard Cass told his father. "Hopefully, the more walking you do the better, and things start working the way they're supposed to."
"Well, I'm trying. That's really all you can say," Homer Cass said.
"You just gotta keep doing what they're asking," Richard Cass said.
Not being allowed to visit in his dad's room has made it difficult for Richard Cass to get information about his dad's health and progress sometimes as information often gets passed on from doctors and nurses to Cass, who then has to relay the information to Richard. He said his dad could get easily confused because he's on pain medication.
"But we've always been able to call the nurses and find out from them, 'OK, this is what he's telling us. Can you confirm it? Or can you tell us what's happening?'" Richard Cass said. "And they've been real good about giving us information."
Richard Cass said the family was worried when they realized his father would be admitted to the hospital during the pandemic, as people with severe cases of COVID-19 are being admitted at TMC.
"I understand they're in a separate section of the hospital, but it was a concern," he said. "But it sounds like they're doing everything that they need to do to make sure that everything's separated and they're keeping clean, doing hand washing and wearing a mask and everything that they should be doing. So I think they're doing a pretty good job of managing it."
Tucson Medical Center, coronavirus drill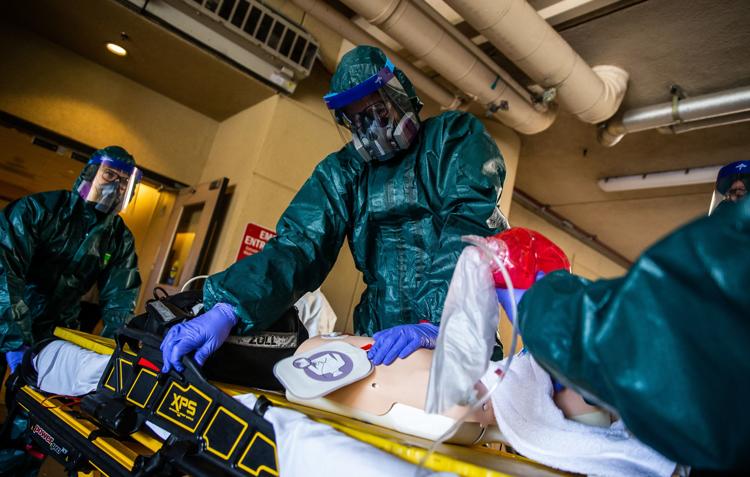 Tucson Medical Center, coronavirus drill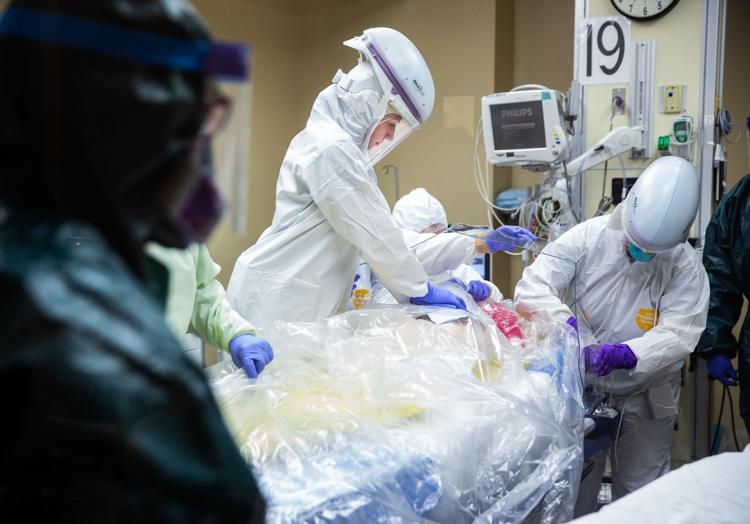 Tucson Medical Center, coronavirus drill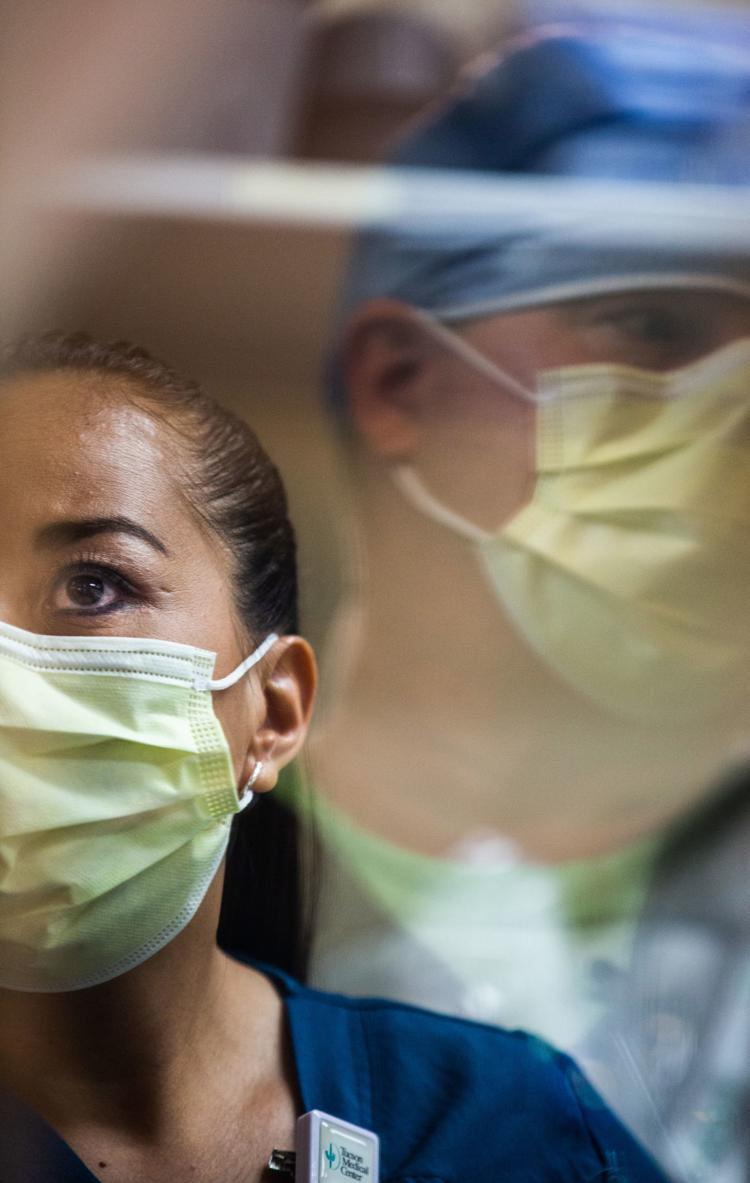 Tucson Medical Center, coronavirus drill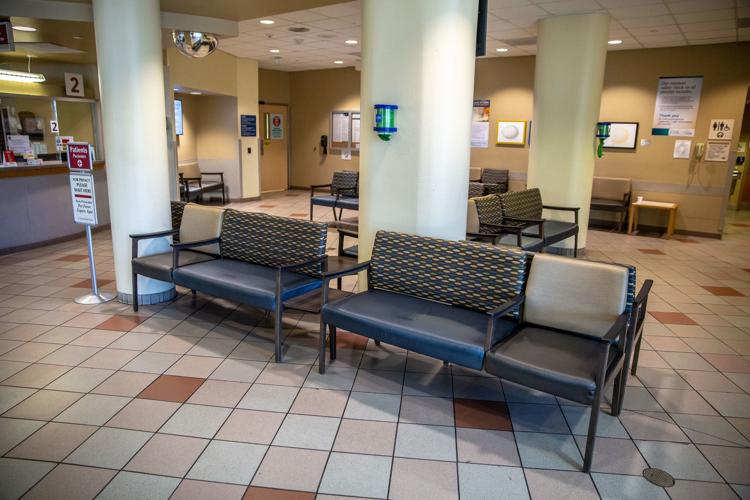 Tucson Medical Center, coronavirus drill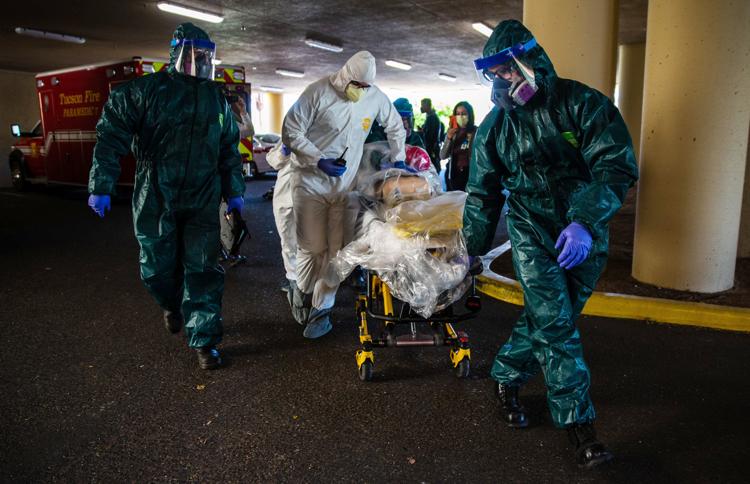 Tucson Medical Center, coronavirus drill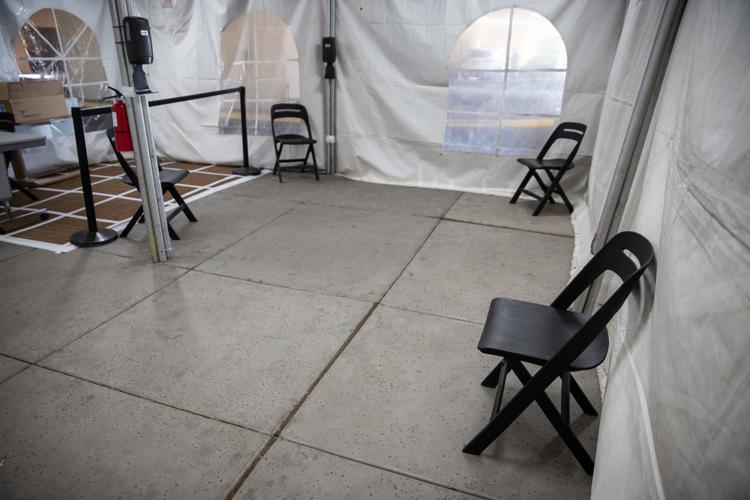 Tucson Medical Center, coronavirus drill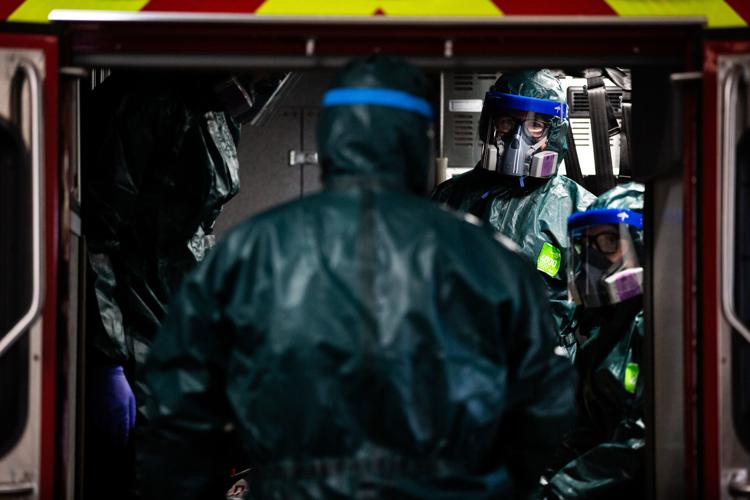 Tucson Medical Center, coronavirus drill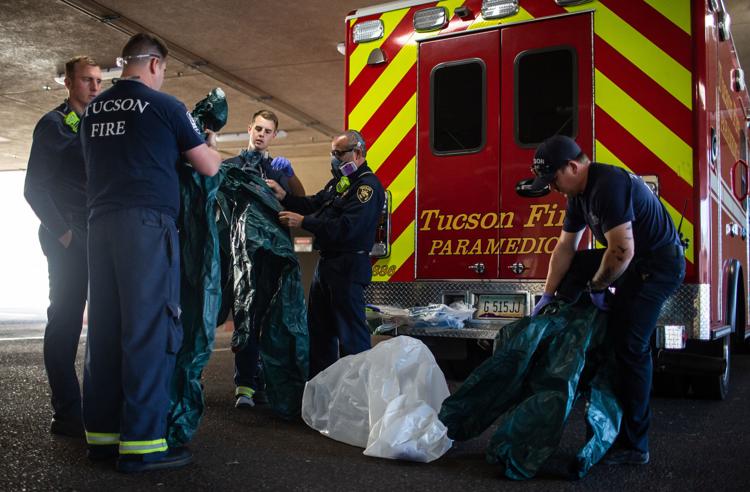 Tucson Medical Center, coronavirus drill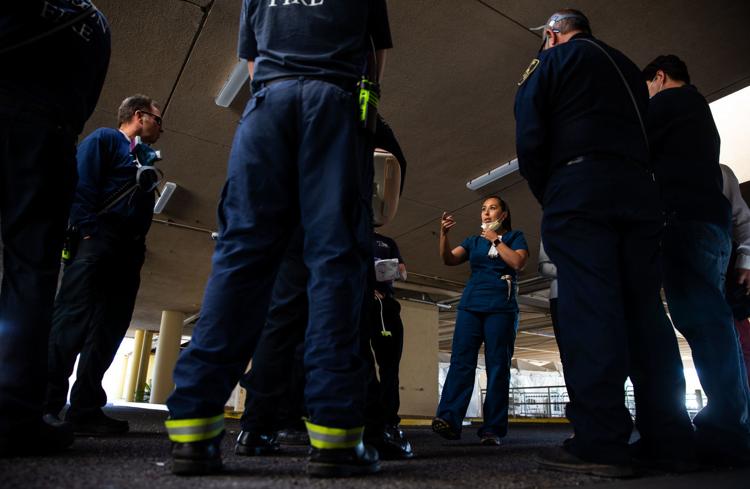 Tucson Medical Center, coronavirus drill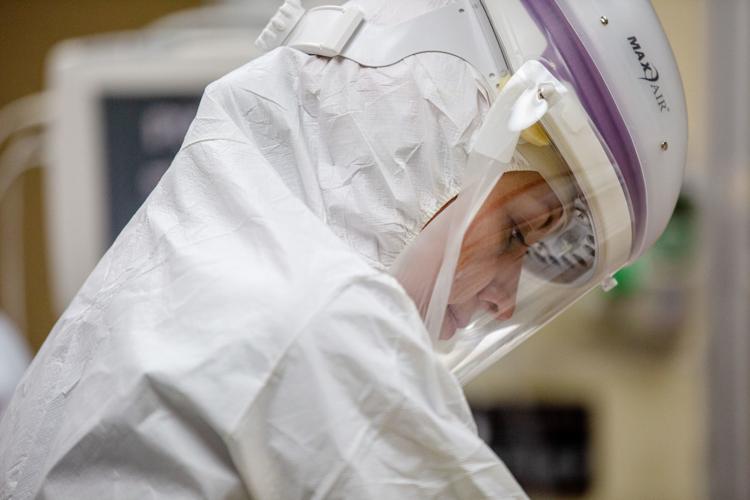 Tucson Medical Center, coronavirus drill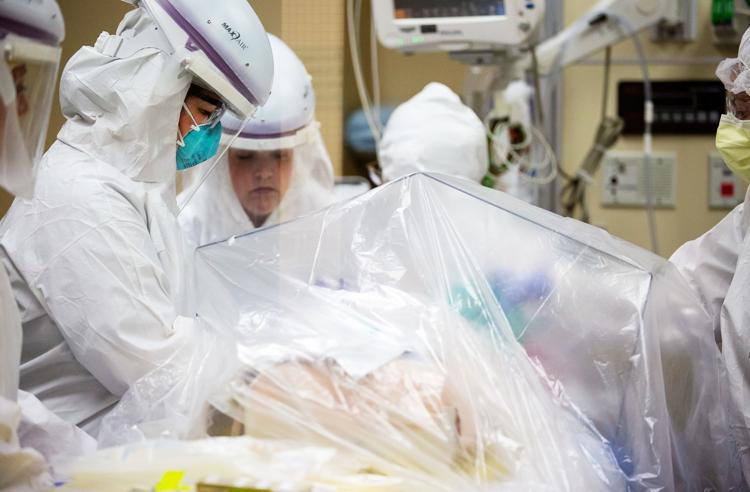 Tucson Medical Center, coronavirus drill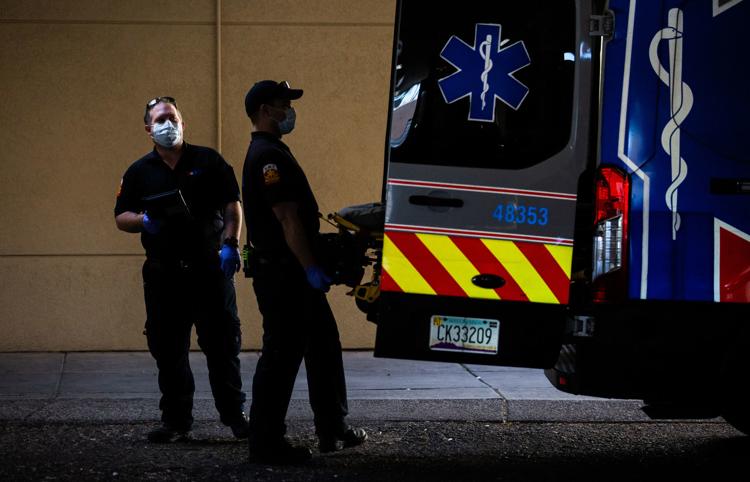 Tucson Medical Center, coronavirus drill
Tucson Medical Center, coronavirus drill
Tucson Medical Center, coronavirus drill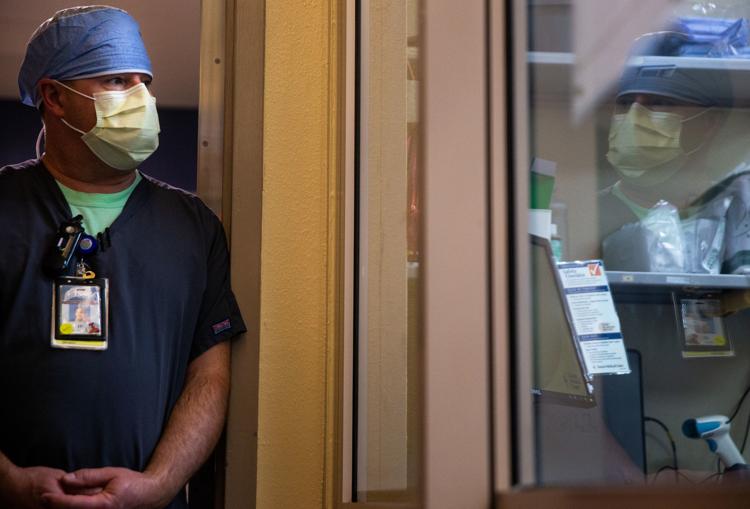 Tucson Medical Center, coronavirus drill