When Kyra Singh, a junior at BASIS Tucson North isn't studying for her English, U.S. history, biology, calculus, Spanish, physics and psychology AP exams she and her friends are busy running the organization they started to help address community needs during the pandemic. 
Singh and her friends started STITCHES, an acronym that stands for Serving The Impacted Tucson Communities through Help, Encouragement and Support, in late March. The group's other organizers are Alex Caulin-Cardo who also attends BASIS Tucson North and Emily Rumph, Makenna Ley and Sophia Lopez who are juniors at University High School. 
The five friends are involved in several school clubs and extracurricular activities like National Honor Society, Model UN, National Charity League, Veteran's Heritage Society, Tucson Junior Strings, and Tucson Philharmonic Young Orchestra. They work at places like Trader Joe's or volunteer at Banner UMC Hospital, American Red Cross of Southern Arizona or cardiovascular science labs at the University of Arizona. They play cello, violin and take dance classes and more. So much more.
Simply put: these teens are busy. 
When school closures and social distancing put all their other activities on hold they found themselves with extra time on their hands. And staying home and doing nothing just wasn't an option.
"When you turn on the news, it's pretty depressing. They're stating all these facts and statistics about how many people have died or who are suffering right now. And seeing that every day, for us, it feels like it's kind of our obligation to help wherever we can," Singh says. 
Several of the teens, including Singh, have parents who work in healthcare and hospitals. 
"My dad... is in internal medicine. So he's like dealing hands-on with COVID patients," Singh says. "And all of our parents, they would come home and tell us the same thing — there's a really extreme shortage of masks." 
So initially the group thought they could just help make masks for healthcare workers.
"Then we started thinking, what about elderly citizens? They obviously are being so impacted right now. Why don't we do something for groceries?" Singh says. "And then we from there we were like what about students? It's like every group has something they're struggling with." 
From those conversations, they identified the three ways they would help others: making face masks for healthcare workers and the general public; delivering groceries for people who can't or are too afraid to leave their homes; and virtual tutoring for students who could use some support staying on track with remote learning or who want some help getting ahead for next year. 
It took them about 10 days to get everything organized and up and running. 
They built a website and Google forms for people to fill out if they need help, recruited about 60 other high school or college students via social media to help with the different services and have been busy making grocery deliveries and masks themselves. They each pitched in money to buy mask-making supplies and started a GoFundMe page to keep the effort going.
"We're kind of used to leadership positions," Singh says. "We run clubs in schools or different organizations... so we knew what we had to do."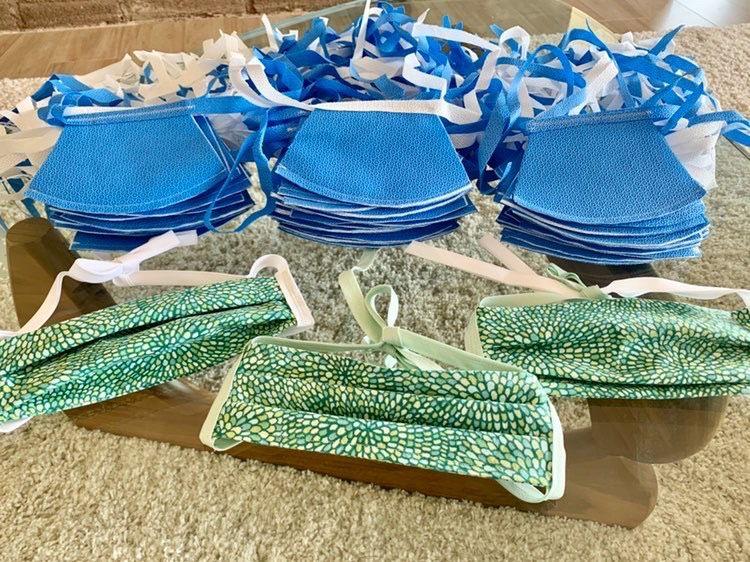 A running tally on the STITCHES website shows the group and its volunteers have made more than 400 masks so far.
For the healthcare masks they pick up kits assembled by Mending Souls that contain autoclavable material and instructions for sewing the masks. The completed masks are then distributed at Banner UMC. 
The group drew inspiration from the Mending Souls kits and put together their own kits for their volunteers to sew fabric masks for the general public. 
"We cut a piece of fabric, normally to make around 6-12 masks, depending on the availability of supplies we have at the time," Caulin-Cardo says. The kits also come with pre-cut fabric and a PowerPoint presentation and video made by Rumph with step-by-step instructions for sewing the masks.
"Most of our volunteers that are helping also don't know how to use a sewing machine, but if they have one and they're willing to learn, the process is really easy," he says. 
One of the STITCHES members drops off the kits to volunteers and pick up the completed masks and deliver them to people who have requested them. 
So far, the masks are the most commonly requested service, Caulin-Cardo says. Typically requests come in from families or individuals, but they recently helped provide 13 masks to a foster care agency that requested them for all of its employees so they could feel safe at work. 
Requests for grocery deliveries are also picking up and the teens either do the shopping themselves or assign the task to one of the other teen volunteers who might be closer to the person who needs a delivery.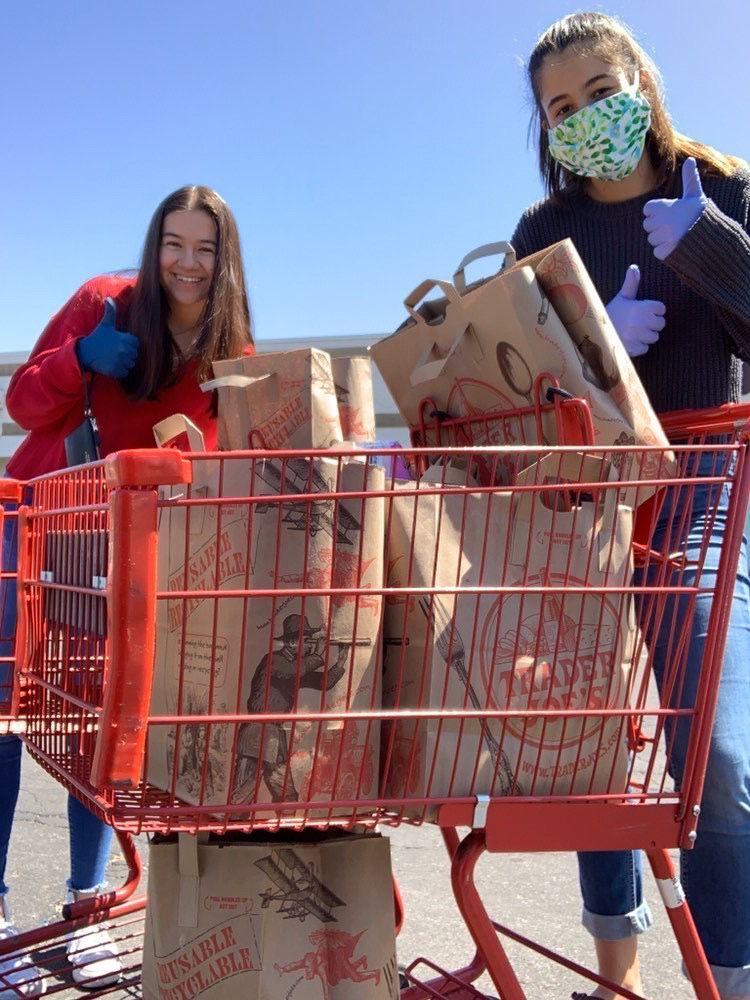 They'll take orders by phone or email and shop at the person's preferred store, then they'll drop off the groceries on their doorstep. They take payment for the items on a variety of apps, and because many of the people they help are older, they'll talk them through setting up the app on their phone. Or if absolutely necessary they will work out ways to collect cash with limited contact. 
Shelley Weitzner, has had two grocery deliveries from STITCHES so far. The 62-year-old doesn't have any family in town and has been very mindful about staying in her home as much as possible. She was impressed to learn how young the group was and touched by the work they're doing. 
"Plus they have the sweetest personalities, they're so kind and that helps," Weitzner says. "It's not just your groceries but then there's this cute smile behind it and very sweet and loving and all of that." 
The group doesn't accept monetary tips, but some people have left them small tokens of appreciation like cookies or apples picked from their backyard. 
The teens recognize that they're being exposed each time they go out for a grocery run or mask delivery. They wear gloves and masks and keep their distance from other people.  
"Especially with groceries, the emails we get from people are heartbreaking, it's like elderly citizens saying I can't leave my house, my husband's diabetic, or I'm immunocompromised, things like that," Singh says. "And you when you read those emails it's like, 'how can I not help out these people who really need help?'"