If your kiddo has special needs, Tucson has several fun events designed just for them. 
And, they happen regularly enough that you and the kids may even make some new friends. 
Both of the Children's Museum's locations — Tucson, 200 S. Sixth Ave., and Oro Valley, 11015 N. Oracle Road, suite 101 — offer an inclusion program that celebrates families and kids with special needs. 
Participants receive reduced admission of $3 per person and special hours at the museums. 
My Time Tucson happens at 9 a.m. the first and third Saturday of each month. That's one hour before the museum opens to the public. Families can stay as long as they want to. 
My Time Oro Valley is held after hours, from 4:30 to 6:30 p.m. the last Friday of each month. Staff will be on hand with optional sensory activities. 
Pre-registration is recommended, but walk-ins are also welcome. 
The Town of Marana's Aquatics department has two different Splash Pass options for children with special needs between the ages of 5 and 12. Both options are formatted as a social meet-up with planned activities. 
Sensory Splash at Marana Pool, 13250 N. Lon Adams Road, takes place from 10 to 11 a.m. June 16 and 30 and July 14 and 28. You have to register by 5 p.m. June 1. The cost is $25 for Marana residents and $31.25 for non-residents. Click here for registration and info. 
Get Air Tucson, 330 S. Toole Ave., opens the park from 8 to 10 a.m. on Saturdays to those with special needs. Music is played at a lower volume and the atmosphere is calm. One parent or guardian can support jumpers on trampolines for free. The cost is $12; $7 for kids under 46 inches in height.  Click here for info and to fill out a waiver.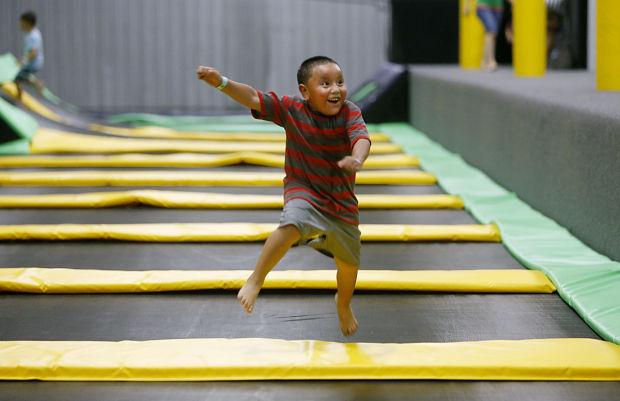 AMC Theatres and the Autism Society have teamed up to give families affected by autism and other disabilities an opportunity to go to the movies in an environment that allows talking, walking around and singing. The movie auditorium will have the lights up and the sound down. Families are allowed to bring in their own snacks from home. 
Family-friendly movies run at 10 a.m. on the second and fourth Saturday each month at AMC Foothills 15, 7401 N. La Cholla Blvd., suite 144. Click here for a schedule. 
Children and adults with special needs as well as their families and caregivers can paint ceramics at Color Me Mine at Park Place, 5870 E. Broadway. 
The studio will only be open to participants during this time. Staff will be on hand to help as much or as little as needed. There will be no studio fee for this event. You only pay for the pottery pieces you select.
Paint nights take place at 6 p.m. the first Sunday each month.  
Pump It Up, 3248 N. Freeway Industrial Loop, suite 108, holds Sensory Jump night from 5 to 6:30 p.m. on the last Wednesday of every month. During this event the play arenas are reserved for children with spectrum disorders and their siblings. The environment is quiet with lowered lighting and activities. The cost is $6 per child. Adults play for free. Click here to register and for info.