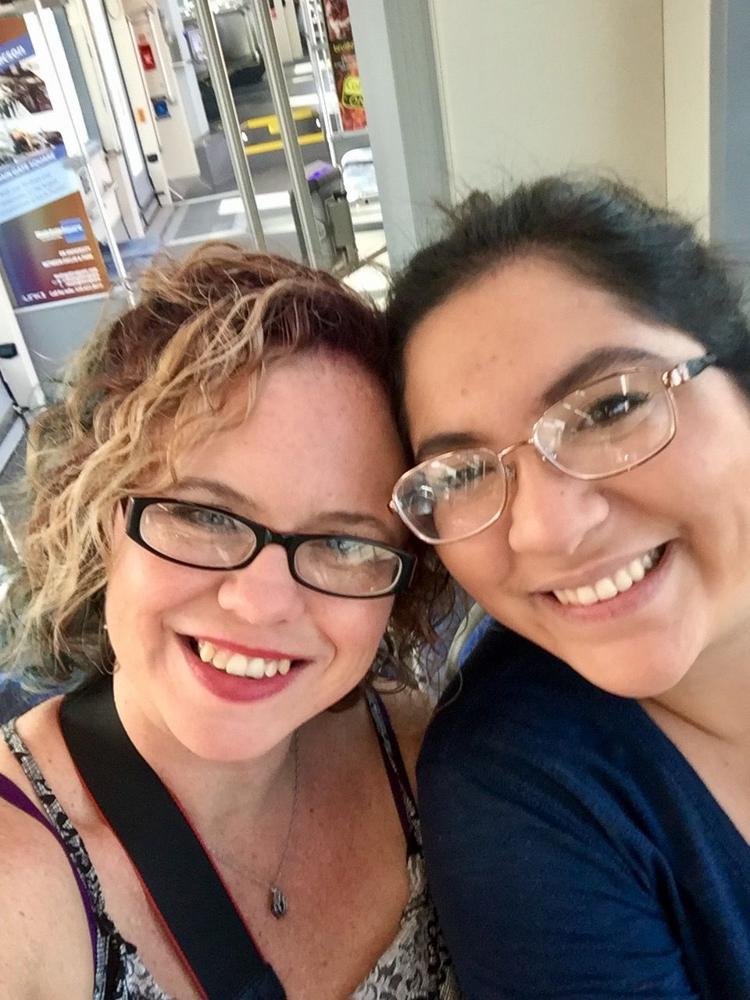 We (Angela and Alicia) were sent on a mission to find a new way to keep cool during the summer. Then we thought of it: Let's do a streetcar bar crawl. The point is to use the streetcar to get around and visit as many bars along the tracks as we could.
It meant we could get our drank on without having to drive or brave the heat (though, total disclosure: it was not hot when we went. Research!)
We originally wanted to go to all the happy hours, but we missed a couple because we ran out of time. Pro tip: Give yourself about three hours to get to the bars we went to and leave yourself time for waiting for the next street car. Build your own streetcar bar crawl or start with ours. 
With our $4 one-day pass, we owned this night out on the town.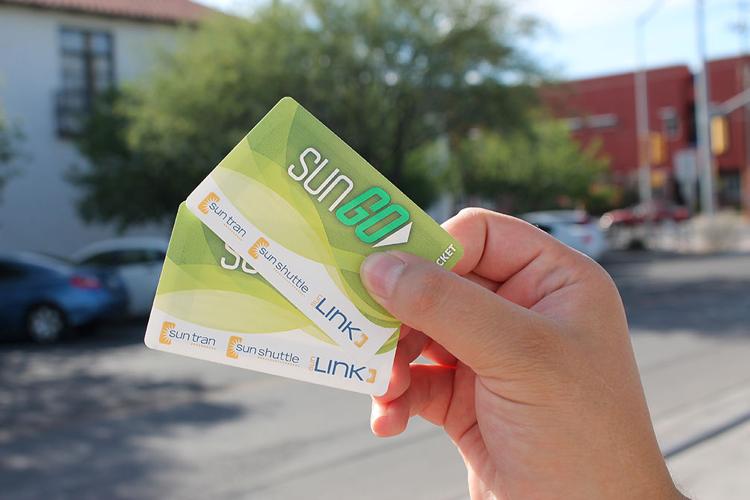 Stop 1: Agustin Kitchen
Angela: I'm a sucker for a good margarita and this was great. It was strong enough to give me a buzz and I only drank half of it (of course, I am a super light weight when it comes to alcohol). My first thought was "this is so good, but OMG I'm gonna be drunk in about five minutes."
Alicia was obsessed with the water glasses. I knew I was in for a fun night. 
If you haven't been, Agustin Kitchen is located in the Mercado just west of downtown and it is adorable with its amazing courtyard. 
I love that Agustin Kitchen has a window where you can order your drinks and sit on the patio. 
We loved our server and wanted him to come hang out in the office. 
Alicia: I love myself a nice water glass. I have so many photos of them, if you want to see. 
Well, the margarita was good and cheap, which is always the best but I forgot for a split second that I hate tequila. It made drinking a little tough but I pushed through it. I was not going to let bad college memories stop me. 
I love the Mercado because it has one of the best patios. I like being able to get drinks from a window and sipping on it outside. 
And I can get calabacita tacos? Yes!
Happy Hour: Daily from 3-6 p.m.
Which stop: Avenida del Convento and Congress Street stop.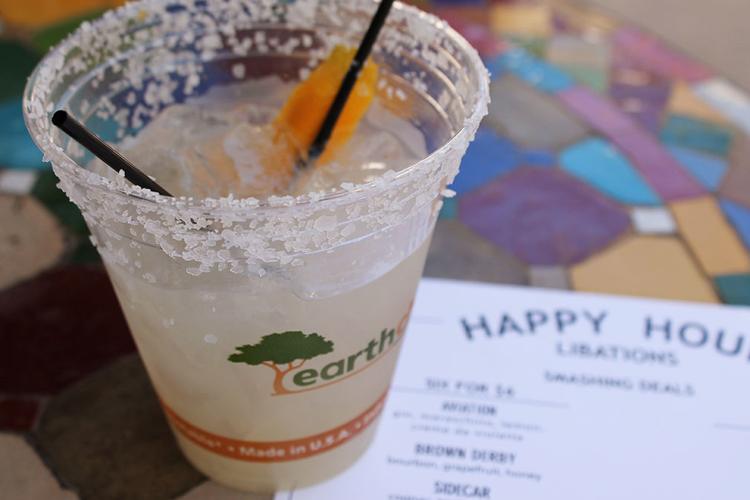 Stop 2: Penca
Angela: After a quick ride on the street car, we got there just in time to order a happy-hour drink, but the only drinks on the menu were beer and wine.
So, of course we ordered the restaurant's least popular cocktail and I could see why. I should have questioned the bartender when he looked at me funny for ordering it.
It was pretty and it sounded like it would taste like apple pie. But, it reminded me of rum. And after that time when I drank five zombies, which have all the rum in them, I just can't do anything that reminds me of rum.
I'm sure the other cocktails are amazing. We've heard great things about the drinks there, but this one was not for me.
I do love the interior of Penca. It feels hip and relaxed. And, you get free chips and salsa at the bar. 
Alicia: This was my first time at Penca and WE GOT CHIPS AND SALSA?!
Yeah that and a strong, bitter drink. I had to use the chips and salsa to chase the drink. I was so glad Angela and I were sharing drinks but I was sad we missed happy hour, we might have ordered something better.
Penca is hip as hell but you don't need to be a sexy hipster to hang or eat there. I might go back. 
Happy Hour: Tuesday through Saturday from 3-5 p.m.
Which stop: Broadway Boulevard and Sixth Avenue stop. Penca is east of the stop.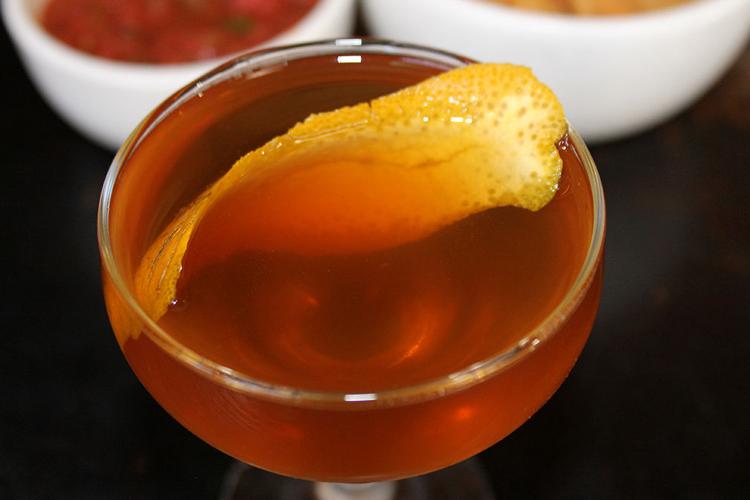 Stop 3: 47 Scott
Angela: 47 Scott is one of those places you feel cool knowing about since it's kinda hidden on a side street off of Congress. Once you're inside, you feel like you're at a friend's house. It's comfy and charming. And there are LOTS of bottles of alcohol at the bar.
I had no idea what we were in for when we ordered a Negroni though. It reminded me of soap mixed with grapefruit, neither of which I like to have in my mouth. I didn't realize it was such a bitter drink and I was not a fan.
Alicia ordered the bread and cheese plate, which was delicious. I'm glad we ate bread at that point because we still had three places to go. 
This is Alicia's favorite place and she says the Moscow Mule is amazing. 
Alicia: I love this place so much. I go every week for a Moscow Mule, bread and a Caesar salad. 
There's something so beautiful about the cozy space and exposed brick. Some of my greatest memories happened at 47 Scott, the bar side.
We should have ordered the Moscow Mule. Instead, we got a negroni. More like ne-gross-i. We did order some bread to help wash it down though. 
Happy Hour: Daily from 4-6 p.m.
Which stop: We walked here from Penca, since it was just a short ways down Scott Avenue, but if you were to take the street car, the closest stop is heading west at Congress Street and Sixth Avenue.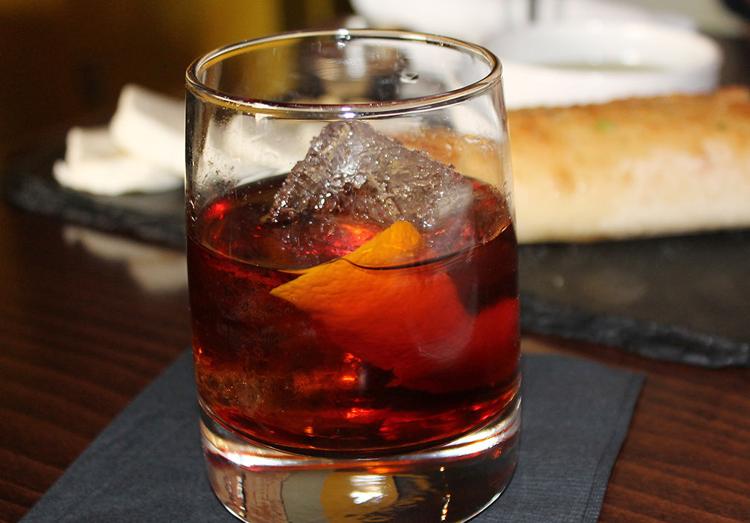 Stop 4: Ermanos
Angela: We walked to Ermanos because we figured we'd get there faster than waiting for the street car, but it was also a gorgeous cool evening. In the summer, the street car would definitely be the way to go and it stops right in front. 
I loved Ermanos. It has a great atmosphere, bright art on the walls and just an energetic fun vibe. 
We ordered the red sangria, which I loved. It had the right balance of fruit and wine and made everything feel right in the world. Maybe that's what happens on the fourth drink.  
Alicia: We are four drinks in. 
Ermanos is cool. They have lots of beer and wine options. We had the sangria. Oh, and there's art on the wall.
Happy Hour: Daily from open to 6 p.m.
Which stop: Fourth Avenue and Ninth Street stop.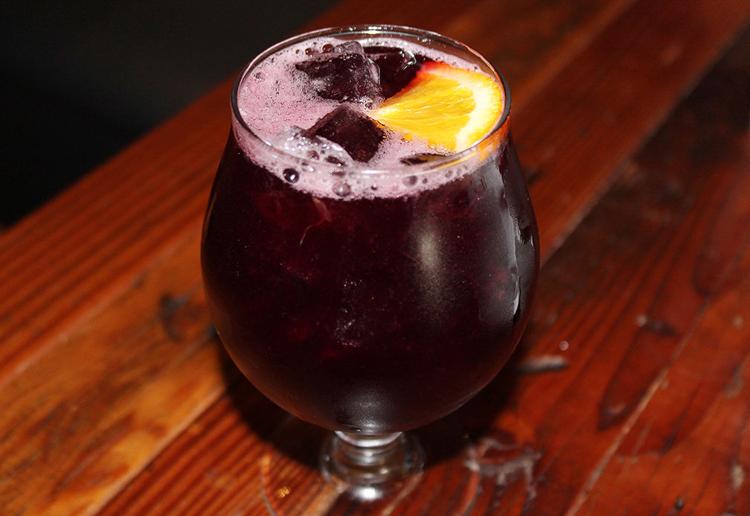 ---
At this point, we were out past Happy Hour. Still happy, nonetheless.
---
Stop 5: Time Market
Angela: This place is genius. You can order a slice of pizza and a glass of wine, sit by the giant windows or on the patio and then go shopping. I loved the casualness of it. You just go order and bring it back to your table and then you're done. 
Plus, this is the point in the night, five drinks in (well, we shared each of them, so technically two-and-a-half), where Alicia and I started to bond. We were both happily buzzed and engaging in some pretty great conversation. Love ya girl!
The wine was really good, crisp and not too dry. 
Alicia: We rode the streetcar to Time Market. It was a nice ride.
You can shop for produce, order pizza and a glass a wine. It's the best thing ever.
I ordered a Pinot Grigio because I love smooth, sweet whites and I ran into someone I knew from college because that's what happens when you go to Time Market. 
I could spend the rest of the night here but I knew Pasco nachos were coming up.
Happy Hour: Daily from 3-6 p.m.
Which stop:  University Boulevard and Third Avenue stop.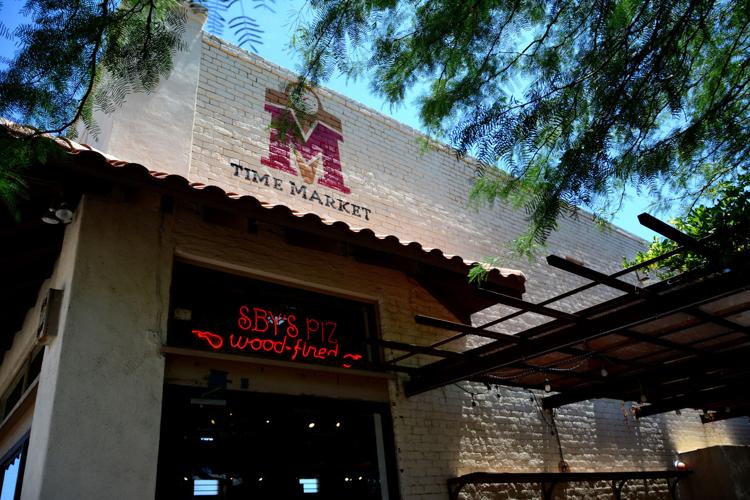 Stop 6: Pasco
Angela: I had never been here before and it was so great. There's a huge grassy area with trees wrapped in colored lights, which makes it feel like you could be an extra in a rom-com. 
University Boulevard was hopping. There were lots of people out having drinks, eating dinner and wandering, so it was fun to people watch.
The Father Kino is everything. It's got tequila, cilantro, a tajin rim, jalapeno, cucumber and I don't know what else. But, it's amazing. 
We paired it with nachos, which is Alicia's favorite there and exactly what we needed. 
We stayed at Pasco the longest out of all the bars, but hey, it was the last one of the night and we were having fun, so who cares. 
This was the coolest story assignment ever and I'm gonna have to keep the idea in mind for the next girls night out or if I'm ever in charge of planning a bachelorette party again.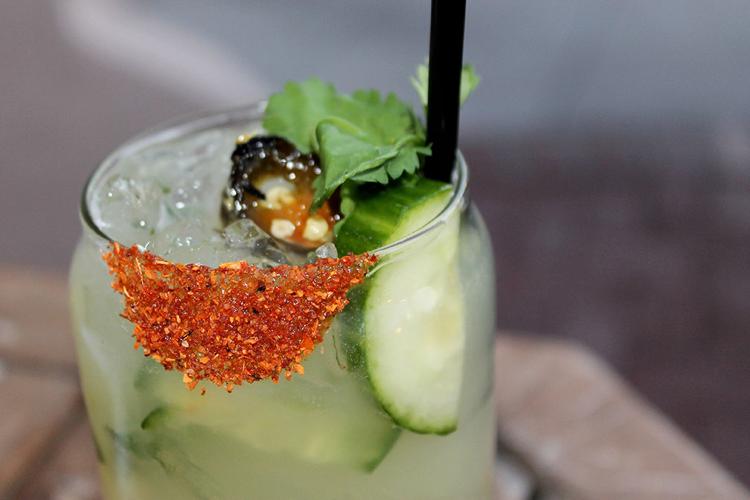 Alicia: NACHOS NACHOS NACHOS!
I love Pasco. It brings me back to all the beautiful things about college, like expensive cocktails with no money. It was more fun with Angela. I can afford Pasco now. 
I couldn't drink any more but I could eat. It was nice to be around all the energy. I think people were graduating. 
An hour later, we took the streetcar back to the Mercado and went home. It was an awesome night.
Happy Hour: Daily from 3-6 p.m.
Which stop: University Boulevard and Tyndall Avenue, directly in front of Gentle Ben's.