Starting a new year can be a transformational experience.
Each and every January, like clockwork, we pledge to up our game in different ways.
We shoot for more travel and less body weight, to find a better job and to meet the man or woman of our dreams.
If more visual stimulation through the arts was on your "to-do" list for 2022, then you're in luck.
Tucson has plenty of artsy things to see in the new year, including fresh installations and some amazing exhibitions that you may have missed in 2021.
Achieve your New Year's resolution and feast your eyes on the following: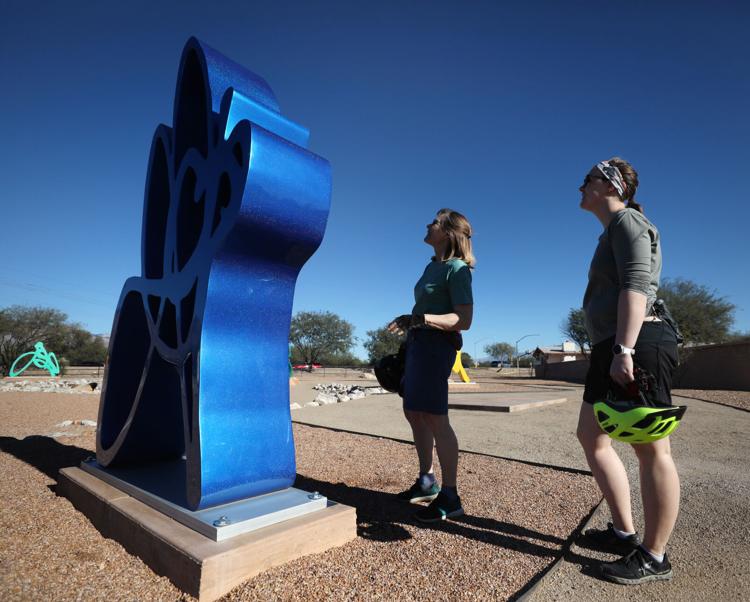 Rotraut off River
From East River Road, the latest exhibition at SculptureTucson's sculpture park, located on the west end of Brandi Fenton Memorial Park, resembles a collection of brightly colored punctuation marks run amok.
The sculptured pieces, taller than your average Wildcat basketball player, made from aluminum and painted in eye-catching greens, reds and yellows, were created by artist Rotraut Klein-Moquay. Known simply as Rotraut in creative communities around the world, the 83-year-old artist has been producing wild works of art for decades, splitting her time in recent years between Phoenix, Paris and Sydney, Australia.
Rotraut's works will be on display in the park, 3420 E. River Road, through June 1. Admission to see them is free.
"We were happy that she said yes to this," said Barbara Grygutis, a fellow sculptor and one of SculptureTucson's founders. "I think she was excited to be able to show so many pieces in one place at one time. There aren't many big sculpture parks like this in Arizona."
Visitors who came to see SculptureTucson's first exhibition, dubbed "Rough Terrain" at the park in 2021, will notice major improvements in the landscape; most notably the new drainage system that will help keep the grounds from flooding during this year's monsoon.
"When it flooded, it really flooded," Grygutis said. "We had more rain last year than expected."
The Rotraut show is just one of the events happening at the sculpture park in 2022. On Jan. 29-30, ScultpureTucson will host a celebration of sculpture, with extended hours for folks to come and enjoy Rotraut's work.
The property will soon start offering monthly blacksmithing workshops and demonstrations, open to the public, courtesy of the Arizona Artist Blacksmith Association.
And on March 18-20, SculptureTucson will host its next Sculpture Festival Show and Sale after canceling the event the last two years due to COVID.
The park's current hours are 10 a.m.-2 p.m. Tuesdays-Saturdays. Find info at sculpturetucson.org.
After you've experienced Rotraut, cross River Road and check out the expansive sculpture garden at the Tucson Jewish Community Center, 3800 E. River Road. The garden is free and open to the public during the center's regular business hours. Visit tucsonjcc.org for those details.
Pagac's latest
When archeologists conduct digs in the Sonoran desert thousands of years from now, pulling up relics from our lost civilization, old Eegee's wrappers and Poblano hot sauce bottles, it's nice to think that artist Joe Pagac's elaborate wall murals might be there to tell our story.
Pagac's multitude of murals around town, from the Tanque Verde Ranch on the far east side to the Arizona-Sonora Desert Museum on the far west side, often depict anthropomorphic creatures and other fantastical figures doing the things Tucsonans love: riding bikes, lounging in the sun, enjoying the cacti and mountains that surround the city.
One of Pagac's most recently completed murals can be found on the wall surrounding the community pool at Himmel Park, 1000 N. Tucson Blvd.
It includes a young turtle, coyote and bobcat at play, and a lizard and gila monster reading books on a rock (in honor of the Himmel Park Library). The painting also features a vermilion flycatcher, a regular visitor to the park, and even depicts Locomotive No. 1673, a Southern Pacific Railroad train from the early 1900s that sat at Himmel Park for years before being relocated to the Southern Arizona Transportation Museum downtown in 2000.
Pagac told the Star last summer that he grew up playing in the park and took swimming lessons in the pool where the mural wall is located. He said the mural was three years in the making and incorporated suggestions from community members. He posted on his Facebook page earlier this month that he had finished the project.
You can check out a map of Pagac murals around town at joepagac.net.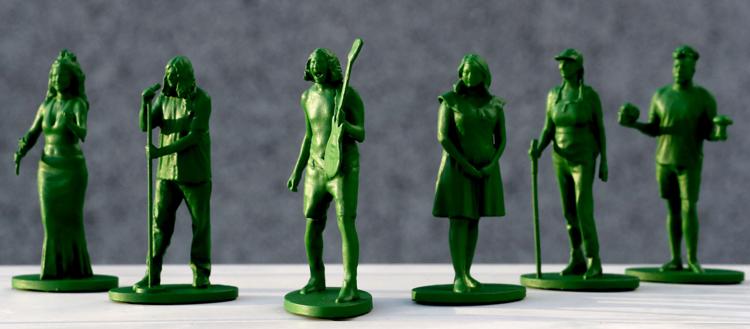 Army Man Project
The little green army men you played with as a child are still around and look a lot more like Tucson residents these days.
Using 3-D printer technology, artist Rudy Flores and his wife Teresa Estrella scanned more than 180 Tucsonans in 2021 for the second installment of his Army Man series. They then printed tiny green copies of each person. Those figures went on display at the Mini Time Machine Museum of Miniatures this week in an exhibit that will run through June 5.
The initial plan was to only make 100 figures, but "we were ahead of schedule and kept adding more people," Flores said.
Flores and Estrella tapped locals from all walks of life; bartenders, photographers, actors, gardeners.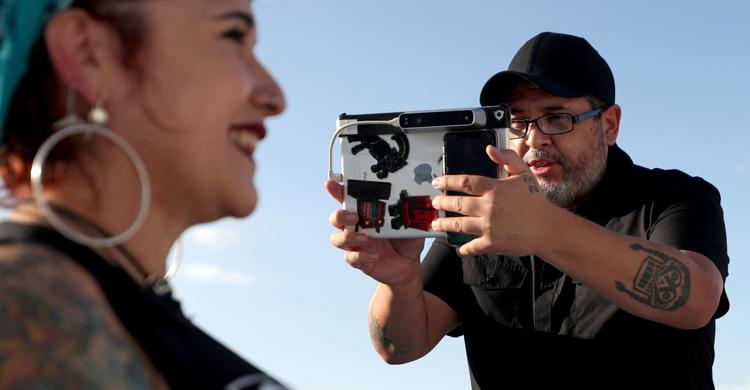 Flores said each figure in the exhibit will have a mini-bio attached to it, with a full bio available by QR code, linking visitors to their website, hexandhew.com.
Flores said they are already gearing up for the next round of Tucsonans.
"We had a lot of people sign up for Christmas," he said. "It is going to be an ongoing thing now."
Find out more about the exhibit at theminitimemachine.org.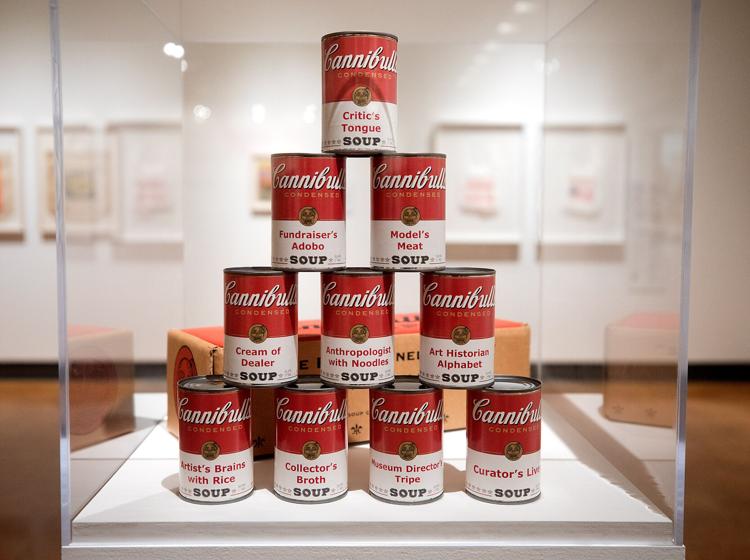 'The Art of Food'
If you hunger for room after room of food-themed art, then the University of Arizona Museum of Art, 1031 N. Olive Road, on the UA campus is the destination for you through March 20.
The museum's latest exhibition, "The Art of Food," offers more than 100 works of art revolving around eats on loan from the collection of Portland-based philanthropist Jordan D. Schnitzer and his family foundation.
The exhibition includes works from heavy hitters. See a layered screenprint image of a banana made of styrene and laminated plastic by Andy Warhol, and stacked cans of soup with different art world denizens served within (critic's tongue, anyone?) by Enrique Chagoya.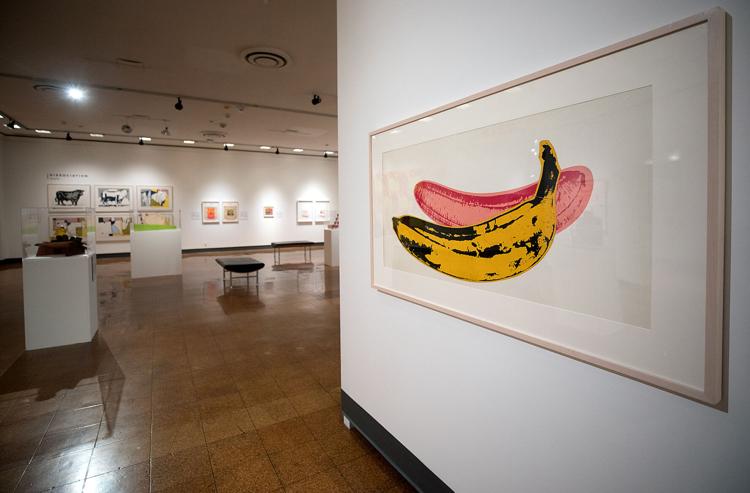 Curator Olivia Miller told the Star in October that the museum chose this topic, in part, because food is universal.
"We try to have exhibitions that give us the chance to do interdisciplinary programming, and give us the chance to engage with faculty and staff from different departments," Miller said. "And food is such a ubiquitous topic that it was kind of the perfect subject to do that."
The museum's hours are 10 a.m.-4:30 p.m. Tuesdays-Saturdays. General admission is $8. Visit artmuseum.arizona.edu for more information.
More artsy activities
If you've made it this far, you probably realize that Tucson doesn't mess around when it comes to its artistic endeavors.
There is plenty more out there. Here are a few more on our radar:
Presidio San Agustín will start offering two downtown art tours in the next couple of months. Its Public Art Walking Tour will feature public art sculptures and murals and will be held on Jan. 23, Feb. 19 and Feb. 27, and then every fourth Sunday of the month through April. Its Mainly Murals tour will look at, you guessed it, mainly murals, and will take place every second Saturday of the month through April. $20 per tour general admission. Info: tucsonpresidio.com/walking-tours.
Head north on Campbell Avenue to East Skyline Drive every first Thursday of the month to experience First Thursday Art Walks, featuring a collection of galleries showcasing their works at Foothills Art Galleries on the northeast corner of the intersection and in Plaza Colonial on the southwest corner. The art walk runs 4-7 p.m. and is free. Info: foothillsartgalleries.com.
Speaking of art walks, the Steinfeld Warehouse Community Arts Center, 101 W. Sixth St., held its first art walk over the weekend (after postponing one week) and will resume its regular art walk schedule the first Saturday of every month starting in February. Info: steinfeldwarehouse.org.
The Tucson Museum of Art, 140 N. Main Ave., always has something interesting going on, and every once in a while, you can check out those interesting activities for free. That includes Thursday, Feb. 3, when the museum hosts its Free First Thursday event from 5-8 p.m. Info: tucsonmuseumofart.org.