Quietly tucked away in a Miles Neighborhood alleyway sits an ever-changing art gallery embellished with over 100 pieces of art that gently hang on the residents' chain-link fences and brick walls.
As you walk through the alley, you can view framed artworks featuring paintings of lush landscapes, imaginative drawings created at schools by local children and a small shrine displaying a portrait of the Virgen de Guadalupe with the words "Bless Miles Neighborhood," scrawled across the bottom in cut-up magazine letters.
The Miles neighborhood, located near East Broadway Boulevard and South Kino Parkway, has been home to longtime residents, friends, and two of the art alley gallery creators, Josie Zapata and Rossana Lievanos, for over 40 years. They call the neighborhood a tight-knit community, where everybody knows and respects each other. 
But when the COVID-19 pandemic struck Tucson, Zapata, a retired first-grade teacher from Drachman Montessori Magnet School, noticed that children weren't getting outside as much as they needed to. So, she recruited the help of Lievanos and other neighbors to help create the art alley gallery located near East 13th Street and South Vine Avenue. 
Helping kids learn about art and admiring public spaces
In March 2021, Zapata began acquiring paintings at a local thrift store for $3 or $4 and started hanging them up behind her home in the alleyway. Then, as kids walked through the alley on their way home from school, they would leave their creations with Zapata so she could add them to the gallery.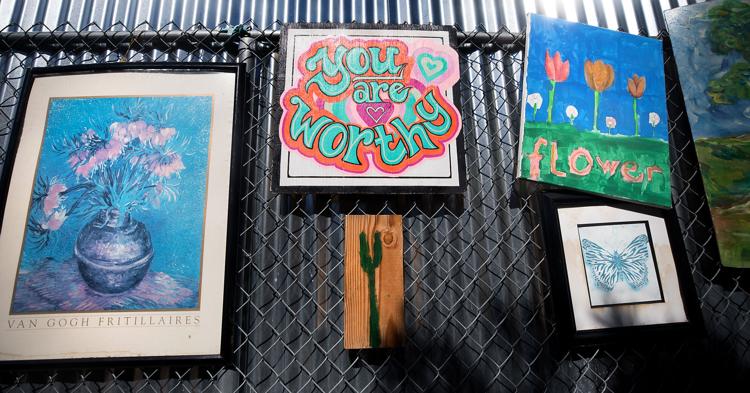 "We're gonna hang up every picture, whether it's good or bad or whatever, everybody's interpretations are your own. And if you like to view scribbles or if that's all you can do, it's just as important as the framed work," Lievanos said.
As more and more children began to leave their artwork for the gallery, Zapata started setting up small tables in the alley for the kids to sit and do educational activities.
One of the tables features a cherry-red tablecloth adorned with yellow, blue and white flowers, child-sized teal fold-up chairs, colorful construction paper and an organizer filled with RoseArt markers so kids can create and hang up their own art on a translucent pink or purple clipboard in the alley.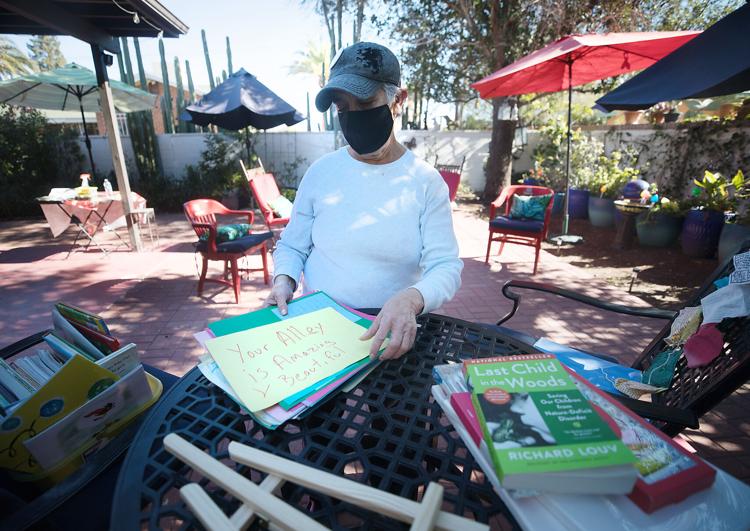 Zapata said the art alley gallery enriches children's lives by expanding their horizons and their understanding of various art styles, while also respecting public spaces. 
"It (the alley) gives them a tool to communicate," she said. "Because sometimes now with other technologies, children are losing a means of communicating their feelings. But it gives them an outlet to communicate, you know, and to admire and respect other people's things, too."
Lievanos shared a similar sentiment by adding how the alley can boost creativity as well. 
"The alley opened up kids' minds to the arts by not telling them you have to color in the circle," she said. "It's a blank page, just like our life is a blank page."
The alley includes art from Zapata and Lievanos' own grandsons, Atticus and Luis, who depict their interests in Minecraft and Frankenstein through paintings and drawings. Other artwork created by kids includes self-portraits of themselves wearing decorated face masks. 
In one of the drawings that Zapata had to take down due to weathering, a young boy with black cropped hair is wearing a rainbow-striped shirt with the text "sadida" written across the middle. She recalled asking the boy's teacher what his name was because she had never seen a name as interesting as "sadida" before.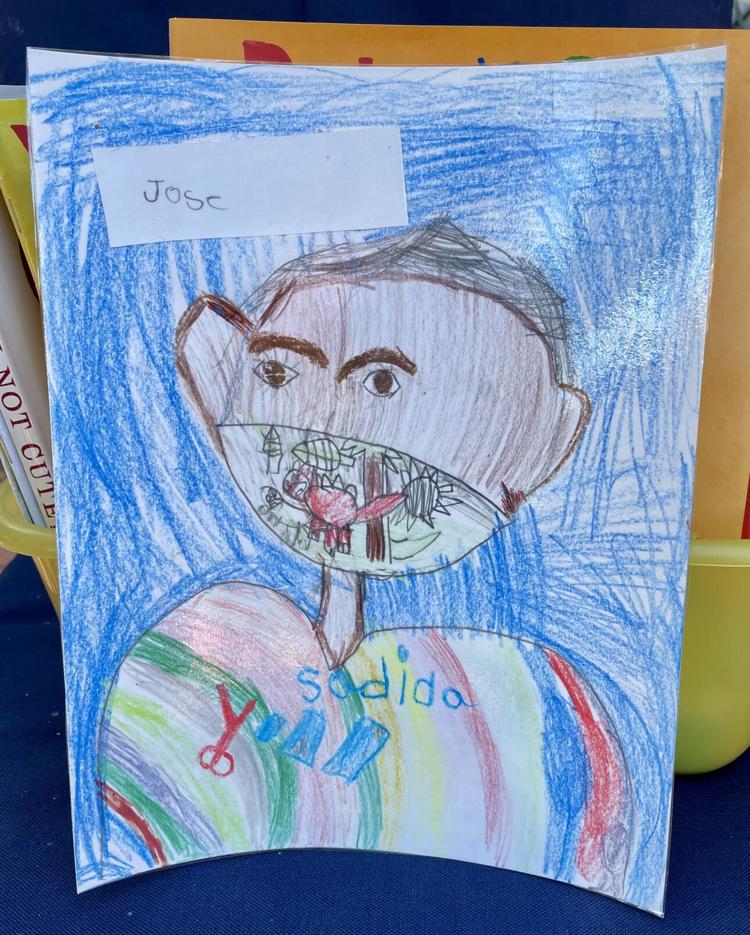 The teacher told her that the boy had created his self-portrait while looking in a mirror and that the name scrawled across his shirt was actually the brand name Adidas, Zapata recalled with a smile.
The drawing is one of many pieces of artwork that Zapata houses in one of her storage sheds that's filled with framed paintings, stacks of drawings and educational materials for kid's activities. The shed acts almost like a second art gallery as it holds an estimated 80 additional pieces of artwork, so she can switch art in the alley when needed.
Additionally, the alley showcases various cultures, including drawings and photographs devoted to Mexican revolutionary Emiliano Zapata and a small area of Chinese-style paintings dedicated to Asian Americans who have faced violence in recent years.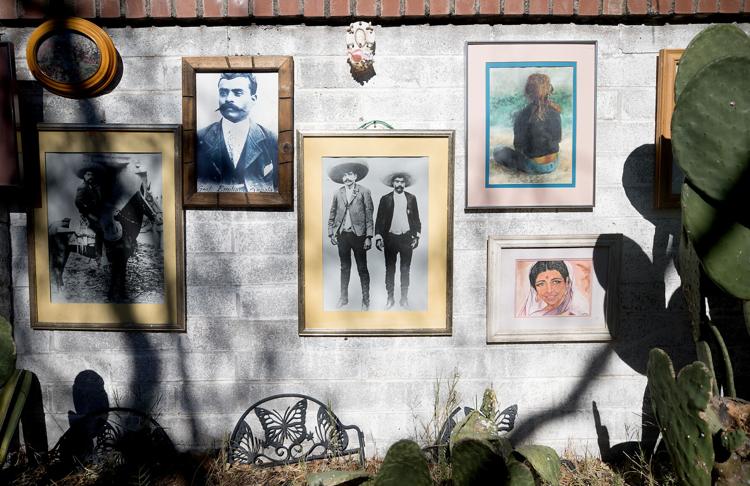 "It's ever-changing. You never know what's out here," Lievanos said. "I would like that just to continue so that there's that curiosity and that kids always have something new to look forward to. And it changes with the seasons. So I think that (it's important to) keep it going, just making it new for not only our neighbors but for others that come through."
A labor of love
In addition to creating the art alley gallery to help local kids learn about art and to respectfully admire public spaces, the gallery is used as a way to remember and honor those the community has lost to COVID-19 and other illnesses in previous years.
"We want a positive kind of experience for everyone," Lievanos said.
Over the last few years, Zapata and Lievanos have experienced tremendous losses in their lives with the deaths of numerous family members, friends and neighbors due to illnesses.
But the art alley gallery has been an outlet for the two longtime friends. 
They hope that the alley can be an outlet for others, including familiar neighbors or just strangers walking through. 
Drawing on her inspiration from past life experiences, such as losing her grandmother during the 1918 influenza pandemic, Zapata was determined to connect with people and bring back a sense of community in the area.
Still, the endeavor has been a labor of love, according to Lievanos.
The challenge has been to find a way to keep the alley interesting while protecting the one-of-a-kind artwork from Arizona's sometimes unpredictable weather. Zapata checks the weather report each week to plan when she needs to take down each piece of art and store it in her shed.
On top of being the protector of the original artwork, Zapata helps perform needed maintenance and cleaning throughout the alley. She is also currently spreading coffee grounds throughout the passage as she plans to plant flowers around the gallery.
"I get crazy ideas that bring people together," Zapata said. "And then sometimes I worry that maybe people will not get as excited as I do. But they do."
Along the art alley gallery, a wooden door painted white leads to Zapata's backyard. Most days, she leaves the door open so visitors can drop in, sit down in one of her bright-red outdoor chairs, create their own artwork with supplies she provides, enjoy a refreshment from the outdoor fridge or relax near the outdoor fireplace that her husband, Frank, will light in the colder months. An open door, she said, means an open invitation.
Zapata hopes that the neighborhood musicians will eventually be able to safely gather together in her backyard patio and put together a mini-concert.
"It's so important to, you know, have that connection with your neighbor and then build good citizens so that you can build a better world," Lievanos said.
Connection, remembrance and inspiration are some of the elements that Lievanos and Zapata hope visitors will feel when they stop by the art alley gallery.
Most of all, they hope that visitors will be inspired to create their own art galleries in their alleyways to help connect with their neighbors and surrounding communities.
"We have ownership. We live here," Lievanos said. "So we're very protective of it. But we're really thrilled that people have come to see it and, hopefully, it inspires people to do it in their alley."