The All Souls Procession — the annual event where thousands of Tucsonans walk to honor deceased friends, family and loved ones — returns to Tucson for its 34th year this weekend.
The procession starts at 6 p.m. Sunday, Nov. 5 on the city's west side at Speedway and Grande Avenue. Participants can begin gathering at 4 p.m. near the procession's starting point. 
This year's procession route is different than previous years which went through Bonita Avenue. The new route goes south on Grande Avenue until reaching Congress Street. After walking east on Congress Street, the procession will turn south onto Avenida del Convento into the MSA Annex where the procession concludes. There are plenty of spots along the route for spectators to watch the procession pass by.
When the procession reaches the MSA Annex, an urn will burn and a "Restoration of Care" ceremony will commence with performances from Soriah and Flam Chen.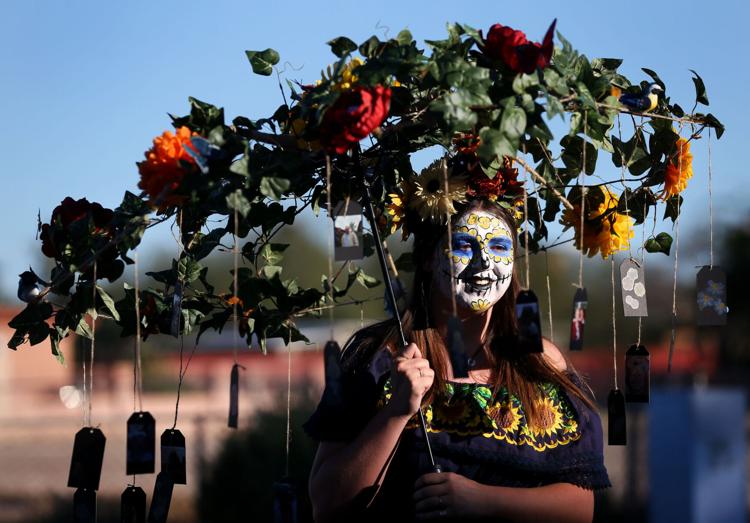 The All Souls Procession has a different theme every year, which is to be used as inspiration for participants. This year's theme is a quote: "The engagement of active imagination focused on enacted enchantment culminates in the sacred moment." Read more about it here.
If you can't make it to the procession, there are still a few ways you can celebrate the occasion, including live-streaming the event or participating in one of the other All Souls events.
Other events include the Dance of the Dead concert on Friday, Nov. 3 and the Procession of Little Angels followed by another concert on Saturday, Nov. 4.
The annual All Souls Procession has been put on by local nonprofit Many Mouths One Stomach since the '90s. It's free to participate and attend.
For more information about the All Souls Procession, visit their website.