Back in 1983 when the Tucson International Mariachi Conference held its first Espectacular Concert, the Tucson Symphony Orchestra shared the stage with the legendary Mariachi Vargas de Tecalitlán.
On Saturday, April 22, the TSO is back with Mariachi Vargas for a concert that will honor that ensemble on its 125th anniversary.
The Espectacular lineup also includes Mariachi Aztlán de Pueblo High School alumnus Giselle-Paris Aubrey, who famously serenaded Linda Ronstadt at last year's event when the City of Tucson rechristened the Music Hall in the Grammy winner's honor.
"Linda Ronstadt was just starting to walk off the stage and (Aubrey) started singing 'Blue Bayou' and Linda stopped in her tracks," recalled Alfonso Dancil, the longtime chairman of the Tucson International Mariachi Conference board of directors.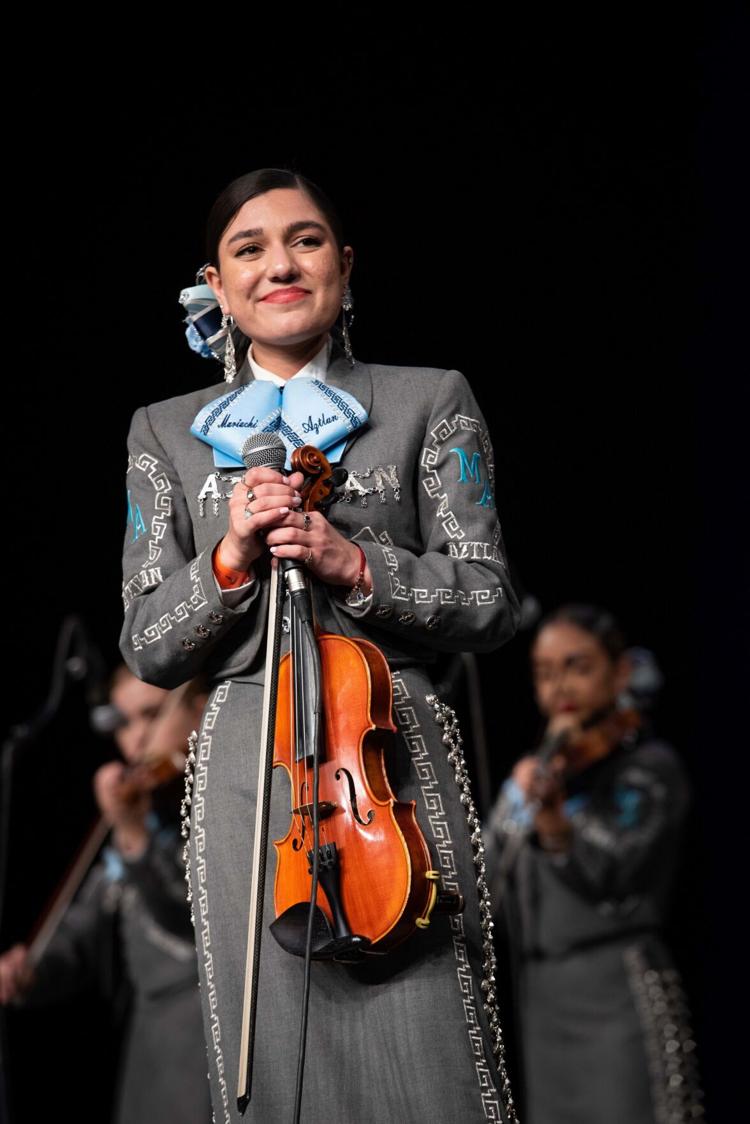 "She was walking out but she turned around and listened. I was so excited," recalled Aubrey, who is now studying business with a minor in music performance at the University of Arizona. "It was such an honor."
The annual mariachi conference, which runs from Wednesday, April 19, to Sunday, April 23, attracts between 5,000 and 8,000 mariachi enthusiasts including students, several of who are expected to compete in Wednesday's El Mariachi Canta Vocal Competition for aspiring singers; Aubrey won that contest in 2022. Students also take the spotlight for Thursday's Student Showcase Concert at the Music Hall.
Dancil, who has been involved with the Tucson International Mariachi Conference since its infancy, said a hallmark of the event is working with kids through the workshops with established mariachi performers.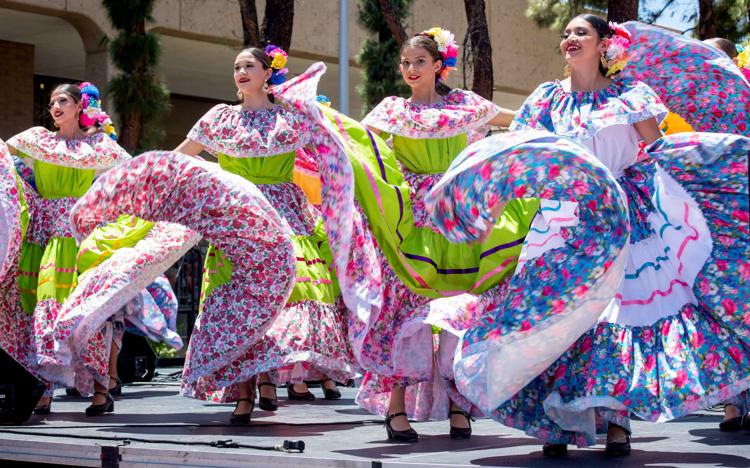 "That's our mission, to keep the education and the culture of mariachi music and ballet folklorico," he said. "It's all part of that culture."
Having performers from Mariachi Vargas and other big-name artists lead the workshops has been a signature of the conference, modeled initially on an event held in Albuquerque, New Mexico. The Albuquerque event, though, had workshops but no education conference element, Dancil said.
"We feel we're the first, the best and the longest, continually running mariachi conference in the country," he added.
This year's conference will remember one of those mentors, Mariachi Vargas violinist, composer and arranger Rubén Fuentes, who died last February. Fuentes is best known for producing Ronstadt's seminal album "Canciones de Mi Padre," the biggest-selling Spanish-language album of all time.
The 2023 conference also includes the popular Noche de Garibaldi festival at the MSA Annex on Friday, April 21, that features mariachi music and folklorico dance. Last year, Aubrey's high school ensemble, which has shared the stage with the jazz-funk ensemble Pink Martini and Tucson's own Orkesta Mendoza, was part of the Garibaldi festival.
But it was her and Mariachi Aztlán's shot at last year's Espectacular that stands out as the biggest event of Aubrey's high school mariachi career.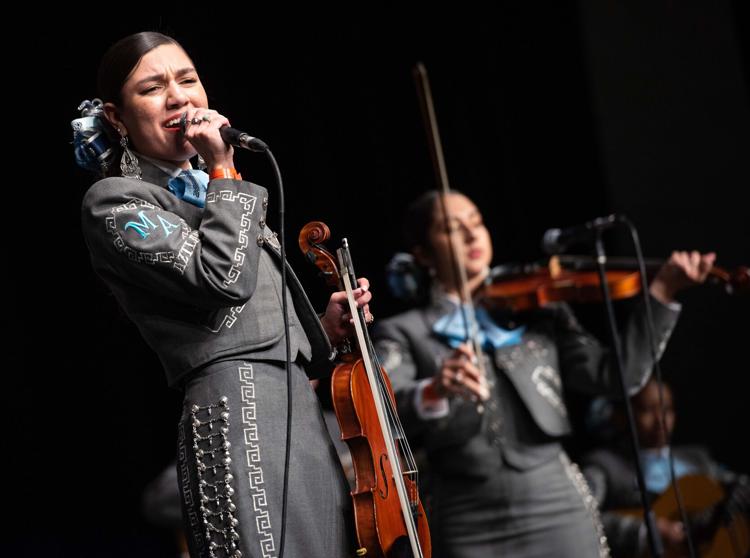 "That was a pretty big performance," she said, then recounted how the group's longtime director John Contreras tapped her to sing "Blue Bayou" during the Espectacular Concert with Ronstadt on the Music Hall stage.
When the ensemble was backstage waiting for their cue, they learned that Ronstadt, who has Parkinson's-like progressive supranuclear palsy, was getting ready to leave and "Blue Bayou" would be cut. Contreras, though, was able to arrange for Aubrey and the ensemble to perform the song as Ronstadt exited the stage.
"She was walking out but she turned around and listened and I was so excited," said the 19-year-old Aubrey, a Tucson native who grew up listening to Ronstadt's music. "I was a little nervous because the whole situation was kind of confusing, but once I turned around and faced her ... I just couldn't believe that I was in front of Linda Ronstadt."
Aubrey got a chance to sing "Blue Bayou" for Ronstadt one other time, at a small gathering at the Arizona Inn a couple of days after Ronstadt spoke at the 2023 Tucson Festival of Books in March.
Aubrey said "Blue Bayou" will be her final song during her 30-minute set at Saturday's Espectacular Concert. She also will perform several mariachi standards including "Yo he nacido Mexicana," "Ya no me interesas" and "Que nadie sepa mi sufrir," and Fuentes's popular "Cien años."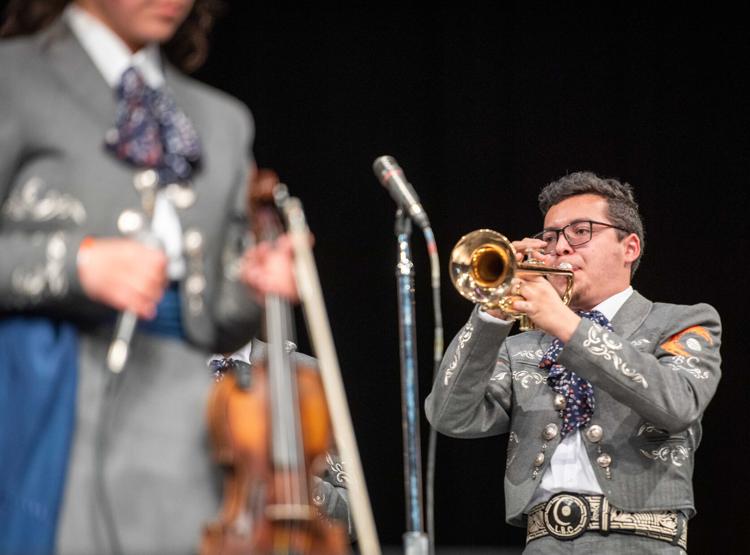 This marks the TSO's first time with the conference since that 1983 event, and the orchestra's Music Director José Luis Gomez said he was excited to share the stage with Mariachi Vargas.
No one is really sure why it has taken 40 years to bring the orchestra back to the conference, but Gomez said pairing mariachi with orchestra is natural.
"It's not that complicated to mix the two sounds. Of course they have strings so having strings is already easier. When you have violins, it gives you a point of encounters with sounds," he explained. "It's not like when you mix a rock band with electric instruments with an an orchestra. This one is very natural and the arrangements are driven by those instruments."
The Venezuelan-born Gomez, who has led the TSO since 2016, grew up in Spain, where mariachi is not as prevalent as it is in Mexico and Tucson. But the genre shares some similarities with the music of Venezuela.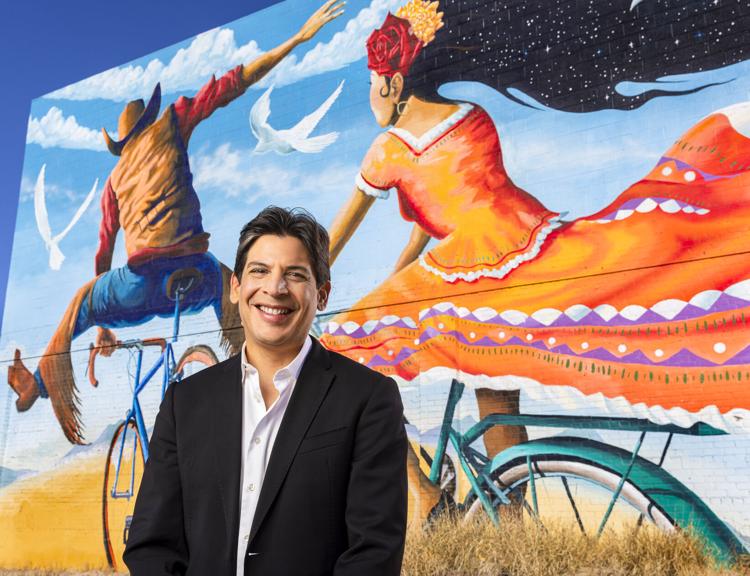 "Many of these famous songs, rancheros and boleros, are part of the music you hear in Venezuela," he said.
In addition to backing Mariachi Vargas, Gomez said the orchestra will perform Juan Pablo Contreras's "MeChicano," a spirited, cross-genre (mariachi, cumbia, tejano polka) romp that the TSO commissioned last year with six other U.S. orchestras. The TSO was the third to perform the work when it played it last November.
If you go
What: Tucson International Mariachi Conference.
When: Wednesday-Sunday, April 19-23.
Where: Tucson Convention Center and Linda Ronstadt Music Hall, 260 S. Church Ave.; and MSA Annex, 267 S. Avenida del Convento.
Tickets: Vary by event.
Schedule: 
6 p.m. Wednesday, April 19, El Mariachi Canta Vocal Competition, Linda Ronstadt Music Hall; $20.
6 p.m. Thursday, April 20, Student Showcase Concert, Music Hall; $15.
3-10 p.m. Friday, April 21, Noche de Garibaldi, featuring mariachi music and folklorico dance, MSA Annex; $15.
7 p.m. Saturday, April 22, Espectacular Concert, featuring Mariachi Vargas de Tecalitlán, Tucson Symphony Orchestra and Giselle-Paris Aubrey, Music Hall; $40-$200.
Noon Sunday, April 23, Mariachi Mass, St. Augustine Cathedral, 192 S. Stone Ave., featuring Mariachi Rayos del Sol and Compañia de Danza Folklorica Arizona; free.
For more information, visit the Tucson International Mariachi Conference's website.