A 1988 Buick LeSabre hearse sits in front of a nondescript building at East Speedway and North Columbus Boulevard.
Normally reserved for the transfer of coffins to their final resting places, the vehicle might seem more appropriate in front of a local funeral home, but it does serve a purpose.
The hearse is the daily driver for Bridgett Scofield, and for now, acts as curbside advertising for the brand new oddities shop, Woolly Fern, which Scofield recently opened with her business partner, Jenny Martin. 
The storefront still needs signage, but once inside, customers are treated to a visual feast of the unusual, bizarre and macabre.
On the dark green walls hang iridescent and brightly painted animal skulls by local bone sculptor Dan Kihl. Vintage furniture and gothic home décor, including taxidermy pieces, can be found throughout the space, and art ranging from tentacle pillows to natural science-themed prints are available.
Woolly Fern also sells vintage sterling and estate jewelry, hand-picked, gothic-style clothing, antique books, medical pieces, geodes and crystals.
When it is fully completed, Scofield and Martin envision their shop as a plant oasis with a focus toward natural science, natural history and anything dark and vintage.
Woolly Fern, at 4401 E. Speedway, is an offshoot of Scofield's When + Where Co., a curated store for vintage finds that she opened in 2019, within walking distance from Woolly Fern.
The idea behind Woolly Fern first took shape when When + Where Co. hosted an oddities market in 2019. More than 4,000 people attended, a sign to Scofield that a curiosities shop might be possible.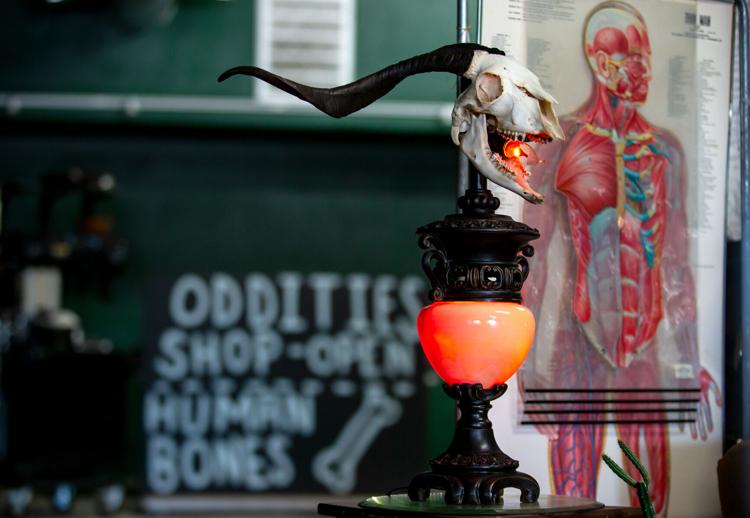 Wild inventory and quirky art aside, Woolly Fern features what Scofield and Martin call an "elevated shopping experience." Along with the initial inventory, the shop will hold classes on topics, such as small animal taxidermy and insect pinning. It has a tattoo parlor and a gallery space in the back of the store for art shows and pop-up sales.
Scofield and Martin also plan on holding regular events. They recently held a Coven Night Market that brought in more than 500 people.
"I want to hit every demographic.... I don't want this to be a store that is so narrow, it just hits one demographic, like the gothic community," Scofield said. "I think everyone's curious, or at least they should be."
Their next event "Sunday Mourning" is July 11 and will not only cater to the weekend crowd, but also raise money for people who can't afford funeral costs for lost loved ones. Among the offerings, will be baked goods, beverages, vintage lingerie and antique books.
"We want our store to help raise funds to bury our community members that are in poverty," Scofield said. "We believe death should be dignified."
Woolly Fern's summer hours starting this week, are 11 a.m.-4 p.m. Wednesdays-Thursdays, 11 a.m.-7 p.m. Fridays-Saturdays, and noon-4 p.m. Sundays. Follow Woolly Fern at @woollyfern on Instagram or at facebook.com/woollyfern on Facebook.