Celebrate 4th of July with some firework fun and local events this year. New events have popped up to join in the holiday fun.
Check out this list of local fireworks shows and local events to help plan your Independence Day.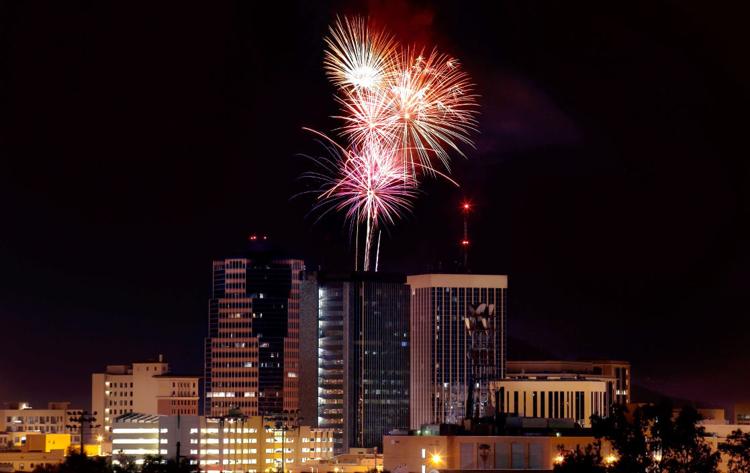 24th Annual "A" Mountain Fireworks Celebration
The 24th annual "A" Mountain fireworks show is happening again after a year off. You  can see the "A" Mountain fireworks with free parking at the Tucson Convention Center's parking lot B or parking lot C. Free parking will also be available all day Sunday at the City-State garage and at the meters throughout the downtown area. Paid parking will be available for $5 in the Mercado District lots south of Congress.
When: Sunday, July 4, fireworks start at approximately 9:15 p.m.
2021 Marana Star Spangled Spectacular
Fireworks will be launched near Crossroads at Silverbell District Park and can be viewed from inside the park and throughout Arizona Pavilions Crossroads. Festivities include 25 food vendors, a playground, splash pad and 4th of July music beats.
When: Sunday, July 4, 5-9:30 p.m.; fireworks start at 9 p.m.
Town of Oro Valley July 4th Fireworks Show and Virtual Celebration 
Celebrate Independence Day at home in Oro Valley this year! The firework show begins at 9 p.m. and will last for about 20 minutes. The Town of Oro Valley ordered larger firework shells this year to be seen from greater distance. So starting at 10 a.m. the playground, sport fields, dog parks, archery facilities, trails and ridges will be closed off for safety precautions. 
When: Sunday, July 4, 9-9:20 p.m.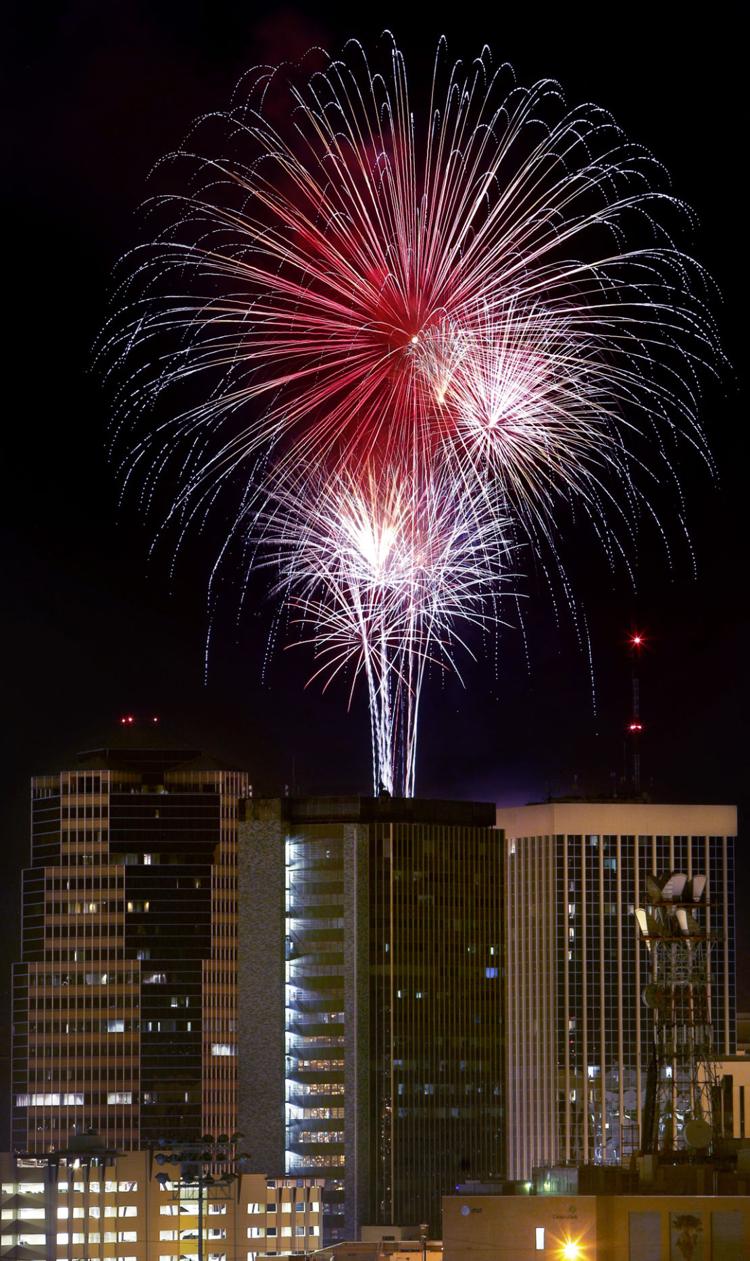 Sahuarita Red, White and BOOM Fireworks
Bring your lawn chairs and blankets to see sparkling fireworks launched from Wrightson Ridge Park. The park will not be open to the public during the display so residents are encouraged to enjoy the fireworks from their own backyards and surrounding parking lots available to the public. Other viewing areas include North Santa Cruz Park and Anza Trail Park sports fields. 
When: Saturday, July 3, 6-9 p.m.; fireworks at 8:30 p.m.
54th Annual Sierra Vista Fourth of July Celebration and Fireworks
The Sierra Vista Rotary Club, City of Sierra Vista and Fort Huachuca have teamed up together to host a red, white and blue full day celebration for 4th of July.  
8-9 a.m. 9th Annual Pets and People Promenade
9 a.m to 3 p.m. Fort Huachuca Military Displays
9 a.m. to 10:30 p.m. Arts and Crafts and Food Vendors
11:30 a.m. to 12:30 p.m. : Salute to Union Ceremony
10:30 a.m. B Troop Riding Demonstration
12:15 p.m. 162nd Fighter Wing F-16 Flyover
12:30-8 p.m. Music and performance entertainment
1 p.m. B Troop Cannon Firing Demonstration
7 – 9 p.m. Patriotic music, Ft. Huachuca Honor Guard, National Anthem, Cannon Salute
8:05-9 p.m. 54th Annual Super Spectacular 4th of July Fireworks
9-10:30 p.m. Desert Fever
When: Sunday, July 4, 8 a.m. to 10:30 p.m.
Other Local 4th of July Events 🧨🎆🎇
4th of July at Hotel McCoy
Visit Hotel McCoy for a fun 4th of July event with DJ Butterfly, poolside jams, check-in goodies, drink specials and A-Mountain views.
When: Sunday, July 4, 7 p.m.
Cost: Book your stay at the hotel for this special holiday event
Let Freedom Sing Concert Live
The annual concert Let Freedom Sing by Arts Express features a variety of Tucson performers — uniting our diverse backgrounds and fostering a sense of community.
When: Saturday, July 3 and Sunday, July 4.
Tombstone 4th of July Parade, Car Show And Pin Up Contest
Cruise over to Tombstone for an all-American bash, pinup pageant and car show!
Events
Saturday, July 3, noon to 12:30 p.m., Arizona Rangers Parade on Historic, 311 E.  Allen St.
Sunday, July 4, 10 a.m. to 2 p.m., 1950s patriotic pinup contest
Sunday, July 4, 7:30-9 p.m., Tombstone 4th of July Fireworks 
July 4th Independence Dance Party at MSA Annex
Haversack Productions will be hosting a IndepenDANCE Party at the MSA Annex this year! Celebrate the holiday with an all-ages event with fireworks under "A" Mountain. Festivities include cumbia with Los Esplifs, beats from DJ Herm, Flam Chen fire dancers, food trucks and a bar with festive drinks and cocktails.  
When: Sunday, July 4, 7 p.m.