July 4th is a little different this year. With the COVID-19 pandemic and the Bighorn Fire, some events are canceled or postponed. Here is an updated list to help you plan out your July 4th. 
This list was last updated June 30, 2020.
Sahuarita Fireworks
The annual July 4 celebration will not be held as it has traditionally been at Sahuarita Lake Park, but fireworks will be launched from Wrightson Ridge Park. The park will not be open to the public during the display, residents are encouraged to enjoy the fireworks from their own backyards and surrounding parking lots available to the public.
When: Saturday, July 4, 8:30 p.m.
Sierra Vista Aerial Fireworks
The Sierra Vista Rotary Club has teamed up with City of Sierra Vista to present a fireworks display in celebration of Independence Day. Other annual July 4 activities have been canceled due to COVID-19 precautions. The Rotary Club is also forgoing ground fireworks to focus on an all-aerial display residents can enjoy while safely social distancing throughout the community and their backyards.
When: Saturday, July 4, shortly after 8 p.m.
Let Freedom Sing virtual concert
The annual concert Let Freedom Sing by Arts Express is going virtual this year. The concert features a variety of Tucson performers and was filmed around the city in locations including the Pima Air and Space Museum and "A" Mountain. 
When: Saturday, July 4 between 2 and 11:30 p.m. 
Cost: Arts Express is asking for at least a $10 donation per device for the download
❌ Canceled and Postponed Events ❌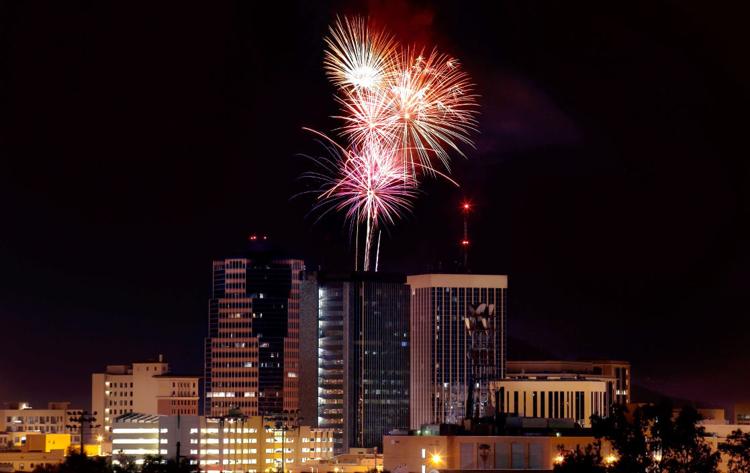 Fireworks on "A" Mountain 
The city of Tucson, Arizona is postponing this year's annual "A" Mountain fireworks celebration. The decision was made due to the risk of increased community spread of COVID-19 and the extreme fire danger from the Bighorn Fire.
Marana Star Spangled Spectacular 
Due to the new regulations established by Governor Ducey as well as fire concerns due to the dry weather, the town of Marana has made the decision to cancel the July 4 fireworks this year. 
Kino Sports Complex Fireworks "Diamonds in the Sky Celebration" 
Kino Sports Complex has canceled its annual baseball game, events and fireworks show due to COVID-19 precautions and the Bighorn Fire.  
Oro Valley Fireworks Celebration
Due to the ongoing Bighorn Fire, the town of Oro Valley has postponed its July 4th fireworks show. A new date for the fireworks has not been determined. The town will make an announcement once a new date for the fireworks has been scheduled.