The annual Tucson Festival of Books is back at the University of Arizona campus on Saturday, March 12 and Sunday, March 13, after the COVID-19 pandemic canceled the 2020 event completely and led to an all-virtual event in 2021.
Since the festival's start in 2009, the free event has continued to grow in attendance, exhibitors and programming and has quickly become a go-to event for book lovers in Tucson and across the country.
With so much to do, see and read, don't let the grand festival overwhelm you. Here's everything you need to know about this year's Tucson Festival of Books.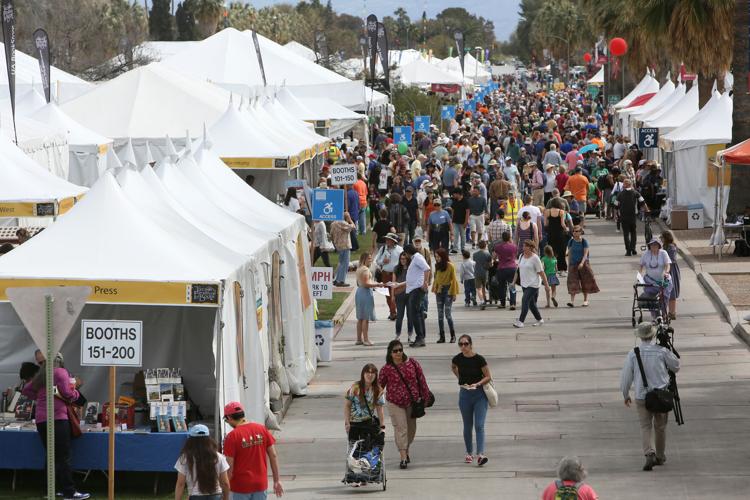 Authors and books
The Tucson Festival of Books brings renowned authors of almost every genre from around the U.S. to the Old Pueblo for a weekend filled with all things books — chatting about books, signing books and even picking up a few books before authors jet off on their next adventure. 
This year's event includes 267 presenting authors representing over 15 different genres and 268 events throughout 31 venues during the two-day festival, according to Bill Finley, the festival's coordinating chair of the book and author committee. 
Some of this year's authors include local favorite J.A. Jance, National Book Award winner Jason Mott, NPR Weekend Edition Saturday host Scott Simon, Pulitzer Prize winner Annette Gordon-Reed and Bob Odenkirk, who you may recognize from "Breaking Bad" and "Better Call Saul."
But don't let the big names snag all of your attention; 157 self-published authors of all genres are participating in the Indie Author Pavilion at the festival as well.
A complete list of presenting authors and indie authors can be found on TFOB's website.
Some of the festival's presenting authors require tickets to their presentations. Free tickets for the general public became available at noon on Monday, March 7 and close on Friday, March 11.
If you can't snag a free ticket when they're released online, festival organizers are holding back 25% of tickets for attendees to get one while at the festival. But the tickets are first-come, first-served, so TFOB's executive director Melanie Morgan recommends lining up early to try to get one. 
As for the featured authors at the festival, they'll be showing off books published in the last 15 months, according to Finley, who has been with the festival since 2011. 
During the planning process, the book and author committee splits into various genre teams and spends months discussing, researching and reaching out to authors to bring to Tucson. The process isn't the work of just one person or one person's vision, Finley said. 
"It's lots of visions. When you mix 'em all together, you wind up with something pretty special," he said.
However, getting the authors' publishers to commit to this year's festival was a challenge because of possible delayed publishing times due to the pandemic and the COVID-19 transmission rates in Pima County. This challenge delayed the planning process for the book and author committee by one month, Finley said.
"There was concern on the part of publishers' lawyers about liability if they would transport authors to book festivals or on book tours and if anything would happen to them if they would get sick," he said. "And so the publishers really didn't know what their pipeline in terms of publication schedule would be and they weren't ready to go back out on book tours yet because of the pandemic. So everything kind of evolved more slowly than it usually does."
Despite the planning delay, many of the authors were willing to come to the festival because of Tucson's "great reputation" among the writing and author communities, Finley explained.
"A lot of them (the authors) are blown away when they see all of the people and all of the activity we have going on at the U of A that weekend. So, if they get here thinking this is just a nice little book festival, they leave thinking, 'My God, this is something different than we usually do.' And so a lot of authors love to come."
As much as the authors love visiting the Old Pueblo for the two-day event, local and out-of-state attendees love to come and feel the one-of-a-kind energy at the festival too.
"It's the energy and the electricity of the weekend that I think is just so addictive and I think that's really what keeps our committee going," Finley said. "And I think that's part of what has kept the book festival going is that by the time people go home on Sunday afternoon, they can't wait for it to come again next year."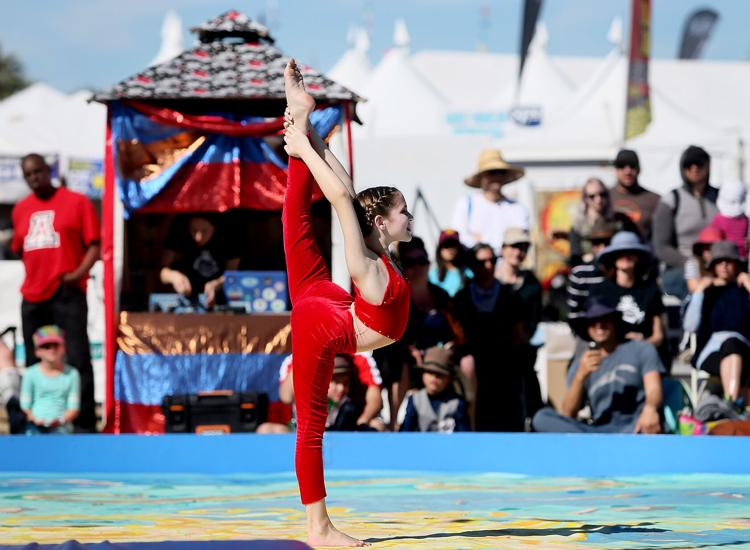 Exhibitors and events
The Tucson Festival of Books features books as far as the eye can see. They're placed on tables and shelves under the bright white festival tents, on stages as authors discuss their latest work and in the hands of avid book lovers of all ages.
But the festival offers so much more than books — it offers a chance to explore the best of Tucson's cultural, educational and literary communities.
There will be 180 local and national exhibitors at the two-day event offering merchandise, resources and book signings to festival-goers. A few of the exhibitors at this year's festival include HarperCollins Childrens, Mostly Books, Tucson Values Teachers and the Ben's Bells Project. (Plus #ThisIsTucson and the Arizona Daily Star! 👋)
The full list of exhibitor booths can be found on TFOB's website. 
"They (attendees) can expect most of what they would usually experience at the festival, at this year's festival, which is fantastic," Morgan said. "The circus is coming back, we have 30 author venues, we have a few entertainment venues. So you know, a lot of the great stuff that they're used to seeing."
On top of the programs and exhibitors, there are 15 food vendors and plenty of family-friendly activities to check out, such as storytelling, musical performances and the "literary circus" that Morgan mentioned, which performs "Cirque du Soleil-style literary masterpieces," according to TFOB's website.
After having to cancel the festival in 2020 and having to pivot to an all-virtual format in 2021, Morgan said she's excited to have the festival back in person this year and called this year's organizing venture a "completely unique experience."
"It's just more complicated to plan when you're putting social-distancing measures in place because that's a huge added element for the festival. And, you know, it makes it a little bit more complicated. But, we're excited, I think it's going really well," she said.
Like any major event in these times, Morgan hopes that attendees will carry a bit of patience as the pandemic and winter weather on the East Coast could cause possible delays or cancelations at the festival.
"We're hoping that we don't have any cancelations, but should an author become ill before the festival, we're certainly going to ask them to stay home," she said. "So we are asking people to go ahead and download the app, check the website, in case there are any last-minute changes, because the world's changed a lot and we do anticipate a few more of those than usual this year."
And what about crowd-favorite Science City? The popular attraction featuring 24 STEM-based companies and organizations is returning to the festival this year to provide family-friendly activities to attendees.
Some of this year's Science City participants include The Steward Observatory operating solar telescopes on the UA mall and Raytheon providing rocket-building and launching activities.
As part of Science City, the Flandrau Science Center and Planetarium and Arizona State Museum are offering free admission all weekend long.
The complete list of Science City participants can be found on TFOB's website.
"There's going to be all kinds of great things to do on campus that day. So you don't have to be in session all day to have a great time at the festival," Morgan said.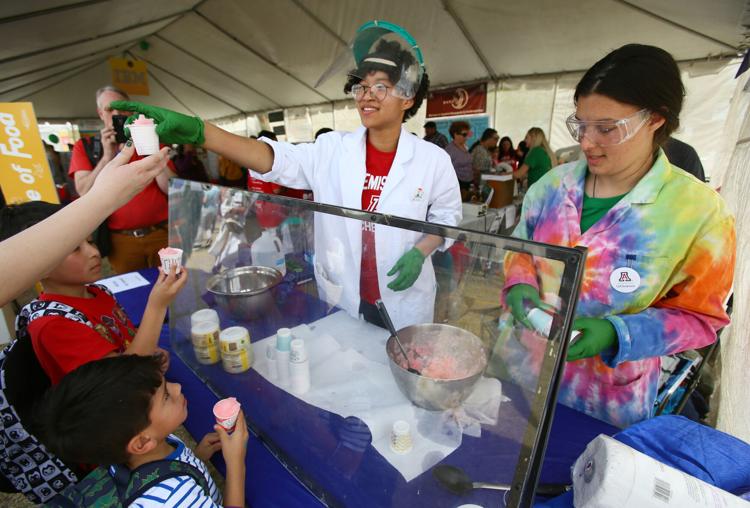 COVID-19 protocols and pet policy
Although the Tucson Festival of Books is back in person this year, there are a few changes compared to previous festivals. To provide a safe experience for attendees, TFOB is following the UA's COVID-19 protocols, meaning all festival attendees need to wear a surgical-grade mask inside UA facilities, including inside festival tents.
"If you're indoors at the University of Arizona, inside a building, in a venue, you're wearing a mask," Morgan said. "And if you're on the mall in a tent, you're also wearing a mask, because you know, you're sitting directly next to somebody that you may not know and it's impossible to social distance in those venues. So we are using their protocols for the Festival of Books and we're excited that they're able to provide us with those protocols that we will use while we are guests on campus."
For the complete list of COVID-19 protocols during TFOB, visit the UA's COVID-19 response website.
Also, while TFOB is primarily an outdoor event, pets are not permitted, except for service animals, according to their pet policy.
Since TFOB is a large event with attendance numbers reaching over 135,000 in previous years, event organizers encourage everyone to plan their days accordingly.
"If you really liked the idea of having the energy and the buzz and the enthusiasm around a huge crowd that's interested in books and literature, come Saturday," Finley said. "If you're interested in just bringing your kids in a stroller and just having a nice leisurely day, Sunday might be better for you."
If you go
What: Tucson Festival of Books
When: 9:30 a.m. to 5:30 p.m. Saturday-Sunday March 12-13
Where: University of Arizona campus
Tickets: Free
COVID-19 protocols: Following the UA's COVID-19 protocols
More information: tucsonfestivalofbooks.org