About a year ago, Tucsonans were figuring out how to live in a pandemic — working from home, eating lots of takeout and taking virtual workout classes.
But over at Reid Park Zoo, keepers were welcoming a not-so-little blessing.
On April 6, 295-pound elephant calf Mapenzi was born to African elephant Semba. Mapenzi, whose name means "beloved" in Swahili but goes by her nickname Penzi, is now tipping the scale at 1,075 pounds.
"This 1-year mark is a really great indicator of overall health and it's a milestone that's incredibly important to us, especially because she struggled with her weight and health in her first couple months," says elephant supervisor Cassie Dodds.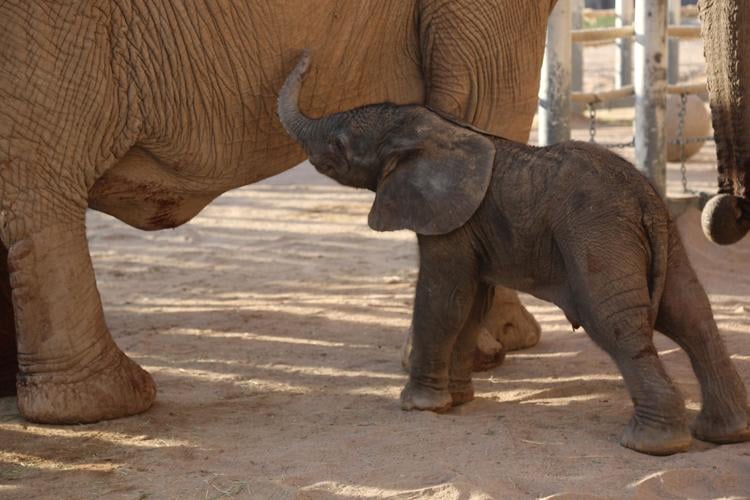 Things she's learned
In the last year, Penzi has learned everything from elephant etiquette from her big sister Nandi, how to use her trunk, keeping her balance up to her speedy little legs, and helping guard her herd when she hears a startling noise.
Just in the last month alone, she's started to have a longer attention span during her training sessions. Training sessions at the zoo, which help keepers ensure the animals are healthy, are voluntary for the elephants and done through positive reinforcement.
"She's been alert and excited to learn and we can see the focus in her eyes," Dodds says. "She really gets a spark in her eyes when we do learning sessions with her."
Penzi is currently learning how to back up on cue and present her foot when asked. She's also allowing keepers to swab her mouth with a Q-tip to get samples for future research.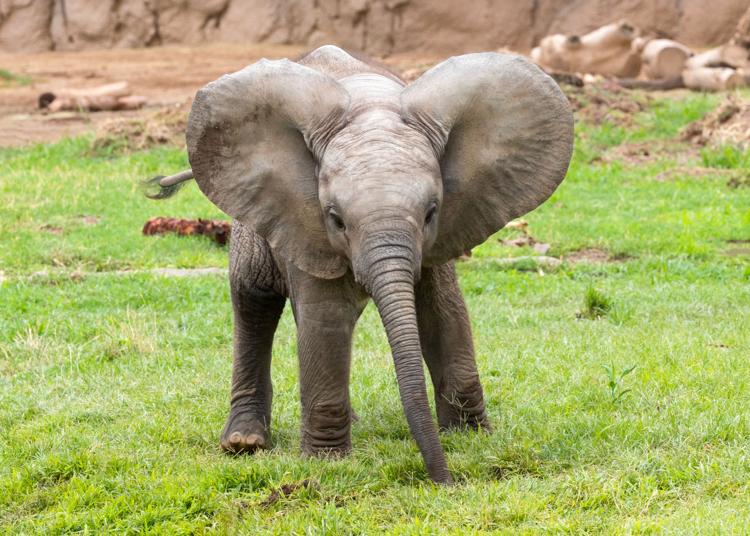 "The training style we have — it's kinda like a game," Dodds says. "If they figure out what we're asking, they get a food reward and an interaction. It's definitely an activity they really enjoy."
And right now, Penzi has three favorite activities, which include participating in training sessions. The other two are wallowing by herself in fresh dirt and rolling on the hillside with Nandi.
Penzi has also become very food-motivated in the last few months — which is very different from her first few months when she was picky about what she wanted to eat.
Penzi now likes everything the other elephants like, from hay to cucumber to branches.
And one thing that hasn't changed in the course of the year is Penzi's close relationship with Nandi. The two are still practically glued at the hip, with Penzi wanting to copy everything Nandi does.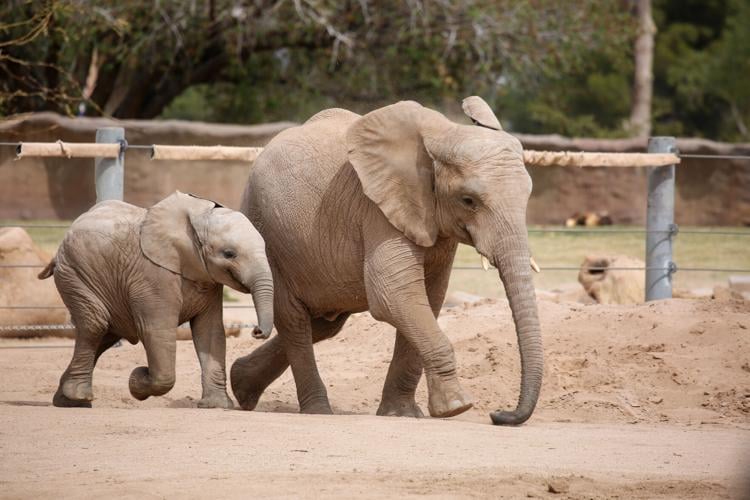 Nandi as a baby
Nandi was the first elephant born in Arizona, so Tucsonans have had the pleasure of watching the 6-year-old grow up.
Compared to Penzi though, Nandi was much more adventurous.
"Nandi was fearless and didn't have to be with the other elephants all the time," Dodds says. "She would go into the big mud wallows and pools without thinking about it."
Penzi, on the other hand, has been a bit more timid — though she has gained a lot of independence in recent months.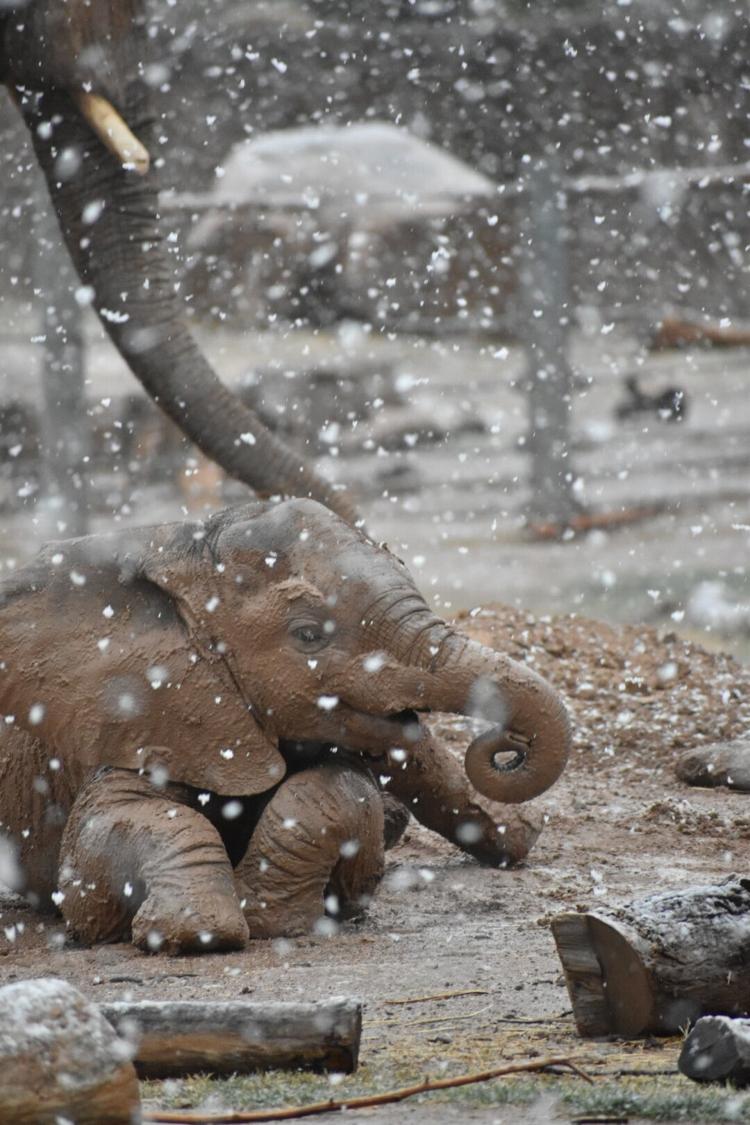 "Her personality is different than her sister's," Dodds says. "Having gone through watching Nandi grow up, I expected them to be kinda the same, but (Penzi) definitely has a unique personality. She's very playful and she also tends to spend more time thinking about what she's going to do and being careful with her body."
But Dodds did expect Penzi to have lots of "baby elephant energy" — which turned out to be very true.
"Penzi seems to have an extra silly side," Dodds says. "Any excuse to throw her ears out and run as fast as she can and trumpet and get excited about things — she'll definitely make that a priority."
What keepers love most
"There's a million things we love about her," Dodds says.
On the list: She loves Nandi, she's wild but cautious, she's enthusiastic with her trainers, she helps contribute to elephant disease research, and she helps strengthen the bonds in her herd.
"She makes our community and visitors smile — everyone looks for her when they visit," Dodds says. "I love hearing people say, 'Oh look there she is!'"
"She teaches us all to love and protect elephants."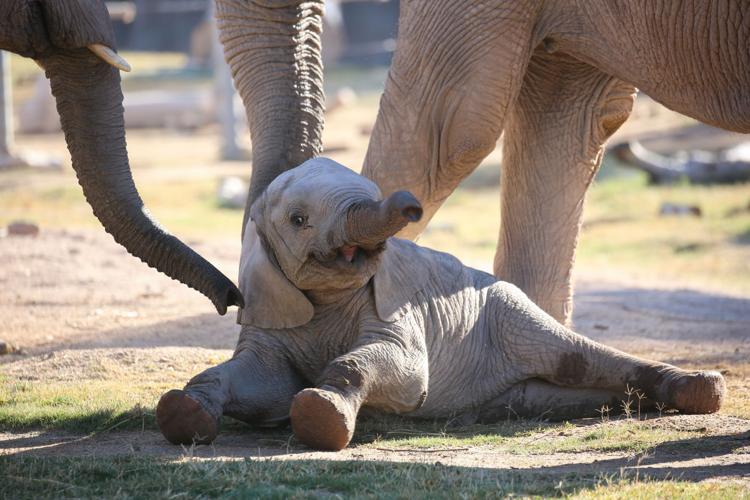 How to celebrate Penzi's birthday
To celebrate Penzi's birthday, keepers are planning to give her treats she hasn't had before, from tree branches specially cut for her and a giant ice popsicle shaped like a cake.
9 a.m. to 3 p.m., Saturday, April 3 — The public is invited to visit the zoo and watch the herd enjoy special birthday treats. There will also be cupcakes for the first 300 kids in the morning and the first 100 at 1 p.m. Tickets to the zoo must be reserved in advance.
2 p.m., Saturday, April 3 — The zoo will host a free virtual presentation to discuss Penzi's first year.
7:30 to 9 a.m., Sunday, April 4 — Enjoy a birthday breakfast for yourself and watch as the herd munches on special treats. The Easter Bunny will also make an appearance. Breakfast is $60 for adults and $40 for children.
"We're so excited to have this year milestone to celebrate with the community," Dodds says. "Having gone through the year we've all gone through, it's important to us. She's something people can look forward to."