Find a pencil sharpener with wings, a cat riding a pencil and a zine wearing a pair of roller skates on one of Tucson's newest murals at the University of Arizona Poetry Center.
The mural, located in the center's children's and teen area, is a colorful homage to the world of zines or "self-published booklets that have been made by artists, writers, and radicals for generations, with roots in subcultures including science fiction and punk rock," according to the UA Poetry Center's website.
The mural was recently completed by artist Ana Santos Acinas of Alley Cat Murals. She was inspired by her own zine-making years in the '90s while growing up in the Basque Country of Spain.
"It was very natural for me to reconnect again with fan zines and that kind of underground world," she said. "I was very into the hardcore scene at that time, like punk, hardcore music. And my friends and I were doing fan zines (then) so it was pretty natural."
Since moving to Tucson three years ago, Santos Acinas has been inspired by the vibrant colors representing Mexican folkloric culture and the unarguably stunning Arizona sunsets.
"I feel that my strength is in happiness and the brightness and that is something that I want to put on the table, that is something that I want to share with the people," Santos Acinas said. "So I feel that there is, a lot of times, sadness in the world. So for me, it also has to have that kind of happiness. So if you are having a bad day, or if you are happy, you can see something that is going to blow your mind."
The mural is one of the final touches to the UA Poetry Center's new zine library and zine-making area housed in the children's and teen section which already includes a zine-crafting station and a relaxing play box for young visitors.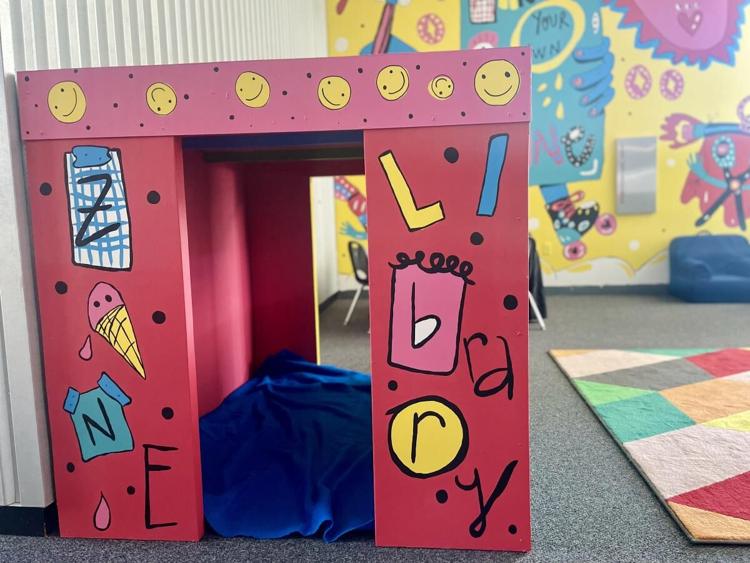 The zine library and zine-making area are part of the center's Brave Books: Zines & Zine Libraries program which launched in 2021. The original Brave Books program was created several years ago to "celebrate a different (independent) library or bookstore around the world," according to Wren Goblirsch, the K-12 Education & Community Engagement Specialist at the UA Poetry Center, 1508 E. Helen St.
Previous libraries and bookstores featured in the program include Shakespeare & Company in Paris, the Library of Alexandria in Egypt, Basra Central Library in Iraq and the African National Memorial Bookstore in Harlem, New York, according to the UA Poetry Center's website.
Although the UA Poetry Center started to dabble with zines in 2021, they expanded the project last fall to give people more time to connect with the program in person.
"It sort of felt like one year was too fast of a turnaround time," Goblirsch said. "We would start to build these relationships with people who are interested in the theme and then it would just change, so we decided to slow down a little bit. We're doing this one for the next several years (but) we haven't totally decided on our end date yet. … When we started it, things were still pretty shut down from COVID. So we were mostly doing outdoor events, distributing our zine kits, doing that kind of thing instead of people coming into the poetry center.
"So the idea behind this particular Brave Books and the reason why we chose zines was because so many kids have spent so much time in virtual schooling and we really wanted to do something that was about being creative and using your hands and getting messy and getting your message out there."
The zine library at the UA Poetry Center features around 30 zines for visitors to read for fun or for a bit of inspiration before creating their own at the zine-making station.
The station is equipped with a few zine-making kits that include a stapled booklet for your zine's base, two colored pencils, a glue stick, a pair of scissors, a pencil sharpener and a booklet filled with prompts to help get you started, according to Goblirsch. You can also take a kit to-go!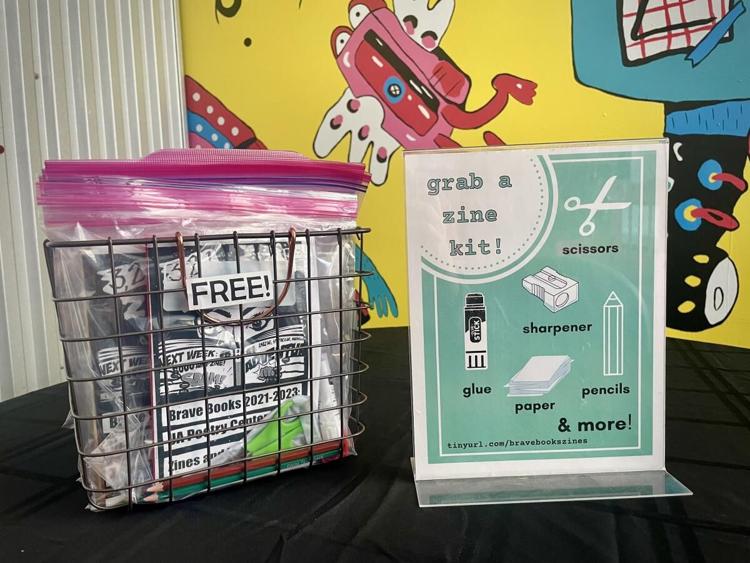 Since 2021, the UA Poetry Center has partnered with various local schools and teachers to provide zine kits for their students. Many of these completed zines will be featured in the center's upcoming exhibit "Cut & Paste!" which opens on Tuesday, April 4, in the Jeremy Ingalls Gallery at the UA Poetry Center. 
In the last two years, the UA Poetry Center has distributed around 500 zine-making kits to local schools and libraries.
"My goal for it (the zine area) right now is to have it utilized, to have people excited about it, coming by checking it out, checking out the zines, taking zine kits, really engaging with the space, hanging out and enjoying the space and getting a little bit messy," Goblirsch said. "Of course, we always appreciate when people clean up after themselves. But we're not a quiet library. We really, really love when people come in and use the space. … It's for kids of all ages and adults who sometimes are like kids (at heart)."
The UA Poetry Center is located at 1508 E. Helen St. It's open from 9 a.m. to 5 p.m. Tuesday through Saturday. For more information about the UA Poetry Center or the Brave Books program, visit their website.